Sports apparel market is significantly influenced by rising consciousness among modern consumers regarding their physical fitness & appearance. As consumers get motivated to take up various physical activities such as swimming, aerobics, yoga and running among others. sports apparel sales are expected to spur significantly. Meanwhile, desires to maintain a sporty look and follow the latest fashion trends is further driving developments in the sports apparel market. This is further creating opportunities for sports apparel brands to introduce stylish and attractive sports apparels that complement the wearer's physical attributes, giving him/her a more dynamic overall look. In recent years, players in sports apparel market have started paying greater attention to innovation in design of apparels owing to their increasing role in improving the athletes' overall performance level. Factors as such are reflecting favorably on the growth of the sports apparel market.
As per the latest report published by Fact.MR, the global sports apparel market is projected to reflect an above-average CAGR during the forecast period (2017-2022), to reach a valuation in excess of US$ 204,500 Mn. Sports apparel market report further opines that products that are created by infusing leading-edge fashion, and sports technology are more appealing to the consumers, as they are not only comfortable to wear but highly durable as well.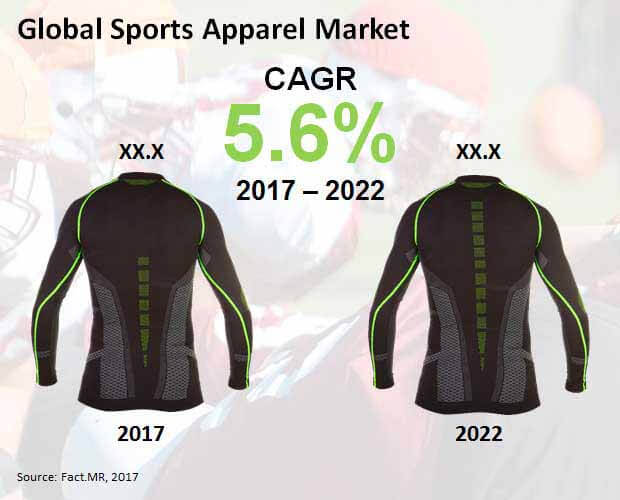 Participants in the sports apparel market are impelled to relentlessly update and improve their market strategies despite the growing popularity of sport apparels, owing to the growing competition in the sports apparel market. It is important for the sports apparel market players to compete in all fronts in order to achieve sustainability. Endorsements and kit sponsorships are a major part of marketing strategies implemented by most companies. For instant, Nike, Inc. – a leading sports apparel company pays some of the top athletes in the world for endorsing its brand and promoting its various sports products including apparels. In addition, the company sponsors kit uniform for a wide range of sports clubs and teams worldwide. In 2016, Nike secured a lucrative kit sponsorship deal with Chelsea FC – a top European Football club based in London, England. The deal will allow Nike to leverage the massive fan base of the football club that is spread across the globe. Such strategies provide an impetus on the brand's image while improving its market presence.
Market Taxonomy
| | | |
| --- | --- | --- |
| Product Type | End Use | Sales Channel |
| Tops & T-Shirts | Men | Independent Sports Outlet |
| Hoodies & Sweatshirts | Women | Franchised Sports Outlet |
| Jackets & Vests | Children | Modern Trade Channels |
| Shorts | | Direct to Customer Brand Outlet |
| Socks | | Direct to Customer Online Channel |
| Surf & Swimwear | | Direct to Customer Institutional Channel |
| Pants & Tights | | Third Party Online Channel |
(Additional information, including cross-sectional data and country-wise analysis & forecast is available in the report)
North America – Largest Market for Sports Apparel
North America is expected to remain a lucrative region for growth of the sports apparel market strong throughout the forecast period (2017-2022). In terms of revenue, the region is expected account for a significant share of the global sports apparel market in 2017 and beyond. The sports apparel market in North America is projected soar at an Impressive CAGR of 5.5% between 2017 and 2022. In addition, region's sports apparel market is estimated to surpass a valuation of to US$ 64,880 Mn in by 2022-end.
Tops & T-Shirts - Highest Selling Sports Apparel
Tops & t-Shirts will continue to outsell other types of sports apparel during the forecast period. Global sales of top & t-shirts currently represent close to one-fourth share of the global sports apparel market in terms of revenue. Towards the end of the forecast period, more than US$ 45,400 Mn worth sports apparel are estimated to be sold globally.
Competition Tracking
Fact.MR's report offers comprehensive information on top companies that are likely to contribute to the expansion of global sport apparel market through 2022, which include NIKE, Inc., Adidas AG, PUMA SE, Under Armour, Inc., SKECHERS USA, Inc, ASICS Corporation, Fila Korea Co Ltd., Columbia Sportswear Company, Lululemon Athletica, Inc., and Yonex Co., Ltd.
Note: The insights mentioned here are of the respective analysts, and do not reflect the position of Fact.MR
Top companies operating in the global sport apparel market are concentrating on the development of wearer-specific apparels. However, new entrants are finding it challenging to compete with international brands, when it comes to reliability, quality, and technological innovation. The report, compiled by Fact.MR, provides in-depth analysis of the global sport apparel market for the forecast period 2017-2022, and offers key insights about future market direction.
Scope
The scope of Fact.MR's report is to analyze the global sport apparel market for the forecast period 2017-2022 and provide readers an unbiased and accurate analysis. Sport apparel manufacturers, stakeholders, and suppliers in the global sports industry can benefit from the analysis offered in this report. This report offers a comprehensive analysis, which can be of interest to leading trade magazines and journals pertaining to sport apparel.
Summary
The report commences with a brief information of the global sport apparel market. This executive summary sets the tone for the rest of the report, providing users the scope of the report. The executive summary includes important facts and statistics on the global sport apparel market.
Overview
The next section offers an overview of the sport apparel market. This comprises an introduction to the market, along with a standard definition of the product – sport apparel. In this section, market value and year-over-year growth is offered to the readers. Year-over-year growth provides readers with a broader view of growth patterns over the forecast period.
The report's succeeding section focuses on drivers, restraints and key trends from macroeconomic, demand, and supply perspectives. Impact analysis of weighted average model-based growth drivers is contained in the report for better provision of decision-making insights to clients.
In order to offer readers with up-to-date information about the latest advancements in the global sport apparel market, the report provides updates about market opportunities, which can benefit leading manufacturers of sport apparel. With continuous evolution of the sports industry, keeping a record of latest developments and trends is fundamental for sport apparel manufacturers to formulate key business strategies. Detailed insights about raw material sourcing, supply chain, pricing analysis, list of distributors, and cost structure are provided in this section.
Considering the wide scope of the global sport apparel market and to offer in-depth insights, Fact.MR's report provides segment-wise analysis and forecast. The global sport apparel market has been categorized on the basis of product type, end use, sales channel and region. This segmentation analysis is comprehensive, coupled with a detailed country-wise forecast provided on all parameters.
The report's last section comprises of the global sport apparel market competitive landscape, to provide readers with the dashboard view of company analysis and market players. This competitive intelligence is based on the providers' categories across value chain, and their presence in the global sport apparel market.
Research Methodology
Fact.MR is committed to offer unbiased and independent market research solutions to its clients. Each market report of Fact.MR is compiled after months of exhaustive research. We bank on a mix of tried-and-tested and innovative research methodologies to offer the most comprehensive and accurate information. Our main sources of research include,
Primary research
Secondary research
Trade research
Focused interviews
Social media analysis
Fact.MR offers custom research services that help clients to get specific research solutions
We are committed towards customer satisfaction and quality service.
---
Our Clients

Sports Apparel Market Forecast, Trend Analysis & Competition Tracking – Global Market insights 2017 to 2022