Pharyngitis commonly known as a sore throat is caused by viral or bacterial infection. The most common bacteria infecting throat is Group A streptococcus. Various clinical trials are being carried on to find the best formulation effective in treating sore throat. There is also a focus on patients receiving medication as per the clinical needs and also meet their individual requirement. The healthcare industry across the globe is also emphasizing on appropriate diagnosis, drug selection, dosage, drug delivery route, duration of administration, proper follow-up, and correct information on possible side-effects.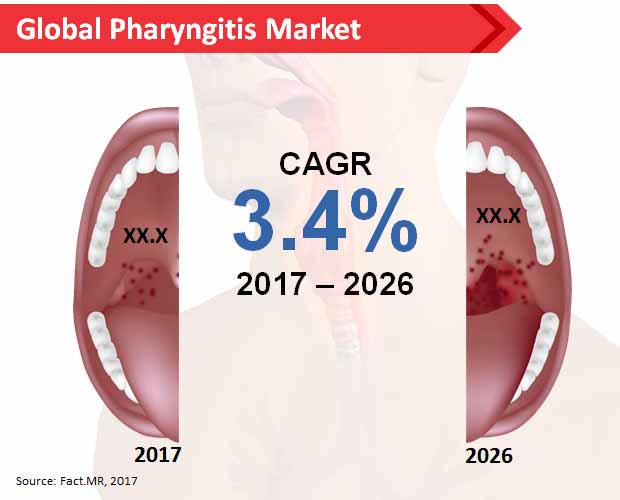 The latest study by Fact.MR expects the global market for pharyngitis to experience sluggish growth. Towards 2026 end, the global market for pharyngitis is projected to bring in US$ 1,679.0 million revenue. Pharyngitis is the most common manifestation of infection. Antibiotics are given in case of a sore throat, however, they provide very modest benefit. It is still unclear which antibiotic is the best for the treatment of a sore throat. Hence, various research and trials are being conducted to find most effective antibiotic.
Market Taxonomy
| | | |
| --- | --- | --- |
| Drug Class | Distribution Channel | Mode of Delivery |
| Beta Lactams | Hospital Pharmacies | Oral |
| Macrolides | Retail Pharmacies and Drug Stores | Intravenous |
| Cephalosporins | Online Pharmacies | Intramuscular |
| Fluoroquinolones | | Other Mode of Delivery |
| Tetracycline | | |
| Other Products | | |
(Additional information, including cross-sectional data and country-wise analysis & forecast is available in the report)
Beta Lactams to Emerge as the Most-Preferred Drug Class
Compared to the various drug class, beta lactams is likely to emerge as one of the most preferred drug class between 2017 and 2026. Beta lactams is projected to bring in nearly US$ 500 million revenue by 2026 end. Beta-lactams include cephalosporins and penicillins. These drugs are active against many harmful organisms. Moreover, the recent development of broad-spectrum beta-lactams antibiotics active against gram-negative organisms has increased their use.
Retail Pharmacies and Drug Stores to Emerge as the Biggest Distribution Channel
Retail pharmacies and drug stores are likely to gain maximum revenue share. By 2026 end, retail pharmacies and drug stores are projected to bring in nearly US$ 700 million revenue. A sore throat is very common, pharmacists can assess specific symptoms as described by patients and based on it can suggest Over the Counter (OTC) drug that available at retail pharmacies and drug stores. One of the most commonly used OTC products for treating sore throat is lozenges. Moreover, pharmaceutical companies are also introducing new products that can offer rapid relief in pain.
Oral Drug Delivery to Gain Maximum Traction between 2017 and 2026
Oral drug delivery is likely to emerge as the most-preferred drug administration route. Oral drug delivery is projected to create an incremental opportunity of over US$ 300 million between 2017 and 2026. Owing to the cost-effectiveness, convenience and high patient compliance, oral drug delivery is witnessing significant growth. However, many drugs are poorly bioavailable when administered. Hence, lipid-based drug delivery system is one of the emerging trends addressing bioavailability challenges. Moreover, oral drug delivery is the least invasive method as compared to other routes. Targeted drug delivery is also an emerging trend, in which the drug is active only in the targeted area.
Competition Tracking
The report also profiles companies that are expected to remain active in the expansion of global pharyngitis market through 2026, which include Pfizer Inc., GlaxoSmithKline PLC, Novartis AG, BioStar Pharmaceuticals, Inc., and Zambon Group SpA.
Note: The insights mentioned here are of the respective analysts, and do not reflect the position of Fact.MR
A sore throat or pharyngitis is caused when a virus infects the area of the throat. Some of the most common causes of pharyngitis is viral infections such as the influenza and common cold. Acute pharyngitis is one of the most common condition, hence, there has been an increase in demand for systematic treatment and medication. Drug manufacturers are also focusing on research and development of new drugs to treat pharyngitis without causing any side-effects. This Fact.MR report analyzes the expansion of global pharyngitis market till date, and provides key insights on the growth of the market during the forecast period, 2017-2026.
Scope
The scope of Fact.MR's report is to analyze the global pharyngitis market for the forecast period 2017-2026 and provide readers an unbiased and accurate analysis. Medical device manufacturers, research institutes, and raw material suppliers in the global pharyngitis market can benefit from the analysis offered in this report. This report offers a comprehensive analysis, which can be of interest to leading trade magazines and medical journals pertaining to pharyngitis.
Summary
The report commences with a brief information of the global pharyngitis market. This executive summary sets the tone for the rest of the report, providing users the scope of the report. The executive summary includes important facts and statistics on the global pharyngitis market.
Overview
The next section offers an overview of the global pharyngitis market. This comprises an introduction to the market, along with a standard definition of the product – pharyngitis. In this section, market value and year-over-year growth is offered to the readers. Year-over-year growth provides readers with a broader view of growth patterns over the forecast period.
The report's succeeding section focuses on drivers, restraints and key trends from macroeconomic, demand, and supply perspectives. Impact analysis of weighted average model-based growth drivers is contained in the report for better provision of decision-making insights to clients.
In order to offer readers with up-to-date information about the latest advancements in the global pharyngitis market, the report provides updates about market opportunities, which can benefit leading manufacturers of pharyngitis. With continuous evolution of the healthcare sector, keeping a record of latest developments and trends is fundamental for pharyngitis manufacturers to formulate key business strategies. Detailed insights about raw material sourcing, supply chain, regulatory approvals, pricing analysis, list of distributors, and cost structure are provided in this section.
Considering the broad scope of the global pharyngitis market, the report by Fact.MR provides in-depth and segment-wise analysis and forecast. The global pharyngitis market is segmented on the basis of drug class, distribution channel, mode of delivery, and region. This segmentation also includes country-wise analysis by taking into account all the major parameters of the global pharyngitis market.
The report's last section comprises of the global pharyngitis market competitive landscape, to provide readers with the dashboard view of company analysis and market players. This competitive intelligence is based on the providers' categories across value chain, and their presence in the global pharyngitis market.
Research Methodology
Fact.MR is committed to offer unbiased and independent market research solutions to its clients. Each market report of Fact.MR is compiled after months of exhaustive research. We bank on a mix of tried-and-tested and innovative research methodologies to offer the most comprehensive and accurate information. Our main sources of research include,
Primary research
Secondary research
Trade research
Focused interviews
Social media analysis
Fact.MR offers custom research services that help clients to get specific research solutions
We are committed towards customer satisfaction and quality service.
---
Our Clients

Pharyngitis Market Forecast, Trend Analysis & Competition Tracking – Global Market insights 2017 to 2026