The demand for powerful lamps along with the electrical system for heavy equipment. Various lamps and blubs are prone to breakage and damage due to impacts and vibrations. Hence, manufacturers are researching on developing lamps that can be installed on heavy equipment and are able to withstand various conditions. Heavy equipment lamps are being developed to provide powerful illumination, without draining on equipment's electrical system. LED technology is adding value to the heavy equipment as the light produced by LED lamps produce less glare and are cleaner and also offer nearly 40% in fuel saving. With the ability to cut down the cost of energy, LEDs includes various eco-friendly benefits. LEDs are also popular among heavy equipment owing to their relatively simple installation. Increasing number of companies are using LED lamps for heavy equipment to perform safely, especially during night-time operations. Moreover, LED can also operate in a wide variety of voltages which makes it suitable for heavy equipment. Moreover, instead of permanent lighting fixtures, portable LED towers are being used as it can be easily installed.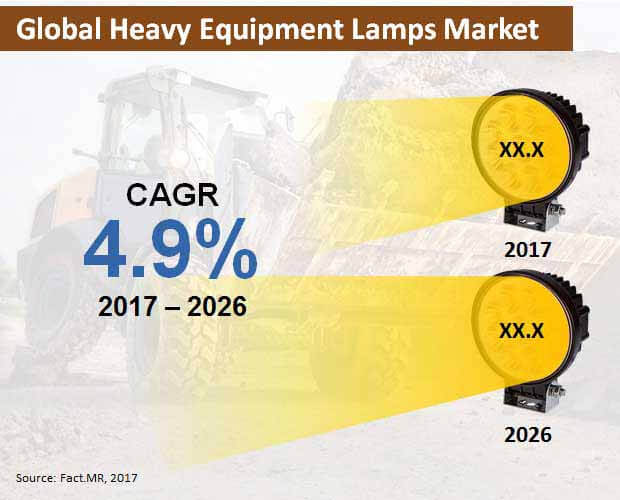 As per the latest study by Fact.MR, the global market for heavy equipment lamps is likely to experience moderate growth. The global market for heavy equipment lamps is estimated to reach US$ 9,065.3 million revenue by 2026 end.
Market Taxonomy
| | | |
| --- | --- | --- |
| Lamp Type | Lighting Type | End Use Industries |
| Head Lamps | LEDs | Construction Equipment |
| Rear Lamps | Halogen Lamps | Mining Equipment |
| Signal Lamps | HID lamps | Agriculture & Farm Machinery |
| Flashing Lamps | Other Lighting Types | Other Heavy Industrial Equipment |
| Other Lamps | | |
| | | |
(Additional information, including cross-sectional data and country-wise analysis & forecast is available in the report)
Signal Lamps to Gain Maximum Traction in the Global Market for Heavy Equipment Lamps
Compared to the various lamp types, signal lamps are likely to witness the highest growth between 2017 and 2026. Signal lamps are estimated to reach nearly US$ 3,000 million revenue by 2026 end. Signal lamps are visual signaling device for optical communication. Signal lams are largely used on construction sites such as during roadworks. These lights are also used in marine and air traffic control.
HID Lamps to Account for the Highest Revenue Share
Among various lighting types, HID lamps are likely to account for more than one-third of the revenue share by 2017 end. HID lamps are also estimated to create an incremental opportunity of over US$ 1,300 million between 2017 and 2026. Owing to the low energy usage, longer life than halogen bulbs, HID lamps are being used on a large scale. HID lamps are being used in large indoor and outdoor areas such as warehouses, construction sites, shops, arenas, etc. Meanwhile, LEDs are also likely to witness growth in the near future.
Construction Equipment to Emerge as the Largest End User of Heavy Equipment Lamps
Construction equipment is likely to emerge as one of the largest end use industries in the global heavy equipment lamps market throughout the forecast period. By 2026 end, construction equipment is estimated to exceed US$ 3,500 million in terms of value. New infrastructure projects across various countries are driving the use of construction equipment. Various construction equipment are being used on the basis of the type of construction. Light towers are being used on a large scale as they are easily transportable and can be setup seamlessly.
Competition Tracking
The report provides details on various key companies that are likely to contribute towards the expansion of global heavy equipment lamps market through 2026, which include Koito Manufacturing Co Ltd., Stanley Electric, OSRAM GmbH, General Electric Company, and Catepillar, Inc.
Note: The insights mentioned here are of the respective analysts, and do not reflect the position of Fact.MR
LED lamps are being used on a large scale in heavy equipment in order to perform various operations efficiently. Also, LED bulbs are shock proof and are not affected by vibrations while operating heavy equipment. Hence, heavy equipment lamps manufacturers are focusing of designing lamps that can be easily connected to the system without the need of any special connections. There has also been an advancement in design and function of LEDs with the rise in the number of replacement of old lamps and bulbs on heavy equipment with LEDs. This report, compiled by Fact.MR, provides in-depth analysis of the global heavy equipment lamps market for the forecast period 2017-2026, offering key insights on the growth prospects of the market.
Scope:
The scope of the Fact.MR's report is to analyze the global heavy equipment lamps market for the forecast period 2017-2026 and offer accurate and unbiased insights to the readers. Heavy equipment lamps manufacturers, suppliers, and stakeholders in the global industry can benefit from the analysis offered in this report.
In-depth analysis regarding the energy saving properties, usage benefits, and long-term maintenance is detailed in this report. The comprehensive study offers insights on various market drivers, trends, and challenges shaping the future of the market, serving as a platform for future study, interest and understanding for the leading industries, trade magazines and journals related to the global heavy equipment lamps market.
Summary:
The report introduces the current scenario of the market for heavy equipment lamps. The executive summary section of the report offers information regarding the future scope of the global heavy equipment lamps market. Brief information on the vital aspects, facts, and statistics on the global heavy equipment lamps market is emphasized in this section.
Overview:
This section offers an overview of the global heavy equipment lamps market. This section comprises definition of the product – heavy equipment lamps, along with key insights on dynamics playing an important role towards the growth of the market. The overview also includes market value and year-on-year growth defining the future progress and decline of the global heavy equipment lamps. Data on the year-on-year growth provides readers with an overall view on expected progress reshaping growth during the forecast period.
In the next section, the report provides insights on major drivers, key trends, and retrains on the basis of demand, supply and macro-economic factors. The report also talks about an impact analysis of drivers and restraints that helps in decision-making and becoming more efficient.
The report further provides information on various technological advancements in the global heavy equipment lamps market. Latest information and advancements regarding growth opportunities can prove to be beneficial for the leading manufacturers of heavy equipment lamps. With advancements in technology, keeping an eye on the latest trends and developments is important for heavy equipment lamps manufacturers to frame key business strategies. Key insights concerning the list of distributor, supply chain, cost structure, pricing analysis, and raw material sourcing, are also provided in this section of the report.
Considering the broad-scope of the global heavy equipment lamps market, the report offers in-depth and segment-wise analysis and forecast. The global heavy equipment lamps market has been segmented on the basis of lamp type, lighting type, end use industries, and region. This segmentation also includes a detailed country-wise forecast on all the key parameters of the global heavy equipment lamps market.
In the final section, the report offers information on the key competitors, along with a board view of the market players and company analysis. This competitive intelligence is based on the providers' categories across the value chain, and their presence in the global heavy equipment lamps market.
Research Methodology
Fact.MR is committed to offer unbiased and independent market research solutions to its clients. Each market report of Fact.MR is compiled after months of exhaustive research. We bank on a mix of tried-and-tested and innovative research methodologies to offer the most comprehensive and accurate information. Our main sources of research include,
Primary research
Secondary research
Trade research
Focused interviews
Social media analysis
Fact.MR offers custom research services that help clients to get specific research solutions
We are committed towards customer satisfaction and quality service.
---
Our Clients

Heavy Equipment Lamps Market Forecast, Trend Analysis & Competition Tracking – Global Market insights 2017 to 2026