Crushing Equipment Market
Crushing Equipment Market Analysis By Product (Cone Crushers, Jaw Crushers, Impact Crushers), By End Use (Aggregates, Mining, and Metallurgy, Recycling, Quarrying, Construction), By Mobility (Stationary, Portable, Mobile) & By Region – Global Market Insights 2023 to 2033
Analysis of Crushing Equipment Market Covering 30+ Countries Including Analysis of US, Canada, UK, Germany, France, Nordics, GCC countries, Japan, Korea and many more
Crushing Equipment Market Outlook (2023 to 2033)
The global crushing equipment market is valued at US$ 6.35 billion in 2023 and is projected to expand swiftly at a CAGR of 7.5% to reach US$ 13 billion by 2033-end, according to this latest market study by skilled analysts at Fact.MR.
Crushing equipment is employed to reduce larger stones into smaller fragments and powder according to specific needs. These machinery pieces hold value in construction, metallurgy, and mining locations, where they are utilized to produce stone powder and pellets.
Crushing equipment solutions encompass the actual machines and tools used for breaking down materials such as rocks, ores, and minerals. These include crushers, grinders, mills, and screening equipment designed for various applications and industries such as mining, construction, and recycling. Modern crushing equipment solutions often incorporate advanced technologies such as automation, Internet of Things (IoT) connectivity, and data analytics. These technologies improve efficiency, safety, and maintenance practices.
Industrial handling equipment refers to a broad category of machinery and tools designed for the efficient movement, transportation, and manipulation of heavy or large materials, products, and goods within industrial settings. These equipment types are essential for optimizing manufacturing processes, logistics, and warehouse operations.
As countries keep investing in infrastructure development, there is a growing demand for aggregates, crushed stones, and materials used in construction. Expansion of roads, bridges, airports, and other infrastructure projects is creating a steady market for crushing equipment. The crushing equipment business presents several opportunities for growth and development, driven by various factors and industry trends.
The heavy equipment market is global, with demand originating from construction projects, agricultural activities, mining operations, and other industrial endeavors worldwide. The construction industry is a significant driver of the heavy equipment market. It relies on heavy machinery for excavation, grading, material handling, and earthmoving tasks.
Report Attributes
Details
Crushing Equipment Market Size (2022A)
US$ 5.9 Billion
Estimated Market Value (2023E)
US$ 6.35 Billion
Forecasted Market Value (2033F)
US$ 13 Billion
Global Market Growth Rate (2023 to 2033)
7.5% CAGR
North America Market Growth Rate (2023 to 2033)
7% CAGR
Jaw Crusher Segment Share (2023)
43%
Asia Pacific Market Share (2023)
47%
Leading Regional Market
Asia Pacific
Key Companies Profiled

Metso
Sandvik
Terex
Eagle Crusher Company
Weir Group
Astec Industries
Caterpillar Inc
Kleemann GMBH
Don't Need a Global Report?
save 40%! on Country & Region specific reports
What's Driving the Growing Need for Crushing Equipment?
"Adoption of Artificial Sand in Construction Projects"
River sand has historically been used in construction and infrastructure projects because it gives building materials like cement, bricks, asphalt, and concrete strength, volume, and adhesive properties. River sand is useful for landscaping projects as well due to intensive mining; river sand resources are soon running out.
Additionally, because most infrastructure and building projects are situated far from riverbanks, it is logistically difficult and expensive to carry river sand to these locations. As a result, project owners in the construction sector are looking into better alternatives to river sand, and artificial sand created by specialized machinery is starting to appear.
"Automation of Crushing Equipment"
The substance that needs to be broken down into smaller pieces is lifted from its source and transported to the surge bin, which is adjacent to the machinery. The crusher backing material is then put into the feeder of the apparatus. The equipment is then manually operated by an operator up until the procedure is finished. The smaller parts of the material are then transported to a screening mechanism, which separates them depending on their different sizes, after the initial crushing.
This equipment must be operated manually, which takes time and calls for highly skilled personnel. By connecting this equipment to other construction machinery and automating their operations, this operational time can be greatly decreased. By incorporating sensors into the machinery, the entire crushing process can be automated. The original material intended for crushing can be directly fed from the source onto a conveyor belt when the process is fully automated.
The material can then be sent using this conveyor belt to the feeder, where it will be detected by sensors and the crushing operation will start automatically. Automation can shorten operating and delivery times, reduce the number of personnel required to supervise the entire process and cut expenses overall. Consequently, the growing need for automation in this equipment is set to increase.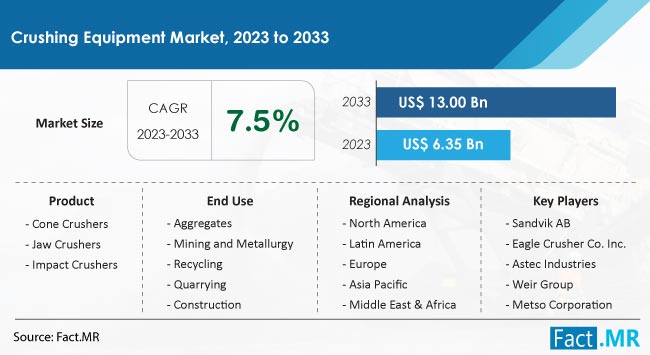 What Challenges are Affecting the Sales Growth of Crushing Equipment?
"Environmental Regulations and Depletion of Resources"
One of the significant restraints is the stringent environmental regulations related to mining and quarrying activities. Governments and environmental agencies impose restrictions on dust and noise emissions, water usage, and land reclamation. Companies in the crushing equipment market must invest in environmentally friendly technologies to comply with these regulations, which can increase operational costs.
Availability of high-quality natural aggregates, such as river sand and granite, is depleting in many regions due to extensive mining activities. This scarcity of raw materials can pose a challenge to the crushing equipment market. Companies may need to explore alternative sources or invest in recycling technologies to mitigate this issue.
Rising costs of fuel, energy, labor, and equipment maintenance can affect the profitability of stone crushing operations. As diesel and electricity prices increase, companies in this market may find it challenging to maintain competitive pricing while maintaining profit margins.
"Stiff Market Competition and Technological Complexity"
The crushing equipment market is highly competitive, with several established and new players. Intense competition can lead to price wars and margin pressures for businesses. To stay competitive, companies may need to continuously innovate, improve efficiency, and offer superior customer service.
Integration of advanced technologies such as automation, telematics, and IoT into stone crushing equipment can be costly and complex. Smaller players in the market may find it challenging to keep up with these technological advancements, potentially limiting their market share.
More Insights, Lesser Cost (-50% off)
Insights on import/export production,
pricing analysis, and more – Only @ Fact.MR
Country-wise Insights
This section offers an overview of revenue generated in prominent markets, with a notable emphasis on China and the United States, recognized as prominent market frontrunners. These statistical findings, evaluated by Fact.MR, underscore substantial regional opportunities spanning across the full spectrum of countries scrutinized within the report.
What Makes China a Key Market for Crushing Equipment Manufacturers?
"Infrastructure Investments Driving Growth of Construction Sector in China"
Asia Pacific is projected to account for 47% of the global market share in 2023, and China is a key market in the region.
The crusher market in China is anticipated to be driven by the expansion of the building industry and the development of the local economy. In addition, industrialization and urbanization in developing countries like China are expected to make a significant contribution to the growth of the market. During the forecast period, expansion of the country's construction industry is anticipated to increase demand for crushers.
Heightened manufacturing capabilities and the escalating industrialization in countries such as China are two principal factors propelling the expansion of the Asia Pacific market. These countries are also bolstering the revenue of the crushing equipment market. Within the Asia Pacific, China stands out as a pivotal country, boasting a sizable construction sector bolstered by a robust economy. Although China's growth rate has been remarkable, it is gradually transitioning to a more moderate pace due to factors like an aging population and a shift from investment to consumption, manufacturing to services, and external to internal demand in the economy.
Despite the variable growth rate in the real estate sector, the Chinese government has made substantial investments in rail and road infrastructure to accommodate the demand stemming from the burgeoning industrial and service sectors. Consequently, the Chinese construction industry has experienced substantial growth in recent years, despite the somewhat inconsistent performance of the real estate sector.
Why Does the United States Exhibit a High Rate of Crushing Equipment Adoption?
"Sustainability of Rental Market and Aftersales Services Provided by Manufacturers"
Through the projection period (2023 to 2033), the market in North America is forecasted to exhibit considerable growth at a CAGR of 7%.
The crushing equipment market in the United States is a significant part of the construction and mining industry. It encompasses the production and sale of equipment used for crushing stones and rocks into smaller pieces or aggregates for various applications, including the construction of roads, bridges, buildings, and infrastructure projects.
Emphasis on sustainable practices in construction and mining encourages the use of equipment that reduces environmental impact. Eco-friendly crushing equipment options are gaining traction. The market for concrete crusher rental is prominent in the United States. Many construction companies prefer to rent equipment rather than purchase it, contributing to the market's dynamics.
Manufacturers and dealers in the United States provide after-sales services, including maintenance, repair, and parts supply, to support equipment users. Because the construction business is expanding more rapidly in this area. In addition, mining is expanding along with the world population increase and the quickening economy, which is fueling the demand for crushers for mining applications.
Category-wise Insights
This section provides a summary of market revenue categorized by key sectors, with prominent segments comprising jaw crushers and the mining sector. Fact.MR anticipates that these segments hold substantial promise for future opportunities in the years ahead.
Why are We Seeing High Jaw Crusher Sales across Regions?
"High Use of Jaw Crushers in Mining Business"
The jaw crushers segment represented 43% of the global market share in 2023. Reduced emissions in crushing machinery are becoming more and more in demand, especially for jaw crushers. Jaw crushers are primarily used in the cement industry, but they are also used in several other industries for non-metallic and mineral crushing applications. Jaw crushers perform more consistently than other types of crushing machinery.
In August 2022, Kazakhmys Corporation LLC, based in Kazakhstan, made an investment in Sandvik's rock processing solutions by acquiring the UJ300 crushing unit for use in their underground copper mining operations. Furthermore, Sandvik has observed a significant investment in its mobile jaw crushers, resulting in the procurement of over 5 jaw crusher units through this investment order.
Jaw crushers don't require the addition or removal of various process gaskets because they can function efficiently even under high pressure situations. To meet today's difficulties, mining enterprises all over the world are concluding contracts for the purchase of cutting-edge jaw crushers. Additionally, many industry participants are releasing updated and more advanced versions of the jaw crusher.
Why Do Mining Companies Use Crushing Machinery on a Large Scale?
"Diverse Material Crushing Needs and Mineral Extraction Processes in Mining"
Mining operations involve the extraction of various valuable minerals and ores, including but not limited to granite, marble, basalt, cobble, iron ore, and copper ore. These raw materials are embedded within rocks of varying hardness and composition. Crushing equipment is indispensable for breaking down these mineral-rich rocks into smaller, more manageable pieces.
Within the mining sector, crushing equipment is employed at various stages of the mineral extraction process. This includes primary crushing, where large chunks of mined ore are initially reduced in size for subsequent processing. It is also used for secondary and tertiary crushing to further refine the material to the desired size and consistency.
The ability of crushers to handle a wide range of minerals and rocks makes them a versatile asset in mining operations. This adaptability allows mining companies to use the same equipment for processing different types of ore, optimizing operational efficiency.
Know thy Competitors
Competitive landscape highlights only certain players
Complete list available upon request
Competitive Landscape
The competitive landscape in the crushing equipment market is dynamic, with companies striving to differentiate themselves through innovation, quality, sustainability, and customer support. As the industry evolves, market players will continue to adapt to changing customer needs and technological advancements to maintain their competitive positions.
In July 2022, Metso Outotec entered into a strategic partnership agreement with Larsen & Toubro Limited to deliver four Symons cone crushers for an iron ore crushing and screening plant located at the National Mineral Development Corporation (NMDC-Kirandul) complex in Chhattisgarh, central India.
In April 2022, FLSmidth announced that a greenfield gold mine in Northern Canada would receive a complete equipment package, including a cone crusher, ball mills, cyclones, and a jaw crusher, among other machinery components.
Key Segments of Crushing Equipment Market Research
By Product :

Cone Crushers
Jaw Crushers
Impact Crushers

By End Use :

Aggregates
Mining and Metallurgy
Recycling
Quarrying
Construction

By Mobility :

Stationary
Portable
Mobile

By Region :

North America
Latin America
Europe
Asia Pacific
Middle East & Africa
- FAQs -
The global crushing equipment market stands at US$ 6.35 billion in 2023.
Worldwide demand for crushing equipment is predicted to rise at a CAGR of 7.5% from 2023 to 2033.
Jaw crushers are projected to account for higher sales through 2033.
Worldwide sales of crushing equipment are set to reach US$ 13 billion by 2033.
China is poised to hold a foremost position in the global market through 2033.
The market for crushing equipment in North America is forecasted to expand at a CAGR of 7% through 2033.