Cryogenic Equipment Market
Cryogenic Equipment Market Analysis, By Product (Tanks, Valves, Pumps & Vaporizers, Vacuum Jacketed Piping), By Cryogen (Nitrogen, Oxygen, Argon, LNG), By Application (Distribution, Storage), By End-use Industry - Global Market Insights 2022 to 2032
Analysis of Cryogenic Equipment Market Covering 30+ Countries Including Analysis of US, Canada, UK, Germany, France, Nordics, GCC countries, Japan, Korea and many more
Cryogenic Equipment Market Growth Outlook (2022-2032)
The global cryogenic equipment market is US$ 13.6 billion and is envisioned to surge to US$ 26.5 billion by the end of 2032.
Sales of cryogenic equipment are speculated to increase at a noteworthy 6.9% CAGR over the next ten years.
Increasing demand for gas in several industrial applications and essential use in LNG storage and distribution are prominent factors that are anticipated to primarily drive the shipments of cryogenic systems going forward. Increasing demand for LNG all over the world is anticipated to be crucial for market development in the long run.
In June 2021, a 345-tonne cryogenic heat exchanger arrived at LNG Canada's Kitimat site to be installed vertically in the LNG infrastructure. This new LNG terminal is yet to be completed and will feature the storage, liquefaction, and loading of LNG produced by Montney Formation gas fields.
Increasing investments in the space industry and a rising number of space missions are also expected to boost demand for cryogenic devices in the future. Cryogenic systems are used to store space specimens as cryogenic gases are inert in nature and do not react with the specimen keeping its characteristics intact.
In February 2022, a lineless, full composite, large cryogenic tank developed by Boeing passed a series of tests at NASA's Marshall Space Flight Center, proving its capability to be used in aerospace vehicles in the future.
Increasing demand for portable cryogenic tanks and liquid nitrogen storage containers is expected to promote the growth of the cryogenic storage tanks market in the coming years.
On the contrary, risks of cryogen leakage are anticipated to prove to be a major challenge for cryogenic equipment suppliers as prolonged exposure to cryogen may lead to frostbite and oxygen deficiency resulting in fatal damage to the lungs and other parts of the body.
The high CAPEX (Capital Expenditure) and OPEX (Operating Expenses) costs are predicted to obstruct the growth of the cryogenic equipment market across the forecast period. Maintenance costs of cryogenic systems are also very high and this could also potentially constrain market evolution over the coming years.
The market for cryogenic equipment in the Asia Pacific region is anticipated to be the most rewarding one in the world across the forecast period, which can be ascribed to the growing demand for gas-powered energy generation plants and the rising demand for clean energy.
Supportive government initiatives and robust economic growth in countries such as India, China, Japan, and South Korea are also expected to boost demand for cryogenic equipment through 2032.
This latest cryogenic equipment industry survey by skilled analysts at Fact.MR, a market research and competitive intelligence provider, lists all the key factors promoting and inhibiting market potential across the globe, with a detailed regional and segmental analysis as well.
Report Attributes

Details

Cryogenic Equipment Market Size in 2022

US$ 13.6 Billion

Projected Market Value (2032F)

US$ 26.5 Billion

Global Market Growth Rate (2022-2032)

6.9% CAGR

Asia Pacific Market Share (2021)

45%

Nitrogen Segment Growth Rate (2022-2032)

7.3% CAGR

Metallurgy Segment Market Share (2021)

27%

Germany Market Growth Rate (2022-2032)

4.8% CAGR

Key Companies Profiled

Chart Industries Inc.
Standex International
Air Liquide SA
INOX India Ltd.
Linde plc
Nikkiso Co. Ltd.
Galileo Technologies S.A.
MAN Energy Solutions SE
Wessington Cryogenics
SAS Cryo Pur
Ulvac Technologies Inc.
Herose GmbH
Braunschweiger Flammenfilter GmbH
Lapesa Grupo Empresarial s.l
Premier Cryogenics Ltd.
Cryolor SA
What's Affecting Cryogenic Equipment Demand Growth?
"High CAPEX & OPEX Inhibits Market Growth Potential"
The high energy costs required to run and maintain a cryogenic system increase the overall capital expenditure and operating costs and have a hampering effect on the overall market growth.
As per the US Department of Interior (DOI), the initial CAPEX costs associated with the setup of a cryogenic infrastructure plant is around US$ 300 million, which is quite high for new companies and startups and thus, acts as a restraining factor for the market development.
What are the Opportunities for Cryogenic Equipment Start-ups in the Industry?
"New Entrants Can Focus on Product Innovation to Make a Mark"
Upcoming market players are focusing on creating innovative and novel cryogenic systems and cryogenic devices to disrupt the market and advance their business potential.
Here are some start-ups that could change and revolutionize the global cryogenic equipment market in the near future.
P3 Technologies, a Florida, United States-based start-up develops high-speed rotating cryopumps and cryogenic turbopumps using fluid dynamics, advanced physics in aerospace design, and conjugate heat transfer. The products are designed specifically for rocket and military applications as they enable the rapid transfer of rocket propellants, liquid methane, and liquid oxygen.
Kiutra, a German start-up is manufacturing cryogen-free superconducting magnets for cryostats. These magnets allow direct magnetic control to sustain low temperatures and are used for cryostats in quantum, detector, and general research applications.
A Canada-based start-up, Intelline creates custom scalable cryogenic coolers with a proprietary layered geometry of pulse tube cold heads which is a combination of the linear compressor without moving parts in the pulse tubes for better effectiveness of the cooling system.
A United States-based start-up, Applied Cryo Technologies, is producing cryogenic containers and mobile storage facilities for liquefied natural gas (LNG) and other cryogens. The start-up aims to capitalize on the growing LNG market across the world as reliance on other fuels is witnessing a paradigm shift.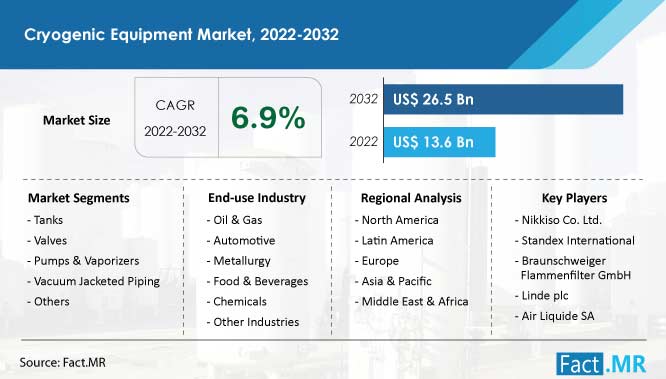 Country-wise Insights
Will the United States Be an Opportune Market for Cryogenic Equipment Manufacturers?
"Focus on Low Carbon Emissions & Increasing Demand for Energy"
Demand for energy is witnessing a substantial increase across the world and this trend is prominent in the United States as well. Moreover, the rising focus on sustainability has bolstered the demand for clean energy sources, which in turn is expected to drive up the demand for LNG (Liquefied Natural Gas) and subsequently boost demand for cryogenic equipment and services in the future.
Supportive government initiatives and the presence of key cryogenic equipment manufacturers are other factors that could promulgate sales of cryogenic devices in the country through 2032. Currently, the market for cryogenic equipment in the United States accounts for more than 20% share of the global industry landscape.
Should Cryogenic Equipment Companies Invest in Japan?
"High Demand for LNG & Prominent Presence of Chemical Industry"
Japan is known as one of the most technologically advanced nations in the world and this is what makes it a highly attractive market for all types of technologies. The nation is leading research in the quantum technology field and thus has a wide scope of application for cryogenic devices and services as cryostats play a crucial role in the functioning of quantum technologies.
The country is also the largest importer of liquefied natural gas (LNG) in the Asia Pacific region and this is also anticipated to boost cryogenic equipment sales over the next ten years. Moreover, the presence of key chemical manufacturers in Japan is also expected to drive market potential in the future. Demand for cryogenic equipment in Japan is estimated to rise at a steady 5% CAGR through 2032.
Which European Countries Could be Lucrative Markets for Cryogenic Equipment Suppliers?
"Germany & United Kingdom to be Rewarding Markets in Europe"
In 2020, Germany led natural gas imports in the European region and was responsible for around 102 billion cubic meters of natural gas imports, followed by Italy and the U.K. This trend is expected to be followed in a similar capacity over the coming years as well and this is anticipated to promulgate cryogenic system sales in Europe.
The increasing use of gases in several industrial applications and growing demand for clean energy are other factors that are expected to favor the growth of the cryogenic equipment market in European countries going forward.
Category-wise Insights
Which Industry Provides the Most Rewarding Returns?
"Oil & Gas Industry to Provide Attractive Business Scope"
Based on end-use industry, the market for cryogenic equipment is segmented into oil & gas, metallurgy, automotive, food & beverages, chemicals, and other industries
The oil and gas industry is anticipated to exhibit the most attractive business opportunities owing to the high use of cryogenic systems for various applications such as liquefaction, regasification, LNG transportation, etc. Increasing use of cryogenic gases such as argon and nitrogen in the petrochemical industry is also expected to boost cryogenic equipment sales in the long run.
Competitive Landscape
Prime companies in the cryogenic equipment market are launching new innovative solutions to enhance their market presence and boost their sales potential.
In November 2021, Envirotainer, a global leader in secure cold chain solutions for pharmaceuticals announced the launch of the CryoSure platform. The new platform was the most sustainable, high-performance, and superior-duration solution available in the market at the time of its launch. The CryoSure platform enables -70°C intercontinental shipping.
Key Segments in Cryogenic Equipment Industry Research
By Product :

Tanks
Valves
Pumps & Vaporizers
Vacuum Jacketed Piping
Others

By Cryogen :

Nitrogen
Oxygen
Argon
Liquefied Natural Gas (LNG)
Others

By Application :

By End-use Industry :

Oil & Gas
Metallurgy
Automotive
Food & Beverages
Chemicals
Other Industries

By Region :

North America
Latin America
Europe
APAC
MEA
- FAQs -
Worldwide sales of cryogenic equipment have reached US$ 13.6 billion in 2022.
By 2032, the market for cryogenic equipment is estimated to be valued at US$ 26.5 billion.
Demand for cryogenic equipment is forecasted to rise at 6.9% CAGR through 2032.
Increasing investments in the space industry, rising demand for LNG, and growing demand for energy and power are prime drivers for the market.
Standex International, Air Liquide SA, INOX India Ltd., Linde plc, Nikkiso Co. Ltd., Galileo Technologies S.A., MAN Energy Solutions SE, Wessington Cryogenics, and SAS Cryo Pur are key manufacturers of cryogenic systems.