Automotive Adhesive Market Overview
The global automotive adhesive market is expected to cross a valuation of US$ 7 billion by 2030. The COVID-19 pandemic has been projected to impact the industry, owing to restrictions on automotive production, and reduced sales on a global scale. Also, automotive manufacturers are facing challenges in terms of component supplies, which, in turn, is also affecting the expansion of the automotive adhesive market size.
With increased focus by automotive OEMs on weight reduction, reduced carbon emissions, and compliance with fuel emission regulations, automotive adhesives have become an increasingly popular solution. Also, greater focus on environmental-friendliness of product offerings has generated lucrative opportunities for product development in the automotive adhesive market space.
Automotive Adhesive Market Insights by Adhesive Type
Automotive adhesives are used regularly in sealing, holding and structural applications for automotive production and aftermarket uses. In addition, growing demand for characteristics such as corrosion resistance and weight reduction is creating increased scope of applications in different automobile formats.
Structural adhesives, in particular, are anticipated to account for significant share in the automotive adhesive market, surpassing alternatives such as tapes & films and liquid gaskets, which can be attributed to extensive use in holding and sealing vehicle panels for interior and exterior settings. Also, water-based and hot melt variants of automotive adhesives are anticipated to reflect faster growth rates from 2020 to 2030, on the back of longer durability and eco-friendly characteristics, respectively.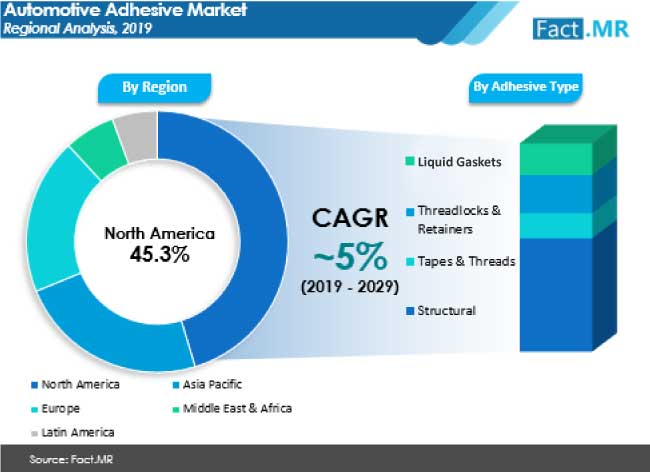 To gain in-depth insights on the sales prospects of different types of automotive adhesive types, request a report sample
Automotive Adhesive Market Insights by End Use
Automotive adhesives find use in body in white, glazing, powertrain, paint shop, and upholstery applications, among others. BIW is a fairly prominent use of automotive adhesives. This can be attributed to the transition towards automotive adhesives from conventional welding, which, in turn, provides benefits of reduced structural fatigue.
On the other hand, powertrain and upholstery end uses are projected to reflect faster growth in the automotive adhesive market over the coming years. Increasing popularity and integration of electric and hybrid variants is expected to boost the use of automotive adhesives. Further, growing adoption of premium cars, demand for aesthetic improvements and passenger comfort, coupled with value addition such as interior sound reduction features are expected to prove beneficial to the automotive adhesive market.
Regional Outlook of Automotive Adhesive Market
Asia Pacific is expected to account for a leading automotive adhesive market share, led by China, owing to large-scale vehicle production for international markets in the region. Other countries, including those under ASEAN and India, are also expected to witness fast growth on account of reduced labor and materials costs, and the consequent cost benefits to potential vehicle owners. Also, countries in the Asia Pacific region are benefiting from efforts by market players towards regional and capacity expansion.
Developed regions in North America and Europe are also prominent markets for automotive adhesives, and are projected to reflect steady growth throughout the assessment period. The transition towards electric vehicles is likely to revive consumption of automotive adhesives in these matured markets.
For deeper knowledge surrounding growth prospects of regional markets for automotive adhesives, ask an expert analyst
Automotive Adhesive Market: Competitive Landscape
Leading players in the automotive adhesive market are focusing increasingly on product development initiatives, in addition to collaborating with major end-use companies, to consolidate market share, regional presence, and improve on business operations.
For instance, Henkel AG & Co. KGaA, entered into a partnership with Formula E Team China Racing, for electric car racing circuit applications, to provide high tech automotive adhesive solutions, with the aim of promoting developments of the electric vehicle sector.
Huntsman International LLC has introduced new ARALDITE variants of 2021-1 and 2022-1, which provide improvements in structural adhesive applications.
Dow Inc. has unveiled its Betamate structural adhesive for automotive applications, which enables the integration of different substrates to be bonded.
Some other top players in the automotive adhesive market include Arkema S.A., DuPont, Sika AG, Jowat SE, 3M, Ashland, and H.B. Fuller Company.
COVID-19 Impact on Automotive Adhesive Market
Players in the automotive adhesive market are expected to be adversely impacted by the coronavirus pandemic. Lockdowns and restrictions on the manufacturing and automotive sectors of multiple countries have been key issues holding back revenue and market developments in the short term.
Automotive OEMs have been largely impacted owing to operational costs and capital issues, due to to delays in delivery of raw materials, which, in turn, is also impacting the automotive adhesive market. With continuing restrictions on supply chains and the current health threat for workers, manufacturers are projected to push for work-from-home operations for employees not running production lines. Also, manufacturing facilities are subject to strict social distancing and other regulatory guidelines, which will create short-term operational challenges for the duration of the crisis. According to the report by Fact.MR, the automotive adhesive market is likely to recover in 2021, following relaxation of industry restrictions.
The Analyst's Viewpoint
"Rise of the automotive adhesive market is primarily driven by light-weighting trends in the automotive, transport, and aerospace sectors. Strong demand from emerging economies such as China and India and vast regional automotive industries will provide profitable opportunities to leading market players."
Global Automotive Adhesive Market: Scope of the Report
A new report on the automotive adhesive market by Fact.MR provides forecasts for a 10-year period of 2020 to 2030. The report covers essential details on varying drivers, restraints, opportunities, and threats to the growing automotive adhesive market. An exhaustive segmental analysis on the basis of adhesive type, product, application, vehicle, and sales channel has been discussed in the report.
Regional analysis in terms of supply chain, market value, and business execution provides details about the scope of the automotive adhesive market in the future. Further, another section on the structure of the market has also been given, providing major details on leading market players and prominent strategies for growth in the automotive adhesive market.
Automotive Adhesive Market - Scope of the Report
Fact.MR has published a new study on the global market for automotive adhesives. The study provides detailed assessment on key market dynamics, such as the drivers, trends, opportunities, restraints, and essential data about the automotive adhesive market structure. The market study presents exclusive information about how the automotive adhesive market will grow during the forecast period of 2020-2030.
Key indicators of market growth, including Year-on-Year (Y-o-Y) growth of the market, value chain, supply chain analysis, and Compounded Annual Growth Rate (CAGR) are explained in Fact.MR's report in a comprehensive way. This information can help readers understand the quantitative growth prospects of the automotive adhesive market for the duration of the forecast period.
The study is relevant for stakeholders in the automotive adhesive market, including manufacturers, suppliers, distributors, and investors, and can help them in developing appropriate strategies to grow in the market. Stakeholders in the automotive adhesive market, investors, industry experts, researchers, and journalists, as well as business researchers can leverage the information and data presented in the Fact.MR study.
The study also includes statistics and facts associated with the macro- and micro-economic factors that are influencing developments in the automotive adhesive market. It also provides in-depth insights based on the future trends in the automotive adhesive market. Small businesses and new entrants in the automotive adhesive market too can make use of the information presented in this study, which can affect critical business decisions in order to gain momentum in the market.
Key Segments of Automotive Adhesive Market
| | | | | | |
| --- | --- | --- | --- | --- | --- |
| Adhesive Type | Product | Application | Vehicle | Sales Channel | Region |
| Structural | Solvents | BIW | Passenger Vehicles | OEMs | North America |
| Tapes & Films | Water | Glazing | Light Commercial Vehicles | Aftermarket | Latin America |
| Threadlocks & Retainers | Hot Melt | Powertrain | Heavy Commercial Vehicles | | Europe |
| Liquid Gaskets | Reactive | Paint Shops | | | Asia Pacific |
| | Others | Upholstery | | | MEA |
Fact.MR's study on the automotive adhesive market offers information divided into five key segments— adhesive type, product, application, vehicle, sales channel, and region. This report offers information about important the market dynamics and growth parameters associated with these categories.
Key Questions Answered in Fact.MR's Automotive Adhesive Market Report
Which regions will remain more profitable regional markets for automotive adhesive market players?
Which factors will induce a change in the demand for automotive adhesives during the assessment period?
How will changing trends impact the automotive adhesive market?
How can market players capture the low-hanging opportunities in the automotive adhesive market in developed regions?
Which companies are leading the automotive adhesive market?
What are the winning strategies of stakeholders in the automotive adhesive market to upscale their position in this landscape?
Automotive Adhesive Market: Analysis on Market Size Evaluation
The automotive adhesive market has been analyzed for each market segment in terms of volume (Cubic Meters) and value (US$ Mn). Market estimates at global and regional levels for automotive adhesives are available in terms of "US$ Mn" for value and in "cubic meters" for volume. A Y-o-Y growth contrast on prominent automotive adhesive market segments, along with market attractiveness evaluation, has been incorporated in the report. Furthermore, absolute dollar opportunity analysis of all the segments adds prominence to the report. Absolute dollar opportunity plays a crucial role in assessing the level of opportunity that a manufacturer/distributor can look to achieve along with identifying potential resources, considering the sales and distribution perspective in the global automotive adhesive market.
Automotive Adhesive Market: Research Methodology
In the Fact.MR report, a unique research methodology is used to conduct extensive research on the growth of the automotive adhesive market, and reach conclusions on the future growth parameters of the market. This research methodology is a combination of primary and secondary research, which helps analysts ensure the accuracy and reliability of the conclusions.
Secondary resources referred to by analysts during the preparation of the automotive adhesive market study include statistics from governmental organizations, trade journals, white papers, and internal and external proprietary databases. Analysts have interviewed senior managers, product portfolio managers, CEOs, VPs, marketing/product managers, and market intelligence managers, all of whom have contributed to the development of this report as a primary resource.
Fact.MR offers custom research services that help clients to get specific research solutions
We are committed towards customer satisfaction and quality service.
---
Our Clients

Automotive Adhesive Market Forecast, Trend, Analysis & Competition Tracking - Global Market Insights 2020 to 2030