Chlorinated Polyolefins Market
Chlorinated Polyolefins Market Analysis By Substrate (PP, PE, TPO, PVC Chlorinated Polyolefin), By Type (Water-borne, Solvent-borne Chlorinated Polyolefin), By Function (Adhesion Promoters, Impact Modifiers, Additives), By Solid Content, By Viscosity, & Regional Forecast 2019-2029
FACT3915MR
Nov-2021

List of Tables : 98

List of Figures : 328

170 Pages
Chlorinated Polyolefins Market Outlook
Global chlorinated polyolefins market is anticipated to rise at a CAGR of 4.6%, thereby topping a valuation of US$ 4.9 Bn by 2031. Currently, chlorinated polyolefins account for around 1.2% of overall polyolefins industry share. On the back of recognition as an advanced polymer and active component in adhesion promoter primers, total chlorinated polyolefins consumption is set to reach 1.8 MMT by the end of 2031.
| | |
| --- | --- |
| Chlorinated Polyolefins Market Size (2021) | US$ 3.1 Bn |
| Projected Sales Value of Chlorinated Polyolefins (2031) | US$ 4.9 Bn |
| Value CAGR (2021-2031) | 4.6% |
| Share of Top 5 Chlorinated Polyolefin Manufacturers | 32% |
Chlorinated polyolefins demand growth is mainly attributed to escalating consumption in a wide range of end uses such as paints & coatings, pipes & fittings, printing inks, adhesives, and much more. Of the prominent substrates, chlorinated PVC (CPVC) sales are expected to dominate as compared to other substrates (PP, PE, TPO, etc.), accounting for around 50% of total consumption by 2031.
Avail customized purchase options for your needs
Consumption Analysis of Chlorinated Polyolefins from 2016 to 2020 Vs Market Projections for 2021 to 2031
According to Fact.MR, a market research and competitive intelligence provider, over the past half-decade, global volume consumption of chlorinated polyolefin resins increased at a CAGR of around 3.7%. Global volume consumption as of 2020-end stood at around 1,160 KT, of which, pipes & fittings as an end use accounted for around 1/2 of total consumption.
Additionally, projections are that the advanced properties of chlorinated polyolefins such as impact- and heat-resistance are poised to drive consumption over the decade.
Attributed to application of chlorinated polyolefin as an excellent adhesion promoter and impact modifier, positive growth of around 4.6% CAGR is being projected for the forecast period of 2021 to 2031.
Further, pipes & fittings and use of chlorinated polyolefins in paints & coatings continue to drive the global market, which is expected to expand 1.5X by 2031-end.
Moreover, use of PVC resins as a substrate to produce chlorinated polyvinyl chloride (CPVC) is expected to dominate global consumption, standing at around 657.4 KT by 2021-end, thus helping in gaining 103 BPS in its market share by 2031. These estimations for CPVC consumption have been put in place by tracking investments and expansion of production facilities globally.
However, the COVID-19 pandemic had an impact on revenue generation capability of companies as production facilities were shut down and demand for chemicals dipped. The market is set to recover and jump to pre-COVID levels owing strong positive upsurge in demand from key end-use sectors over the coming years.
Will High Sales of Pipes & Fittings Bolster Demand for Chlorinated Polyolefin?
Polyvinyl chloride pipes are widely used for various plumbing and sewage applications in the commercial and residential sectors. PVCs have higher anti-corrosion and degradation properties as compared to other polyolefins, and hence, their use is usually recommended by various industry professionals.
However, PVC pipes are not recommended for use above a particular threshold temperature point, thus limiting their use in industrial and various commercial application. Since CPVC pipes have a higher temperature threshold, their adoption rate has seen a surge over the past half-decade.
Moreover, rise in housing and construction activities coupled with usage of chlorinated polyolefins as PVC pipes & cable compounders is poised to propel demand for PVC as a substrate, thus driving its consumption at a CAGR of around 4.8% over the decade.
An Adaptive Approach to Modern-day Research Needs
Which Properties of Chlorinated Polyolefin Make it Fit for Varied End Uses?
Chlorinated polyolefins showcase excellent adhesion properties when used for coating applications. Since conventional polyolefins such as polyethylene, polypropylene, and TPO have low surface energy, they tend not to adhere to coatings for a longer period of time.
Hence, chlorinated polyolefin adhesion promoters use case in automotive parts for better coating and surface finish has remained lucrative over the historical period. Thus, usage of chlorinated polyolefins as adhesion promoters is poised to provide the market with an absolute $ opportunity worth US$ 403 Mn through 2031.
Additionally, Fact.MR projects that chemical application as an impact modifier to be used in pipes & fittings will provide the market with the highest absolute $ opportunity whilst rising at a CAGR of around 4.8% through 2031.
What are the Major Obstructions That Might Limit Market Growth of Chlorinated Polyolefins?
Chlorinated polyolefin is an advanced polymer with superior properties, and hence, its price is higher than conventional materials used. Higher price leads to a shift of end users towards affordable chemicals, thereby acting as an obstruction to its revenue generation capabilities.
Additionally, presence of substitutes showcasing superior properties at lower prices have historically affected market growth and is poised to continue on the same path over the coming years.
Moreover, over the past decade, there have been increased regulations on chemical industries owing to carbon emissions. These regulations make it tougher for manufacturers to procure raw materials and increase their production capacities, thus acting as an obstruction to market growth.
Interested to Procure The Data
Which Region is Projected to Provide Most Opportunity for Sales of Chlorinated Polyolefins?
Consumption of chlorinated polyolefin in East Asia is projected to be around 524 KT by 2021-end, making the region one of major consumers of this chemical. High consumption in the region can be attributed to a well-established automotive industry along with rising housing and construction activities.
For instance, Asia has one of the highest urbanization rates, providing major boost to the housing industry, which, in turn, has propelled the sales of chlorinated polyvinyl chloride over the past half-decade. Moreover, China is a major consumer of paints & coatings, holding around 30% of the global market share.
Such consumption of high-growth chemicals in the region is poised increase the usage of chlorinated polyolefin, thus driving the East Asia market at a CAGR of around 4.2% over the forecast period.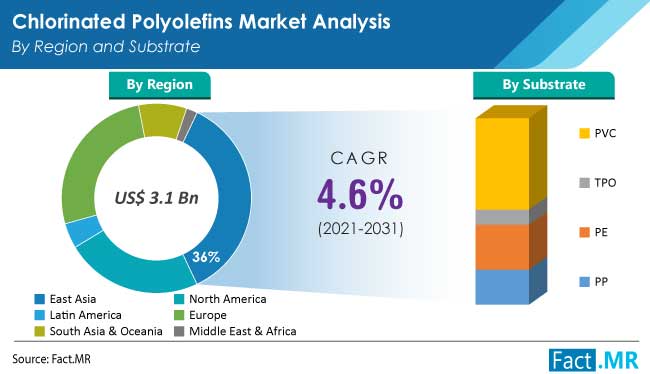 Country-wise Analysis
Why is China Seen as a High Potential Market for Chlorinated Polyolefins?
Over the past decade, China has positioned itself at the forefront of various chemical businesses. Chemicals ranging from acetone derivatives, syngas catalysts, chlorinated polyolefins, and various specialty chemicals are produced in the country.
Further, the Chinese market can be seen portraying new trends in the business model, owing to changing consumer preferences in the country. For instance, demand for high-end and advanced products is on the rise, which, in turn, has led to a surge in the usage of speciality and more sophisticated surfactants and additives.
Additionally, China also dominates the consumption of the above-mentioned chemicals, thus establishing it as the most lucrative market for the sales of chlorinated polyethylene.
Moreover, China has a well-established production base for chlorinated polyolefin, which makes regional end users procure bulk raw material at relatively lower prices, thus uplifting the revenue generating capability of companies, and hence the market.
Attributed to the above-discussed factors, China is projected to account for a fair share in global chlorinated polyolefin consumption of around 310 KT in terms of volume, with the market expanding at a CAGR of around 3.9% over the decade.
How is Demand for Chlorinated Polyolefin Evolving across Established and Evolving Markets?
Japan: Chlorinated polyolefin sales in Japan are projected to be mainly driven by increased demand for chlorinated polyolefins in automotive and polymer compounders.
Moreover, Japan has an ambitious plan to make it the epicentre of the electric vehicle market. Thus, rise of the electric vehicle industry in Japan is poised to provide lucrative opportunity for chlorinated polyolefin suppliers.
Attributed, to these factors, Japan is projected to provide an absolute $ opportunity worth US$ 157 Mn over the forecast period.
India: India is poised to provide the most lucrative opportunity for chlorinated polyethylene (CPE) sales in the SAO region. Market growth for the chemical in the country will mainly be driven by mounting consumption as an impact modifier in pipes & fittings. For instance, India consumed around 39.5 KT of chlorinated polyolefin in 2020.
These estimations have been put in place seeing a positive upsurge in the construction of housing facilities throughout the country. For instance, the government plans to build more than 20 Mn affordable houses by the end of 2022, which would see huge consumption of pipes & fittings.
Owing to these positive trends, India is projected to hold a dominant share among South Asia & Oceania countries over the coming years.
Brazil: With a global ranking of six, Brazil has a robust automotive sector. Since chlorinated polyolefin finds major use as an adhesion promoter and primer in coatings for automotive parts and components, market growth for the chemical in Brazil is projected to be significant at a CAGR of around 4.2%.
Moreover, Brazil is also poised to provide the highest incremental $ opportunity in the Latin American region.
US: The U.S. market, over the past half-decade, has shown consistent growth in terms of revenue generation from chlorinated polyolefin. Well-established automotive and paints & coating industry have upheld market growth for the chemical in the country.
Additionally, rising trend of advanced packaging in the U.S. has also provided a positive outlook to chlorinated polyolefin sales, thus bolstering demand for chlorinated polypropylene over the forecast period.
Moreover, a recent announcement by the US government to invest around US$ 1.2 Tn in infrastructure renovation will provide a surge to the demand for CPVC, which, in turn, will propel chlorinated polyolefin demand in the country.
Category-wise Insights
Why is PVC Chlorinated Polyolefin Hugely Popular?
Demand for PVC as a substrate for the production of chlorinated polyvinyl chloride is high. This is mainly attributed to its consumption in end uses such as pipes & fittings. Further, superior properties of CPVC such as high impact- and heat-resistance have been recognized by various end-use industries, thus propelling its consumption.
Attributed to the above-discussed factors, PVC, as a substrate, is projected to provide the highest absolute $ opportunity, increasing a CAGR of around 4.8% with consumption standing at around 995.6 KT by 2031-end.
Which Application is Projected to Dominate Sales of Chlorinated Polyolefins?
Chlorinated polyolefin application as an impact modifier and adhesion promoter is projected to dominate revenue share over the forecast period. Both these applications are estimated to account for around 72% of the global market share of chlorinated polyolefins.
Such mounting consumption of the chemical can be attributed to its ability to serve high-growth end-use segments such as paints & coatings and automotive. Hence, chlorinated polyolefin application as an impact modifier and adhesion promoter is poised to increase at a CAGR of 4.8% and 5%, respectively.
Moreover, high demand for solvent-based chlorinated polyolefins over the sales of water-based chlorinated polyolefins is projected to drive global consumption of the chemical, thus providing an incremental $ opportunity worth US$ 1.2 Bn over the next ten years.
How are Pipes & Fittings Driving Most Sales of Chlorinated Polyolefins?
Accounting for around 50% of the global chlorinated polyolefins market share, pipes & fittings as an end use is projected drive market growth. Additionally, rising housing and use of chlorinated polyolefins in building & construction globally has provided a surge in the consumption of CPVC resins, thus giving rise to increased usage of chlorinated polyolefins in pipes & fittings.
Moreover, demand for chlorinated polyolefins in the paints & coatings industry is also projected to drive consistent sales of chlorinated polyolefin, mainly attributed to the chemical's advanced adhesion properties. Further, use of chlorinated polyolefins in adhesives & sealants is also projected to gain traction over the forecast period.
COVID-19 Impact
The COVID-19 pandemic left no industry affected, and impacted the sales of chlorinated polyolefin too. Y-O-Y growth in revenue saw a dip of 0.8% in 2020 when compared to 2019. This contraction can be attributed to decrease in CPE demand from the construction and housing sector along with reduced sales of automotive components.
Moreover, since the construction and housing sectors are back on track, consumption of chlorinated polyolefin will see a surge, thus stabilizing the overall market.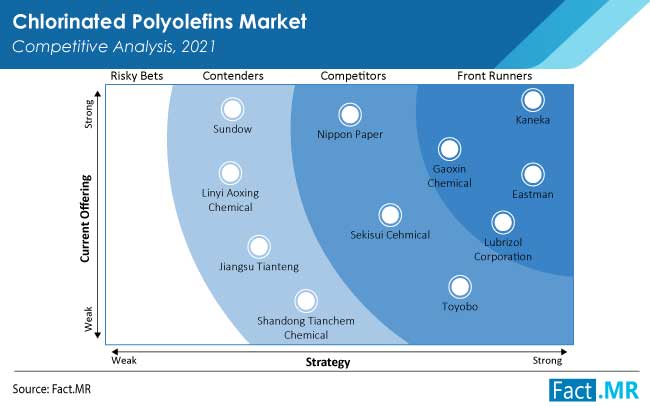 Top Companies in Chlorinated Polyolefins Market
Manufacturers of chlorinated polyolefin have mainly opted for organic growth strategies such as capacity expansion, product development, and innovation. These strategies are helping chlorinated polyolefin key players expand their regional footprint and garner market share, thus providing them with a competitive advantage.
Fact.MR has provided detailed information about the price points of top manufacturers of chlorinated polyolefins positioned across regions, sales growth, production capacity, and speculative production expansion, in the recently published report.
In November 2019, Gaoxin Chemical announced that it will expand its chlorinated polymer production facility to an annual capacity of 60 KT.
In October 2020, Lubrizol announced a partnership with Grasim Industries to set up India's largest CPVC resin plant. Once completed, the plant will be able to produce around 100 KT of resin annually.
In February 2021, Sundow announced the expansion of its chlorosulfonated polyethylene production line, taking the company's total CSM capacity to 5 KT/ annum.
Similarly, recent developments related to companies manufacturing chlorinated polyolefin have been tracked by the team at Fact.MR, which are available in the full report.
Chlorinated Polyolefin Industry Report Scope
Attribute
Details
Forecast Period
2021-2031
Historical Data Available for
2016-2020
Market Analysis
KT for Volume and US$ Mn for Value
Key Regions Covered

North America
Latin America
Europe
East Asia
South Asia
Oceania
MEA

Key Countries Covered

United States
Canada
Brazil
Mexico
Germany
U.K.
France
Spain
Italy
China
Japan
South Korea
India
Indonesia
Malaysia
Singapore
Australia
New Zealand
Turkey
South Africa
GCC Countries

Key Market Segments Covered

By Substrate
By Solid Content
By Type
By Viscosity
By Function
By End-use
Region

Key Companies Profiled

Advanced Polymer
Shanghai Chlor Alkali
BASF
Dow
Eastman
Fenghua Yuron Chemical Industry Material
Fujian Wantaixing Chemical
Gaoxin Chemical
Golden Success Chemical
Jiangsu Tianteng
Kaneka
Linyi Aoxing Chemical
Nippon Paper
Qingdao Hygain Chemical
Sekisui Chemical
Shandong Tianchem Chemical
Shandong Xuye
Shandong Yangxin Fengyuan Technology
Sundow
Toyobo
Xuhe New Materials
Yaxing Chemical

Pricing
Available upon Request
Chlorinated polyolefin polymers industry research performed by Fact.MR delves on key insights such as current and speculative production capacity, capacity utilization rates of each producer, current and speculative pricing, price optimization strategy across the value chain, techno-economic analysis of chlorinated polyolefin production, and much more.
Key Segments Covered in Chlorinated Polyolefin Industry Survey
By Substrate

PP Chlorinated Polyolefin
PE Chlorinated Polyolefin
TPO Chlorinated Polyolefin
PVC Chlorinated Polyolefin

By Solid Content

<25% Solid Chlorinated Polyolefin
25%-50% Solid Chlorinated Polyolefin
50%-70% Solid Chlorinated Polyolefin
70%-100% Solid Chlorinated Polyolefin

By Type

Water-borne Chlorinated Polyolefin
Solvent-borne Chlorinated Polyolefin

By Viscosity

<50
50-250
250-400
400-800
800-1,000
1,000-1,500
1,500-2,500
2,500-6,000
>6,000

By Function

Adhesion Promoters
Impact Modifiers
Additives
Laminating Agents
Primers
Binders
Others

By End Use

Chlorinated Polyolefin for Paints & Coatings
Chlorinated Polyolefin for Pipes & Fittings
Chlorinated Polyolefin for Printing Inks
Chlorinated Polyolefin for Adhesives
Chlorinated Polyolefin for Food Packaging
Chlorinated Polyolefin for Automotive Parts

Bumper
Interior Parts
Wheel Cap
Others