Chlorinated Polyolefins Market
Chlorinated Polyolefins Market Analysis By Substrate (PP, PE, TPO, PVC Chlorinated Polyolefin), By Type (Water-borne, Solvent-borne Chlorinated Polyolefin), By Function (Adhesion Promoters, Impact Modifiers, Additives), By Solid Content, By Viscosity, & Regional Forecast 2022-2032
Analysis of Chlorinated Polyolefins market covering 30 + countries including analysis of US, Canada, UK, Germany, France, Nordics, GCC countries, Japan, Korea and many more
Comprehensive Chlorinated Polyolefins Market Overview (2022-2032)
The global chlorinated polyolefins market holds a valuation of US$ 3.2 billion in 2022 and with increasing consumption of chlorinated polyolefins in the packaging industry, the market is expected to grow at a CAGR of 4.6% by 2032.
There has been a rise in the consumption of advanced polymers for various applications such as food packaging, manufacturing of automotive parts, and adhesives. Additionally, consumers over the years have become more vigilant towards the products they purchase. Thus, chlorinated polyolefin exhibiting properties better than conventional polymers are being highly demanded by varied end-users.
Report Attributes

Details

Chlorinated Polyolefins Market Size (2021A)

US$ 3.1 Billion

Global Polyolefins Market Size

US$ 270.0 Billion

Estimated Market Value (2022E)

US$ 3.2 Billion

Forecasted Market Value (2032F)

US$ 5.1 Billion

Global Market Growth Rate (2022-2032)

4.6% CAGR

North America Market Share (2021)

~23.4%

East Asia Market Growth Rate (2022-2032)

~4.2% CAGR

India Market Growth Rate (2022-2032)

4.8% CAGR

Market Share of Top 5 Companies

~67.4%

Key Companies Profiled

Advanced Polymer
Shanghai Chlor Alkali
BASF
Dow
Eastman
Fenghua Yuron Chemical Industry Material
Fujian Wantaixing Chemical
Gaoxin Chemical
Golden Success Chemical
Jiangsu Tianteng
Kaneka
Linyi Aoxing Chemical
Nippon Paper
Qingdao Hygain Chemical
Sekisui Chemical
Shandong Tianchem Chemical
Shandong Xuye
Shandong Yangxin Fengyuan Technology
Sundow
Toyobo
Xuhe New Materials
Yaxing Chemical
Know thy Competitors
Competitive landscape highlights only certain players
Complete list available upon request
A Brief Overview of Market Growth Pattern
Polyolefin substrates such as polypropylene, polyethylene, and polyvinyl chloride are low-energy surface plastics showcasing high chemical resistance thus having an upper edge over conventional methods of adhesion such as solvent cementing and heat welding. Chlorinated polyolefin acts as an excellent adhesion promoter helping coating materials to adhere to the surface of substrates even under adverse environmental conditions. Chlorinated polyolefin thus presents an effective solution to low surface energy coatings.
Short Term Growth Outlook (2022 to 2025): The increase in demand for chlorinated polyolefins is mostly related to rising usage in a variety of end uses, including paints and coatings, pipes and fittings, printing inks, adhesives, and more.
Medium Term Growth Outlook Growth Outlook (2025-2028): Additionally, it is anticipated that over the next ten years, demand will be driven by the enhanced features of chlorinated polyolefins, such as their resilience to heat and impact. This mainly enhances its use in automotive parts manufacturing.
Long Term Growth Outlook (2028-2032): Polyvinyl chloride is commonly used in the manufacturing of pipes for residential and industrial applications. Attributed to the rising demand for PVC that can withstand high heat resistance that too with excellent tensile strength, chlorinated polyvinyl chloride has gained traction over the years. Hence, mounting construction and housing activities have allowed players to focus on the development of high-quality CPVC resins in accordance with the need of end-use industries. As per the long-term prognosis, market growth is expected in the forecast period
Chlorinated polyolefins market has witnessed a moderate growth rate of 3.9% in the historical period (2017-2021) and is all set to stretch at 4.6% CAGR forecast timeframe reports Fact.MR, a market research and competitive intelligence service provider.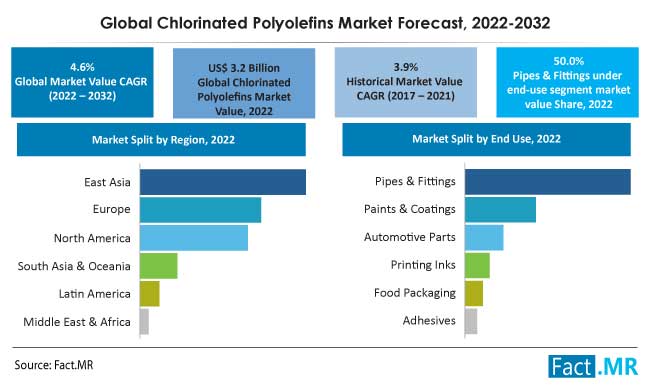 The image illustrates the market assessment of chlorinated polyolefins based on end-use and region. Under the end-use segment, the pipes and fittings account for 50.0% market share in 2022.
"Escalating demand for high-quality plastics to uphold Chlorinated Polyolefins Market growth"
Plastics are an essential part of everyday life, finding usage in a wide range of end uses such as food packaging, printing, manufacturing of automotive components, construction, and many more. Due to such a wide range of applications, demand for plastics with excellent strength, corrosion resistance, and durability are on the rise. The most commonly used plastics are polypropylene, polyethylene, thermoplastics, and polyvinyl chloride. However, these plastics offer low surface energy and hence are difficult to adhere to coatings when applied for surface finishes.
Chlorinated polyolefin is thus often used as an adhesion promoter, which makes plastics capable of offering excellent performance under adverse environmental conditions such as high temperature, humidity, and exposure to corrosive chemicals. Moreover, chlorinated polyolefin also helps in enhancing the aesthetic aspects of plastics and is thus highly demanded in various end-use applications.
"Mounting adoption of CPVC as an alternative to PVC for industrial applications"
PVC or polyvinyl chloride is the most commonly used material for pipe manufacturing and finds usage in various residential and commercial applications such as plumbing, water distribution, gas distribution, drainage, and sewage infrastructure.
However, pipes made from PVC resins have certain limitations. For instance, PVC can only withstand temperatures of up to 140 degrees Fahrenheit, which makes it unsuitable for various industrial applications. Hence, as a better alternative, CPVC has risen to the occasion, offering high-temperature resistance with a peak temperature threshold of 200 degrees Fahrenheit.
Moreover, CPVC also provides superior resistance along with a long life span, which makes it fit for industrial applications such as hot water distribution and chemical handling. Due to these factors, there has been a surge in the consumption of CPVC resin for pipe production, serving the heightened demand from industrial applications.
"Chlorinated polyolefin use in printing application to provide stupendous revenue growth opportunity"
Projections say that there will be a fall in demand for publication inks, mainly due to the penetration of online services in the advertising space. Facebook, Instagram, and Amazon have taken global advertising to a new level with their seamless online services. However, trends are different in packaging inks, as there is a surge in demand for printing on packaged goods.
The use of printing inks is projected to grow, mainly due to various macroeconomic factors such as urbanization and population growth. Moreover, conventional printing inks can only be employed on a limited range of base films such as nylon and polyester, showing insufficient adhesion on polypropylene and polyethylene films. Chlorinated polyolefin can be used to improve adhesion to various polyolefin substrates. Hence, the use of chlorinated polyolefin as a binder for printing applications in the packaging industry is poised to offer significant revenue growth opportunities to market players in the coming decade.
"Fluctuation in ethylene prices to hinder supply chain activities"
Ethylene is an essential raw material for the production of chlorinated polyolefin. Over the past half-decade, there has been a fluctuation in ethylene prices, which can mainly be attributed to factors such as planned and unplanned cracker maintenance, capacity expansion in the Asia Pacific, as well as various disruptions and restrictions in the petrochemical industry.
Moreover, a rise in the price of natural gas feedstock owing to an increase in drilling activities has contributed extensively to ethylene price fluctuations. All these factors have led to elevated pricing for raw materials, disrupting the supply chain for chlorinated polyolefin.
Country-wise Penetration for Chlorinated Polyolefins in Global Market
Why does India Seem to be a Huge Market for Chlorinated Polypropylene Utilization?
In the South Asia & Oceania region, India is anticipated to be the most attractive market for chlorinated polyethylene (CPE) sales. Growing demand for chlorinated polyolefins as an impact modifier in pipes and fittings would be the key factor driving market expansion in the nation. In 2021, the total consumption of chlorinated polypropylene in India was 39.5 KT.
These projections were made in light of the country's overall increasing investment in infrastructure building. For instance, the government intends to construct over 20 million affordable homes by the end of 2022, which will result in the significant pipe and fitting utilization.
India is expected to hold a leading position among the nations of South Asia and Oceania in the upcoming years as a result of increased spending on infrastructure development.
Why there is bolstering demand for Chlorinated polyolefins in the US automotive industry?
The U.S. market is already adopting technological upgradation to match the rapidly transitioning automotive industry. The US has consistently increased its revenue stream from chlorinated polyolefin. The country's chemical sector is one of the important industries contributing to the growing automotive and paints & coatings industries.
Furthermore, the growing popularity of sophisticated packaging in the United States has improved the prognosis for chlorinated polyolefin sales, which will support chlorinated polypropylene demand over the projected period.
Additionally, the US government's recent announcement to invest roughly US$ 1.2 trillion in infrastructure rehabilitation will increase demand for CPVC, which will in turn increase demand for chlorinated polyolefin in the nation.
More Insights, Lesser Cost (-50% off)
Insights on import/export production,
pricing analysis, and more – Only @ Fact.MR
Category-wise Insights
PVC-chlorinated polyolefin is hugely popular for what reasons?
PVC is in high demand as a raw material for the manufacture of chlorinated polyvinyl chloride. This is primarily attributable to the fact that it is used in end uses like pipelines and fittings. Additionally, CPVC's exceptional qualities, such as its high impact and heat resistance, have been acknowledged by a variety of end-use sectors, which has boosted its use.
Why chlorinated polyolefins are mostly demanded pipes & fittings production?
Pipes & fittings is the end user that is expected to lead the market expansion, accounting for almost 50% of the worldwide chlorinated polyolefins market share. The consumption of CPVC resins has increased due to rising housing costs and the use of chlorinated polyolefins in building and construction worldwide, which has led to a growth in the use of these materials in pipes and fittings.
Additionally, constant sales of chlorinated polyolefin are anticipated to be driven by demand in the paints and coatings industry, mostly because of the substance's superior adhesive capabilities. Additionally, it is anticipated that during the forecast period, the use of chlorinated polyolefins in adhesives and sealants would grow.
Manufacturer's Growth Stratagems Analysis
Leading chlorinated polyolefin manufacturers are Eastman, Dow, Kaneka, Lubrizol Corporation, Nippon Paper, Sekisui Chemical, Gaoxin Chemical, and others.
Chlorinated polyolefin producers mostly use organic growth techniques such as capacity growth, product development, and innovation. These tactics are giving the major producers of chlorinated polyolefins a competitive edge by enabling them to grow their regional presence and capture market share. Further to meet the demand of diverse end users, the manufacturer should focus on product innovation.
In February 2021, Sundow announced the expansion of its chlorosulfonated polyethylene production line, taking the company's total CSM capacity to 5 KT/ annum.
In October 2020, Lubrizol announced a partnership with Grasim Industries to set up India's largest CPVC resin plant. Once completed, the plant will be able to produce around 100 KT of resin annually.
Fact.MR has provided detailed information about the price points of key manufacturers of chlorinated polyolefin positioned across regions, sales growth, production capacity, and speculative technological expansion, in the recently published report.
Segmentation of the Chlorinated Polyolefins Market
By Substrate :

By Solid Content :

< 25%
25% - 50%
50% -70%
70% - 100%

By Type :

Water Borne
Solvent Borne

By Viscosity :

<50
50-250
250-400
400-800
800-1,000
1,000-1,500
1,500-2,500
2,500-6,000
>6,000

By Function :

Adhesion Promoters
Impact Modifiers
Additives
Laminating Agents
Primers
Binders
Others

By End Use :

Paints & Coatings
Pipes & Fittings
Printing Inks
Adhesives
Food Packaging
Automotive Parts

Bumper
Interior Parts
Wheel Cap
Others

By Region :

North America
Latin America
Europe
East Asia
South Asia & Oceania
MEA
- FAQs -
The global market size of chlorinated polyolefins was US$ 3.1 billion in 2021 and is expected to grow at a CAGR of 4.6%.
Chlorinated polyolefins are primarily consumed in the production of pipes & fittings.
Europe holds around 26.3% share in the global chlorinated polyolefins market and is expected to grow at a CAGR of 5.0% by the forecast period.
Germany accounts for the maximum share in Europe, holding an approximate market share of 31.8% in the Europe Market.
Owing to increasing sales of EV/hybrid automobiles, manufacturing of bumper demands the increased production of chlorinated polyolefins.