LIB Anode Market
LIB Anode Market Analysis Report Market By Anode Composition (Natural Spherical Graphite, Synthetic Graphite, Amorphous Graphite, LTO, Other), By Cell Type (Cylindrical, Prismatic, Polymer (Pouch)), By End use application, By Region - Global Market Insights 2019-2027
FACT4068MR
Mar-2022

List of Tables : 123

List of Figures : 99

170 Pages
LIB Anode – The Functional Core Out for Massive Reformation
A recent study by Fact.MR foretells the global LIB anode market to record an expansion rate of ~ 10% over the forecast period, 2019–2027. Currently, the global LIB anode market is predominantly concentrated in China and Japan, collectively accounting for ~ 60% share.
The global LIB anode industry continues to gain remunerative opportunities across developed as well as developing economies, on the backdrop of increasing investments, product innovations, and several R&D activities taken up by the key manufacturers.
Rapid climate changes and concerns over environmental & energy security problems have been compelling automakers to develop low- and zero-emission vehicles, which is likely to play an essential role in the promising future scenario of e-mobility.
In the view growing focus towards environmental sustainability and continuous innovations in the materials, the demand for LIB anodes will continue to witness promising growth in the years ahead, for its significant advantage in the reduction of CO2 emissions.
Moreover, recent developments within the active anode ingredients marked with several cost optimization techniques have created a positive impact on the adoption rate of anode materials for manufacturing LIB batteries.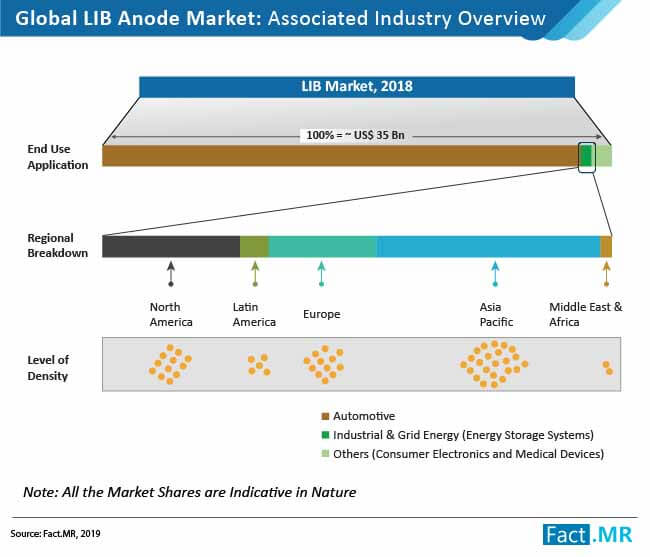 The global market for LIB anode is estimated to record a significant growth rate in legacy regions including East Asia, Europe and North America, due to expanding production capacities of potential manufacturers in these regions.
Over the years, the global market for LIB anode has witnessed several collaboration and partnerships between the material manufacturers and end users, such as battery manufacturers, automakers and others. Key industry giants including -
Hitachi Chemicals
Nippon Chemical
Betray New Energy Materials
Umicore
Sumitomo Chemicals
BASF
hold the leading share in the global LIB anode market, and are likely to attract more end users in the near future, owing to their significant brand positioning across the globe.
A LIB battery is a rechargeable battery where the LIBs travel from the anode to the cathode during charging and discharging. These batteries are the most popular type of rechargeable batteries used in portable electronics, due to its high energy density, low self-discharge capabilities, and a tiny memory effect.
In recent years, rechargeable LIB batteries with a graphite anode and lithium transistor metal oxide cathode are being developed rapidly, and are widely implemented in several portable electronic devices. Moreover, the rapid penetration of 5G communication, robotics, and electric vehicles will propel the demand for LIB anode for its highly efficient properties.
Avail customized purchase options for your needs
Growing Implementation of Rechargeable Batteries in Consumer Electronics and EVs to Push the Market on Northward Trajectory
An embrace of R&D activities is underway to implement anode ingredients within LIB batteries. Rise in the demand for LIB anode is likely to be influenced by the improving purchasing power of individuals across developing economies coupled with growing penetration of energy efficient appliances.
Consumer electronics sales rebounded from the global economic downturn since 2010 and have been growing since. Consequently, the demand of consumer electronics from households is set to accelerate, given easier access to credit and rising disposable income. In addition, the need for high power and energy density will continue to generate demand for reliable and safe batteries for the several industries including consumer electronics and automotive.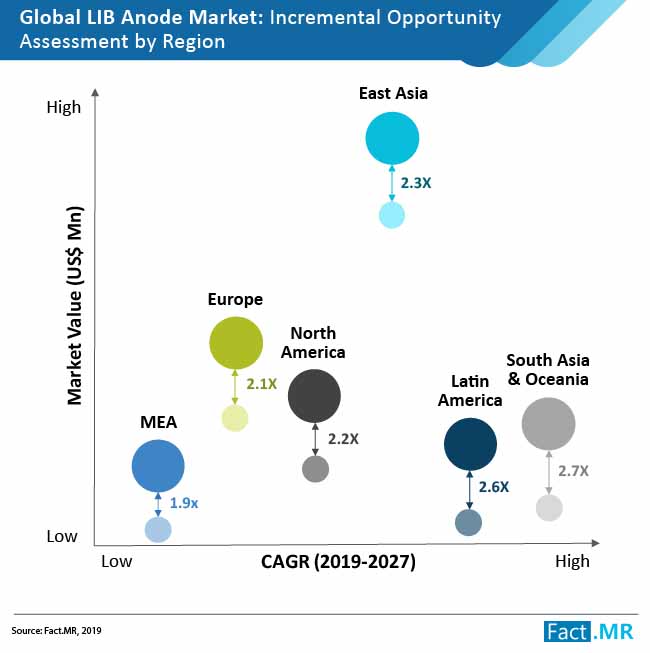 The global automotive industry is likely to witness steady growth over the next coming years. However, the growing global economy and sustainability drive have urged the market to shift to higher efficient and large energy storage materials and batteries.
Considering the expanding middle-class population, coupled with increasing disposable income in emerging economies, the automotive production is expected to witness further growth. Thus, potential market opportunities lie ahead of LIB anode manufacturers.
An Adaptive Approach to Modern-day Research Needs
Battery Material Developers are Turing to Novel Anode Materials
Several startups and established material firms have realized the true potential of anode, as it can hold roughly ten times the number of electrons as graphite, leading to LIB batteries with 30% –40% higher energy density, as anode absorbs a large number of LIBs during charging.
After several years of research and development, material developers are turning into anode materials for the utilization in LIB batteries. Continuous innovations and capacity expansion remain a trending point among key manufacturing companies in the LIB anode market.
Over the last two-three years, key companies have strategically announced the expansion of their production capacities and innovations in their battery materials segment via new plant establishments, the introduction of new product line, and increasing investments in anode materials for LIB batteries.
Anode material developers being well aware about the large market potential are developing ways to implement anode in portable devices, electric cars and grid energy storage. Such factors are expected to drive the global LIB anode market during the forecast period of 2019 to 2027.
Interested to Procure The Data
Segmentation of the global LIB anode market
Segmentation of the global LIB anode market has been provided in the form of a taxonomy table in the report.
Based on anode composition, the global LIB anode market is segmented into:
Natural Spherical Graphite
Synthetic Graphite
Amorphous Graphite
Lithium Titanate (LTO)
Others
Based on cell type, the global LIB anode market is segmented into:
Cylindrical
Prismatic
Polymer (Pouch)
Based on end use application, the global LIB anode market is segmented into:
Automotive
Medical Devices
Consumer Electronics
Industrial & Energy Storage
Based on region, the global LIB anode market is segmented into:
North America
Latin America
Europe
East Asia
South Asia and Oceania
Middle East & Africa (MEA)
- FAQs -
A recent study by fact.mr foretells the global lib anode market to record an expansion rate of 10% over the forecast period, 2019–2027.
Hitachi chemicals, nippon chemical, betray new energy materials ,umicore, sumitomo chemicals,basf
Need an Exclusive Report for your Unique Requirement?
- Our Clients -