Metallic Packaging, A Growth Engine for the Beverage Cans Market
The global sales of beverage cans market were pegged at over US$ 45 Bn in 2018 and it is likely to grow at CAGR of over 4% during the foreseeable period from 2019-2027. Metal packaging plays a vital role in the preservation of consumable food & beverage products. The common term used to define this process is called "canning". Nowadays, canned food & beverage products are an important part of everyone's daily life. Furthermore, with the growing demand of canned food & beverage products, large organized retailers have started to stack an extensive amount of canned food & beverages, owing to which the demand of metal packaging is growing at a significant rate in the market due to its immobile inherent properties. The recycling of metal beverage cans does not require the addition of primary material or additives to enable the basic material properties. This is projected to significantly boost the growth of metal cans, thus driving the beverage cans market over the forecast period.
Aluminum Cans, a Sustainable Solution for Beverage Packaging
Aluminum cans are the most sustainable beverage packaging among all type of beverage cans and it can be recycled infinite times. An average aluminum can contain 70% recycled metal which can be reused in the manufacturing of beverage cans making it a closed loop of recycling process. Aluminum beverage cans are the most recycled aluminum product in the global market. In addition, the aluminum beverage cans are lightweight, which makes its transportation operations more efficient and economical. The several advantages of aluminum beverage can over other materials are estimated to propel the growth of global beverage cans market over the forecast period.
Additionally, the growing innovations in the aluminum can industry is driving the growth of beverage cans in the global market. Crown Holdings, Inc., a leading manufacturer of metal packaging solutions, introduced Crown's 360 End®, a new range of aluminum 2-piece beverage cans with a full aperture end. In this product range the entire lid of the beverage cans can be removed, thus transforming an aluminum can into a drinking cup. The company also introduced SuperEnd® beverage cans ends. These new can trends reduced the metal use by 10% making the aluminum beverage cans lighter and cost effective in the global market.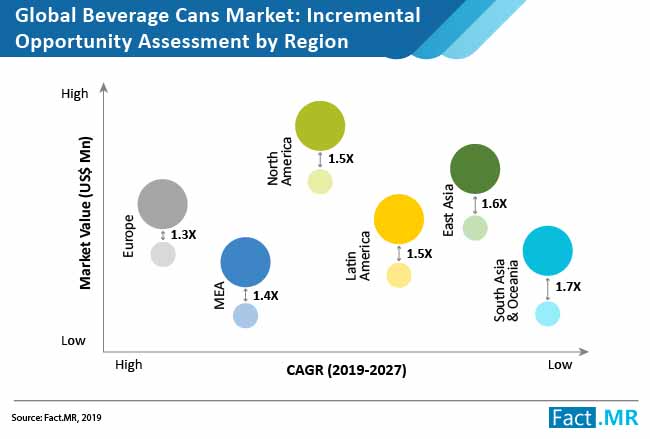 For more in-depth insights on the regional analysis of the beverages can market, request free report sample here
Innovations in Beverage Cans Technology Spurring the Global Market
The innovations in beverage cans technology and design is a key element in the global market. Most of the prominent manufacturers in the beverage cans market are focusing on research & development activities to make the beverage cans more innovative. For instance, Ardagh Group, a leading beverage cans manufacturer is manufacturing special shaped metal cans for luxury iced coffee brand Gaya Gold Coffee. These new exquisitely-designed cans have already made a huge impact in the United Arab Emirates market and will soon be launched in other Middle Eastern countries. Furthermore, Crown Holdings, Inc. launched a new range of beverage cans with temperature sensitive inks, which can increase the customer interaction before, during and after the beverage consumption. The new augmented reality packaging CrownSmart™ launched by Crown Holdings, Inc. is also an innovative way of interaction with the consumers. The CrownSmart™ unique codes can be scanned and are helpful for collecting experiential content that can be used as anti-counterfeiting technology.
Changing Consumer Preferences, a Driving Engine for Beverage Cans
Consumers are always on the move; this is majorly impacting the beverage consumption habit of consumers. Consumers are seeking a quick, on-the-go and easy solution for beverage consumption. Hence, brands are focusing on offering beverages in convenient packaging to attract the consumers. Offering convenience is becoming a priority for brands and manufacturers. According to a research conducted by Can Manufacturers Institute (CMI), more than 80% of consumers believe that cans are a better and effective packaging compared to others. It protects the taste and carbonation of beverages. In addition, more than 70% consumers stated that, a unique shape and printing space on cans is more appealing compared to other simple beverage cans. Majority of the consumers try new products based on the design of the container. The above factors will positively affect the demand of beverage cans market.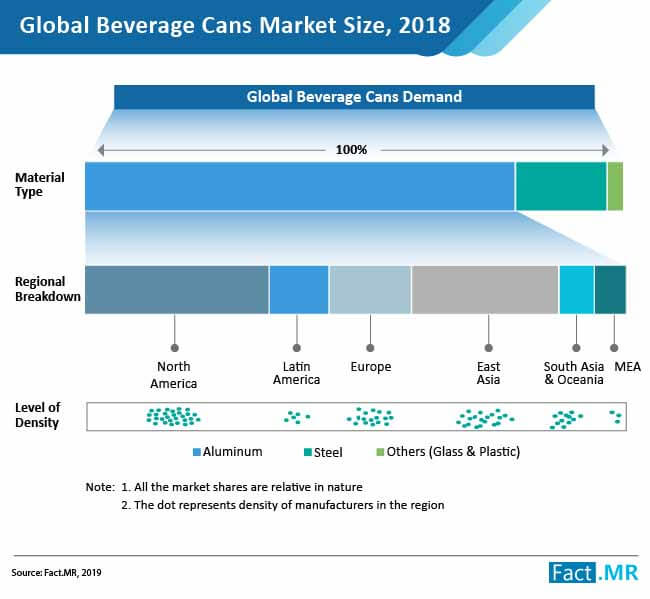 For an exclusive and insightful view of the beverage cans market, request for a free report sample here
Acquisitions and Expansion, the Key Strategies for Market Consolidation
The global beverage cans market is fragmented and most of the manufacturers are limited to regional markets. Acquisitions and expansions are some of the key strategies followed by the prominent market players to increase their market share and customer base in the global beverage cans market. For instance,
On 13th December 2018, ORG Technology Co. Ltd., a leading Chinese metal packaging company, acquired the metal beverage packaging facilities in China from Ball Corporation.
On 17th April 2019, the Ardagh Group, a leading beverage cans manufacturer announced the expansion of production at its Jacareí and Manaus can end facilities in Brazil. By doing so, the company is focusing on catering to the increasing demand of aluminum packaging.
On 6th February 2018, Ball Corporation, a leading aluminum packaging manufacturer announced that they will build a new production plant for one-line beverage cans in Asunción, Paraguay.
16th August 2019, Crown Beverage Packaging North America, a leading beverage cans manufacturer in the North American Market opened a new graphics studio for beverage cans. This new facility enables the development of innovative ideas and designs for beverage cans in the market.
These merger and acquisition strategies will enable key market players to further consolidate their position in the global beverage cans market. The emerging players are implementing the growth strategies followed by the prominent market players to gain a foothold in the market.
Request research methodology of this report.
Beverage Cans Market – Scope of the report
This report provides forecast and analysis of the beverage cans market. It provides historical data of 2013 along with estimated data for 2019, and forecast data up to 2027 in terms of revenue (US$ Mn) and volume (Mn Units), according to a Fact.MR study. The research propounds key trends that are currently influencing growth of the beverage cans market along with the macro-economic indicators. This newly published and insightful report sheds light on key dynamics, and their impact on overall value chain from component suppliers to end users, which are expected to transform the future of the beverage cans market.
The report also comprises the study of current issues with end users and opportunities for beverage cans in the global market. It also contains value chain analysis along with key market participants. In order to provide users of this report with a comprehensive view of the beverage cans market, we have included detailed competitive analysis about market key players and strategic overviews. The dashboard provides a detailed comparison of beverage cans manufacturers on parameters such as total revenue, product offerings and key strategies. A list of key companies operating in the beverage cans market provided in the report adds to the credibility of this exhaustive research study.
Beverage Cans Market: In-Depth Assessment on Key Segments-
The global beverage cans market is segmented by capacity, material, application, structure and region.
| | | | | |
| --- | --- | --- | --- | --- |
| Structure | Material | Capacity | Application | Region |
| Two Piece | Steel | Less than 12 Ounce | Alcoholic Beverages | North America |
| Three Piece | Aluminum | 12-24 Ounce | Carbonated Soft Drinks | Latin America |
| | Others (Glass and Plastic) | More Than 24 Ounce | Sports & Energy Drinks | Europe |
| | | | Other Beverages | East Asia |
| | | | | South Asia & Oceania |
| | | | | MEA |
Country-specific assessment on demand for the beverage cans has been provided for each regional market, along with the market size valuation and forecast price point assessment, price index and impact analysis of key regional and country-wise dynamics, which were obtained through quotes from numerous beverage cans manufacturers, experts and suppliers. Y-o-Y growth projections have also been offered on all regional markets incorporated in the report.
The report provides company-level market share analysis, which has been derived on the basis of the company's annual sales and segmental revenue in all the target end-use industries. The market has been forecast based on constant currency rates. The report provides detailed competitive and company profiles of key participants operating in the global beverage cans market. Some of the major companies operating in the beverage cans market analyzed are Ardagh Group, Ball Corporation, Crown Holdings Inc., Silgan Holdings Inc., Aditya Birla Management Corporation Pvt. Ltd. (Novelis), Toyo Seikan Group Holdings, CPMC Holdings Ltd., Kian Joo Can Factory, and others
Beverage Cans Market: Research Methodology
The beverage cans market numbers pertaining to the regional as well as country level data and various segments i.e. capacity, material , application and structure are estimated through the combination of primary and secondary research among target countries and regions, and are verified both by applying the bottom-up and top-down approach. Secondary sources include Morningstar, Factiva, association publication, industry magazines and company annual reports and publications. Comprehensive interviews have been conducted by our analysts, and the data and insights obtained have been used for validating the information of beverage cans gained through secondary sources. The report also includes a description of assumptions and acronyms utilized for research purposes. The data triangulation process is used for cross checking of the collected and analyzed data from the supply as well as the demand side for beverage cans.
For assessment of the market size on the basis of value and volume, revenues generated by leading players, coupled with their production capacities are taken into consideration. Backed by a proven & tested research approach, the report offers necessary information on the beverage cans market. Other qualitative findings and perspectives are gathered from interviews from industry participants including Business Development Managers / Executives, CEO's and Plant Managers, Aftermarket. This information has been adhered to by the analysts while developing this insightful report on the beverage cans market. Secondary research is leveraged for ascertaining the overall size of the beverage cans market.
A short market viewpoint offered in the report elucidates the macro-economic aspects that influence the growth of the beverage cans market, which includes worldwide demand for food & beverages and ecommerce trends impacting the consumer goods sector. Global pricing analysis, restraint analysis, and opportunity analysis on the beverage cans market has also been incorporated in the report. This report serves as an authentic resource of intelligence on the beverage cans market, enabling the readers to take fact-based decisions on the future direction of their businesses.
Fact.MR offers custom research services that help clients to get specific research solutions
We are committed towards customer satisfaction and quality service.
---
Our Clients

Beverage Cans Market Forecast, Trend Analysis & Competition Tracking - Global Market Insights 2019 to 2027