Animal Parasiticides Market
Animal Parasiticides Market By Species (Food-Producing Animals, Companion Animals), By Product, By Regions - Global Mraket Forecast 2020-2026
FACT4316MR
Mar-2022

List of Tables : 102

List of Figures : 64

170 Pages
Global Animal Parasiticides Market Insights:
The increasing frequency of droughts, heat stress and flooding is increasing the spread of vector-borne diseases and macro-parasites, along with the emergence of new diseases and transmission models. Therefore, appropriate livestock management has become prevalent to prevent the loss of animals.
On the back of these factors, the global animal parasiticides market is set to expand moderately at a CAGR of 5.9% during the forecast period (2020-2026). Other generic drivers, such as rising demand for protection of livestock and increased research and development for eradicating parasitic diseases is expected to boost the animal parasiticides market.
The COVID-19 pandemic is poised to negligibly impact the supply of animal parasiticides. Key manufacturers have taken proactive measures to ensure that supply chains are not disrupted and that adequate inventory for the next six months is produced.
Avail customized purchase options for your needs
Global Animal Parasiticides Market: Technological Insights:
Increase in the number of biotechnology firms and research laboratories have opened new avenues for animal parasiticides. This has facilitated increased research for genetically modified vaccines, sprays and oral tablets. Important market players such as Merck Animal Health have invested in a robust portfolio of veterinary medicines and vaccines. The company's pioneering work is in the biologics field, where they use new technologies addressing a range of diseases.
An example of this is investment in adjuvant technology to boost vaccine effectiveness. The SPHEREON technology is the company's most significant innovation. The technology enables veterinary hospitals to freeze-dry live poultry vaccines into small, highly soluble particles or spheres. This enables veterinarians to administer vaccines in large batches.
Global Animal Parasiticides Market: Application Insights
Ectoparasiticides are anticipated to account for more than half of the overall animal parasiticides market during the forecast period. Rise in population of external parasites such as lice, ticks, mites, fleas and flies which feed on animal blood and eventually human cells if ingested, are likely to drive the growth of this segment.
Ectoparasiticides veterinary medicine is gaining immense traction because of this. Moreover, key manufactures of Ectoparasiticides host major conferences to raise awareness about the different ectoparasiticides for dogs, cats and cattle that are inhibiting their growth. Research is on to develop strong anti-parasite formulae. Projected CAGR for Ectoparasiticides is pegged at 6.1%.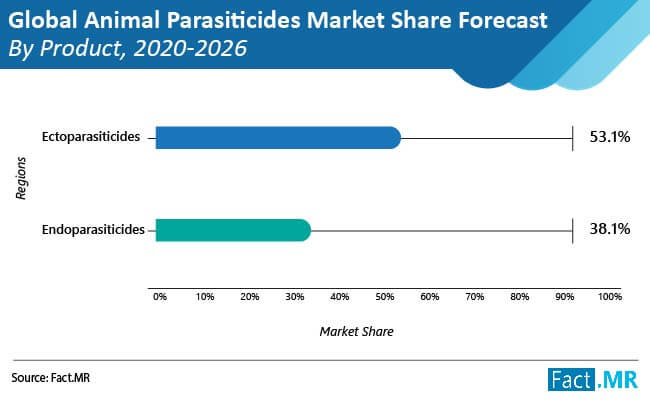 Endoparasiticides are expected to gain significant traction throughout the forecast period, registering a CAGR of 5.7%. An increase in worm control measures in companion animals by key players is likely to boost the growth of Endoparasiticides.
Global Animal Parasiticides Market: Regional Insights:
North America is set to dominate the global animal parasiticides market throughout the forecast period. Increasing investment in animal health space, particularly in the companion animal therapeutics sector, is a key growth catalyst for North America. The region is estimated to account for three-tenth of the total market share, expanding at a CAGR of 5.6%.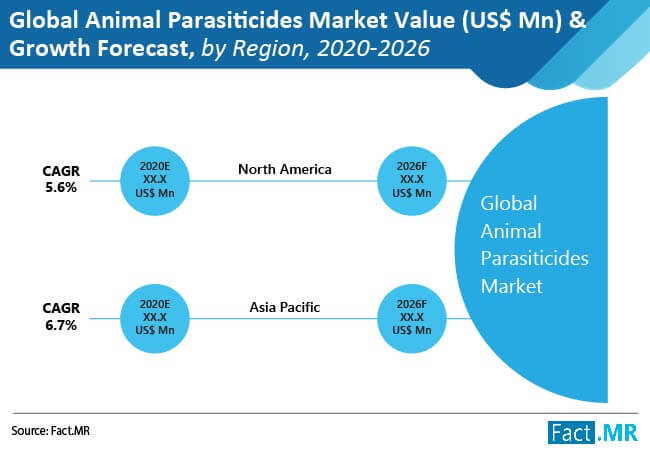 Asia-Pacific shows an impressive market growth opportunity for animal parasiticides throughout the forecast period. Projections indicate a market value of US$ 2.1Bn, expanding at a CAGR of 6.7% by 2026.
The increasing domestic pet population and the subsequent ability of people to spend on healthcare, high demand for good quality meat and milk from animals and the subsequent research and development in animal healthcare are expected to steer market growth. The Asia-Pacific region is poised to capture more than two-fifth of the global animal parasiticides market.
Global Animal Parasiticides Market Key Manufacturers
The global animal parasiticides market is highly consolidated, dominated by the following five market players: Merck Animal Health, Zoetis, Inc., Ceva Sante Animale, Elanco Animal Health and Boehringer Ingelheim GmbH. These companies invest in research and development in manufacturing quality medicines and vaccines, diagnostic products and genetic tests.
Zoetis Inc., for instance, received an FDA approval for a new combination parasite preventative drug for dogs christened Simparica TrioTM in February 2020. This drug is the first all-in-one protection against heartworm diseases, ticks, fleas and roundworms in a single monthly chewable. It is the first combination isoxazoline formula for dogs in the United States.
Another market leader, Merck Animal Health, operates in the animal care domain by manufacturing drugs for companion animals, equines, swine, poultry and aquaculture. Its products include ACTIVYL® for flea infestation protection, POSATEX® and MOMETAMAX® for treating bacterial ear infections and VETSULIN® for treating diabetes mellitus in dogs and cats.
Recently, in January 2020, the company's vaccine for piglets won the animal farm award for 2019. This was awarded for its PORCILIS® Lawsonia Vaccine for piglets, protecting them from lawsonia intracellularis, a bacterium strain which causes ileitis, a gastrointestinal disease.
An Adaptive Approach to Modern-day Research Needs
COVID-19 Impact Insights
While human to human transmission of the COVID-19 virus is confirmed, there is limited evidence about the virus infecting animals. There is a possibility for domestic animals to be infected by the virus through close contact with infected humans.
This is anticipated to have significant ramifications for animal care and welfare. Studies are underway to better understand the susceptibility of different animal species to the COVID-19. While there is no concrete evidence, patients are advised to avoid any kind of contact with animals as a precaution.
With respect to production, leading players have ensured that their supply chains are not disrupted. Zoetis, Inc., for instance, has reported no direct impact to its supply of anti-parasitic drugs. The company is closely monitoring the situation and has taken a number of proactive steps.
For example, the company has 4-6 months of robust inventory of key products. Likewise, the company is also ensuring successful movement of goods throughout their network. The company has also been bolstering its inventory by increasing inventory positions for all aspects of their supply chain: finished goods, active ingredients and supporting components.
Another market player, Elanco Animal Health, reports that its manufacturing network is fully operational. Extra precautions for the team's safety is a top priority of the company. Simultaneously, it is also taking steps to mitigate negative impacts on its supply chain. Measures to restrict the spread of infection include limiting travel and instituting remote working arrangements.
Analyst's Viewpoint:
The scope for the global animal parasiticides market is anticipated to burgeon in the future. Changing climatic conditions have led to increased breeding of parasite vectors such as flies, ticks, mosquitoes and lice. Consequently, parasitic infections have registered an uptick in recent years.
Stimulated by this, key manufacturers are investing in intense research and development to launch novel drugs. Regionally, North America is set to dominate, while Asia-Pacific promises attractive growth opportunities. Growth prospects are not anticipated to stall amid the COVID-19 outbreak. Robust supply chains and adequate inventory are the key reasons for this.
Interested to Procure The Data
Global Animal Parasiticides Market: Report Scope:
The recent study on animal parasiticides by Fact.MR includes a six-year forecast period, highlighting the key drivers, opportunities and restraints. Detailed analyses of key segments, in terms of value and growth, have been incorporated in the report. The global animal parasiticides market report has been segmented on the basis of product and species.
A regional analysis across five geographies has also been conducted in the report. These regions are: North America, Europe, Asia-Pacific, Latin America and Middle East & Africa (MEA). Each region has been analyzed based on the segments highlighted above. The analysis includes market value, market attractiveness and growth.
Besides, a section on competition landscape has been embedded as well. Key manufacturers' details, such as their revenue, market share and product developments have been elaborated. Moreover, a SWOT analysis for each market player has also been carried out.
Global animal parasiticides market segmentation
Fact.MR has studied the global animal parasiticides market with detailed segmentation on the basis of product, species and regions.
By Product :

Ectoparasiticides:

Oral Tablets
Dips
Spray
Spot-on
Others

Endoparasiticides:

Oral Suspension
Injectable
Feed Additives
Others

Endectocides

By Species :

Food-Producing Animals:

Cattle
Poultry
Swine
Others

Companion Animals:
Other Livestock

By Regions :

North America
Europe
Asia Pacific (APAC)
Latin America
Middle East & Africa (MEA)
"This taxonomy prepared is confidential and intended exclusively for the individual or entity with whom it is being shared. Reading, disseminating, distributing, or copying this to any party other than the addressee(s) is unauthorized and prohibited."
- FAQs -
The global animal parasiticides market is set to expand moderately at a CAGR of 5.9%
The global animal parasiticides market is highly consolidated, dominated by the following five market players: merck animal health, zoetis, inc., ceva sante animale, elanco animal health and boehringer ingelheim gmbh. 
Need an Exclusive Report for your Unique Requirement?
- Our Clients -