Animal Model Market
Animal Model Market Analysis by Species (Rat Models, Mice Models, Guinea Pig Models, Rabbit Models, Monkey Models), by Application (Basic & Applied Research, Drug Discovery/Development), by End User, by Region - Global Forecast 2022-2032
Analysis of Animal Model market covering 30 + countries including analysis of US, Canada, UK, Germany, France, Nordics, GCC countries, Japan, Korea and many more
Animal Model Market Outlook (2022-2032)
The animal model market is expected to be worth US$ 1.7 Billion in 2022, rising to US$ 2.9 Billion by 2032, documenting a CAGR of 5.5% from 2022 to 2032.
Report Attributes
Details

Anticipated Base Year Value (2021)

US$ 1.6 Billion

Expected Market Value (2022)

US$ 1.7 Billion

Projected Forecast Value (2032)

US$ 2.9 Billion

Global Growth Rate (2022-2032)

5.5% CAGR

Growth Rate of the U.S (2022-2032)

5.8% CAGR

Expected Market Value of China (2032)

US$ 0.7 Billion

Key Animal Model Service Providers

Genoway SA
Eurofins Scientific SE
Crown Bioscience Inc.
Envigo CRS SA
Transposagen Biopharmaceuticals, Inc.
Trans Genic Inc.
The Jackson Laboratory
Horizon Discovery Group Plc.
Charles River Laboratories International Inc.
Over the evaluation period of 2022 to 2032, demand for animal models in academic and research institutions is expected to rise at a CAGR of 6%. As of 2021, the industry was valued at US$ 1.6 Billion, and is expected to grow at a Y-o-Y expansion rate of 6.2% in 2022.
The rising number of clinical trials and increased spending on this research are the primary drivers of market expansion. According to European Medicine Agency statistics, there are now (2020) 37,293 clinical studies registered in Europe. Furthermore, according to the World Health Organization, the number of registered trials in South East Asia was approximately 92% in 2019 and around 66% in the Eastern Mediterranean area.
Animal models are regarded as a critical tool in clinical research investigations for predicting human data. It aids in identifying drug pharmacodynamics and pharmacokinectics. Furthermore, the European Federation of Pharmaceutical Industries and Associations said that the total revenues of the pharmaceutical business globally were around US$ 852 Million.
Don't Need a Global Report?
save 40%! on Country & Region specific reports
Animal Model Market Revenue Analysis 2015-2021 vs. Future Outlook 2022-2032
From 2015 to 2021, the worldwide animal model market grew at a 4.8% CAGR. Animals and humans have a similar biological and physiological structure. Animals have a shorter life cycle, yet they share a high level of genetic similarities. In comparison to humans, controlling the animal habitat is straightforward and uncomplicated.
Animal models are increasingly being employed in biomedical research to aid in the development of innovative treatment strategies for a wide range of ailments. Using animal models allows for a better knowledge of various diseases as well as the efficiency of medications in treating them. As a result of these circumstances, the need for animal models in the healthcare sector has increased significantly.
Alternatives include cell cultures, tissue cultures, and computer models; but, due to the intricacy of biological systems, animal models are preferable. This makes animal models an even better alternative for biological study. Iterative development of animal models that are more predictive of effectiveness is required.
Researchers are using innovative experimental methodologies to clarify the biology of certain illnesses in order to create new and efficient animal model systems. Researchers are recommended to test medications in model organisms as well as mice strains with varied genetic origins while developing novel treatments for complicated disorders.
The market is growing due to the increasing use of animal models in drug development and the rising need for efficient animal models. Based on the aforementioned reasons, the global animal model market is expected to grow at a CAGR of 5.5% between 2022 and 2032.
Prominent Animal Model Industry Growth Drivers
Innovative Therapies to Surge up Market Growth
The increasing use of animal species to develop various innovative therapies is expected to fuel the growth of the animal model market. Furthermore, the growing need for new treatments to meet the enormous unmet need is expected to be a major driver driving demand. The increasing global incidence of genetic diseases, as well as the growing research area, is expected to be the market's significant growth factors.
In addition, the use of animal models in many investigations of illness and human physiology is a major driver driving market expansion. Moreover, the increased pace of preclinical research for therapeutic approvals, as well as significant investments in R&D by prominent pharmaceutical firms are key drivers driving market expansion.
Animal Models will be required for Vaccine Testing and Development Deployment
Animal models are heavily used in the development of human vaccinations. Several regulatory agencies need innovative vaccine candidates to undergo preclinical testing in animal models before becoming eligible for clinical trials in human subjects.
With the use of computational biology and bioinformatics approaches for creating innovative vaccine candidates, significant progress in animal reduction and replacement has been observed in recent years. Despite this, the main objective for using a vaccination is to assist the immune system in identifying infections and eliciting a response.
The growing demand for vaccine testing and development is paving the way for animal model demand, propelling market expansion to new heights. Furthermore, animal models are often employed in biomedical research to develop novel treatment strategies for illnesses. The goal of gaining a greater knowledge of a condition, which also aids in the faster comprehension of therapeutic efficacy.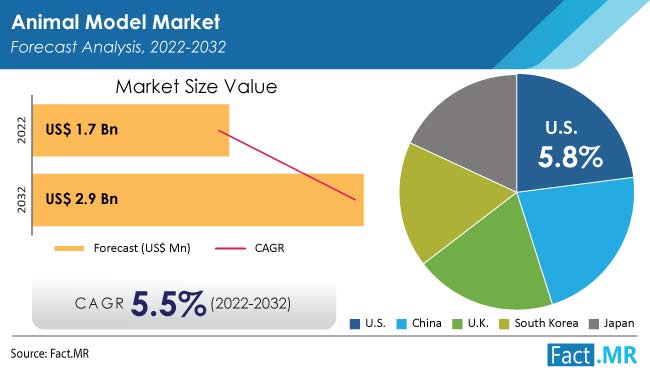 Key Challenges Prevalent in the Global Animal Model Market
Stringent Laws and Standards Regarding the Use of Animal Models may Impede Growth Prospects
Strict restrictions and criteria governing the use of animal models in research studies may have a detrimental influence on the growth of the animal model industry. In recent years, tight legislation and standards for animal protection and welfare have resulted in limited research techniques and restrictions on the use of animals for various scientific objectives in some countries.
Members of the European Parliament asked that the European Union develop an action plan to stop the use of animals in research and testing by 2021. Furthermore, in response to growing concern about the use of animals in cosmetic testing, a number of nations have taken steps to prohibit the use of animals in cosmetic industries.
More Insights, Lesser Cost (-50% off)
Insights on import/export production,
pricing analysis, and more – Only @ Fact.MR
Country-wise Analysis
What is the Potential of the US Animal Model Market?
Increasing Clinical Trials widening Growth Opportunities
According to Fact.MR, development in experimental services by biotech and pharmaceutical corporations via drug discovery, an increase in CROs' use of animal models, and an increasing focus on tailored pharmaceuticals, the United States is anticipated to be a leading country in the animal model market.
According to clinical trials.gov, almost 293,321 studies were registered at the start of the year, with around 32,523 studies registered at the conclusion of the year in 2019. Furthermore, according to the Pharmaceutical Research and Manufacturers of America, biopharmaceutical companies in the United States spent around US$ 79.6 billion on R&D in 2018.
As a consequence of the increasing number of clinical trials and huge investments in these studies, the pharmaceutical analytical testing market in the United States is expected to rise at a stellar CAGR OF 5.8%
What is the Animal Model Market Scenario in China?
Availability of Sophisticated Healthcare Systems Fueling the Market Growth
The Chinese market has a significant value share of the global market and is expected to maintain its dominance over the forecast period due to an increase in the number of programmes and rising government spending on overall R&D of pharmaceuticals using animal models, as well as the implications of mouse clinical trials (MCTs) for more accurately estimating outcomes.
Moreover, the market is predicted to grow as a result of continuing developments in animal models, the availability of sophisticated healthcare systems, and a significant increase in demand for advanced healthcare facilities.
Furthermore, animal model demand is expected to grow as major manufacturers focus on expanding their regional presence in order to achieve a significant market share. Owing to these factors, the Chinese market for animal models is anticipated to grow at a CAGR of 5.7% during the forecast period.
Country-wise Forecast CAGRs in the Animal Model Market
| | |
| --- | --- |
| U.S | 5.8% |
| U.K | 5% |
| China | 5.7% |
| Japan | 4.5% |
| South Korea | 4.6% |
Know thy Competitors
Competitive landscape highlights only certain players
Complete list available upon request
Category-wise Insights
Which Species is most likely to Boost Animal Model Activities?
Rat-Based Animal Models to be Top Growth Driver in the Coming Years
According to Fact.MR, revenue from rat-based animal models is expected to account for more than 40% of the market share by 2032. Revenue from the use of rats in animal models is expected to grow at the fastest rate through 2032.
Growing use of rat models to investigate a wide range of complex disorders, increased demand for rat models in biomedical research to better understand contemporary health concerns, and advances in gene-editing techniques, are all driving market growth.
Furthermore, greater use of personalized medicine, continuous government support in the form of funding and subsidies, and increased use of the rat model in drug research and discovery will further fuel prospects.
Which End User is most likely to Drive Demand for Animal Model Systems?
Deployment to be Maximum across Academic and Research Institutions
Academic and research institutions are expected to continue to be the fastest-growing end consumers of animal models. Academic and research institutions control more than half of the animal model business. Academic and research institutions are anticipated to grow at a CAGR of 6% over the assessment period.
The government is increasingly intervening in academic and research institutions to set uniform standards for animal models. The importance of animal research in advancing healthcare and medical science has been widely established, garnering support from researchers. Rapid advances in innovative technology have made animal models simple and useful.
Significant illness incidence rates, as well as adverse therapeutic effects, have prompted the use of animal models to ensure human safety. Furthermore, increased government participation in research institutes for the creation of standard protocols connected with animal models would fuel market growth.
Animal models are used in fundamental research, such as discovering novel therapeutic ways to treat human diseases, drug discovery, which involves target identification and validation, toxicological drug screening, lead optimization and safety screening, and preclinical drug safety and efficacy assessments.
Competitive Landscape
To expand their customer base and strengthen their industrial position, key animal model system suppliers are working on strategic acquisitions, mergers, collaborations, and partnerships. Recent investments by big corporations have offered opportunities for the sector to grow internationally. Some key developments are as follows:
In April 2022, Taconic Biosciences and Biomodels collaborated to initiate the Taconic-Biomodels Microbiome Initiative (TBMI), providing investigators with seamless access to complete germ-free and gnotobiotic microbiome study solutions, from design to data. The solutions helps eliminate hurdles which have long limited microbiome research by combining access to relevant disease models, germ-free animal production, and downstream in-vivo research design, execution, and analytics.
In September 2021, Inotiv Inc. and Envigo announced an agreement wherein the former has agreed to purchase the latter. With this acquisition, both companies will be able to better access products and services for the entirety of discovery and non-clinical development within one organization.
Key Segments Covered in the Animal Model Industry Report
Animal Model Market by Species :

Rat Models
Mice Models
Guinea Pig Models
Rabbit Models
Monkey Models
Dog Models
Pig Models
Cat Models
Other Animal Species Models

Animal Model by Application :

Animal Models for Basic & Applied Research
Animal Models for Drug Discovery/Development

Animal Model by End User :

Academic & Research Institutions
Pharmaceutical Companies
Biotechnology Companies
Contract Research Organizations (Cros)
Other End Users

Animal Model by Region :

North America Animal Model Market
Latin America Animal Model Market
Europe Animal Model Market
South Korea Animal Model Market
APAC Animal Model Market
Middle East & Africa Animal Model Market
- FAQs -
As of 2021, Fact.MR estimated the animal model market to have reached US$ 1.6 Billion
By 2022, Fact.MR expected demand for Animal Modesto reach US$ 1.7 Billion
From 2015-2021, the Animal Model market grew at a 4.8% value CAGR
From 2022-2032, animal model demand is likely to surge at a 5.5% CAGR
By 2032, the market for Animal Models likely to be valued at US$ 2.9 Billion
By 2032, Fact.MR expects the U.S market for animal models to reach US$ 900 Million
China is expected to register a 5.7% CAGR with regard to the animal model industry
Japan is expected to document a CAGR worth 4.5% in the Animal Model market
According to Fact.MR, rat-based animal models are expected to account for more than 40% revenue
Academic and research institutions are anticipated to grow at a CAGR of 6% over the assessment period.