Asphalt Additives Market Growth Stable, Green Road Infrastructure Projects Providing New Growth Avenues
Sustainable design and new construction initiatives are creating a fresh wave in the road infrastructure industry. A move towards green infrastructure in the construction of asphalt paved roads will play a significant role in amplifying the demand of asphalt additives. Fact.MR projects that the asphalt additives market will reach the US$ ~5.4 Bn mark by 2027.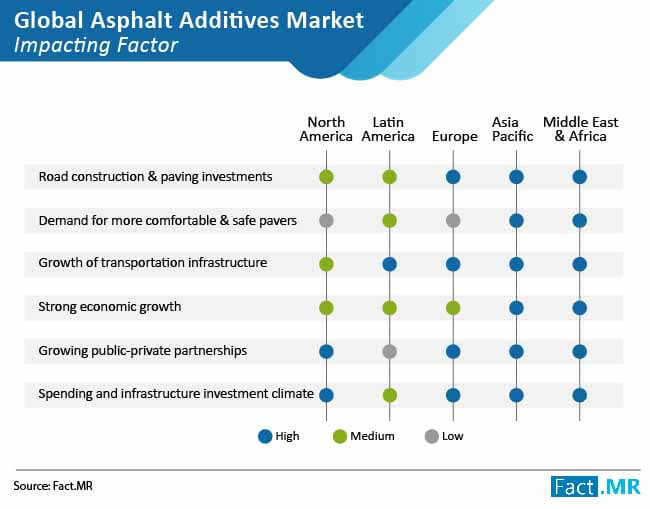 To get a strategic analysis of the asphalt additives market, ask an analyst here
Accelerated investments in road infrastructure necessitates the use of asphalt additives. Several highway agencies have estimated that using asphalt additives increases adhesion and improves mixture durability, thus giving pavements an additional 4 to 6 years life. Moreover, focused emphasis on the long life span of highways worldwide is bolstering the demand for high performance asphalt additives such as bitumen and rejuvenators. A recent shift towards bio-based additives such as bio asphalt binders is projected to create ample opportunities for the global asphalt additives market which is set to witness a CAGR of over 5% during the foreseeable future (2019-2027).
High Performance and Operation Efficiency of Hot/Warm Mix Additives will Increase Demand by 1.6x
Hot/warm mix is the most commonly used paving material in the asphalt market. These additives are expected to dominate the global asphalt additives market owing to less fuel consumption and reduced emission of hazardous fumes. Hot/Warm mix additives are expected to gain massive momentum over the forecast period and are anticipated to capture a significant chunk of the global market share by 2027 end.
Hot/Warm mix technology is highly influenced by regulatory trends and policies that are currently prevailing in the market. Hot/warm mix demand in Asia Pacific is likely to grow 1.8x in the long term forecast. The increasing consumption of hot/warm mix additives will create lucrative selling opportunities for sustainable and cost-effective hot/warm mix additives in the foreseeable future
Bio Based Additives is an Eye Catching Trend in the Global Asphalt Additives Market
Today the government and public agencies are focusing on sustainable and eco-friendly construction and have encouraged the end-use industry to shift toward bio-based additives. New sales opportunities in the roofing sector will have a significant impact on the demand for bio-based and recycled asphalt additives, and the increasing growth of the construction and road construction industry will support this trend in the future. With the increasing growth of the road construction and paving industry, costly and unsustainable materials are likely to be overtaken by bio-based or recycled alternatives. Environmentally-safe asphalt additives are also expected to witness high demand in roofing applications in the coming years. For example – the Ministry of infrastructure in Gulf countries have launched road network projects using recycled rubber. This type of project is part of its effort to achieve sustainability, promote innovation, encourage recycling and create a green road network.
Leading Asphalt Additives Players Look Overseas For Business Opportunities
The market is moderately consolidated in nature. Leading players such as Evonik and Dow Chemical in the market have emphasized the expansion of existing facilities and are setting up a corporate office in Asia Pacific in order to benefit from economies of scale and increase their global market shares. Leading players are focusing their strategies on product innovation for road construction, using recycled materials, to maintain supremacy in the asphalt additives market. For instance:
In December 2018, Evonik Industries announced that it had developed VESTENAMER®—a cost-effective and sustainable additive, which can act as a catalyst in the process of using rubber powder from scrap tires to manufacture asphalt additives with rubber content.
.In May 2019 Golden Gate Capital announces ARRMAZ which has entered into a definitive agreement to be acquired by Arkema Group for approximately $570 million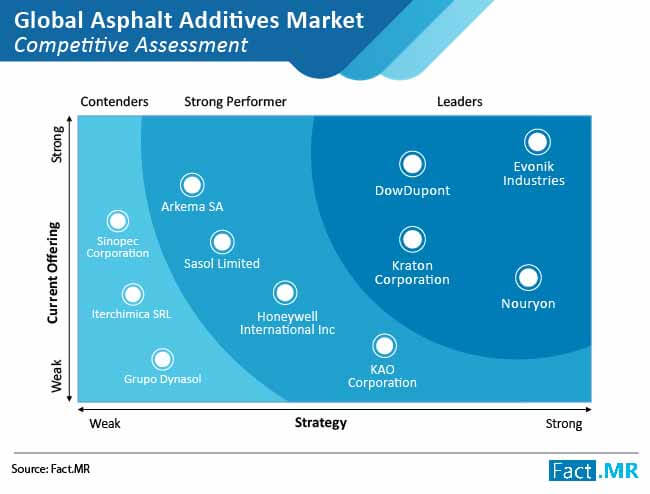 For critical insights on the competitive landscape of the asphalt additives market, request for a report sample here.
Global Asphalt Additives Market – Scope of the Report
The following report provides forecast and analysis of the global asphalt additives market along with the historical data of 2013, estimated data 2019 and forecast data up to 2027 in terms of revenue (US$ Mn) and volume (Kilo Tons), according to a Fact.MR study. The research propounds critical trends that are currently influencing growth within the global asphalt additives market along with several macro-economic indicators. This newly published and insightful report on asphalt additives sheds light on key dynamics, and their impact on the overall value chain from suppliers to end-users, which are expected to transform the future of the global asphalt additives market.
The report also comprises the study of current issues with end users and opportunities for asphalt additives. It also contains value chain analysis, including the key market participants. To provide users of this report with a comprehensive view of the market, we have included a detailed competitive analysis about the key players involved in the market and strategic overviews. The dashboard included in the report provides a detailed comparison of asphalt additives manufacturers on parameters such as total revenue, product offerings, and key strategies. A list of key companies operating in the asphalt additives market provided in the report adds to the credibility of this exhaustive research study.
Global Asphalt additives Market: In-Depth Assessment on Key Segments
The global asphalt additives market is segmented on the basis of type, technology, application, and region.
| | | | |
| --- | --- | --- | --- |
| Type | Technology | Application | Region |
| Anti-strip Additives | Warm/Hot Mix Additives | Road Construction | North America |
| Bitumen Emulsifiers | Cold Mix Additives | Runways and Parking Lot | Latin America |
| Asphalt Cement | | Roofing Sector (Asphalt Shingles) | Europe |
| Polymer Modifier | | Others (flooring, courts, etc.) | APAC |
| Fillers and Fibers | | | MEA |
| Rejuvenators | | | |
| Others | | | |
Country-specific assessment on
demand for asphalt additives
has been provided for each regional market, along with the market size valuation and forecast price point assessment, price index and impact analysis of key regional and country-wise dynamics, which were obtained through quotes from numerous asphalt additives manufacturers, experts, and suppliers. Y-o-Y growth projections have also been offered on all regional markets incorporated in the report. Moreover, future trends, growth prospects, and other possibilities related to the market have been answered in the report.
The report provides company-level market share analysis, which has been derived on the basis of the company's annual sales and segmental revenue in all the target end-use industries. The market has been forecasted based on constant currency rates. The report provides detailed competitive and company profiles of key participants operating in the global market. Some of the major competitors operating in the asphalt additives market are BASF SE, Sasol Limited, DowDuPont Inc., Huntsman Corporation, Nouryon, Arkema SA and others.
Global Asphalt Additives Market: Research Methodology
A number of primary and secondary sources were consulted during the course of the study. Secondary sources include Factiva, Morningstar and Hoovers, and company annual reports and publications. Comprehensive interviews have been conducted by our analysts, and the intelligence and insights obtained have been used for validating the information gained through secondary research. The report also includes a description of assumptions and acronyms utilized for research purposes. Data gathered has been validated using the triangulation method to offer useful quantitative and qualitative insights into the asphalt additives market.
A short market viewpoint offered in the report elucidates the macro-economic aspects that influence the growth of the asphalt additives market, which includes global GDP growth rate, various industries growth rate, such as road construction industry, chemical sector, aerospace sector and others. This report serves as an authentic resource of intelligence on the asphalt additives market, enabling the readers to take fact-based decisions on the future direction of their businesses.
Request research methodology of this report.
Fact.MR offers custom research services that help clients to get specific research solutions
We are committed towards customer satisfaction and quality service.
---
Our Clients

Asphalt Additives Market Forecast, Trend Analysis & Competition Tracking - Global Market Insights 2019 to 2027