Wireless Pulse Oximeters Gaining Traction for Remote Monitoring
The adoption of wireless pulse oximeters by clinicians and home users is increasing, which is expected to boost growth of the pulse oximeters market. Portability of wireless pulse oximeters is increasing the demand for wrist and finger-top pulse oximeters, especially in home care settings. Masimo launched wireless pulse oximeter (Masimo Rad - 5), which has gained huge popularity because of its wireless functions. On the back of such advancements, the pulse oximeters market is expected to gain significant traction. Wireless pulse oximeter allows remote monitoring of patients as well as users who can work comfortably and freely even when they are being examined. The wireless pulse oximeters are more cost effective than the other hand held & finger top devices, which is another important factor, driving the growth of the pulse oximeters market.
Technological Advancements Proliferating Launch of New and Advanced Products
Technological advancements are leading to the launch of new and advanced products and are offering significant growth opportunities for the pulse oximeter market. Technological advancements in the pulse oximeter devices have improved haemoglobin level, oxygen saturation and pulse rate (PR) analysis. Recent advancements have expanded from measuring SpO2 and PR to other haemoglobin species (methemoglobin, carboxyhemoglobin and total haemoglobin) using multiwavelength analysis. The introduction of technology in the pulse oximeter market has also enabled morphological analysis of the photo plethysmographic waveform (perfusion index, respiratory variations, and venous pulse). Also, smart pulse oximeters have been introduced in the market, which are expected to increase the sales of pulse oximeters at a significant rate. Smart pulse oximeters are operated through installed applications in smartphones.
Hand-held Pulse Oximeters to Lead, Wrist Pulse Oximeters Buckling up
Hand-held pulse oximeters dominated the global pulse oximeters market in 2018, in terms of revenue and its growth trend will continue throughout the forecast period. Hand-held pulse oximeter segment is projected to be the most lucrative segment and will account for a significant market share. Whilst wrist pulse oximeters segment is purported to be the least lucrative, it will show the fastest growth during the forecast period, growing at a CAGR of 5% through 2029. Wrist pulse oximeters are projected to gain market share and account for 15% of the market share by 2029.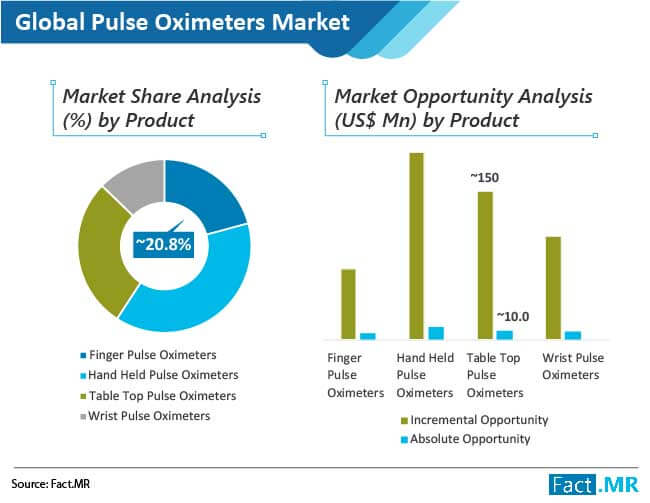 To get exhaustive product analysis insights of the pulse oximeters market, ask an analyst here
Growing Adoption of Pulse Oximeters in Homecare Settings Boosting Market Growth
The increasing demand for pulse oximeters at home care settings is expected to propel growth of the pulse oximeter market. Pulse oximeters were initially used at home in the early 1990s for continuous monitoring with home mechanical ventilation and sleep studies. Intermittent spot-check use at home has become more common in recent years with conditions such as Congestive Heart Failure (CHF), Chronic Obstructive Pulmonary Disease (COPD), and others requiring oxygen therapy. The artificial intelligence (AI) with pulse oximeters have increased the adoption of this device in home care settings. Therefore, many players are focusing to invest in product innovations for home care settings. In June 2016, Nonin Medical introduced Apple iOS-compatible NoninConnect Elite Model 3240 Bluetooth Smart Wireless Finger Pulse Oximeter. Usage of personal pulse oximeters has enabled patients to get an appropriate measure of oxygen saturation level and also help patients to get better control of oxygen delivery in order to achieve appropriate oxygen saturation levels during rest and exercise.
North American Market is Flourishing and is projected to be Most Lucrative
North America is expected to hold approximately 40% of the total revenue generated in the pulse oximeters market. Europe comes close, holding the second largest share in the pulse oximeters market. MEA is expected to show a significant growth rate in the overall market. The per capita spending on healthcare is increasing globally and people's desire to spend on wellness has brought about an incremental shift in healthcare expenditure. Minimally invasive treatments have generated significant opportunities for players to invest in these regional markets over the forecast period.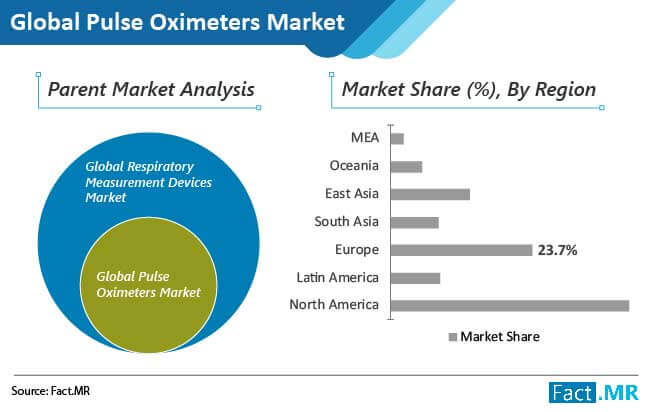 To know more about the regional market landscape of the pulse oximeters market, request for a report sample here
Pulse Oximeters Market - Report Scope
Fact.MR recently published a market study on the global market for pulse oximeters. The study provides detailed assessment on the key market dynamics, including drivers, trends, opportunities, and restraints, as well as detailed information about the pulse oximeters market structure. The market study presents exclusive information about how the pulse oximeters market will grow during the forecast period of 2019-2029.
Key indicators of market growth, which include year-on-year (Y-o-Y) growth of the market and compounded annual growth rate (CAGR) are explained in Fact.MR's study in a comprehensive manner. This information can help readers understand the quantitative growth prospects of the pulse oximeters market during the forecast period.
The study is relevant for stakeholders in the pulse oximeters market, including, manufacturers, suppliers, distributors, and investors, and can help them in developing appropriate strategies to grow in the market. Stakeholders in the pulse oximeters market, investors, industry experts, researchers, and journalists, as well as business researchers can leverage the information and data presented in Fact.MR's study.
It also offers actionable insights based on the future trends in the pulse oximeters market. Furthermore, small businesses and new entrants in the pulse oximeters market too can make use of the information presented in this study, based on which, they can make appropriate business decisions to gain momentum in the market.
Key Segments of Pulse oximeters Market
Fact.MR's study on the pulse oximeters market offers information divided into three important segments - product type, end user and region. This report offers comprehensive data and information about the important market dynamics and growth parameters associated with these categories.
Product Type

End User

Region

Finger Pulse Oximeters
Hand Held Pulse Oximeters
Table Top Pulse Oximeters
Wrist Pulse Oximeters

Hospitals
Clinics
Ambulatory Surgical Centres
Homecare Settings

North America
Latin America
Europe
South Asia
East Asia
Oceania
Middle East & Africa
Key Questions Answered in Fact.MR's Pulse Oximeters Market Report
Which regions will continue to remain the most profitable regional markets for pulse oximeters market players?
Which factors will induce a change in demand for pulse oximeters manufacturers during the assessment period?
How will changing trends impact the pulse oximeters market?
How can market players capture the low-hanging opportunities in the pulse oximeters market in developed regions?
Which companies are leading the pulse oximeters market?
What are the winning strategies of stakeholders in the pulse oximeters market to upscale their position in this landscape?
Pulse Oximeters Market: Research Methodology
In Fact.MR's study, a unique research methodology is utilized to conduct extensive research on the growth of the pulse oximeters market, and reach conclusions on the future growth parameters of the market. This research methodology is a combination of primary and secondary research, which helps analysts ensure accuracy and reliability of conclusions.
Secondary resources referred to analysts during the production of the pulse oximeters market study include statistics from government organizations, trade journals, white papers, and internal and external proprietary databases. Analysts have interviewed senior managers, product portfolio managers, CEOs, VPs, marketing/product managers, and market intelligence managers, who contributed to the development of this report as a primary resource.
Comprehensive information acquired from primary resources and secondary resources acts as a validation from companies in the pulse oximeters market, and makes Fact.MR's projection on the growth prospects of the pulse oximeters market more accurate and reliable.
Fact.MR offers custom research services that help clients to get specific research solutions
We are committed towards customer satisfaction and quality service.
---
Our Clients

Pulse Oximeters Market Forecast, Trend Analysis & Competition Tracking - Global Market Insights 2019 to 2029