Lignin Market
Lignin Market By Product Type (Lignosulfonate, Kraft Lignin), By Application (Concrete Admixture, Animal Feed Binders, Dye Stuff), By Region - Global Forecast 2020-2030
FACT4660MR
Mar-2022

List of Tables : 72

List of Figures : 82

170 Pages
Introduction
Lignin is the principal byproduct from lignocellosic bio-refineries and a valuable renewable resource for the chemical industry. Lignin, a component of plants, has great potential in terms of conversion into value-added products that can significantly improve the economics of a bio-refinery. Increasing lignin demand, as an organic additive, is expected to drive the expansion of the global lignin market size over the forecast period of 2020 to 2030.
Amongst the lignin products, lignosulphonates are expected to account for around three-fourth of global lignin demand. Lignosulphonates are widely used as starting materials in the synthesis of vanillin, a flavoring agent for food, ice cream, and bakery goods.
However, concerns over the COVID-19 pandemic have restricted the short-term growth of the market, as production of lignin has been halted. Due to the pandemic, major manufacturers are witnessing fluctuation in demand, which mainly changes the market trends. In a new study, Fact.MR has estimated that, the global lignin market will reach a valuation of US$ 1.6 Bn by 2030.
Avail customized purchase options for your needs
Lignin Market Insights by Product Type
Lignin, used in lignosulfonate, is one of the most prominent product types, and is expected to account for 69% of the market share by reaching a valuation of US$ 1.1 Bn by the end of 2020. Augmented demand for lignosulfonate in concrete admixtures is an important factor driving the global lignin market.
Lignisulfonates are used in oil & gas industry to control mud viscosity in deep oil well drilling. Lignisulfonates are also used in the preparation of smooth clay slips for ceramics. Thus, owing to the aforementioned factors, there will be increased demand for lignosulfonates lignin during the forecast period.
Kraft lignin has high consumption as a foam in fire extinguishers and in printing inks for high-speed rotary presses. Kraft lignin is also used for making high-grade activated charcoal. Owing to such ingenious applications of lignin in a wide range of industries, demand is set to heighten over the coming years.
Lignin Market Insights by Application
Among the applications, concrete admixture is expected to capture more than 26% of the lignin market share in 2020. Demand for lignin as a dispersant in concrete additives for infrastructural development in developed and developing countries will spur the growth of concrete admixtures during the forecast period.
Rising demand for lignin in agrochemical production along with modern agricultural techniques that involve the use of insecticides and pesticides is projected to boost market growth. In dyeing applications, sulphonated lignin is used in dyed textiles, which will surge lignin market growth. Lignin has the ability to produce high performance concrete admixtures and reduces damage on external walls due to bad climatic conditions and acid rain.
An Adaptive Approach to Modern-day Research Needs
Regional Outlook of Lignin Market
Europe is expected to dominate the global lignin market share, followed by North America, in 2020, and is foreseen to maintain its dominance in terms of value as well as volume over the forecast period. In Europe, there are strict regulations regarding emission of greenhouse gases, which has provided potential market opportunities for the manufacturing of bio-based polymers.
Growing demand for lightweight automotive materials and bio-based materials in countries such as Germany, France, and the Netherlands is positively impacting growth in these regional lignin markets.
Europe is followed by North America, which is also experiencing a similar trend of using bio-based raw materials for product manufacturing. Thus, this region is anticipated to experience sustained demand for lignin during the long-term forecast period. Furthermore, East Asia is one of the lucrative markets for lignin, which is likely to play a key role in driving the global lignin market. China is at the forefront of demand, with robust production of activated carbon, binders, preservatives, and polyols in the region, accounting for bulk of the demand for lignin.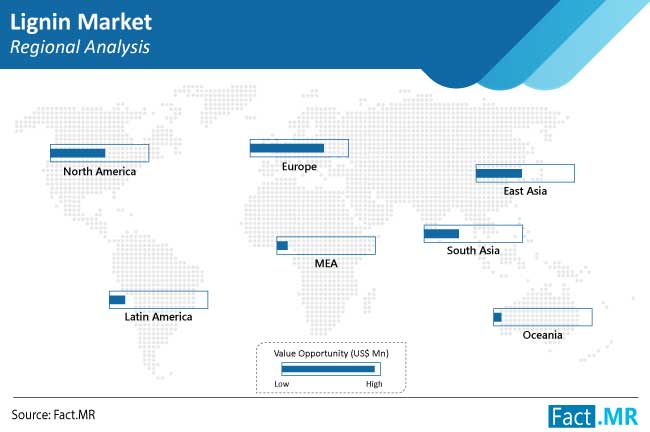 Lignin Market: Competitive Landscape
The global lignin market is highly fragmented in nature, with the presence of a large number of local players. Some of the prominent players in the market are Borregaard LignoTech, Changzhou Shanfeng Chemical Industry Co., Ltd, Domsjö Fabriker AB, and Domtar Corporation, among others.
Key players are trying to reinforce their position in the market by providing cost-effective solutions. Recent years have witnessed a shift of stakeholders towards vertical integration, which helps maintain continuous raw material supply. Increasing value chain integration from lignin manufacturers has been posing entry barriers to new entrants. For instance, in June 2018, Borregaard and Rayonier started a joint-venture company - Lignotech Florida.
Interested to Procure The Data
COVID-19 Impact on Lignin Market
The effects of COVID-19 has been profound in recent times, which is thereby having significant implications on various sectors. Lignin is used across various end-use industries such oil & gas, construction, agriculture, etc. Lignosulfonates are used in oil well drilling as deflocculants - chemicals meant to prevent the coagulation of solids. They are also used as reagents to control the parameters of fluids. But, due to the COVID-19 crisis, there has been a decrease in the drilling of oil wells, because of which, it is stunting demand for lignin.
In construction activities, demand for lignin is increasing as a dispersant in cement additives and paints & coatings. However, the construction industry is facing a slump due to COVID-19. This, in turn, will have major ramifications on the global lignin market in the short-term. Moreover, manufacturers have halted production activities due to the outbreak. Such challenges will pose a threat to the growth of the lignin market in the near term.
The Analyst's Viewpoint
"The unprecedented impact of COVID-19 will have short-term implications for the lignin market. Lignin is expected to replace raw materials such as synthetic chemicals and petroleum for various applications. Also, awareness about lignin among manufacturers and research & development personnel is expected to boost demand and growth of the lignin market."
Global Lignin Market: Scope of the Report
A recent global lignin market report by Fact.MR offers a 10-year forecast from 2020 to 2030. The report elaborates on key drivers, restraints, opportunities, and threats to the expansion of the global lignin market. A detailed segmental analysis based on product type and application has been provided in the report.
Regional analysis in terms of supply chain analysis, business execution, and market value analysis provides an in-depth perspective about the future scope of the global lignin market. In addition, a separate section on the market structure has also been provided. The section provides detailed analysis of key market players and their strategies for expansion in the global lignin market.
Key Segments of Lignin Market
Fact.MR's study on the lignin market offers information divided into two-three segments - product type, application, and region. This report offers comprehensive data and information about important market dynamics and growth parameters associated with these categories in the landscape.
Product Type

Lignosulfonate
Kraft Lignin
Others

Application

Concrete Admixture
Animal Feed Binders
Dye Stuff
Others

Region

North America
Latin America
Europe
East Asia
South Asia & ASEAN
Oceania
Middle East & Africa (MEA)