Foot Orthotic Insoles Market
Foot Orthotic Insoles Market By Product (Prefabricated, Customized), By Age Group (Adult, Pediatric), By Material (Gel, Thermoplastics), By Application (Sports & Athletics, Medical Prescribed), By Distribution Channel, By End User & Region - Global Insights 2021-2031
FACT4666MR
Nov-2021

List of Tables : 30

List of Figures : 127

170 Pages
Market Outlook for Foot Orthotic Insoles
Globally, diabetic foot problems are compounding exponentially, resulting in severe physical, mental and economic consequences for patients. According to the National Library of Medicine, neuropathic foot ulcers are expected to surge across developing countries, attributed to high prevalence of type 2 diabetes, accelerating demand for orthotic insoles in upcoming years.
Additionally, rising prevalence of osteoarthritis, juvenile and rheumatoid arthritis is also upscaling adoption. Fact.MR, in its latest research report, tracks global sales of foot orthotic insoles in 20+ high-growth markets. Unique growth factors have been analyzed in detail, while a comprehensive assessment of some of the key challenges for foot orthotic insoles have also been discussed.
Historical & Future Projections
Between 2015 and 2019, global foot orthotic shipments grew at 4.6%. High prevalence of musculoskeletal disorders was amongst the key stimulants driving the said growth. Studies conclude that nearly 20-40% of elderly people reported acute pain in their feet, with high prevalence rate of hallux valgus.
Growth is also expected to accelerate amid the growing prevalence of diabetic foot ulcers. Historically, foot ulcers are estimated to affect 1-4% patients across the United States annually.
By 2030, the number of diabetic people worldwide is projected to increase to 366 million. Owing to these broad factors, the foot orthotic insoles demand is likely to increase, expanding at a CAGR exceeding 7% throughout the 2020-2030 assessment period.
How will High Prevalence of Plantar Fasciitis Impact Demand?
Plantar fasciitis is a common degenerative disease affecting adults aged between 40 to 50 years and beyond. It is a frequent cause of heel pain, with diabetic patients especially at the highest risk. Presently, diabetes mellitus affects 425 million people globally, projected to increase to 629 million by 2045.
As this number increases, prevalence of plantar fasciitis is bound to increase. Currently, the condition affects approximately 10% of the population. As diabetic patients experience acute healing problems, fasciitis is expected to have a debilitating impact on these patients, compelling them to seek appropriate preventive measures.
Based on these aforementioned developments, the demand for foot orthotic insoles is expected to burgeon in the 2020-2030 forecast period as patients seek effective shock absorbent and cushioning footwear. Orthoses are thus considered the most appropriate non-invasive and cost-effective approach.
Growing Burden of Varicose Veins
In the developed world, varicose veins constitute one of the major feet problems within individuals. Prominent player SIGVARIS Group's study concluded that 40% of both men and women across industrialized countries report chronic venous diseases, largely an outcome of sedentary lifestyle patterns.
The study also concludes that long-terms varicose veins conditions invariably lead to skin lesions which ultimately assume the form of ulcers. Furthermore, the American Society for Vascular Surgery projects that at least 20 to 25 million Americans suffer from varicose veins. Consequently, patients are seeking various treatment solutions to alleviate this burden.
Wearing orthotic shoes has been considered an effective approach towards reducing this burden. By providing arch support across three areas of the foot, body weight is dispersed evenly, helping individuals straighten their gate. Also, proper body mechanics in movement helps maintain alignment, preventing unnecessary wear and tear on the body.
Interested to Procure The Data
What is the Potential of 3D Printing for Foot Orthotic Insoles?
With technological advancements catching up, manufacturers are incorporating state-of-the-art production approaches to enhance workflow and increase output. The advent of artificial intelligence and augmented reality has generated fertile ground for 3D-printing, an immensely popular manufacturing technology.
8sole is a pioneer in 3D-printed foot orthotics. These are custom-made prescription orthotics which have established new standards with regard to feet comfort, pain relief and treatment. These insoles exert only 50% of the overall load while standing and around 120% while walking, all thanks to its sophisticated biomechanics.
Likewise, Aetrex manufactures orthotics by utilizing its Albert 2 advanced foot scanning system to translate and capture data and produce 3D-printed models which are completely symmetrical to the individual's foot. The technology deploys over 5,000 gold-plated sensors, 18 different cameras and 960 LEDs and receptors to effectively identify foot size.
Such developments are expected to aggrandize expansion prospects for the foot orthotic insoles market in upcoming years.
What are the Key Challenges for Foot Orthotic Manufacturers?
While orthotic insoles have played an instrumental role in ensuring maximum comfort to patients suffering from foot ailments, improper prescription in several cases have exacerbated problems, increasing pain and discomfort and aggravating pre-existing medical conditions.
People with especially high risk are those suffering from heel pain, knee problems and Achilles tendon pain respectively. Furthermore, the initial cost of purchasing orthotic insoles is discouraging healthcare providers and individuals from investing in them which is likely to contract demand. Also, limited awareness across developing nations is expected to limit penetration.
An Adaptive Approach to Modern-day Research Needs
Country-wise Analysis
U.S. Foot Orthotic Insoles Sales
Until 2019, foot orthotic insoles sales across the United States experienced a Y-o-Y growth of over 5% to reach US$ 1.3 Bn. The market is set to further aggrandize at a CAGR of nearly 9% through 2030. Increasing prevalence of foot disorders from underlying chronic conditions and external injuries are driving growth.
According to estimates released by Milford Podiatry Associates, three quarters of Americans are likely to experience foot health problems of varying severity degrees at different points in their lives. About 19% of the U.S population suffers from an average of 1.4 foot problems annually.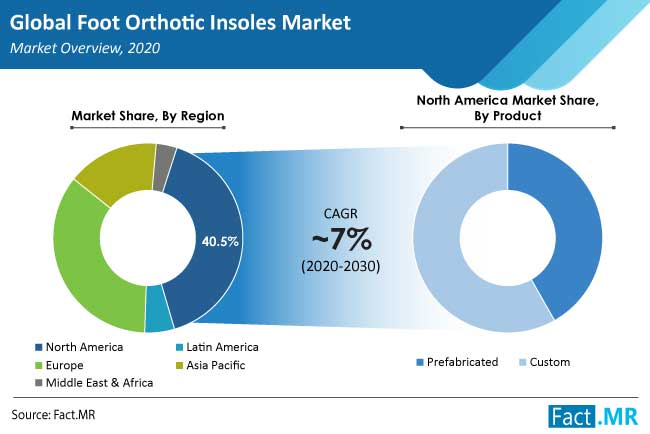 However, several existing insurance programs do not adequately cover orthoses treatment costs, except for Medicare Part B which reimburses one pair of shoes and three pairs of shoe inserts per year for patients having an approved diagnosis. Thus, efforts are being undertaken to adequately reimburse patients.
U.K. Foot Orthotic Insoles Landscape
The U.K foot orthotic insoles market is expanding on the back of due to the prevalence of inherent foot problems. According to Diabetes UK, poorly fitting shoes leads to rubbing of the sole skin, ultimately leading to blisters and corns along with heightened risk of developing hammer toes.
The UK National Health Service (NHS), also pins flat feet as a leading driver behind increasing adoption of orthotic insoles. Although not very acute, flat feet may eventually lead to problems in body posture, thereby requiring treatment on a priority basis.
The agency has been playing a proactive role in mitigating the severity of foot disorders by actively promoting usage and disbursement of foot insoles throughout the country. Studies have concluded that for every £1 spent on improving orthotics services, the NHS potentially saves approximately £4.
Likewise, the Trades Union Congress has established standards regarding wearing of proper footwear at the workplace. These are in tandem with regulations laid down in The Health and Safety at Work Act 1974 and Management of Health and Safety at Work Regulations 1999, which provide for comfortable and convenient footwear. These are anticipated to heighten orthotic insoles sales in the future.
Germany Foot Orthotic Insoles Market
In Germany, prevalence of type-2 diabetes was pegged at 7.2% in 2019, accounting for over 90% of all diabetes cases. This number is likely to increase substantially over the next two decades. According to the German Diabetes Center and the Robert Koch Institute, up to 12 million Germans could be afflicted with this debilitating condition.
Naturally, incidence of diabetic foot ulcers across the European country is expected to increase as well. About 15% of the patients are diagnosed with diabetic foot ulcers at least once in their lifetime, which is responsible for about 50,000 amputations annually. To avoid these amputation increases, patients are seeking effective treatment approaches, including foot insoles.
Prominent footwear manufacturers such as Bar Schuhe, Adidas and Birkentstock are at the forefront of the German orthotic insoles market. Bar Schuhe's insoles come in a variety of materials ranging from leather to other fabrics. Birkenstock markets insoles equipped with microfibers containing antibacterial silver ions and latex foam.
France Orthotic Insoles Market Overview
Like everywhere else, France bears a heavy burden of diabetics, providing orthotic insoles manufacturers with an opportunity to penetrate the region's market. According to the French Diabetes Association (FFD), 3.5 million people have diabetes, which comprises nearly 5% of the overall population. Thus, efforts are underway to alleviate this burden.
To that end, DIABNEXT was selected by the French Government Assurance association Maladie in order to establish a remote management solution to assist people suffering from diabetes in 2017. Likewise, other initiatives have been undertaken to address this ever compounding problem.
In addition, prevalence of musculoskeletal disorders and rheumatic diseases have also increased. Estimates suggest that 12-13 million French citizens suffer from rheumatic diseases, out of which 9-10 million have osteoarthritis, 600,000 from chronic inflammatory rheumatic diseases and 4,000 children from juvenile arthritis. Thus, manufacturers are finding it easier to penetrate the market.
Italy Foot Orthotic Insoles Market
The Italian market is expected to be amongst the most opportunistic regions for future orthotic insoles sales proliferation, owing to the high popularity and patronage attributed to sports, especially football. Consequently, injuries arising from the same have multiplied, compelling sportspersons to seek preventive measures.
A study published in the previous decade on the possibilities of concussion and injury identification among athletes in Italian club football events attributed loss of consciousness and foot injury as the leading cause of sports injuries amongst competitors. The study concluded that 53% of concussed athletes didn't report their concussion as they didn't think it serious enough.
Hence, joint problems arising out of the same have increased, prompting patients to opt for cushioning arrangements in their footwear. This has encouraged the entry of numerous foot orthotic insoles players in the near past and will continue being so across the forecast period.
Category-wise Insights
Are Accommodative Insoles the New Normal?
By product type, custom soft/accommodative insoles are experiencing a noteworthy upsurge, expected to register an astounding 12.1% CAGR across the 2020-2030 assessment period. Custom orthotics offer positive benefits across multiple areas of concern.
These insoles offer immense stability by supporting the weight of the entire body. Their softer nature owing to the incorporation of pliable material makes it an ideal choice amongst patients to relieve the pain they suffer in their feet, legs or back. ProLab provides a fully-corrected and high-quality series of custom orthoses which are 100% customizable based on user specifications.
Which Demographic Accounts for the Highest Demand of Orthotic Insoles?
The adult foot orthotic insoles segment is likely to account for the lion's share of the market, capturing over 70% of the overall revenue share across the forecast period. This heightened adoption is an end-product of rising foot ailments as a result of high prevalence of diabetes and other chronic ailments.
Simultaneously, the pediatric segment is experiencing positive expansion, registering a CAGR worth 6% through 2030. Growing burden of pediatric disorders such as juvenile diabetes, cavus foot, and juvenile bunion respectively.
How Big is the Opportunity in Medical Industry for Orthotic Insoles Manufacturers?
By application, medical foot orthotic insoles are expected to remain dominant, accounting for over half of the revenue share post 2020. Foot orthoses have played an instrumental role in ensuring proper posture. Diseases such as osteoarthritis or rheumatoid arthritis do not permit patients to maintain a proper balance.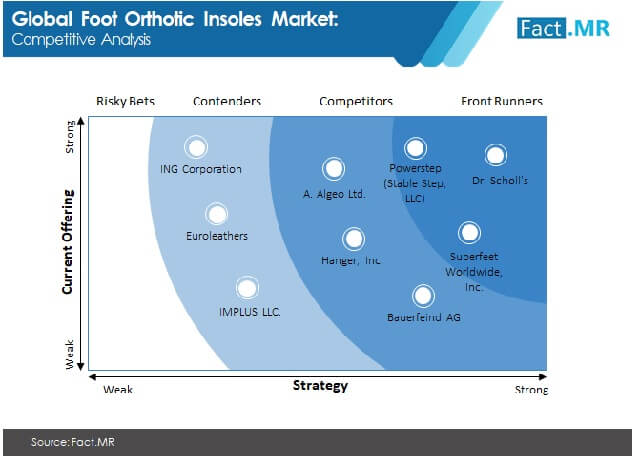 Therefore, these device help reduce pain and ensure minimum pressure exertion on the problematic joints. Of late, however, extensive applications are being witnessed across the sports and athletics segments as well. Increasing number of sporting events and competitions have compounded problems such as joint pains, dislocations and muscle tear, thus increasing need for orthotics.
What is the Market Share of EVA?
By material, ethyl-vinyl-acetate (EVA) derived foot orthotic insoles are expected to capture the highest market share, generating nearly a fifth of the total revenue share through 2030. EVA materials have acquired popularity due to their supportive and comforting nature as it is foam-based, making it an ideal shock absorber.
Players such as ShoeInsoles and Algeos offer a broad range of EVA insoles for different kinds of footwear. The latter offers the Slimflex EVA Standard Insoles comprising of soft grey toweling cover which can be used as a basic replacement insole and is highly customizable.
Avail customized purchase options for your needs
Competition Landscape
The aforementioned players rely on multiple expansion strategies to deepen penetration across lucrative markets. These strategies include product launches, collaborations with key players, partnerships, acquisitions and strengthening of regional and global distribution networks.
Aetrex Worldwide Inc., for instance, manufactures a host of orthotics products which are highly suitable for patients afflicted with plantar fasciitis, flat feet, high arches, heel pain, arch, ball of foot discomfort and foot aches arising from standing professions. Additionally, the company deploys 3D printing technologies to manufacture its products.
In December 2018, Bauerfeind AG inked a global licensing partnership agreement with the National Basketball Association (NBA) to market its medical knee supporters through the GenuTrain NBA platform, an officially licensed knee support of the league.
Also, in July 2018, Cascade Dafo Inc. introduced two new product lines: the Fast Fit BugTM and JumpStart SoftbackTM. The former is a low-profile shoe insert designed to control mild to moderate pronation with an optimal amount of support and comfort, yet minimal volume. The latter if a prefabricated AFO which provides lightweight, comfortable control of mild to moderate toe walking and knee hyperextension.
Foot Orthotic Insoles Market Report Scope
Attribute

Details

Forecast Period

2020-2030

Historical Data Available for

2015-2019

Market Analysis

US$ Mn for Value & '000 Units for Volume

Key Regions Covered

North America
Europe
Middle East & Africa
Rest of the World

Key Countries Covered

U.S.
Canada
Germany
Italy
France
U.K.
Spain
GCC
South Africa

Key Segments Covered

Product
Age Group
Application
Material
End-Use
Distribution Channel

Key Companies Profiled

Aetrex Worldwide Inc.
Bauerfeind AG
Acor Orthopedic
Amfit Inc.
Blatchford Clinical Services
Dr. Scholl's (Bayer)
Salts Techstep
The Foot Lab
Arden Orthotics Ltd.
Bolton Bros
Cascade Dafo Inc.
Algeo Limited
Tynor Orthotics Pvt. Ltd.

Customization & Pricing

Available upon Request
Key Segments Covered of the Foot Orthotic Insoles Market
Product

Prefabricated
Custom

Rigid/Function Orthotic Insoles
Soft/Accommodative Insoles

Age Group

Application

Sports & Athletics
Medical
Personal Comfort

Material

Thermoplastics
Polyethylene Foams
Leather
Cork
Composite Carbon Fibers
EVA
Gel
Others

End User

Distribution Channel

Drug Stores
Hospitals & Specialty Clinics
Online Stores
Others

Region

North America
Latin America
Europe
East Asia
South Asia
Oceania
Middle East & Africa (MEA)
Need an Exclusive Report for your Unique Requirement?
- Our Clients -

- Evaluate How Fact.MR's Report Can Help. -
Is the market research conducted by Fact.MR?
Yes, the report has been compiled by expert analysts of Fact.MR, through a combination of primary and secondary research. To know more about how the research was conducted, you can speak to a research analyst.
What research methodology is followed by Fact.MR?
Fact.MR follows a methodology that encompasses the demand-side assessment of the market, and triangulates the same through a supply-side analysis. This methodology is based on the use of standard market structure, methods, and definitions.
What are the sources of secondary research?
Fact.MR conducts extensive secondary research through proprietary databases, paid databases, and information available in the public domain. We refer to industry associations, company press releases, annual reports, investor presentations, and research papers. More information about desk research is available upon request.
Who are the respondents for primary research?
Fact.MR speaks to stakeholders across the spectrum, including C-level executives, distributors, product manufacturers, and industry experts. For a full list of primary respondents, please reach out to us.
Is a sample of this report available for evaluation?
Yes, you can request a sample, and it will be sent to you through an email.