Power Bank Market Exhibits Stellar Growth on Back of Internet Enabled Smart Apps
Consumer trends such as high definition multiplayer online battle arena (MOBA) games are draining smartphone batteries faster than ever. The global power bank market presents incremental 5.3X opportunities during the forecast period (2019 - 2029). Penetration of smartphones in developing regions of the world furthers the demand for power banks. The current COVID-19 pandemic lockdown is heightening use of mobile phones for video streaming and gaming thus giving a boost to the market.
Advancements in technology such as solar energy power banks will drive mass-adoption among millennial consumers. Increasing digitization of business processes that aid information access through smartphones will continue to discharge smartphone batteries and generate demand for power banks. Further, the introduction of smart devices and smart homes that can be monitored, and controlled using smartphones warrant constant internet connectivity along with enabling battery intensive features such as bluetooth, WiFi, and GPS. Amid surging demand for convenience through technology, the power banks market is set for an impressive growth trajectory.
Lithium Ion Batteries to Expand Profit Pools
On the back of production-cost efficiency and minimal battery discharge, the lithium Ion battery type segment leads with over 80% share of the total market revenues. This can be attributed to early adoption of this battery type in manufacturing power banks. Also, superior energy density of lithium ion batteries is driving the growth of this battery type segment. Its counterpart, Lithium Polymer battery type accounts for the remaining 20% of the total market revenues.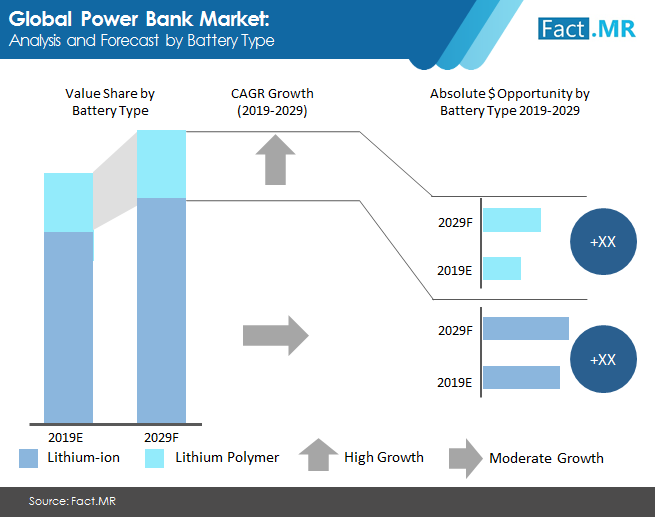 To get latest battery type insights on the power bank market, ask an analyst here
The battery type segment offers the most remunerative growth opportunities with a stupendous 19% CAGR during the forecast period. Increasing accessorization of power banks is creating high demand for sleek yet high capacity power banks. Lithium polymer based batteries are comparatively easy to mold into flatter shapes. When coupled with superior charging pace offered by lithium polymer based batteries the segment will continue to gain market share over the forecast period.
East Asia to Dominate Global Sales
East Asia emerges as the leader of global sales with over 27% of the total market value share. Booming digital economies in this region such as China, South Korea, and Japan drive sales of power banks. Consumers are using their smartphones for almost everything in these countries especially now during the prevailing pandemic. This is decreasing battery life and increasing the need for power banks. Penetration of mobile gaming, e-commerce, and smart devices connected with mobiles contributes significantly to the growth of power banks market in East Asia.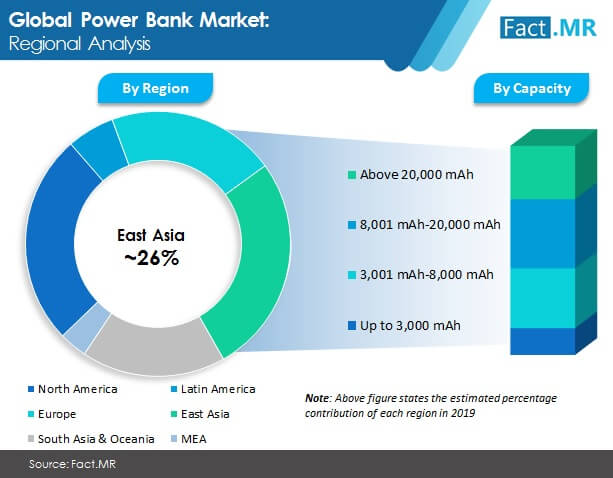 Get access to our latest regional insights on the power bank market by requesting for a report sample here
North America accounts for the second largest market share of over 26% share of the total market value. Enhanced connectivity of various devices such as home appliances, security systems, and smart accessories is a prime factor for power bank sales in North American countries. High disposable income of millennial consumers is complimenting the growth of connected devices and the resultant need to recharge smartphones and smart devices using power banks.
COVID-19 Impact on Power bank Sales
As the world economy begins to realize the impact of COVID-19, power bank manufacturers face production and supply chain challenges like never before. The rapid rate of COVID-19 transmission makes it mandatory to halt operations in affected areas. Consumers are actively practicing social distancing which reduces offline sales considerably. Further, suspension of non-essential deliveries by e-commerce giants such as Amazon, Flipkart restraints market growth. Success of large scale prevention and cure initiatives by countries will determine the course and duration of operation lockdowns.
Power bank manufacturers must plan ahead and devise recovery strategies targeting fast recovery areas as a priority. For manufacturers with existing stock of products, marginally affected areas such as Singapore, Indonesia present sustainable growth opportunities. However, transportation and logistics with ubiquitous trade restrictions is a tough challenge for the power bank market. The adverse conditions in China and the US is a worrying factor as they account for a majority of lithium reserves in the market. Hence, the rate of recovery and containment in both these countries will decide the impact of COVID-19 on the power bank market.
Size: Capacity Ratio to Drive Adoption
China, the US, Zimbabwe, and Brazil are the top 5 countries in terms of lithium reserves. Manufacturers of power banks are forging strategic partnerships with value chain stakeholders in these regions. Prominent players differentiate their products based on design, size, and battery capacity. Advancements in charging technology such as type-C ports and fast charging integrated circuits present gainful opportunities. Consumer demand for high performance power banks on the back of increasing numbers of smart devices to charge will continue to propel market growth during the forecast period. Major market players that influence the competitive landscape are, but not limited to, Adata, Anker Technology Co. Limited, Aukey, Beijing Xiaomi Technology Co., Ltd, Ravpower, Griffin, Lenovo, Mophie, Ambrane India Private Limited, Intex Technologies, Microsoft Corporation, Samsung SDI Co., Ltd., AsusTeK Computer Inc., Sony Corporation, and Panasonic Corporation.
Global Power BankMarket – Scope of the Report
The following report provides forecast and analysis of the global power bank market along with the historical data of 2014, estimated data 2019 and forecast data up to 2029 in terms of value (US$ Mn) and volume (Units), according to a Fact.MR study. The research propounds critical trends that are currently influencing growth within the global power bank market along with several macro-economic indicators. This newly published and insightful report on power bank sheds light on key dynamics, and their impact on the overall value chain from suppliers to end-users, which are expected to transform the future of the global power bank market.
The report also comprises the study of current issues with end users and opportunities for power bank. It also contains value chain analysis, including the key market participants. To provide users of this report with a comprehensive view of the market, we have included a detailed competitive analysis about the key players involved in the market and strategic overviews. The dashboard included in the report provides a detailed comparison of power bank manufacturers on parameters such as total revenue, product offerings, and key strategies. A list of key companies operating in the power bank market provided in the report adds to the credibility of this exhaustive research study.
Global Power Bank Market: In-Depth Assessment on Key Segments
The global power bank market is segmented on the basis of capacity, energy source, battery type, distribution channeland region.
| | | | | |
| --- | --- | --- | --- | --- |
| Capacity | Energy Source | Batter Type | Distribution Channel | Region |
| Up to 3,000 mAh | Electric | Lithium-ion | E-commerce | North America |
| 3,001 mAh-8,000 mAh | Solar | Lithium Polymer | Brick and Mortar | Latin America |
| 8,001 mAh-20,000 mAh | | Petroleum Refining | | Europe |
| Above 20,000 mAh | | | | East Asia |
| | | | | South Asia & Oceania |
| | | | | Middle East & Africa |
This taxonomy and the detailed TOC prepared are confidential and intended exclusively for the individual or entity with whom it is being shared. Reading, disseminating, distributing, or copying this to any party other than addressee(s) is unauthorized and prohibited.
Country-specific assessment on demand for power bank has been provided for each regional market, along with the market size valuation and forecast price point assessment, price index and impact analysis of key regional and country-wise dynamics, which were obtained through quotes from numerous power bank manufacturers, experts, and suppliers. Y-o-Y growth projections have also been offered on all regional markets incorporated in the report. Moreover, future trends, growth prospects, and other possibilities related to the market have been answered in the report.
The report provides company-level market share analysis, which has been derived on the basis of the company's annual sales and segmental revenue in all the target end-use industries. The market has been forecasted based on constant currency rates. The report provides detailed competitive and company profiles of key participants operating in the global power bankmarket. Some of the major competitors operating in the power bankmarket areBeijing Xiaomi Technology Co., Ltd, Ravpower, Griffin, Lenovo, Mophie, Ambrane India Private Limited, Intex Technologies, Microsoft Corporation, Samsung SDI Co., Ltd., AsusTeK Computer Inc., Sony Corporation, Panasonic Corporationandothers.
Global Power Bank Market: Research Methodology
A number of primary and secondary sources were consulted during the course of the study. Secondary sources include Factiva, Morningstar and Hoovers, and company annual reports and publications. Comprehensive interviews have been conducted by our analysts, and the intelligence and insights obtained have been used for validating the information gained through secondary research. The report also includes a description of assumptions and acronyms utilized for research purposes. Data gathered has been validated using the triangulation method to offer useful quantitative and qualitative insights into the power bank market.
A short market viewpoint offered in the report elucidates the macro-economic aspects that influence the growth of the power bank market, which includes global GDP growth rate, urbanization growth rate, population growth rate, e-commerce growth and others.This report serves as an authentic resource of intelligence on the contact lens market, enabling the readers to take fact-based decisions on the future direction of their businesses
Fact.MR offers custom research services that help clients to get specific research solutions
We are committed towards customer satisfaction and quality service.
---
Our Clients

Power Bank Market Forecast, Trend Analysis & Competition Tracking - Global Market Insights 2019 to 2029