Polycaprolactone, An Evolving Synthetic Biodegradable Polymer, to expand 2.8x through 2030
The global polycaprolactone market has witnessed a strong growth rate of ~9.5% over the historical period with sales pegged at US$ ~330 Mn in 2019. PCL, a synthetic polymer has found widespread demand in numerous applications due to several characteristics, including long span biodegradability, biocompatibility, 3D techniques, and regenerative properties. The global polycaprolactone market has evolved significantly in recent years, on the back of increasing investments in new technologies to overcome performance and quality issues associated with the manufacturing of polycaprolactone.
Moreover, shifting preference towards plastics derived from biodegradable and fossil fuels is also creating new growth avenues in new potential markets. The global market for polycaprolactone is anticipated to account for ~12% of the overall demand in the global biodegradable polymers market. Based on the aforementioned trends, the global polycaprolactone market is expected to grow at a CAGR of 10% over the long-term forecast period (2020-2030).
Continuous Emphasis on Eco-friendly and Cost Effective Raw Material Procurement to Bolster Pellets Growth by 10.5%
The pellets segment holds a leading share in the global polycaprolactone market, accounting for ~4/5th of the overall sales in 2019. Rise in applications of PCL in packaging and 3-D printing is expected to be the key contributor to the spurring sales of pellets. In addition, ring opening polymerization (ROP) is commercially proffered and is the most prevalent technique for manufacturing polycaprolactone materials, mainly pellets.
This is attributed due to its ability to achieve higher molecular weight, higher monomer conversion (yield) along with its lower operation cost, as compared to the polycondensation of hydro carboxylic acid. Moreover, new initiatives taken by governments for environmental protection and balancing the demand for ecofriendly raw materials is anticipated to burgeon the demand of pellets with a growth rate of ~10.5% during the foreseeable future.
Global PCL Market to Unleash High Growth Potential in Healthcare
Over the past few years, the demand for high performance polyurethane elastomers such as polycaprolactone across matured as well as niche applications has witnessed amplified demand. This is attributed to increasing need for better infrastructure, highly efficient and permeable polymers coupled with cost effective solutions. Polycaprolactone is mainly used in production of thermoplastic polyurethane.
Polycaprolactone based polyurethanes are widely used in coatings, adhesives, sealants and elastomers. Sales of PCL in thermoplastic polyurethane were pegged at more than US$ 150 Mn in 2019. Furthermore, niche applications of PCL are anticipated to create remunerative opportunities in the market owing to increasing demand of PCL for drug delivery, tissue engineering, orthopedics, sutures, wound healing products and dental implants.
Heightened Investments for Better Healthcare to Proliferate Sales in Asia Pacific Clusters
Europe leads the global demand for polycaprolactone in 2019 with more than 1/3rd share owing to increasing number of new entrants with considerable production capacities over last few years. The usage of polycaprolactone in healthcare applications is expected to rise in the region. Among other regions, North America also holds significant potential for penetration in the market.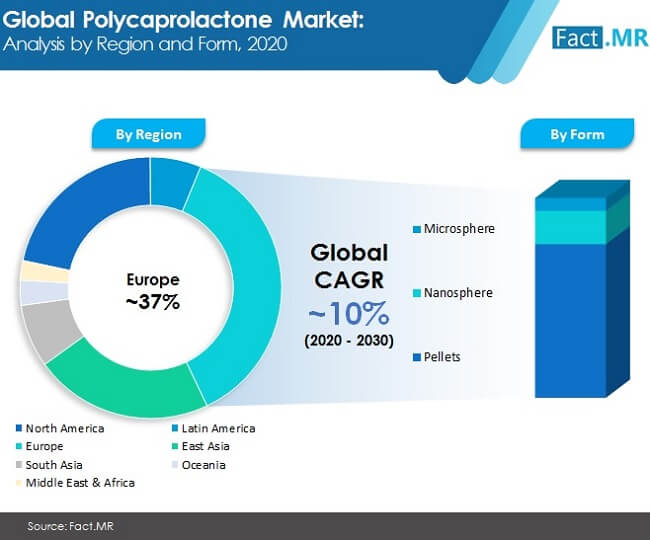 Access our insights on COVID-19 impact on the polycaprolactone market by asking an analyst here
This is owing to better healthcare infrastructure and strong foothold of key chemical companies. The region is expected to witness moderate growth rate throughout the forecast years. In addition, polycaprolactone production is limited to few countries only but widely open for future investments across the high potential markets of South Asia and East Asia. Collectively, these two regions are anticipated to gain more than 350 BPS by 2030. Moreover, advancements in technology and increased efforts from research centers shall create future growth opportunities in the global polycaprolactone market.
Acquisition of Small Players to Expand Market Footprint and R&D Focus to Drive Growth of Key Manufacturers
The global polycaprolactone market is highly consolidated among the top 6 frontrunners in the market. Leading market actors such as Perstorp Holding AB, BASF SE, Shenzen Esun Industrial Co. Ltd., Diacel Corporation, Corbian Purac, and Sigma-Aldrich Corporation, collectively hold 3/4th of the total revenue share in 2019.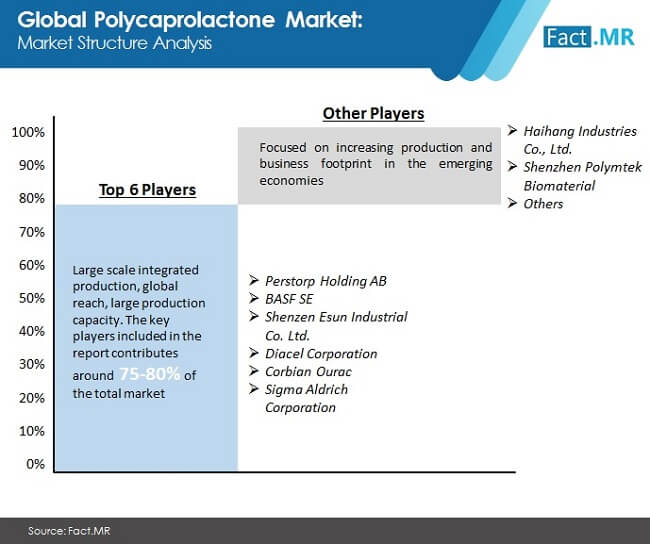 To gain a competitive edge in the polycaprolactone market. request for a report sample here
This is attributed to emphasis on new product development, increase in production capacity along with focus on sales through effective distribution channels. Majority of the key players are focusing on the acquisition of small players and small-scale companies to make significant investments in R&D to introduce new products and enhance business footprints across the globe. Furthermore, commercialization of new products and low-cost production of PCL in the near future ensures the market supply and growth.
COVID-19 Impact Analysis
The chemical sector plays a pivotal role in manufacturing of several products such as biodegradable plastics, packaging products, and medicines among others. With the spread of the coronavirus, demand for biodegradable packaging materials is increasing among consumers. The ongoing COVID-19 pandemic has compelled market players to adopt diversified business strategies on the back of increasing supply-demand gap due to shutdown of manufacturing plants and transportation facilities.
Furthermore, disruptions in international trade and stringent government policies concerning environment friendly products have highly impacted the growth of the global polycaprolactone market. Post COVID-19, there exists a significant opportunity for domestic players to gain significant market share with introduction of new cost innovative products in the coming years.
Analyst's View Point
The global polycaprolactone market is anticipated to regain its momentum after COVID-19 recovery due to increasing demand for green and recyclable polymers across key end use applications. Key market actors are likely to be on the path to find a collaborative value addition through distribution channels to gain hegemony in the global polycaprolactone market.
Research Scope
The recent global polycaprolactone market report by Fact.MR offers a 10-year forecast from 2020 to 2030. The report elaborates on the key drivers, restraints, opportunities and threats to the expansion of the global polycaprolactone market. A detailed segmental analysis, based on form, manufacturing process, and application has been provided in the report.
Regional analysis in terms of supply chain analysis, business execution and market value analysis provides an in-depth perspective about the future scope of the global polycaprolactone market. In addition, a separate section on market structure has also been provided. The section provides a detailed analysis of key market players and the strategies for expansion in the polycaprolactone market.
Global Polycaprolactone Market – Scope of the Report
The following report provides forecast and analysis of the global polycaprolactone market along with the historical data of 2015, estimated data 2020 and forecast data up to 2030 in terms of value (US$ Mn) and volume (MT), according to a Fact.MR study. The research propounds critical trends that are currently influencing growth within the global polycaprolactone market along with several macro-economic indicators. This newly published and insightful report on polycaprolactone sheds light on key dynamics, and their impact on the overall value chain from manufacturers to suppliers to end-users, which are expected to transform the future of the global polycaprolactone market.
The report also comprises the study of current issues with end users and opportunities for polycaprolactone. It also contains value chain analysis, including the key market participants. To provide users of this report with a comprehensive view of the market, we have included a detailed competitive analysis about the key players involved in the market and strategic overviews. The dashboard included in the report provides a detailed comparison of polycaprolactone manufacturers on parameters such as total revenue, product offerings, and key strategies. A list of key companies operating in the polycaprolactone market provided in the report adds to the credibility of this exhaustive research study.
Global Polycaprolactone Market: In-Depth Assessment on Key Segments
The global polycaprolactone market is segmented on the basis of form, manufacturing process, application, and region.
| | | | |
| --- | --- | --- | --- |
| Form | Manufacturing Process | Application | Region |
| Pellets | Ring Opening Polymerization (ROP) | Thermoplastic Polyurethane | North America |
| Nanosphere | Polycondensation of Carboxylic Acid | Healthcare | Latin America |
| Microsphere | | | Europe |
| | | | East Asia |
| | | | South Asia |
| | | | Oceania |
| | | | Middle East & Africa |
| | | | |
| | | | |
| | | | |
This taxonomy and the detailed TOC prepared are confidential and intended exclusively for the individual or entity with whom it is being shared. Reading, disseminating, distributing, or copying this to any party other than addressee(s) is unauthorized and prohibited.
Country-specific assessment on demand for polycaprolactone has been provided for each regional market, along with the market size valuation and forecast price point assessment, price index and impact analysis of key regional and country-wise dynamics, which were obtained through quotes from numerous polycaprolactone manufacturers, experts, and suppliers. Y-o-Y growth projections have also been offered on all regional markets incorporated in the report. Moreover, future trends, growth prospects, and other possibilities related to the market have been answered in the report.
The report provides company-level market share analysis, which has been derived on the basis of the company's annual sales and segmental revenue in all the target end-use applications. The market has been forecasted based on constant currency rates. The report provides detailed competitive and company profiles of key participants operating in the global polycaprolactone market. Some of the major competitors operating in the polycaprolactone market are Perstorp Holding AB, BASF SE, Shenzen Esun Industrial Co. Ltd., Diacel Corporation, Corbian Purac, Sigma-Aldrich Corporation, and others.
Global Polycaprolactone Market: Research Methodology
A number of primary and secondary sources were consulted during the course of the study. Secondary sources include Factiva, Morningstar and Hoovers, and company annual reports and publications. Comprehensive interviews have been conducted by our analysts, and the intelligence and insights obtained have been used for validating the information gained through secondary research. The report also includes a description of assumptions and acronyms utilized for research purposes. Data gathered has been validated using the triangulation method to offer useful quantitative and qualitative insights into the polycaprolactone market.
A short market viewpoint offered in the report elucidates the macro-economic aspects that influence the growth of the polycaprolactone market, which includes global GDP growth rate, impact of COVID-19, chemical sector growth rate, biodegradable polymers sales growth, paints & coatings industry growth rate, etc. This report serves as an authentic resource of intelligence on the polycaprolactone market, enabling the readers to take fact-based decisions on the future direction of their businesses
Fact.MR offers custom research services that help clients to get specific research solutions
We are committed towards customer satisfaction and quality service.
---
Our Clients

Polycaprolactone Market Forecast, Trend Analysis & Competition Tracking - Global Market Insights 2020 to 2030