High-flow Nasal Cannula Market
High-flow Nasal Cannula Market Analysis Report By Component (Air/Oxygen Blend, Air Humidifier, Single Heated Tube, Nasal Cannula), By Application (Acute Respiratory Failure, Bronchiectasis, Sleep Apnea), By End-user, By Region - Global Insights to 2025
FACT4777MR
Mar-2022

List of Tables : 24

List of Figures : 75

170 Pages
High-Flow Nasal Cannula Market Outlook
The high-flow nasal cannula market is anticipated to showcase a robust CAGR of 11.8% during the forecast period (2020-2025). Technological advancements by key market players are also anticipated to burgeon the high-flow nasal cannula market. Moreover, clinical trials for evaluating new application areas shall open up new avenues for the market.
According to the Global Burden of Disease Study, 2013, around 300 million people suffered from COPD during that year. This is attributed to growing addiction for smoking, deteriorating air quality and rising pollution across the globe. The prevalence of respiratory disorders will further boost market prospects.
Avail customized purchase options for your needs
Acute Respiratory Failures to Remain Dominant, Sleep Apnea to Expand Healthily
Acute respiratory failures are anticipated to find widespread application of high-flow oxygen therapy using high-flow nasal cannula market. The unique advantages of high-flow nasal cannula and the growing acceptance of this method amongst these patients are anticipated to bolster market share. The Acute Respiratory Failures segment shall account for around three-tenth of the high-flow nasal cannula market, growing impressively at a CAGR of 11.4%.
Following the Acute Respiratory Failures segment is the Sleep Apnea segment. High-flow nasal cannula devices help in this regard by delivering a consistent flow of oxygen via the nasal cannula and alleviate upper airway obstruction. Rising prevalence of sleep apnea is also anticipated to boost the market of high-flow nasal cannula. Projected CAGR is pegged at 13.5% throughout the forecast period.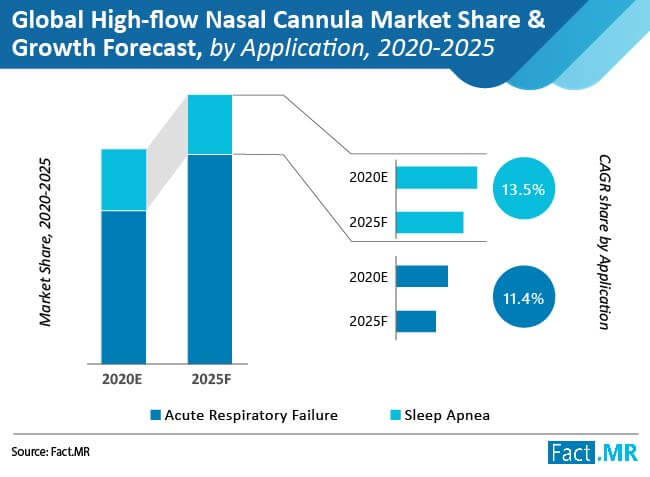 High-Flow Nasal Cannula Regional Insights
North America is anticipated to dominate the high-flow nasal cannula market during the forecast period. Preference for non-invasive ventilation (NIV) and continuous positive airway pressure (CPAP) devices has augmented rapidly in home care settings for patients suffering from respiratory diseases in North America. This has stimulated key manufacturers to increase production of high-flow nasal cannula devices, thus increasing the market share. The North American high-flow nasal cannula market share is projected to be more than two-fifth.
Asia-Pacific shows impressive growth prospects for the high-flow nasal cannula market during the forecast period. The Asia-Pacific region is anticipated to expand at a CAGR of 13.2%, capturing a market share of almost one-fifth of the total high-flow nasal cannula market. Increasing population, degraded air quality and growing smoking prevalence have increased the number of respiratory disease cases. This has augmented the market for high-flow nasal cannula market in Asia-Pacific.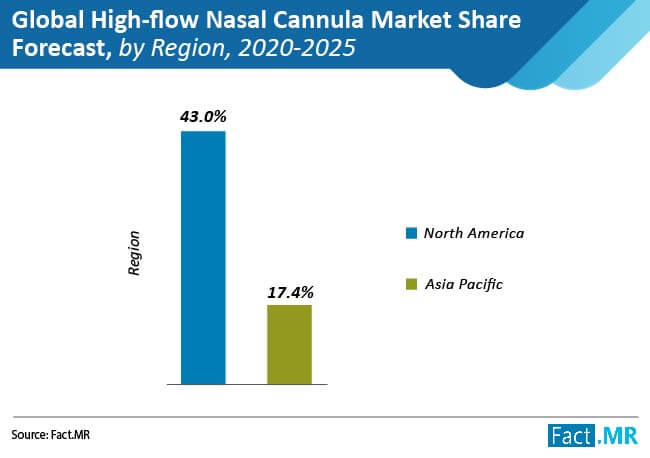 High-Flow Nasal Cannula Market Manufacturers' Strategies
The global high-flow nasal cannula market is fragmented. Out of the existing players, four of them account for three-tenth of the market share. These companies are Fisher & Paykel Healthcare Limited, BD/CareFusion, ResMed Inc., and Telefax incorporated. These players are consistently innovating their product portfolios by virtue of technological advancements to acquire market presence.
Fisher & Paykel is a leading players in the global high-flow nasal cannula market. Its flagship products include F&P 950 Humidifier, Optiflow High-flow System and the AIRVO 2. Other products include OptiFlowTM Nasal High, F&P Brevida Masks and the F&P SimplusTM Full Face Masks.
ResMed Inc. is another market leader in the respiratory therapy market. It offers a strong product portfolio for the treatment of sleep apnea and non-invasive ventilation. Its flagship products include AirView, myAir and ClimateLine MAX for the treatment and management of sleep apnea and respiratory disorders.
An Adaptive Approach to Modern-day Research Needs
COVID-19's Impact on the High-flow Nasal Cannula Market:
The COVID-19 pandemic has heightened the market prospects for high-flow nasal cannula market. Owing to its widespread application in the treatment of various respiratory diseases, high-flow nasal cannula is anticipated to ease the complications faced by COVID-19 affected patients. Since the disease primarily affects the lungs, HFNC is a suitable approach to help patients breathe normally by providing free flowing oxygen.
The HFNC technique scores over conventional oxygen therapy as it can tolerate deficiencies of unheated and non-humidified oxygen. It can regulate the temperature and moisture levels to provide greater comfort to infected patients. Leading players in the high-flow nasal cannula market are also contributing effectively towards the mitigation of the pandemic.
For instance, Fisher & Paykel is accelerating its production of ventilators and other respiratory support and humidification products to hospitals. Likewise, ResMed has accelerated its production of its AirCurve 10 bi-level devices to provide some comfort to COVID-19 patients.
Analyst's Viewpoint:
"Rising incidence of respiratory problems is anticipated to steer the high-flow nasal cannula market towards a positive growth trajectory. Moreover, the coronavirus pandemic is anticipated to leverage market prospects, owing to its suitability in oxygen delivery to patients."
High-flow Nasal Cannula Market: Report Scope:
The recent report compiled by Fact.MR on the high-flow nasal cannula market incorporates a 5-year forecast from 2020 to 2025 and includes analysis on vital dynamics such as the key drivers, opportunities and restraints. A detailed analysis on the revenue, market share and yearly growth prospects have been provided based on the following segments: component, application and end-user.
A regional landscape incorporates the abovementioned segmental analyses as well. The regional landscape is based on the following geographies: North America, Europe, Asia-Pacific, Latin America and Middle East & Africa. Towards the end of the report, a competition landscape has been mapped, providing information on the key market players, their expansion strategies, revenues and market shares and product portfolios. A SWOT analysis has also been provided for each player in order to present a realistic scenario.
Interested to Procure The Data
High-flow Nasal Cannula Market Segmentation
Fact.MR has studied the high-flow nasal cannula market with detailed segmentation on the basis of component, application, end-user and key regions.
By Component :

Air/Oxygen Blend
Air Humidifier
Single Heated Tube
Nasal Cannula
Other Consumables

By Application :

Acute Respiratory Failure
Chronic Obstructive Pulmonary Disease (COPD)
Carbon Monoxide Toxicity
Bronchiectasis
Sleep Apnea
Other Applications

By End-user :

Hospitals
Long-term Care Centers
Ambulatory Care Centers
Tomosynthesis
Other End-users

Key Regions :

North America
Europe
Asia Pacific
Latin America
Middle East & Africa
"This taxonomy prepared is confidential and intended exclusively for the individual or entity with whom it is being shared. Reading, disseminating, distributing, or copying this to any party other than the addressee(s) is unauthorized and prohibited."