Vertical Lift Module Market Outlook (2023 to 2033)
The global vertical lift module market is valued at US$ 1.5 billion in 2023 and is expected to reach US$ 3.4 billion by 2033-end. Global demand for vertical lift modules is forecasted to increase at a CAGR of 8.5% from 2023 to 2033.
The internal bay vertical lift module is the most suitable solution when there are space constraints. Internal bay vertical lift modules are cost-effective & quick, save floor space, and come with increased productivity and picking accuracy.
According to user needs, the enclosed system of vertically arranged racks with a range of payload capacities that are automated and run on computer commands either delivers or replenishes the goods in an ergonomically positioned workstation is known as a vertical lift module (VLM). Vertical lift modules offer several benefits such as faster inventory turns and a reduction in operator injuries.
Vertical lift modules come in various sizes (width and height). When compared to traditional shelving, vertical lift modules are effective space management devices that can save up to 85% of floor area. The market is expected to grow as a result of factors such as growing concern for employee safety and security, rising demand for warehouse automation, increasing need to maximize warehouse floor space, and rising warehouse rental costs.
Vertical lift modules are becoming popular in a wide range of industrial sectors. The thriving e-Commerce industry has significantly increased demand for vertical lift modules for better warehouse management, which is expected to drive the worldwide vertical lift module market.
The requirement for cost-optimized automated pickup and distribution solutions is increasing significantly due to the fast-evolving logistics and e-Commerce sectors. Furthermore, global urbanization has resulted in increased demand for various retail and e-Commerce services, including doorstep deliveries.
Vertical life module trays, which are usually utilized for heavy things, provide dynamic storage. During the projection period, it is anticipated that the industrial sector's increased emphasis on automated storage would significantly increase demand for vertical lift modules.
One of the key factors anticipated to propel the market for vertical lift module systems during the forecast period is the quick increase in automated storage and retrieval system installations in a variety of sectors or industries, in recent years. Industries benefit from the efficient and effective inventory management provided by vertical lift modules. These systems maximize efficiency, make the best use of available space, and assist businesses in cutting costs by reducing extra components and merchandise needed to be kept in storage.
Report Attributes

Details

Vertical Lift Module Market Size (2023)

US$ 1.5 Billion

Projected Market Value (2033)

US$ 3.4 Billion

Global Market Growth Rate (2023 to 2033)

8.5% CAGR

Market Share of Non-refrigerated Vertical Lift Module

50%

Key Companies Profiled

Modula Inc.
Automha
Kardex Group
Mecalux
Vidmar
Haenel
Autocrib
Constructor Group
Stanley Vidmar
Green Automated Solutions
Lista
Don't Need a Global Report?
Save 40% on Country & Region specific reports
Why are Sales of Vertical Lift Modules Surging across Regions?
"Growing Emphasis on Industrial Automation Driving Sales of Vertical Lift Modules"
The development of Industry 4.0 has significantly accelerated the trend toward industrial automation during the past ten years. This has significantly increased the sales of vertical lift modules across the globe. Due to the advantages offered by vertical storage systems, it is projected that the market would increase quickly over the coming years.
Vertical lift modules have also become a successful tool management solution as a result of which their use in the industrial sector is expanding. Vertical lift modules are being employed more widely for the handling of spare parts in several key sectors.
Increasing globalization and the need to achieve production efficacy will emerge as the primary factors driving the vertical lift module market expansion. Growing investment in R&D capabilities, soaring preference for vertical lift modules by the manufacturing industries, and rising demand for customized solutions and the integration of robots are all driving market expansion.
Demand for cost-effective, fast, and safe storage and distribution solutions is increasing rapidly, with the surge in automotive dealerships and expansion of manufacturing sectors. To overcome the challenges related to efficient storage and distribution solutions, various manufacturing companies are getting inclined to automated vertical storage systems.
"Constant New Developments in Vertical Lift Modules"
As more retailers turn to small-format distribution centers in densely populated locations, where space is scarce and expensive, the demand for flexible, scalable automated VLMs that can handle high volumes in tiny spaces is anticipated to boost market growth. The accuracy, profitability, and efficiency of warehousing systems are improved by technological advancements and the introduction of new goods and services.
Additionally, vertical lift modules are made to deliver the goods to an operator at an ergonomically correct location with simply the push of a button and minimal human labor. This quick delivery saves time and significantly increases workplace productivity.
The market for vertical lift modules is anticipated to increase throughout the forecast period due in large part to the growing use of height sensors in contemporary vertical lift modules. Additionally, it is predicted that the global vertical lift module market would rise due to the growing use of computer software in vertical lift modules.
"Rapid Adoption of Vertical Lift Modules in Automotive Industry"
In the automotive industry, strict security and control measures are common. Some of the parts and tools need to be stored properly and securely, and valuable assets need to be guarded and kept in a secure location to prevent theft and ensure privacy. To prevent operators from physically accessing the stored items, vertical lift modules offer safe storage.
The automotive sector is seeking methods to clear off space in the manufacturing facility due to the growing space shortage. VLM aids in streamlining logistics and management techniques to effectively manage storage within the given floor space. As a result, vertical lift modules in the automotive industry are anticipated to offer several attractive opportunities for key market participants over the coming years.
What Could Inhibit Vertical Lift Module Demand Growth?
"Lack of Qualified Professionals and Easy Accessibility of Alternatives"
Market growth is constrained by a lack of qualified professionals and the accessibility of used or second-hand vertical lift modules. Large-scale technological restrictions in underdeveloped countries will present further difficulties for market expansion.
High cost of vertical lift modules is restraining market expansion, according to pricing trends. Vertical lift module costs are extremely high, which raises the business's entire cost. The purchase of brand-new vertical lift modules would need a very high initial cost.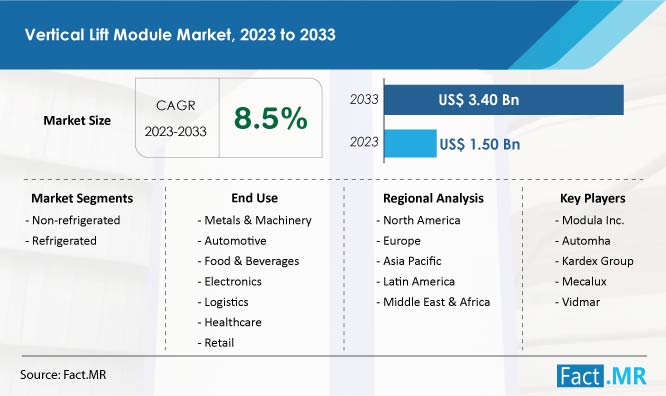 Which Regional Market is Catching the Attention of Vertical Lift Module Manufacturers?
"Increase in Warehouse Management System Suppliers Driving Market Value in North America"
North America accounts for 50% share of the global market owing to the presence of several well-established end-use industries. An increase in warehouse management system suppliers, technological advancements, and the expanding e-Commerce & retail sectors are propelling the market growth.
More Insights, Lesser Cost (-50% off)
Insights on import/export production,
pricing analysis, and more – Only @ Fact.MR
Country-wise Insights
Why is Germany Emerging as a Lucrative Market for Vertical Lift Module Providers?
"High Demand for Automated Material Handling Systems in Germany"
The well-developed automotive industry and high demand for automated material handling systems are spurring market growth in Germany. The surging need for warehouse management services is predicted to accelerate market expansion over the coming years.
Which Country is Asserting its Dominance in North America?
"Huge Adoption of Refrigerated Vertical Lift Modules in the United States"
The growing pharmaceutical and electrical industries in the United States are projected to contribute to the market growth of vertical lift modules. It is anticipated that the market would grow as a result of the huge adoption of refrigerated vertical lift modules.
Why is Japan a Prominent Market for Vertical Lift Modules?
"Growing Sales of Automotive and Heavy Metallic Machinery Products"
Rising sales of various automotive and heavy metallic machinery products, the developing manufacturing industries, and an increase in government investments are driving market growth in Japan. The high demand for various retail products among the population, surging logistics & distribution activities, and a rise in the local supply of non-refrigerated vertical lift modules are boosting market expansion in the country.
Category-wise Insights
Which Type of Vertical Lift Module is Expected to Generate Huge Revenue for Market Players?
"Non-refrigerated Vertical Lift Modules Widely Used for Effective Handling and Storage of Goods Without Temperature-controlled Environment"
Based on type, the market is divided into non-refrigerated and refrigerated. Non-refrigerated vertical lift modules account for 50% share of the global market. With the fast-evolving key end-user industries, the demand for non-refrigerated vertical lift modules is anticipated to increase during the forecast period.
The best option for the manufacturing industries is non-refrigerated VLM storage. Non-refrigerated vertical lift modules are widely required by end-user industries such as automotive, aviation, heavy metallic machinery equipment manufacturers, and others. As these key end-users require cost-optimized and efficient storage and handling solutions for goods without any temperature-controlled environment, they prefer non-refrigerated vertical lift modules.
Why are Below 20 Tons Vertical Lift Modules Highly Preferred?
"Below 20 Tons Vertical Lift Modules More Preferred Owing to Their Cost-effectiveness"
The market is divided into below 20 tons, 20 tons to 40 tons, and above 40 tons based on maximum load capacity. Since below 20 tons vertical lift modules are most versatile in terms of usage in small to medium retail sectors. As these types of vertical lift modules are cost-effective and can be used in a broad range of applications starting from healthcare to aviation, they are hugely preferred across the globe.
Competitive Landscape
Key market players are using a variety of techniques, such as quality control and mergers & acquisitions to grow their market share. Additionally, top businesses are collaborating with regional distributors and partners while also growing their distribution network. Leading companies are heavily investing in R&D to maintain product standards and introduce advanced technology, which will broaden their product line and enable them to improve their current items.
Prominent producers of vertical lift modules are participating in the creation of novel and inventive vertical lift modules following safety regulations to lower the environmental impact and increase their market position. Additionally, vertical lift module manufacturers' primary growth tactics for attracting clients include a well-organized and effective supply chain management and an upgraded retailing network.
For instance :
EffiMat Storage Technology A.S released their exclusive ClassicMat™ ensuring efficient storage optimization along with exceptional picking speed, and ergonomic picking height.
Kardex acquired the bulk of the stock in the Dutch business Robomotive, and together with Robomotive, it will expand its offering of fully automated picking solutions. The business will use Robomotive's technology to expand its intralogistics business, implement autonomous order picking for full cases, and take a significant part in production and logistics.
Key Segments of Vertical Lift Module Industry Research
By Type :

Non-refrigerated
Refrigerated

By Maximum Load Capacity :

Below 20 Tons
20 Tons to 40 Tons
Above 40 Tons

By Configuration :

Internal Bay (Single & Dual)
External Bay (Single & Dual)

By End Use :

Metals & Machinery
Automotive
Food & Beverages
Electronics
Logistics
Healthcare
Retail
Others

By Region :

North America
Europe
Asia Pacific
Latin America
Middle East & Africa