Mounting instances of appetite loss among the aging population has led them to spend more on fortified and functional food. Growing requirement for nutrition-rich food among health conscious consumers have led manufacturers to incorporate health benefiting ingredients such as vitamin premixes. Food manufacturers are utilizing various ingredients to enhance the appeal, flavor, and functionality of food products.
In 2017 Food Ingredients Europe, SternVitamin illustrated the opportunity for food, beverage, and food supplement manufacturers in generating new value-adding potential through special product concepts. An example of SternVitamin's wide array of products is new premix dedicated to "healthy bones & a healthy heart". This micronutrient mix complies with one of the major current beverage trends, i.e. water-based fortified products, as growth potential in drinks segment is highest across the globe. SternVitamin has proved how EU-authorized health claims can be effectively leveraged for marketing of finished drinks' retail packs.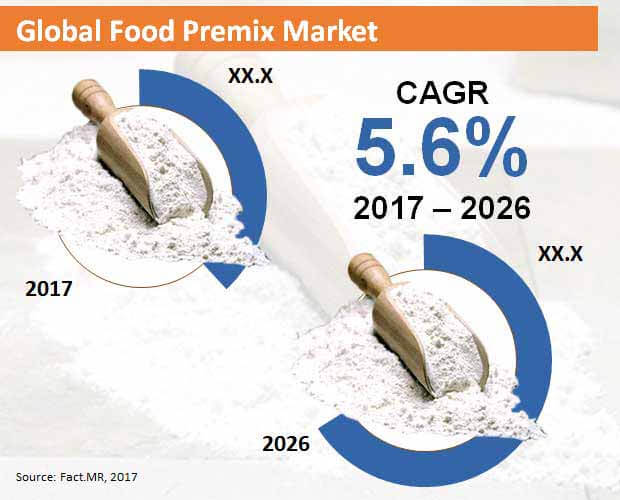 Food premixes are witnessing a gradual surge in popularity worldwide, and according to a recent Fact.MR report, the global market for food premix will register a steady 5.6% value CAGR during the period of forecast 2017 to 2026. Nearly 735,000 tons of food premix is estimated to sold globally by 2026-end.
Food added with Powdered Vitamins & Minerals to Reduce Anemia & Iron Deficiency in Children
A large number of pre-school and school-going children between the age group 2 and 12 years old are affected with anemia, with a majority among them suffering from iron deficiency. Point-of-use food fortification with micronutrient powders has been recommended for trimming the prevalence of pediatric anemia. In order to assess its effectiveness, researchers as Micronutrient initiative in Canada, WHO, and Centers for Disease Control and Prevention (CDC) in the U.S., have conducted a review of quasi-RCT and RCT trials.
According to the research, point-of-use food fortification with micronutrient powders that comprise iron has the potential to alleviate iron deficiency and anemia in children. Focus of future research regarding the same is being directed toward increasing the evidence on adverse effects, developmental outcomes, morbidity, and mortality. Developments such as this are likely to significantly influence growth of the global food premix market in the upcoming years.
Market Players adopting Expansion Strategies to Increase their Market Footprint
Leading players in the market are adopting key strategies such as acquisitions, mergers and new product launches, in a bid to boost their sales and increase their market footprint. In mid-2017, Prinova, a U.S. food ingredients supplier, acquired the premix operations of Lycored based at the U.K. and China. The acquisition has enhanced the premix supply capacity of Prinova over 2x times, meanwhile providing the company with a global footprint. According to Prinova's president, Don Thorp, the acquisition will benefit their company's already made investment in dry and liquid nutrient & flavor premix blend operations based at North America.
Montreal-based Lallemand, in the previous year, launched a new range of vitamin D premixes, called Instaferm VitaD premixes, blends of dried VitaD yeast and wheat flour for use in fine bakery products, rolls, and bread. This premix range, vitamin D2 baker's yeast, has been approved by the U.S. FDA for use in yeast-leavened baked snacks and baking mixes, 400 International Units (I.U.s) being the maximum level.
Fact.MR's report has identified key players supporting expansion of the global food premix market, which include Glanbia plc, Koninklijke DSM N.V., BASF SE, Fenchem Biotek Ltd., Lycored Ltd., and Prinova Group LLC.
A recent analytical research report of Fact.MR provides estimations and forecasts on the food premix market at a global, regional, and country level. This report offers growth prospects of the market for the historical (2012-2016) and forecast (2017-2026) period. In its initiating chapter that offers an executive summary of the food premix market, the report offers insights on every market segments along with a quick introduction to key market dynamics and imperative numbers that indicate the global food premix market's growth potential. The succeeding chapter, titled overview, imparts a comprehensive introduction of the food premix market coupled with a formal definition of the target product "food premix".
Key Research Aspects of Global Food premix Market
The report issues key market dynamics that include drivers, restrains, and opportunities for the market growth. Influential trends guiding direction of the market expansion have also been elaborated in the overview chapter. A robust research methodology has been employed by analysts at Fact.MR for determining the intensity of competition in the global food premix market. An intensity map included in the report lists key players supporting the market growth, and offers in-depth analysis on these players on the basis of key developments made by these players, along with their company overview, key financials, and product overview. Intelligence offered on the market's competition landscape is deemed priceless for readers of this report as it will enable them in making informed decisions for enhancing their businesses in the upcoming years.
Key chapters in the report offer a segmental analysis on the food premix market in terms of buyer type, sales channel, product type, and region, wherein analytical methods such as revenue share comparison, y-o-y growth comparison and the market share comparison are used. The market size and forecast offered on the regional segmentation have been offered for both historical as well as the forecast period, coupled with respective CAGRs to determine attractiveness of these regions for growth of the food premix market.
Market Taxonomy
| | | | | |
| --- | --- | --- | --- | --- |
| Region | Form Type | Ingredients Type | Function Type | Application |
| North America | Powder | Vitamins | Bone Health | Early Life Nutrition/Baby Food |
| Latin America | Liquid | Minerals | Immunity | Food & Beverages |
| Europe | | Nucleotides | Digestion | Dietary Supplements |
| Japan | | Amino Acids | Energy | Pharma OTC |
| APEJ | | Botanicals | Heart Health | Nutritional Improvement Program |
| MEA | | | Weight Management | |
| | | | Vision Health | |
| | | | Brain Health & Memory | |
| | | | Other Function Types | |
(Additional information, including cross-sectional data and country-wise analysis & forecast is available in the report)
Comprehensive Research Methodology for Providing Actionable Insights
Analysts at Fact.MR have conducted detailed interviews and discussions with a broad range of leading industry experts and key opinion leaders for compiling this research report. Primary research depicts majority of the research efforts, supported by an extensive secondary research. Secondary research sources typically include authentic databases and statistics offered by prominent websites, news articles, and government documents. The proprietary research methodology of Fact.MR helps in validating and reinforcing secondary research findings. Primary research enables developing food premix expertise and the market understanding.
A multitude of analysis has been included for revving up uniqueness of insights on the food premix market provided in the report. This extensive data study on the forecast growth of the market offers various benefits to the report readers. It helps in revealing information on the current adoption base of food premix and potential for its growth through provision of recent formulations on the marketing strategies. This report further helps in identifying opportunities for the market players, so as to enable them to achieve high profits while catering to the global demand for food premix.
Fact.MR offers custom research services that help clients to get specific research solutions
We are committed towards customer satisfaction and quality service.
---
Our Clients

Food Premix Market Forecast, Trend Analysis & Competition Tracking - Global Market insights 2017 to 2026