The Food Cultures Market to Witness a Steep Growth Trajectory with High Emphasis on Bioprotection
The food cultures market is highly competitive and constantly evolving, with companies taking advantage of advances in this space to produce cost-effective, value-added, tasty and nutritious food. The increase in demand for lactose-free, plant-based and probiotic-enriched foods and drinks is giving an upswing to the food cultures market which is expected to surpass US$ 2.4 Bn by 2027. Scientific advances in bio-protection technologies of starter cultures is allowing producers to extend the shelf-life of food products for easy storage and on-the-go use. The growth in yogurt and freshly fermented dairy production in the European and North American markets has been moderate and found to be increasing in some countries. Consumers are increasingly looking at organic, authentic food which meets all safety parameters. As a result, the global food cultures market is growing at a CAGR of 7.2% over the forecast period.
Fermentation to Act as a Growth Lever in the Food Cultures Market
Bacteria and yeast are the widely researched food culture starters used in several industries of fermented food, accounting for more than 85% of the overall market share. Due to their desirable characteristics of longevity and extended shelf life, the utilization of bacteria and yeast for fermented food has increased significantly over the recent years. The demand for fermented food has gained a niche of its own by supplying Western audiences with unique flavors and tastes. The demand for fermented food brings a wide variety of new ingredients and tastes to the food preferences of consumers.
With Continuing Capital Investment, Asia Pacific to Emerge as a Lucrative Pocket
Europe holds the leading share with over 1/3rd of overall spending in global food cultures market in 2018 on the back of increased dairy production and lack of stringent regulations for microbial food cultures. However, Asian countries are expected to record a strong expansion in global food cultures market during the forecast period owing to the presence of key producers in emerging countries of Asia especially in China and India. Producers are looking at these untapped markets and investing heavily in the latest technologies to meet the region's growing demand. For example, in 2017, DuPont the US-based ingredient company increased its Beijing-based plant capacity by more than 112%.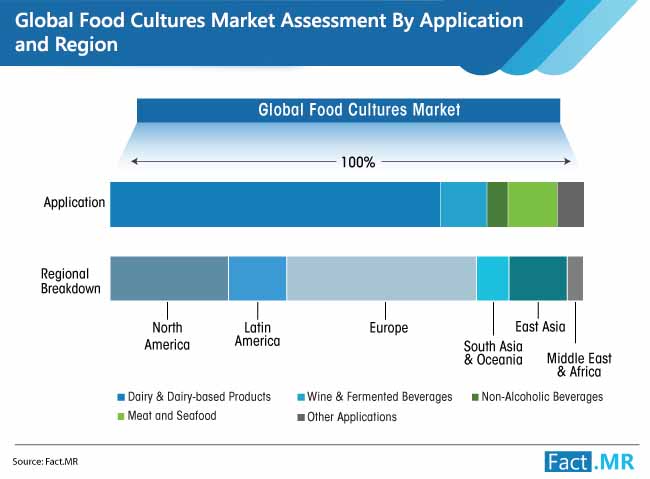 Fragmented Market Structure with Investments and Acquisitions for Sharper Profit Margins
The food cultures market is an unorganized market, but growing food consumption in emerging nations is attracting foreign firms to invest in these markets. Leading stakeholders of microbial food culture invest in pioneering R&D to market healthy products. Some of the key developments in the food cultures market are:
In 2019, Chr. Hansen introduced its unique first culture, allowing dairy producers to create naturally sweetened products while reducing added sugar.
In 2019, DuPont launched their culture for plant-based, fermented foods claiming the new ingredient to extend the shelf-life of foods and beverages based on plants and fermented products.
In 2018, Chr. Hansen acquired dairy ingredient supplier Hundsbichler GmbH. With the acquisition, the company is looking forward to expanding its enzyme production and presence in the traditional segments of specialty cheeses.
In 2018, DSM introduced its "Delvo" cheese culture to create the highly specific taste and texture of the Castellano-type cheese. The new culture is formed by coagulants, bulk starts, lipases and cheese-coating solutions.
Moreover, as part of the inorganic business expansion strategy worldwide, acquisition of local players is also increasingly being observed in the food cultures market. Top tier producers of food cultures, diversifying their distribution channels also acts as a market driver mainly in developing countries.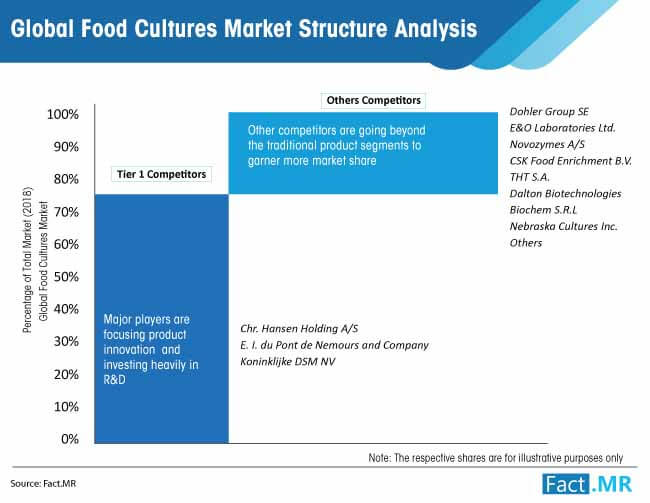 Food Cultures Market – Scope of the Report
This report provides forecast and analysis of the global food cultures market. It provides historical data of 2013 along with estimated data for 2019, and forecast data up to 2027 in terms of revenue (US$ Mn) according to a Fact.MR study. The research propounds key trends that are currently influencing growth of the food cultures market along with the macro-economic indicators. This newly published and insightful report sheds light on key dynamics, and their impact on overall value chain of the food cultures market.
The report also comprises a study of current issues with end users and opportunities for food cultures in the global market. It also contains value chain analysis along with key market participants. In order to provide users of this report with a comprehensive view of the food cultures market, we have included a detailed competitive analysis about market key players and strategic overviews. The dashboard provides a detailed comparison of the food cultures market players on parameters such as total revenue, competition standpoint and key strategies. A list of key companies operating in the food cultures market provided in the report adds to the credibility of this exhaustive research study.
Food Cultures Market: In-Depth Assessment on Key Segments-
The global food cultures market is segmented on the basis of type, application, functionality and region.
| | | | |
| --- | --- | --- | --- |
| Type | Application | Functionality | Region |
| Bacteria | Dairy & Dairy-Based Products | Flavoring Agents | North America |
| Yeast | Wine & Fermented Beverages | Preservative Agents | Latin America |
| Mold | Non-Alcoholic Beverages | Texturizing Agents | Europe |
| | Meat and Seafood | Others (Coloring Agents, Nutritional Agents, etc.) | South Asia and Oceania |
| | Other Applications | | East Asia |
| | | | MEA |
Country-specific assessment on demand for the food cultures has been provided for each regional market, along with the market size and impact analysis of key regional and country-wise dynamics, which were obtained through quotes from numerous food cultures market players and experts. Y-o-Y growth projections have also been offered on all regional markets incorporated in the report.
The report provides company-level market share analysis, which has been derived on the basis of the company's annual sales and segmental revenue in all the target end-use industries. The market has been forecast based on constant currency rates. The report provides detailed competitive and company profiles of key participants operating in the global food cultures market. Some of the major companies operating in the food cultures market analyzed are DuPont, Chr. Hansen Holdings, Koninklijke DSM, Novozymes and Dohler Group.
Food Cultures Market: Research Methodology
The food cultures market numbers are pertaining to the regional as well as country level data. The various segments have been analyzed through the combination of primary and secondary research and have been verified by applying the bottom-up and top-down approach. Secondary sources include Morningstar, Factiva, association publication, industry magazines, company annual reports and publications. Comprehensive interviews have been conducted by our analysts, and the data and insights obtained have been used for validating the information of food cultures gained through secondary sources. The report also includes a description of assumptions and acronyms utilized for research purposes. The data triangulation process is used for cross checking the collected and analyzed data from the supply as well as the demand side for food cultures market.
For assessment of the market size on the basis of value, revenues generated by leading players are taken into consideration. Backed by a proven & tested research approach, the report offers necessary information on the food cultures market. Other qualitative findings and perspectives are gathered from interviews from industry participants including Business Development Managers / Executives, CEO's and Industry Leaders. This information has been adhered to by the analysts while developing this insightful report on the food cultures market. Secondary research is leveraged for ascertaining the overall size of the food cultures market.
A short market viewpoint offered in the report explains the macro-economic aspects that influence the growth of the food cultures market, which includes worldwide demand analysis and trends impacting the food & beverage sector. This report serves as an authentic resource of intelligence on the food cultures market, enabling the readers to take fact-based decisions on the future direction of their businesses.
Request Research Methodology of this report.
Fact.MR offers custom research services that help clients to get specific research solutions
We are committed towards customer satisfaction and quality service.
---
Our Clients

Food Cultures Market Forecast, Trend Analysis & Competition Tracking - Global Market Insights 2019 to 2027