Occupational Safety Initiatives to Swell Demand for Protective Clothing Fabric
Injuries and on-job mortality at industrial sites due to fire explosion, chemical reactions and gas leakage are responsible for occupational fatalities. This has led to enforcement of stringent worker safety regulations. In April 2019, US senate passed a bill to improve safety of workers at public sector, and in July 2019, government of India announced a bill to reform its worker safety laws to bring organizations. Such initiatives from regulatory authorities are likely to increase demand for the protective fabric clothes. On this premise, the global protection clothing fabric market is projected to create an absolute $ opportunity of more than US$ 1,800 million to be valued at US$ 4,407 million by the end of forecast period (2019 – 2026), predicts the report published by Fact.MR.
Oil & Gas Industries to Witness Rampant Adoption of Protective Clothing Fabric on Back of Occupational Fatalities
Oil & gas industries are high risk as they deal with highly inflammable materials such as petroleum and gases. Therefore precautionary measures in order to ensure safety of workers is very essential in the oil & gas industry. In order to control occupational fatality in oil & gas industry, in 2012, US government's labor safety administration issued a memorandum that necessitates all workers in the oil & gas industry to wear flame resistant clothing to prevent injuries. Oil & gas industries employ a large number people and are expected to create substantial job opportunities in the coming years. Fact.MR opines that oil & gas as an end use industry is projected to capture more than 17% share of the global protective clothing fabric market by the end of the forecast period (2019 – 2026).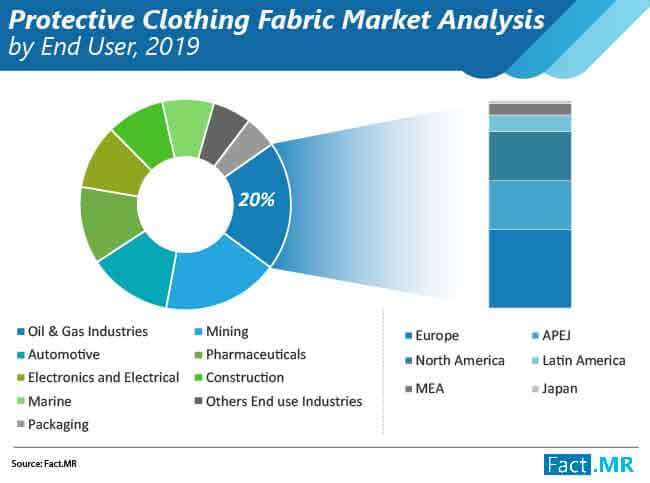 Developed Economies to Offer Promising Growth Prospects
Governments of developed countries such as US, Canada & leading countries in Europe have taken a firm stand on safety of workers in order to reduce on-job mortality. Also initiatives taken by government administrated organizations such as OSHA & EU-OSHA have led these regions to remain market leaders in the consumption of the protective clothing fabric. Fact.MR anticipates this trend to continue during the forecast period with developed regions such as North America and Europe projected to collectively hold more than 62% share in terms of value.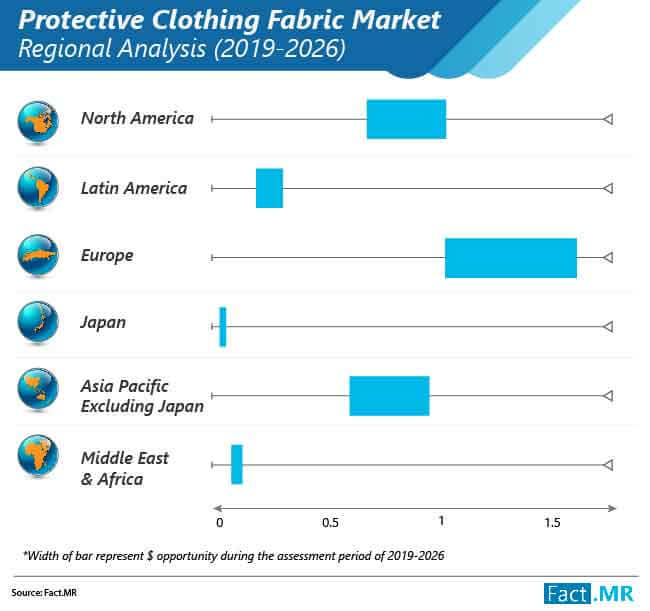 New Product Development to Underpin Sales of Protective Clothing Fabrics
Growing concerns regarding worker safety across various industries has resulted in an upsurge in the demand for the effective protective clothing. Key manufacturers have been focusing on developing fabrics that offer not only thermal or chemical safety, but also adequate level of comfort for workers allowing them to work pleasantly. Innovations in the textile designs are expected to spur the demand for protective clothing fabrics. Producers has developed protective clothing that offers improved fire resistance, and at the same time is light in weight, thinner, convenient to wear and less bulky, providing improved working conditions. For instance, in October 2018, DuPont launched 'Nomex Comfort' - a new flame protection garment which is lightweight and provides enhanced comfort and breathability, designed for use in refineries, petrochemical plants and hazardous operations where protection against chemical and fire hazard threats is required. In February 2019, Warewell Ltd launched comfortable work wear range specially designed for protection from arc flashes.
Protective Clothing Fabric Market - Scope of the Report
Fact.MR recently published a market study on the global market for protective clothing fabric. The study provides a detailed assessment on the key market dynamics, including drivers, trends, opportunities, restraints, and detailed information about the protective clothing fabric market structure. The market study presents exclusive information about how the protective clothing fabric market will grow during the forecast period of 2019-2026.
Key indicators of market growth, which include Year-on-Year (Y-o-Y) growth of the market, value chain, supply chain analysis, and Compounded Annual Growth Rate (CAGR) are explained in Fact. MR's study in a comprehensive manner. This information can help readers understand the quantitative growth prospects of the protective clothing fabric market in the forecast period.
The study is relevant for stakeholders in the protective clothing fabric market, including manufacturers, suppliers, distributors, and investors, and can help them in developing appropriate strategies to grow in the market. Stakeholders in the protective clothing fabric market, investors, industry experts, researchers, and journalists, as well as business researchers can leverage the information and data presented in the Fact.MR study.
The study also includes statistics as well as facts related to macro as well as microeconomic factors that are impacting developments in the protective clothing fabric market. It also offers actionable insights based on future trends in the protective clothing fabric market. Furthermore, small businesses and new entrants in the protective clothing fabric market too can make use of the information presented in this study, based on which, they can make appropriate business decisions in order to gain momentum in the market.
Key Segments of the Protective clothing fabric Market
Fact.MR's study on the protective clothing fabric market offers information divided into four key segments-material, end user, thickness, weight and region. This report offers comprehensive data and information about important market dynamics and growth parameters associated with these categories.
Material Type

End User

Thickness

Weight

Region

Aramid & Blends
Polyolefin & Blends
Polybenzimidazole (PBI)
Cotton Fibers
Laminated Polyesters
Other materials (PPS, Amide-imide and Viscose, etc.)

Oil & Gas Industries
Mining
Packaging
Automotive
Marine
Pharmaceuticals
Electronics and Electrical
Construction
Other End use Industries

Up to 0.056 inches
0.056 to 0.065 inches
0.065 to 0.080 inches
0.080 to 0.102 inches
Greater than 0.102 inches

Up to 12 oz. per sq. yard
12 to 17 oz. per sq. yard
17 to 22 oz. per sq. yard
22 to 33 oz. per sq. yard
Greater than 33 oz. per sq. yard

North America
Latin America
Europe
Japan
APEJ
MEA
Key Questions Answered in the Fact.MR's Protective clothing fabric Market Report
Which regions will continue to remain the most profitable regional markets for protective clothing fabric market players?
Which factors will induce a change in the demand for protective clothing fabric during the assessment period?
How will changing trends impact the protective clothing fabric market?
How can market players capture the low-hanging opportunities in the protective clothing fabric market in developed regions?
Which companies are leading the protective clothing fabric market?
What are the winning strategies of stakeholders in the protective clothing fabric market to upscale their position in this landscape?
Protective Clothing Fabric Market: Research Methodology
In Fact.MR's study, a unique research methodology is utilized to conduct extensive research on the growth of the protective clothing fabric market, and reach conclusions on future growth parameters of the market. This research methodology is a combination of primary and secondary research, which helps analysts ensure the accuracy and reliability of conclusions.
Secondary resources referred to analysts during the preparation of the protective clothing fabric market study include statistics from governmental organizations, trade journals, white papers, and internal and external proprietary databases. Analysts have interviewed senior managers, product portfolio managers, CEOs, VPs, marketing/product managers, and market intelligence managers, who have contributed to the development of this report as a primary resource.
Fact.MR offers custom research services that help clients to get specific research solutions
We are committed towards customer satisfaction and quality service.
---
Our Clients

Protective Clothing Fabric Market Forecast, Trend Analysis & Competition Tracking - Global Market Insights 2019 to 2026