Flame resistant and retardant fabric are employed for manufacturing furnishing, apparel, and protective garments for application in various industrial sectors including chemical, military, mining, infrastructure & construction, and oil & gas. Stringent regulations regarding industrial safety that maintain workplace safety and govern worker protection norms have been fuelling demand for flame resistant and retardant fabric.
For example, National Fire Protection Association (NFPA) has developed the NFPA 2112 standard, which imparts minimum requirements for design, development, evaluation, and certification of the flame resistant and retardant garments used by industry personnel. According to this standard, the flame resistant and retardant garments must not contribute to burn injuries of the wearer, provide high-degree of protection, and reduce severity of burn injuries that result from short-term thermal exposure or accidental exposures to flash fires.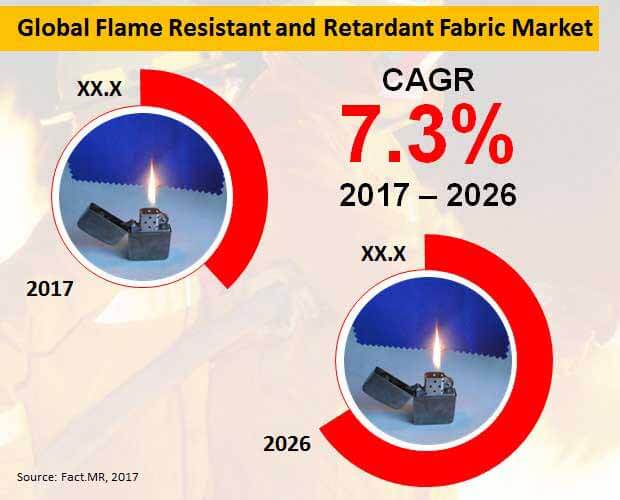 For more insights, request sample of this report.
A new Fact.MR report envisages the global flame resistant and retardant fabric market to expand at an impressive 7.3% CAGR through the forecast period, 2017 to 2026. Approximately 680 Mn Sq. Meter of flame resistant and retardant fabric are estimated to be sold worldwide by 2026-end. PBI Performance Products, Inc., Koninklijke Ten Cate NV (TenCate), Gunei Chemical Industry Co., Ltd., and other prominent players have been profiled and studied in the report.
Robust demand for these fabric for application in the production of protective clothing for fire fighters, naval & armed forces, and miners, is a key growth determinant for the market. For example - anti-flash gloves and hoods derived from Kevlar are currently being used by Royal New Zealand Navy (RNZN), and a flame retardant jute-based fabric has been developed by the IJIRA – Indian Jute Industries Research Association, for use as brattice clothing by coal miners.
Development of Nanotechnology-based Flame Retardant Fibers for Military and Space Exploration Applications
There is a growing requirement of flame retardant materials that have textured surfaces in engineering and industrial applications. Recognizing the need, a group of researchers at Defense Institute of Advanced Technology (DIAT) have developed a nano-engineered polymer-based fabric particularly for applications in the space industry and armed forces personnel.
This fabric developed by DIAT is highly flame resistant and retardant to hyper-saline solutions, and is also capable of withstanding ultraviolet radiation and low temperatures. This nano-engineered polymer fabric exhibits excellent integrity when exposed to chemical attacks as well as low and high temperature. Apart from space exploration and military applications, this fabric can also be effectively used in other security forces including air force and the navy.
Growing Offshore Oil & Gas Investments to Boost Demand for Flame Resistant & Retardant Fabrics
Post-high uncertainty in oil & gas industry over the past few years, which was influenced by a plethora of factors including the advent of shale oil production, oil cost-cutting measures, and falling oil prices, offshore production has experience a downward trend. However, with stabilizing oil prices the offshore oil & gas exploration industry's outlook for the future seems promising, with several large projects impending to be deployed such as Bonga Southwest, ACG and Mad Dog Phase 2.
Alarming number of fatalities and injuries have been associated with workers in the oil & gas industries, according to the Occupational Safety and Health Administration (OSHA). Recognizing the concern of these workers, OSHA rolled out an official memo, which compels oilfield companies to provide workers with flame retardant clothing, to the entire oil & gas industry.
This resulted into a dramatic decline in the number of fatalities in the industry with respect to fire to and explosion, according to a comparative analysis carried by Bureau of Labor Statistics in 2016. Increasing oil & gas exploration activities coupled with innate requirement for fire retardant and resistant clothing in the industry will drive the market growth in the near future.
Request research methodology of this report.
Note: The insights mentioned here are of the respective analysts, and do not reflect the position of Fact.MR
Flame resistant and retardant fabric seek extensive adoption across a wide range of industries including oil & gas, transport, automobile, and paint. Growing demand for protective clothing among industrial workers along with mandatory norms imposed by the governments regarding use of flame resistant and retardant clothing have been influencing expansion of the market. Utilization of flame resistant and retardant fabrics in home furnishings and public events, as a precautious measure, has also underpinned their demand.
Detailed Assessment on Flame Resistant and Retardant Fabric Market
Fact.MR has recently published a new report on the global flame resistant and retardant fabric market, which offers accurate forecasts on the market for the period between 2017 and 2026. This report is a definite source of information that imparts intelligence on recent market dynamics, industry trends, potential markets, technology developments & advancements, and product innovation coupled with extensive regional market coverage.
A comprehensive data analysis on the global flame resistant and retardant fabric market is delivered in the report, in order to help the clients in gaining a competitive edge and attracting potential customers. The report further aid in better understanding of the industry structure, and offers evaluations on the competition intensity attractiveness. Business strategists can leverage the intelligence offered in the report regarding latest opportunities and trends impacting the market expansion to make fact-based decisions for their businesses.
Flame Resistant and Retardant Fabric Market: Taxonomy and Segmentation Analysis
This report also offers a scrutinized study on the global market for flame resistant and retardant fabric in terms of a segmentation analysis. The market has been divided into 5 key segments, namely, by weight, thickness type, end-user, application type, and region. These segments have been analyzed in detail, engulfing market forecasts and estimates at a country and regional level.
The segmentation analysis offered can be useful for the report readers in understanding probable opportunities and potential markets for the target product – flame resistant and retardant fabric. A taxonomy table incorporated in the report illustrates all the market segments in a systematic manner as depicted below.
| | | | | |
| --- | --- | --- | --- | --- |
| Region | Application type | End User | Thickness Type | By Weight |
| North America | Industrial Protective Clothing | Oil & Gas Industries | Up to 0.056 inches | Up to 12 oz. per sq. yard |
| Latin America | Law enforcement services | Mining | 0.056 to 0.065 inches | 12 to 17 oz. per sq. yard |
| Europe | Transport | Packaging | 0.065 to 0.080 inches | 17 to 22 oz. per sq. yard |
| Japan | Others (hot gas filtration, healthcare, hospitality, corporate and home furnishing) | Automotive | 0.080 to 0.102 inches | 22 to 33 oz. per sq. yard |
| APEJ | | Marine | Greater than 0.102 inches | Greater than 33 oz. per sq. yard |
| MEA | | Pharmaceuticals | | |
| | | Electronics and Electrical | | |
| | | Construction | | |
| | | Others End use Industries | | |
(Additional information, including cross-sectional data and country-wise analysis & forecast is available in the report)
Flame Resistant and Retardant Fabric Market: Competitive Landscape Assessment
In its concluding chapter, the report quantifies revenues share of prominent companies in the global flame resistant and retardant fabric market, and offers an in-depth overview of the market's competitive scenario. A detailed description has been delivered on all the market players profiled in the report, which includes intelligence in terms of their company overview, key financials, product overview, past as well as latest developments.
A SWOT analysis has been offered on each market player incorporated in the report, along with information on their new product developments, and market expansion strategies such as collaborations and partnerships. The scope of the report is offer its readers with authentic information and insights on the global flame resistant and retardant fabric market, to enable them in making better future decisions for growth of the businesses.
Fact.MR offers custom research services that help clients to get specific research solutions
We are committed towards customer satisfaction and quality service.
---
Our Clients

Flame Resistant and Retardant Fabric Market Forecast, Trend Analysis & Competition Tracking - Global Market insights 2017 to 2026