Flame Retardant Apparel Market
Flame Retardant Apparel Market Analysis By Product Type (Inherent, Treated), By Type (Woven, Non-woven, Knitted), By Clothing Type (Durable, Disposable), By End Use (Oil & Gas, Petrochemicals, Power, Mining, Electronics & Electrical, Automotive & Transportation, Building & Construction, Federal & State Departments) and By Region - Global Market Insights (2023 to 2033)
Analysis of Flame Retardant Apparel Market Covering 30+ Countries Including Analysis of US, Canada, UK, Germany, France, Nordics, GCC countries, Japan, Korea and many more
Flame Retardant Apparel Market Outlook (2023 to 2033)
The global flame retardant apparel market is valued at US$ 3.98 billion in 2023 and is projected to reach US$ 7.83 billion by 2033. Worldwide revenue from the sales of flame-retardant apparel is forecasted to increase at a CAGR of 7% from 2023 to 2033.
Flame retardant apparel, also known as fire-resistant apparel or FR (Flame-Resistant) clothing, is specialized clothing designed to protect against exposure to open flames, sparks, electrical arcs, or other heat-related hazards. It is made from flame-resistant materials that are engineered to resist catching fire and to self-extinguish when the heat source is removed.
Flame-retardant apparel is commonly used in various industries where workers are exposed to fire or heat, such as firefighting, welding, electrical work, oil and gas, chemical industries, and more. The primary purpose of this apparel is to minimize the risk of burn injuries by preventing the clothing from igniting or melting when exposed to flames or extreme heat.
Flame-retardant apparel, whether inherent or treated, finds application in various industries, tailored to specific industrial needs. According to Fact.MR, treated flame-retardant apparel sales are predicted to increase at a healthy pace during the next ten years. This can be ascribed to its affordability, excellent efficiency, and the growing preference for it in low-income countries.
Treated flame-retardant apparel refers to clothing that has been treated with flame-resistant chemicals or finishes to enhance its fire-resistant properties. These treatments are designed to reduce the risk of ignition and provide additional protection against flames and heat.
Nomex and Proban are among the most well known and widely used flame-resistant treatments for cotton-based apparel. They are commonly used in industries such as oil and gas, petrochemicals, and manufacturing. Garments treated with Nomex and Proban are known for their durability and long-lasting flame resistance.
Report Attributes
Details
Flame Retardant Apparel Market Size (2023E)
US$ 3.98 Billion
Forecasted Market Value (2033F)
US$ 7.83 Billion
Global Market Growth Rate (2023 to 2033)
7% CAGR
Leading Regional Market
North America
Key Companies Profiled

Honeywell International Inc.
Bulwark FR
Seyntex N.V.
Fristads
Marina Textil S.L.
DEVA F-M. s.r.o.
Koninklijke Ten Cate BV
Portwest Ltd.
Lakeland Industries, Inc.
National Safety Apparel
Ansell Protective Solutions AB
Carrington Textiles Ltd
Hydrowear
Arco
Scandia Gear Europe B.V.
Eagle Technical Products
Don't Need a Global Report?
save 40%! on Country & Region specific reports
Why is the Popularity of Flame-Retardant Apparel Rising Of Late?
"Advancements in Textile Technology Enhancing Performance of Flame-Retardant Apparel"
Ongoing innovations in textile technology are significantly boosting demand for flame-retardant apparel, offering a combination of enhanced comfort, durability, and environmental responsibility. These advancements are driven by a concerted effort to not only improve safety standards but also address the need for garments that are comfortable to wear during long working hours.
Flame-retardant apparel was associated with discomfort due to its heavy and stiff nature. However, recent breakthroughs in textile engineering are leading to the creation of more comfortable flame-retardant materials. These fabrics are softer, more flexible, and lightweight, addressing concerns related to worker comfort.
One of the most significant advancements in flame-retardant textiles is the development of self-extinguishing fabrics. These materials are engineered to resist ignition and, in the event of exposure to flames, self-extinguish once the heat source is removed. This enhances worker safety and reduces the extent of injuries in the event of a fire-related accident.
"High Exposure to Fire Hazard Risks in Chemical, Oil & Gas, and Construction Sectors"
Demand for flame-retardant apparel is growing significantly due to the rapid expansion of industries such as oil and gas, chemical, manufacturing, and construction. Personnel in the oil and gas sector are exposed to various fire and heat-related hazards. Activities such as drilling, extraction, refining, and transportation of flammable substances pose significant life risks.
In the chemical industry, the handling and processing of volatile and hazardous materials create inherent dangers. The risk of chemical spills, fires, and chemical reactions necessitates the use of flame-retardant clothing.
Manufacturing encompasses a broad spectrum of industries, ranging from automotive manufacturing to electronics and textiles. In these settings, flame-retardant apparel is crucial for workers involved in tasks such as welding, soldering, and machine operations. Presence of heat sources and sparks makes flame-resistant clothing an essential protective measure.
Construction sites also often involve activities that can lead to fire hazards. Thus, flame-retardant apparel being an indispensable component of personal protective equipment is in high demand in these industries.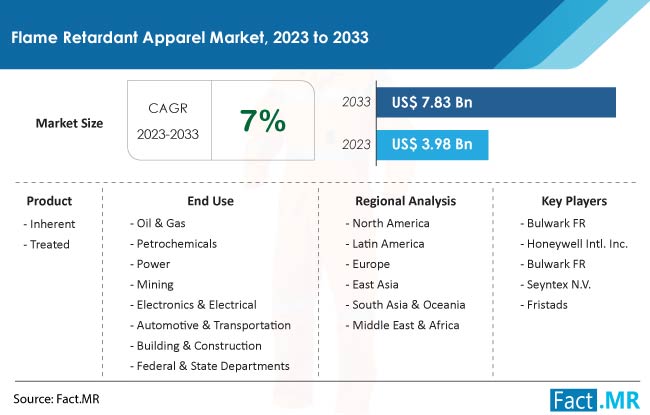 What Challenges Do Flame Retardant Apparel Manufacturers Face?
"Need for Heavy Investments in R&D Efforts Leading to High Production Costs"
While complying with stringent regulations in flame retardant apparel manufacturing is imperative for ensuring worker safety, it also presents notable challenges, particularly for manufacturers. One of the most significant challenges is the need for continuous investments in research and development (R&D) activities.
Continuous investments in R&D efforts to meet and exceed stringent safety regulations can significantly increase the cost of manufacturing flame-retardant apparel. This added expense often has a cascading effect, leading to higher prices for the end-users, which may include businesses and individuals. The cost factor can, in turn, affect market competitiveness and consumer adoption, especially in price-sensitive industries.
"Complex Regulations Leading to Delays in Product Development"
The regulatory landscape for flame-retardant apparel is complex, with varying standards across different industries and regions. Manufacturers must navigate this complexity and ensure that their products comply with the relevant standards. This complexity can lead to administrative challenges, delays in product development, and potential errors in compliance.
More Insights, Lesser Cost (-50% off)
Insights on import/export production,
pricing analysis, and more – Only @ Fact.MR
How are New Companies Projected to Make Headway in This Market?
"Emphasis on Sustainable and Environment-friendly Flame-Retardant Solutions"
New companies in the market can enhance their earnings by focusing on innovation, niche markets, sustainability, cost-efficiency, and customer-centric approaches. The strategic combination of these approaches, coupled with a commitment to quality and safety, can help new companies successfully establish themselves in this demanding and safety-conscious industry.
Identifying niche markets or specific industries with unique flame-retardant apparel needs can be a strategic approach for newcomers. By catering to the specific requirements of these segments, start-ups can position themselves as experts and gain a competitive edge. For instance, targeting industries such as renewable energy, electric vehicle manufacturing, or specialized chemical processes can be lucrative.
Country-wise Analysis
As per this detailed study by Fact.MR, a market research and competitive intelligence provider, sales of flame-retardant apparel in the United States, Germany, and Japan are growing due to strict safety regulations, innovations, and a major focus on safety and compliance.
How is the Diverse Industrial Landscape in the United States Driving Market Growth?
"Stringent Safety Regulations Driving Demand for Fire-resistant Garments and Accessories"
The United States has a robust regulatory framework for workplace safety, and this includes the use of flame-retardant apparel in various industries. Compliance with regulations set by OSHA (Occupational Safety and Health Administration) and NFPA (National Fire Protection Association) is fueling the demand for flame-resistant clothing in the country.
The country boasts a diverse industrial landscape, including oil and gas, manufacturing, construction, and healthcare. Each of these industries has unique flame-retardant apparel needs, leading to a consistent demand for specialized garments.
How is Manufacturing Excellence Increasing Flame Retardant Apparel Sales in Germany?
"Increasing Focus on Sustainable Production"
Germany is renowned for its manufacturing prowess. Demand for high-quality flame-retardant apparel is met by local manufacturers who have honed their expertise in producing top-notch protective clothing. The Germany market for flame-retardant apparel places a premium on environmentally friendly products. Development of eco-friendly flame-resistant materials and sustainable production processes is gaining traction, meeting the country's green standards.
How Will Technology and Innovation Benefitting the Market in Japan?
"Focus on Innovation and Comfort in Workwear"
Workplace safety is deeply ingrained in the Japanese culture, with a strong sense of responsibility towards employee well-being. This cultural awareness enhances the demand for flame retardant apparel, making it a vital component of worker protection.
Japan is a hub for technological innovation. The market is witnessing the development of advanced flame-resistant materials that are not only effective but also more comfortable, aligning with the nation's emphasis on innovation and comfort in workwear.
Know thy Competitors
Competitive landscape highlights only certain players
Complete list available upon request
Category-wise Analysis
Demand for flame-retardant apparel in the oil and gas sector is driven by the critical need to protect workers from fire, heat, and chemical hazards prevalent in their working environment. Compliance with safety regulations, commitment to worker safety, and the nature of the industry itself make flame-retardant apparel an essential component of occupational safety in this sector.
Why is Demand for Flame-Retardant Apparel High in the Oil & Gas Sector?
"Flame-Retardant Apparel Safeguarding Workers from Hazards Linked to Intense Heat"
The oil & gas sector often involves working in environments where flammable gases, vapors, and liquids are present. Workers are exposed to the risk of igniting these substances, making fire and explosion hazards a significant concern.
Many operations in the sector, such as drilling, extraction, and refining, generate intense heat. Equipment such as drilling rigs, furnaces, and pipelines can reach extremely high temperatures. Flame-retardant apparel is crucial for protecting workers from burns and heat-related injuries in such environments.
Competitive Landscape
Leading companies in the flame retardant apparel market are adopting several strategies such as product diversification, innovation, compliance, global presence, strong branding, sustainability, collaboration, efficient supply chain management, customer support, continuous improvement, and strategic mergers and acquisitions to earn higher profits. These approaches also help them meet customer demands, adapt to regulatory changes, and maintain their leading position in the market.
Lakeland Industries, Inc., a United States-based manufacturer of protective clothing, recently announced its collaboration with Amazon.com for the sales and distribution of its products, which is a part of the company's e-commerce strategy.
National Safety Apparel recently announced that it is expanding its United States-based safety clothing manufacturing capabilities by acquiring a Chicago-based flame-resistant (FR) clothing manufacturer, Rubin Brothers, and its brand Union Line™.
In 2019, Ansell Protective Solutions AB, a European stakeholder in the fire-resistant clothing market, partnered with Shigematsu Works Co. Ltd. (STS), a Japanese personal protection equipment company to cover the marketing, distribution & after-sales service, and maintenance of Ansell's products in Japan.
In 2018, Carrington Textiles Ltd., a UK-based producer of fire-retardant apparel, introduced Flameflex 275, a stretch fabric designed for flame-retardant clothing. The company declared that the use of elastolefin fibers for the inclusion of polyester in the stretch fabric improves abrasion resistance and strength of flame-retardant apparel. Furthermore, the company also stated that the fabric meets accreditations EN11611, EN11612, and EN14116 and can withstand temperatures up to 75 °C.
Key Segments of Flame Retardant Apparel Market Research
By Product Type :

By Type :

By Clothing Type :

By End Use :

Oil & Gas
Petrochemicals
Power
Mining
Electronics & Electrical
Automotive & Transportation
Building & Construction
Federal & State Departments
Others

By Region :

North America
Latin America
Europe
East Asia
South Asia & Oceania
Middle East & Africa
- FAQs -
The global flame retardant apparel market is valued at US$ 3.98 billion in 2023.
Sales of flame-retardant apparel are projected to reach US$ 7.83 billion by 2033.
Global flame retardant apparel sales are expected to increase at a CAGR of 7% through 2033.
Leading companies in the flame retardant apparel market are Honeywell International Inc., Bulwark FR, and Seyntex N.V.
Demand for treated flame-retardant apparel is growing significantly in low-income countries.