Glyoxal Market
Glyoxal Market Analysis by Application (Cross-Linking Polymer, Sulfur Scavenger), by End Use (Oil & Gas, Textile, Paper & Packaging, Leather, Personal Care, Furniture), by Region - Global Forecast- 2022-2032
Analysis of Glyoxal market covering 30 + countries including analysis of US, Canada, UK, Germany, France, Nordics, GCC countries, Japan, Korea and many more
Glyoxal Industry Outlook (2022-2032)
The global glyoxal market is likely to be valued at US$ 1.46 Billion in FY 2022, up from US$ 1.4 Billion in 2021.
During the past year, the industry registered a Y-o-Y increase worth 4.3%. From 2022 to 2032, glyoxal sales are poised to flourish at a CAGR of 4.4% to reach a value of US$ 2.25 Billion by the end of 2032.
Report Attributes
Details

Anticipated Base Year Value (2021)

US$ 1.4 Billion

Expected Market Value (2022)

US$ 1.46 Billion

Projected Forecast Value (2032)

US$ 2.25 Billion

Global Growth Rate (2022-2032)

4.4% CAGR

Growth Rate of the U.S Market (2022-2032)

5% CAGR

Expected Market Value of China (2032)

US$ 455 Million

U.K Market Expansion Rate (2022-2032)

4.3% CAGR

Key Companies Profiled

Dow Chemical Co.
BASF SE
Hubei Hongyuan Pharmaceutical technology Co. Ltd
Zhonglang Industry Pvt. Ltd
Mitsubishi Chemical Corporation
Huntsman International LLC
Celanese Corporation
Amzole India Pvt. Ltd
Demand for glyoxal in oil & gas sector will continue to thrive, with a documented CAGR of 4.7% during the 2015-2021 historical period of assessment, while demand for Glyoxal in the textile industry proliferated at a rate of 5% during the same period. China will dominate the global market, registering a growth opportunity worth US$ 455 Million from 2022 to 2032.
Hubei Hongyuan Pharmaceutical Technology Co., Ltd., Mitsubishi Chemical Corporation, DowDuPont, and Zhonglan Industry collectively capture nearly 52% share of the glyoxal market revenue share.
Don't Need a Global Report?
save 40%! on Country & Region specific reports
2015 to 2021 Glyoxal Market Revenue Analysis vs. Market Outlook 2022-2032
Fact.MR has predicted the glyoxal market to incline at a 4.4% CAGR between 2022 and 2032 in comparison to 5.3% CAGR throughout the historic period. The rising trend of electric vehicles and the robust strength of black glyoxal are considered the prominent glyoxal market drivers across the globe.
Manufacturers are making specific innovations in improving the quality of materials and are adopting SiCa as a vital alternative for making semiconductors. This will increase the demand for glyoxal in electrical and other end-use industries. From 2022 to 2032, the market is poised to expand 1.5x.
Key Drivers Stimulating Glyoxal Industry Expansion
Glyoxal Gains Momentum as a Potential Aldehyde Substitute
Glyoxal's use as a formaldehyde substitute in wood adhesive applications is known for a long time. Several studies are underway to use glyoxal as an aldehyde substitute. Studies are in pipeline to develop glyoxal as a formalin or formaldehyde substitute. Formaldehyde finds extensive application in the production of industrial resins and is an important precursor to multiple chemicals and other materials.
However, the harmful effects of formaldehyde on human health are well studied and according to the US National Toxicology Program, formaldehyde is classified as a human carcinogen. Studies have shown that glyoxal can be used as an alternative fixative to formaldehyde in super-resolution microscopy and immunostaining, and acid-free glyoxal can be used as a formalin substitute in tissue sample preservation.
Also, one of the industry titans, BASF SE, is engaged in formulating a co-biocide using a blend of glyoxal and glutaraldehyde in disinfectants used in veterinary hygiene and the health industry. Identification of glyoxal as a potential substitute for formaldehyde and glutaraldehyde is likely to generate lucrative opportunities for the glyoxal market in the future.
More Insights, Lesser Cost (-50% off)
Insights on import/export production,
pricing analysis, and more – Only @ Fact.MR
Key Challenges to Glyoxal Industry Expansion
Enactment of Rigorous Environment Regulations to Act as a Principal Market Restraint
Governments globally are concentrating on reducing carbon footprint by daunting numerous regulations and norms. As per the OECD guidelines 301C-E & 303A, owing to its decomposable existence, glyoxal is considered environmentally friendly, displaying a decrease in organic carbon content by more than 90%. Owing to this, glyoxal is espoused in numerous applications oscillating from textile to oil & gas.
Fluctuation in raw material prices to hamper the Glyoxal Market Growth
Prices of the raw material needed to produce glyoxal are volatile and are constantly changing, however impacting its application in various industries. Also, the availability of raw materials may impact the overall glyoxal production which will further hinder the continuous supply of glyoxal.
Country-wise Analysis
How Opportunistic are Growth Prospects across the U.S Market?
A Burgeoning Packaging Industry to Aid Expansion in North America
Glyoxal Market in North America is anticipated to record a significant revenue growth rate during the forecast period. Augmented consumption of textile chemicals for application throughout various stages of fabric processing pushes market growth as demand for apparel upsurges in North America.
The demand for technical textiles is projected to cultivate rapidly as a result of their usage in an extensive range of applications, including chemical, manufacturing, and medical. As a result, the demand for glyoxal is likely to upsurge, backed by the mushrooming oil and gas sector in the region. Furthermore, increasing glyoxal applications in end-use industries such as cosmetics, pharmaceuticals, and agrochemicals, will propel the growth of the glyoxal market in the U.S region
Fact.MR's analytical report summarizes that the North American Glyoxal Market is forecasted to reach US$ 350 Million by 2032-end, reaching nearly US$ 215 Million in 2022. The aforesaid market in the region is likely to expand at a CAGR of nearly 5% during the forecast period.
Why are Glyoxal Providers Venturing into China?
Soaring Investment in the Industrial Infrastructure to Push the Glyoxal Demand
China is projected to be the largest glyoxal market, accounting for nearly 65% market share in 2021. This growth is primarily driven by the high-scale investment by the government for the advancement of industrial infrastructure in the region. Additionally, collective domestic demand for textiles and chemicals due to the increasing population is also stimulating the market towards positive growth.
Besides, mounting exports, growing middle-class population, government initiatives to support industrial growth, and accessibility of raw materials act as critical factors for the growth of chemical, textile, and paper industries, which in turn are accountable for the stellar growth of this region in the glyoxal market.
Fact.MR's recent analysis depicts that the foresaid market is estimated at nearly US$ 265 Million in 2022, likely to expand to US$ 455 Million by 2032 end. Throughout the forecast period, the market is prospective to witness a 5.5% CAGR.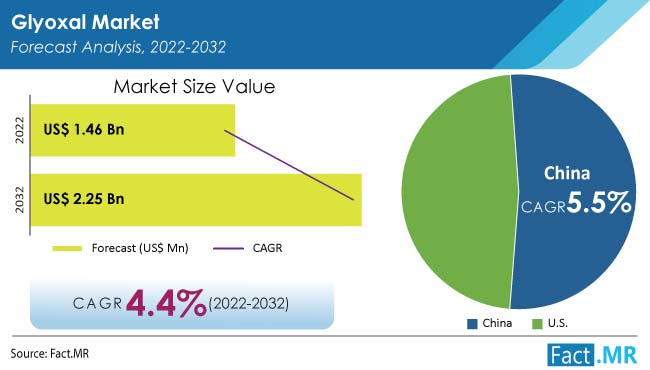 Category-wise Insights
How Oil & Gas Sector Boosts the Demand for Glyoxal Market?
Opportunities for Glyoxal Market with a Healthy Outlook for the Oil & Gas Sector
Oil & gas is the major application sector and accounted for 30.4% of the overall volume in 2021, registering a 4.3% CAGR. Glyoxal is widely used as a cross-linker for oil recovery, and sulfur scavenger in gas sweetening processes. The oil and gas industry is realigning after witnessing the last few years of weak prices.
With increased production efficiency, U.S. oil production has increased and is likely to observe an upward growth trend in the future. The scenario is similar in developing economies as well, thereby driving the demand for enhanced oil recovery owing to increased oil wells development.
By Application, which Glyoxal is expected to Dominate?
Textile Industry Prevails a Key End-Use Vertical
According to the study, buoyancy in the textile industry will be beneficial for the glyoxal market wherein over 51% of the global glyoxal is consumed by the textile industry. With the rapidly expanding urbanization and urban consumers spending more on high-standard clothing, the textile industry profitability is projected in the future.
As a product of choice for several applications, glyoxal finds extensive application in the textile industry. In textile manufacturing, the efficient crosslinking property of glyoxal leads to decreased water uptake during cellulose crosslinking. As glyoxal can efficiently bind to cellulose and avoid cellulosic swelling, its utilization in the textile industry continues to grow.
Based on End-Use, Which Segment is Likely to Generate Highest Revenue Share
Glyoxal Demand as a Crosslinking Agent Continues to Grow
The application of glyoxal as a crosslinking agent has remained traditional across multiple end-user industries and the status quo is expected to continue in the future. According to the study, nearly 80% of the global glyoxal was consumed as a crosslinking agent.
Glyoxal provides a comprehensive cross-linking solution for a wide range of polymers such as starch, polyacrylamide, cellulose, proteinaceous material, and polyvinyl alcohols. As manufacturers continue to invest more in R&D for the development of biodegradable glyoxal, its application as a crosslinking is likely to grow in the future.
Owing to its low moisture retention characteristics, the application of glyoxal as a crosslinking agent is highly popular across end-use industries such as textiles, paper & pulp, oil & gas, leather, cosmetics, and wood hardening. To deliver application-specific solutions, manufacturers closely work with the industry to align with the specific requirements.
As a crosslinking agent, glyoxal provides comprehensive solutions for a huge number of chemical applications and hence is expected to witness significant demand for glyoxal in the coming years.
Know thy Competitors
Competitive landscape highlights only certain players
Complete list available upon request
Competitive Landscape
Prominent Glyoxal providers are reliant on partnerships, collaborations, acquisitions, and new software launches to stay afloat in the global market. Constant innovations to ensure a seamless client-customer relationship are the main focus of prominent market players.
In March 2020, BASF closed the acquisition of Solvay's polyamide business (PA 6.6) on January 31, 2020. Domo Chemicals, Leuna, Germany, was approved by the E.U. Commission as the buyer of the European polyamide business, which could not be acquired by BASF under the conditions imposed by the authorities. The transaction broadens BASF's polyamide capabilities with innovative products.
Key Segments Covered in the Glyoxal Industry Survey
Glyoxal Market by Application :

Glyoxal for Cross-Linking Polymer
Glyoxal for Sulfur Scavengers

Glyoxal Market by End Use :

Oil & Gas
Textiles
Paper & Packaging
Leather Manufacturing
Personal Care
Furniture
Other End Uses

Glyoxal Market by Region :

North America
Latin America
Europe
APEJ
Japan
Middle East & Africa
- FAQs -
As of 2021, Fact.MR estimated the Glyoxal market to have reached US$ 1.4 Billion
By 2022, Fact.MR expected demand for Glyoxal to reach US$ 1.45 Billion
From 2015-to 2021, the Glyoxal market grew at a 3.8% value CAGR
From 2022-to 2032, Glyoxal demand is likely to surge at a 4.4% CAGR
By 2032, the market for Glyoxal is likely to be valued at US$ 5.1 Billion
By 2032, Fact.MR expects the U.S market for Glyoxal to reach US$ 2.25 Billion
China is expected to register a 5.5% CAGR in the Glyoxal industry
South Korea and Japan are expected to document CAGRs worth 4.3% and 4.4% respectively in the glyoxal market
Usage of Glyoxal in textile will be maximum, expanding at a 5% CAGR
Glyoxal application as cross-linking polymer will remain most preferred, expanding at a CAGR of 5% until 2032