Aerosol Propellants Market
Aerosol Propellants Market Analysis By Propellant Type (Compressed & Soluble Gas, Liquefied Gas), By Application and Region - Market Insights 2023 to 2033
Analysis of Aerosol Propellants Market Covering 30+ Countries Including Analysis of US, Canada, UK, Germany, France, Nordics, GCC countries, Japan, Korea and many more
Aerosol Propellants Market Growth Outlook (2023 to 2033)
Aerosol propellants are used in aerosol containers to provide the necessary pressure and force to dispense products in the form of a fine spray or foam. They play a crucial role in the effective delivery of a wide range of products to consumers. Aerosol packaging helps to extend the shelf life of products. The propellants create a sealed environment within the can, protecting the product from external factors such as air, moisture, and contaminants. This helps to maintain the product's quality and effectiveness over an extended period.
Aerosol propellants market is witnessing growth due to surging demand from the end use segment. On the back of this, the global aerosol propellants market is set to estimate a valuation of US$ 7.9 billion in 2023 and it is expected to grow at a CAGR of 6.9% to reach US$ 15.4 billion by the end of 2033.
Report Attributes
Details

Estimated Market Value (2023E)

US$ 7.9 Billion

Forecasted Market Value (2033F)

US$ 15.4 Billion

Global Market Growth Rate (2023-2033)

6.9% CAGR

North America Market Share (2023)

30.6%

East Asia Market Growth Rate (2023-2033)

7.6% CAGR

Europe Market Growth Rate (2023-2033)

6.4% CAGR

Key Companies Profiled

Royal Dutch Shell
Repsol
Honeywell
Evonik
Chemours
HARP International
Nouryon
Grillo Werke AG
Emirate Gas LLC
Climalife
Don't Need a Global Report?
save 40%! on Country & Region specific reports
Historic and Future Path for Aerosol Propellants Market
Aerosol propellants play a crucial role in the efficient and controlled release of products in aerosol form. They help in dispensing the contents evenly and accurately, ensuring convenient and effective application. The propellants also contribute to the stability and shelf life of the aerosol products.
Historically, chlorofluorocarbons (CFCs) were widely used as aerosol propellants due to their non-flammability and stability. However, the environmental concerns associated with CFCs, particularly their contribution to ozone depletion, led to their phased-out globally. This, creates space for new entrants to penetrate the market with eco-friendly and natural solutions, driving market growth in the long run.
Short Term (2023-2026): Natural propellants, such as compressed air, nitrogen, and carbon dioxide, have gained popularity due to their zero ODP and minimal impact on climate change. These propellants are considered eco-friendly and are commonly used in products like personal care items, food sprays, and pharmaceuticals. The demand for natural propellants is expected to continue growing as companies strive to enhance their sustainability profiles.
Medium Term (2026-2029): The aerosol industry is witnessing substantial growth in emerging economies, primarily due to increasing disposable incomes, urbanization, and a growing middle-class population. This expansion presents opportunities for the aerosol propellants market as more consumers demand convenient and affordable aerosol products.
Long Term (2029-2033): There is ongoing research and development in the field of aerosol propellants to improve their efficiency, safety, and environmental impact. Novel propellant technologies, such as dimethyl ether (DME) and hydrofluoroolefins (HFOs), are being explored as potential alternatives. These technologies offer reduced greenhouse gas emissions, improved propellant performance, and enhanced product stability.
On the back of the aforementioned facts, the organic solvent dyes market is expected to grow at a CAGR of 6.9% during the forecast period from 2023-2033, According to the Fact.MR, a market research and competitive intelligence provider.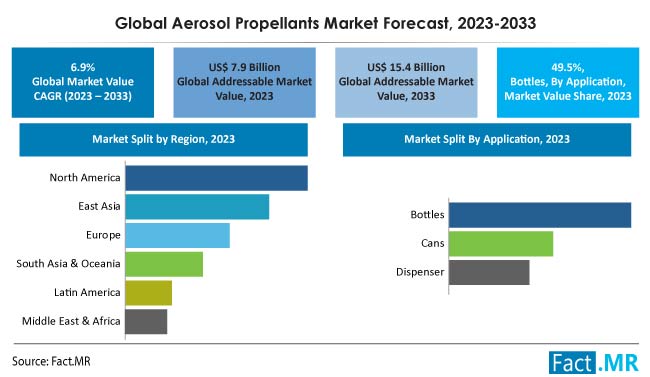 Market share analysis of aerosol propellants based on application and region is provided in a nutshell in the above image. Under the application segment, the bottle application is estimated to dominate with a 49.5% market share in 2023.
Market Dynamics Outlook
"Rapid Expansion of Personal care Industry to Lift the Market"
The growing skincare or personal care industry has a significant impact on driving the aerosol propellants market.
The skin care segment in the cosmetics industry is projected to grow at a CAGR of 3.9% during the period of 2023-2027 and reach a valuation of over US$ 175 billion by the end of 2023. The rise in the skin care industry translates into higher demand for skin care products.
Aerosol packaging offers numerous advantages in terms of convenience, precise application, and extended shelf life. As consumers increasingly focus on personal grooming and skincare routines, the demand for aerosol-based skin care products such as moisturizers, sunscreens, serums, and sprays is likely to surge. This drives the need for aerosol propellants to deliver these products effectively.
The growth of the skin care industry fosters innovation in product formulations. Manufacturers are constantly developing new and advanced skincare formulations to meet the evolving needs of consumers. Aerosol packaging provides an ideal platform for delivering these innovative formulations, enabling efficient dispensing and preserving the integrity of active ingredients. This drives the demand for aerosol propellants that can effectively deliver these advanced skin care products.
"Challenges Posed by Government to Hamper Aerosol Propellants Market Growth"
To ensure consumer safety, governments have implemented various regulations on aerosol propellants. These regulations aim to address the presence of cheap and low-quality products in the market that harm the skin instead of offering protection. Governments have established manufacturing standards that all manufacturers must adhere to in order to combat this issue. The excessive use of harmful chemicals in these propellants has been found to contribute to the development of skin allergies, which ultimately reduces the potential consumer base for the aerosol propellant market and creates demand for alternative solutions.
In order to safeguard consumer health and combat the distribution of subpar products, governments have introduced appropriate labeling regulations for manufacturers. These regulations aim to ensure that consumers are well-informed about the quality and safety of aerosol propellants available in the market. Additionally, a significant number of governments have implemented a ban on animal testing, which have an impact on global aerosol propellants production in the foreseeable future.
More Insights, Lesser Cost (-50% off)
Insights on import/export production,
pricing analysis, and more – Only @ Fact.MR
Country-wise Insights
How Does the Growing US Cosmetic Industry Drive Aerosol Propellants Demand?
The US is expected to capture over 1/4th of the global aerosol propellants market. It was valued at US$ 2.0 billion in 2022 and is expected to grow at a CAGR of 7.2% to reach a valuation of US$ 4.3 billion by the end of the forecast period.
The growing cosmetics industry in the United States is a significant driver for the aerosol propellants market. As the demand for cosmetics continues to rise, so does the need for innovative packaging solutions, including aerosol products.
The US cosmetics industry has witnessed substantial growth due to various factors such as changing beauty trends, increased consumer awareness, and the introduction of new and advanced cosmetic products. This growth has created a higher demand for aerosol propellants, as they are widely used in the packaging of various cosmetic products such as hairsprays, deodorants, and body mists.
Aerosol propellants offer several advantages in the cosmetics industry, including convenience, easy application, and extended product shelf life. Consumers appreciate the ease of use and portability provided by aerosol packaging, making these products popular choices in the market.
Why China is Emerging as a Most Lucrative Market for Aerosol Propellants?
The growing construction industry in China is a key driver for the aerosol propellants market. China's construction sector has experienced rapid expansion in recent years, due to rapid urbanization, infrastructure development, and economic growth.
The construction industry utilizes aerosol propellants in various applications, primarily for the installation, maintenance, and repair of building materials. Aerosol propellants are commonly used in construction adhesives, sealants, and foams, providing convenient and efficient delivery of these products to the desired areas.
As China continues to invest in infrastructure projects, such as roads, bridges, railways, and buildings, the demand for construction-related products and materials increases. This, in turn, drives the demand for aerosol propellants as an essential component in the construction industry's product range.
Aerosol propellants offer several advantages in construction applications. They provide accurate and controlled dispensing of adhesives, sealants, and foams, allowing for precise application and reducing material waste. Additionally, aerosol packaging provides convenience and ease of use, making it suitable for various construction tasks, including on-site repairs, insulation, and waterproofing.
China has a market share of 65.1% in 2022 and is likely to grow at a CAGR of 7.8% during the forecast period likely to reach a valuation of US$ 1.9 billion in 2033.
Category-wise Insights
Which Application is Likely to Capture the Highest Market Share?
Bottles are expected to capture nearly 49.5% of the aerosol propellants market in 2023. Aerosol propellants offer a convenient and user-friendly packaging solution for products in bottles. They allow for easy and precise dispensing of the contents with a simple press of a button or trigger, eliminating the need for additional tools or equipment. This convenience factor is particularly important for products such as cleaning sprays, air fresheners, and personal care items.
Aerosol propellants provide controlled and targeted application of the product. The fine mist or spray generated by the propellant ensures even distribution and coverage, allowing consumers to apply the product precisely where needed. This controlled application is beneficial for products like hair sprays, perfumes, and household cleaners, where users require specific and localized applications.
The pressurized environment created by aerosol propellants in bottles helps extend the shelf life of the product. The absence of air inside the bottle reduces oxidation and microbial growth, preserving the product's quality and effectiveness over a longer period. This is particularly advantageous for products that are susceptible to degradation or spoilage when exposed to air.
Bottles application is likely to grow at a CAGR of 7.5% during the forecast period and reach a valuation of US$ 8.0 billion in 2033 from a value of US$ 3.9 billion in 2023.
Why Liquefied Gas Has a Prominent Share in the Market?
Liquefied gases, such as hydrocarbons and dimethyl ether (DME), offer unique advantages that make them highly desirable for aerosol propellant applications.
Liquefied gases have excellent propellant properties, making them highly effective in delivering products from aerosol containers. They possess a high vapor pressure, which allows them to exert the necessary pressure to expel the product from the container in a fine and controlled spray. This ensures consistent and even distribution of the product, enhancing user experience and application efficiency.
Liquefied gases are considered environmentally friendly compared to some other propellants. They have low or zero ozone depletion potential (ODP) and low global warming potential (GWP), making them more environmentally sustainable options for aerosol products. As environmental concerns and regulations regarding aerosol propellants continue to rise, there is a growing preference for liquefied gases as propellants.
Liquefied gases also have a wide range of compatibility with various product formulations. They are used with a diverse range of personal care, household, automotive, and industrial products. Liquefied gases offer versatility in terms of compatibility with different product viscosities and formulations, allowing manufacturers to use them across multiple product categories.
Liquefied gas has a projected market share of 54.2% in 2022 and is likely to grow at a CAGR of 7.3% during the forecast period to reach a valuation of US$ 8.6 billion in 2033 from a valuation of US$ 4.0 billion.
Know thy Competitors
Competitive landscape highlights only certain players
Complete list available upon request
Market Titans Key Strategies
Prominent market players in the aerosol propellants market are Honeywell, Nouryon, Repsol, Royal Dutch Shell, HARP International, Grillo Werke AG, Emirate Gas LLC, and Chemours.
Some of the leading aerosol propellant market players are focusing on increasing production capacity to meet the growing demand from various end-use industries such as cosmetics, healthcare, and automotive. Manufacturers are also looking to increase spending on research and development for discovering high-quality, efficient, and environmentally friendly formulations.
Aerosol propellant manufacturers are also focusing on developing partnerships with cosmetics manufacturers, as the demand for aerosol propellants is highly increasing from cosmetics products creating growth opportunities for the market players.
Fact.MR has provided detailed information about the price points of key manufacturers of aerosol propellants positioned across regions, sales growth, production capacity, and speculative technological expansion, in the recently published report.
Segmentation of Aerosol Propellant Industry Research
By Propellant Type :

Compressed & Soluble Gas

Carbon Dioxide
Nitrogen
Nitrous Oxide
Compressed Air

Liquefied Gas

Hydrocarbons

Butane
Isobutane
Propane
Others

HFCs
DME

By Application :

By End-Use :

Personal Care Products

Body Spray
Deodorants & Antiperspirant
Shaving Creams
Hair Spray
Others

Home Care Products
Healthcare & Medical
Agro Products
Aerosol Paints
Automotive & Industrial
Forensic
Firefighting
Others

By Region :

North America
Latin America
Europe
East Asia
South Asia & Oceania
MEA
- FAQs -
The global aerosol propellants market is estimated at US$ 7.9 billion in 2023.
During 2023-2033, demand for aerosol propellants increased at 6.9% CAGR.
Bottles applications are likely to capture a market share of 49.5% in 2023.
Aerosol propellants going to register a moderate growth rate in Europe with a significant CAGR of 6.4%.
China will grow at a CAGR of 7.8% during the forecast period
Aeropres Corporation, BOC International, Chemours, Evonik, Emirates LLC, Grillo Werke AG, HARP International, Honeywell, Nouryon, Royal Dutch Shell, and Repsol are some of the prominent market players in the global aerosol propellants market.