Aliphatic Solvents Market
Aliphatic Solvents Market Analysis by Application (Paints & Coatings, Adhesives, Aerosols, Printing Inks, Rubbers & Polymers), by Region - Global Insights to 2031
FACT5922MR
May-2021

List of Tables : 116

List of Figures : 38

170 Pages
Aliphatic Solvents Market Outlook
The global aliphatic solvents market is poised to reach US$ 3 billion by 2031, expanding at a steady CAGR of 5% over the decade. Extensive deployment is expected across the paints & coatings industry, attributed to increasing number of residential and non-residential infrastructure projects around the world. Simultaneously, uptake across oil & gas exploration is not anticipated to wane, as a surging automotive industry in the wake of rapid urbanization is increasing demand for fossil-fuel-driven vehicles.
Demand is likely to emerge strong across the rubber manufacturing sector, amid growing emphasis on recycled manufacturing. The report tracks the global sales of aliphatic solvents in 20+ high-growth markets, along with analyzing the impact COVID-19 has had on the chemicals & materials domain in general, and aliphatic solvents demand in particular.
Avail customized purchase options for your needs
How Do Historical Trends Compare to Future Market Outlook?
Advancements in manufacturing technology across various domains has ushered in countless innovations with regards to streamlining the entire production process. A key beneficiary of such developments is the industrial solvents sector, which is seeing a rapid spike in low aromatic solvents manufacturing, providing major impetus to market growth.
While growth prospects dipped significantly amidst the pandemic crisis, spiking demand for consumer products such as aerosols have helped sustain demand across several key regions. Furthermore, as sustainability concerns mount, deploying aliphatic solvents will increase significantly, especially across key industries such as rubber and paints & coatings.
Will High Uptake across Oil & Gas Exploration Broaden Growth Prospects?
Large-scale urbanization has necessitated extensive development of the public and private transportation sector, which has stimulated demand for fossil fuels. Hence, extensive oil & gas exploration projects have been initiated in the past few years, generating new growth avenues for the market.
Used as drilling fluids to provide hydrostatic pressure to prevent formation fluids from entering into the well bore, these solvents offer greater absorbing capacity, have low water solubility and are comparatively less toxic compared to aromatic ones. Hence, their uptake is increasing across oil & gas exploration projects.
An Adaptive Approach to Modern-day Research Needs
How is Recyclable Rubber Manufacturing Opening up Growth Avenues for Manufacturers of Aliphatic Solvents?
Increasing sustainability concerns worldwide are prompting key rubber products manufacturers to switch to recyclable production material, thus generating demand for aliphatic solvents. Manufacturers are acquiring strong research base in reactive compression molding processes to bring about innovations in the production of recycled rubber.
Incorporation of material such as carbon fiber and polyvinyl chloride as well as agricultural waste are rapidly penetrating the rubber manufacturing industry. Hence, uptake of low aromatic solvents to aid in this production process is increasing, generating potential revenue streams in the forthcoming decade.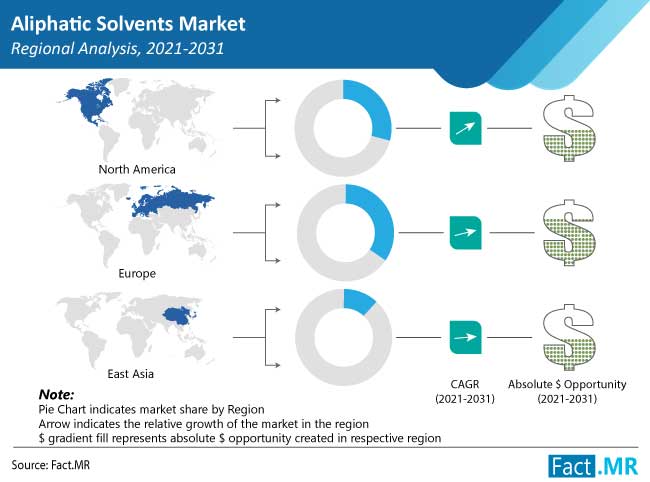 Country-wise Analysis
Why are Aliphatic Solvent Manufacturers Increasingly Targeting the U.S.?
The United States is the world's leading country in the production of chemical products, constituting 15% of its manufacturing sector. Furthermore, it is also amongst the leading hydrocarbon explorers of the world, thereby making it an attractive investment destination for prominent manufacturers.
Some major stakeholders in the U.S. aliphatic solvents market include ExxonMobil Chemicals, LyondellBasell, DuPont, Dow Chemical Company and PPG Industries to name a few. Growth is also likely to be strong in the residential paints & coatings sector amid increasing number of housing projects.
How is the U.K, Providing New Growth Avenues for Aliphatic Solvent Suppliers?
Manufacturers are tapping into business opportunities in the U.K. aerosol industry. As per the British Aerosol Manufacturers' Association (BAMA), the U.K. aerosol industry emerged resilient, especially to the COVID-19 outbreak. Manufacturers are boosting output capacities to meet consumer demand for perfumes, dry shampoos, and other hair care products.
The steady demand for personal care products is creating stable revenue streams for companies in the aliphatic solvents market. Antiperspirants are one of the top selling products in the U.K. Hence, manufacturers are establishing robust distribution chains for medical and pharmaceutical aerosol industries.
How is China Cementing its Dominance in the Asia Pacific Market for Aliphatic Solvents?
Extensive infrastructure development- both public and private, combined with a robust chemical manufacturing industry are anticipated to act as chief growth levers for enhanced uptake across China. As of 2017, the Chinese chemical industry was valued at around US$ 1.5 trillion in sales.
Since the dawn of the previous decade, the East Asian giant has contributed half of the global chemicals industry growth, making it a highly lucrative destination. Application across the paints & coatings industry is likely to be maximum, with the increasing scale of infrastructure projects stimulating demand for the same.
Interested to Procure The Data
Category-wise Insights
Why are Aliphatic Solvents Effective in Paints & Coatings?
By application, aliphatic solvents are expected to find maximum usage in the manufacturing of paints and coatings industry. Growing preferences for odorless paints is majorly inclining adoption. Common solvents used include mineral spirits, hexanes and heptanes.
Increasing awareness by consumers of the detrimental effects of VOCs, coupled with stricter environmental regulations, are driving the demand for low and zero VOC paint and coatings. This is proving to be a welcome development for aliphatic solvents uptake.
Competitive Landscape
Notable developments with respect to prominent manufacturers are as follows:
ExxonMobil Chemical offers the ExxsolTM dearomatized fluids, especially Exxsol D and Exxsol hexane respectively. Both grades offers extremely low aromatic content (< 1 wt%) to minimize risks from exposure, low odor levels and low non-volatile matter for best quality extraction
Likewise, RB Products Inc., a prominent manufacturer of petrochemicals, specialty chemicals and oil-related products, offers the RB C12 Tetramer and RB C15 Synthetic Olefin aliphatic solvents for use in paints & coatings, cleaners & degreasers and drilling fluids among others
*This list is indicative- full details about key aliphatic solvents players is available upon request.
Report Scope
Attribute

Details

Forecast Period

2021-2031

Historical Data Available for

2016-2020

Key Regions Covered

North America
Latin America
Europe
Asia Pacific
Middle East & Africa

Key Countries Covered

U.S
Canada
Germany
France
U.K
Italy
Spain
Russia & CIS
China
India
Japan
ASEAN
Brazil
Mexico
GCC
South Africa

Key Segments Covered

Key Companies Profiled

Exxon Mobil Corp.
Total S.E.
Royal Dutch Shell Plc.
RB PRODUCTS INC.
Ganga Rasayanie Private Limited
Pon Pure Chemicals Group
Carolina International Sales Company Inc.
Gadiv Petrochemical Industries Ltd.
HCS Group GmbH
Recochem Inc.
Gulf Chemical and Industrial Oils
Key Market Segments Covered
Application

Aliphatic Solvents for Paints & Coatings
Aliphatic Solvents for Cleaning & Degreasing
Aliphatic Solvents for Adhesives
Aliphatic Solvents for Aerosols
Aliphatic Solvents for Rubbers & Polymers
Aliphatic Solvents for Printing Inks
Aliphatic Solvents for Other Application Areas

Region

North America (U.S and Canada)
Europe (Germany, U.K, France, Spain, Italy, CIS & Russia and Rest of Europe)
Asia Pacific (China, Japan, India, ASEAN and Rest of Asia Pacific)
Latin America (Brazil, Mexico and Rest of Latin America)
Middle East & Africa (GCC, South Africa and Rest of MEA)