Anhydrite Market
Anhydrite Market Analysis By Type (Natural, Synthetic), By Application (Soil Treatment, Plasters, Industrial, Drying Agents, Construction, Others) and By Regions – Global Market Insights 2023 to 2033
Analysis of Anhydrite Market Covering 30+ Countries Including Analysis of US, Canada, UK, Germany, France, Nordics, GCC countries, Japan, Korea and many more
Anhydrite Market Growth Outlook (2023 to 2033)
The global anhydrite market is valued at US$ 266.8 billion in 2023 and is forecasted to reach US$ 400 billion by the end of 2033, increasing at a CAGR of 4.1% over the next ten years.
In January 2021, researchers at the University of Portsmouth in the United Kingdom published a study showing that anhydrite can be used as a low-cost and environment-friendly alternative to cement in construction. The study found that anhydrite-based concrete had similar strength and durability to traditional cement-based concrete but with lower carbon emissions.
The mineral anhydrite, commonly known as anhydrous calcium sulfate, has the chemical formula CaSO4. It has three routes of perfect breakage parallel to the three symmetry planes and is in the orthorhombic crystal structure. Gypsum is chemically distinct from it in that it lacks water for crystallization.
Gypsum and salt deposits are where anhydrite is most frequently found, as in the top rock of the Texas-Louisiana salt domes. Anhydrite minerals are found in evaporite deposits, dolomites, and limestone as gangue minerals in ore veins. It serves as an agent for drying in cement and plaster.
In February 2021, K+S Minerals and Agriculture GmbH, a German-based salt and fertilizer company, announced a 50% stake in Canadian anhydrite producer Pacific Calcium Inc. The move is expected to strengthen K+S's position in the market in North America.
Calcium formate has a fire-retardant role in drywall (gypsum board). Effective deicers, calcium formate, and urea combinations tend to cause less deterioration of steel and cement surfaces than certain other deicers. When used, anhydrite enriches the calcium and sulfate mineral levels, which is another aspect favorably affecting the market's expansion.
The product used in the agrochemical sector is anticipated to be supported by the scarcity of arable land and the need for increased food production. Additionally, it serves as a drying agent in plaster, paint, and varnish, which is anticipated to further propel market expansion.
Anhydrite complies with the requirements of the Food Chemicals Codex, which is under the control of the Food and Drug Administration and can be used in food products within certain bounds. As a result, during the course of the projection period, anhydrite has significant prospects in the food & beverage industries.
In collaboration with Yara, Saint-Gobain Formula created a custom calcium sulfate anhydrite from a new quarry to meet the demands of Yara and its clients. The leading manufacturer and distributor of mineral fertilizers are Yara. Their product line includes micronutrients, complex compounds, and single-nutrient fertilizers for a variety of crops.
Report Attributes

Details

Market Size in 2023

US$ 266.84 Billion

Forecasted Market Value (2033)

US$ 400 Billion

Global Market Growth Rate (2023 to 2033)

4.1% CAGR

China Market Growth Rate (2023 to 2023)

7% CAGR

Companies Profiled

Bisley & Company Pvt. Ltd.
USG Corporation
Saint-Gobain SA
ANHYDRITEC
Solvay
Knauf Gips KG
Mineralis Lucentum
Quzhou Zunlong
NATIONAL GYPSUM PROPERTIES
Vanich Gypsum CO. Ltd.
Which Industries are Prominent Users of Anhydrite?
"Versatility of Anhydrite in Construction Materials, Fertilizers, and Drying Agents"
Due to the various qualities of anhydrite, it is seen to be a viable replacement for the soft sulfate mineral gypsum. Its superiority to gypsum is mostly due to its potent ability to effectively neutralize polluted soil and avoid pollution.
To create Autoclaved Aerated Concrete or AAC, anhydrite is widely employed in the construction sector. In the coming years, this will be a key component driving the expansion of the global market. Another significant aspect driving the consumption of anhydrite is its classification as a fertilizer, which when applied increases the mineral content of sulfate and calcium. Even plaster, varnish, and paints require anhydrite as a drying agent.
"Government Programs Boosting Anhydrite Use in Soil Treatment"
It is anticipated that certain government programs related to soil protection will have a favorable impact on market demand. For example, the United States Environmental Protection Agency's Resource Conservation and Recovery Act has established a framework for the correct management of hazardous and non-hazardous solid waste, which is projected to drive demand for anhydrite for soil treatment.
Due to its similar qualities to anhydrite, gypsum may be replaced. Another important factor driving the global gypsum and anhydrite market is its application to neutralize contaminated soil and stop pollution.
Don't Need a Global Report?
save 40%! on Country & Region specific reports
What are the Limitations of Anhydrite in Different Applications?
"Solubility, Hardness, Impurities, and Price Fluctuations"
Anhydrite has certain limitations in its applications, including its relatively low solubility, which can make it difficult to incorporate into the soil. Additionally, its hardness and lack of plasticity make it less desirable for certain construction applications compared to other materials such as gypsum or cement.
Anhydrite may also contain impurities such as clay or salt, which can affect its quality and suitability for certain uses. Finally, anhydrite's market demand may be influenced by price fluctuations and competition from alternative materials.
"Limited Awareness and Familiarity among End Users - Challenge for Anhydrite Producers"
Another challenge of the market is its relatively low awareness and familiarity among potential end-users. Compared to more commonly used materials such as cement or gypsum, anhydrite may be less well-known or understood by construction or soil treatment professionals. This lack of familiarity can result in lower demand for anhydrite, as potential users may be more inclined to stick with what they know and trust.
Limited availability of anhydrite in certain regions can further contribute to this lack of awareness and familiarity, as potential users may have little exposure or access to the material.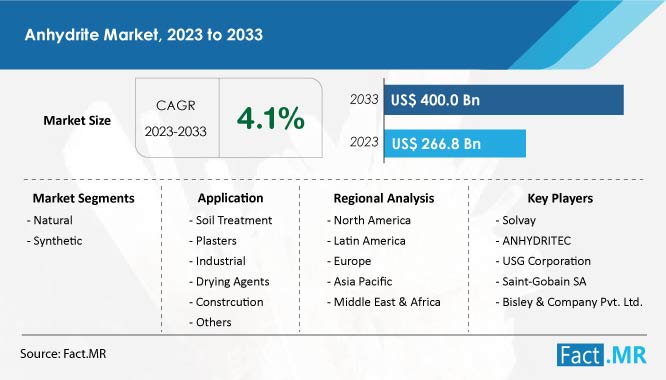 Country-wise Insights
What's Driving Anhydrite Market Growth in China?
"Booming Construction Industry and Infrastructure Developments"
The Asia Pacific region is expected to lead the market. Due to the presence of the region's main agricultural countries, demand for the commodity is also growing for soil treatment and fertilizers. Thailand, South Korea, Indonesia, and other countries export fertilizers in substantial quantities.
The market in China is predicted to evolve rapidly at a CAGR of 7% during the forecast period. The market has been growing steadily in recent years, driven primarily by the country's booming construction industry. Anhydrite is used as a component in the production of self-leveling cement, which has become increasingly popular in China due to its ease of use and versatility. The Chinese government's focus on infrastructure development and urbanization has also contributed to the growing demand for anhydrite in the country.
Why is the United States Seeing High Consumption of Anhydrite?
"United States Major Producer of Anhydrite Used in Construction"
Due to the expanding use of fertilizers in the United States for agricultural production, North America is anticipated to have a sizable market share. The market in the United States is primarily driven by the country's construction industry, with the material used in various applications including flooring, plastering, and cement production. Additionally, anhydrite is increasingly being used as a soil amendment for remediation and stabilization purposes. The United States is also a major producer of anhydrite, with large deposits located in states such as New York, Michigan, and New Mexico.
In December 2020, the United States Department of Energy's National Energy Technology Laboratory announced that it had developed a new process for producing high-purity anhydrite from waste streams generated during the production of phosphoric acid. The process is expected to provide a more sustainable source of anhydrite for industrial applications.
What are the Main Applications of Anhydrite in Germany?
"Rising Demand from Construction and Agriculture Sector"
The market in Germany is primarily driven by the country's construction industry, where anhydrite is commonly used as a binder in flooring applications. The market in Germany is anticipated to increase at a CAGR of 2.8% over the projected period.
Anhydrite is also used as a component in self-leveling screeds, which have become increasingly popular due to their ease of use and high-quality finish. In addition to the construction industry, anhydrite is used in agriculture as a soil amendment and in industrial processes such as cement production. Germany is a significant producer of anhydrite, with great deposits located in the western region of the country.
More Insights, Lesser Cost (-50% off)
Insights on import/export production,
pricing analysis, and more – Only @ Fact.MR
Category-wise Insights
What is Synthetic Anhydrite and Why is it Preferred Over Natural Anhydrite?
"Low Cost and High Purity of Synthetic Anhydrite"
The market is divided into synthetic and natural types based on type. Buildings and construction materials generally use synthetic anhydrite. It is a raw ingredient that is essential for the creation of flooring, cement, and plasters.
Synthetic anhydrite is a form of anhydrite that is produced by the dehydration of gypsum at high temperatures. It is chemically identical to naturally occurring anhydrite but is produced in controlled conditions to ensure consistency in its physical and chemical properties. Synthetic gypsum is used in a variety of applications including construction, agriculture, and industrial processes. It is often preferred over natural anhydrite due to its higher purity and consistency, as well as its lower cost.
Why is Anhydrite Widely Used in Soil Treatment Solutions?
"Anhydrite Seen as Beneficial for Improved Soil Structure"
The soil treatment market segment dominates with more than 35% of the market share of the global market. Due to the scarcity of agricultural land and rising food consumption, it is also anticipated to expand further and maintain its leading position in the years to come.
Anhydrite can be used as a soil amendment to improve soil structure and fertility. When added to soil, anhydrite helps to increase its porosity and water-holding capacity, allowing for better drainage and ventilation. It also helps to balance soil pH levels, making nutrients more available to plants and promoting healthy root growth. Additionally, anhydrite can help to reduce soil compaction and erosion, which can improve crop yields and overall soil health.
Competitive Landscape
To remain competitive, anhydrite market manufacturers are focusing on innovation, product differentiation, and strategic partnerships and collaborations. Many companies are investing in R&D to develop new anhydrite-based products and solutions that offer unique benefits and address specific customer needs. Additionally, strategic partnerships and collaborations with other companies in the value chain are helping companies to expand their product offerings and reach new markets.
The competitive landscape for the market is relatively fragmented, with several regional and global players operating across the world. Key players in the anhydrite market such as Knauf Gips KG, Saint-Gobain, USG Corporation, LafargeHolcim Ltd., and National Gypsum Company. The companies in the anhydrite market have a strong presence in the market and offer a wide range of anhydrite-based products and solutions for various applications such as construction, agriculture, and industrial processes.
There are also several small-scale players in the market who specialize in specific applications or regions. These players focus on niche markets and offer specialized products or services to cater to specific customer needs.
In October 2020, the Brazilian mining company Vale announced plans to invest US$2 billion in a project to produce anhydrite from waste generated by its nickel mining operations. The project is expected to produce up to US$ 1.5 million tonnes of anhydrite per year, which will be used as a fertilizer and soil conditioner.
Know thy Competitors
Competitive landscape highlights only certain players
Complete list available upon request
Key Segments of Anhydrite Industry Research
By Type :

By Application :

Soil Treatment
Plasters
Industrial
Drying Agents
Construction
Others

By Region :

North America
Latin America
Europe
Asia Pacific
Middle East & Africa
- FAQs -
The global anhydrite market is valued at US$ 266.8 billion as of 2023.
Worldwide demand for anhydrite is predicted to increase at a CAGR of 4.1% from 2023 to 2033.
Global sales of anhydrite are set to reach US$ 400 billion by 2033.
Saint-Gobain SA, USG Corporation, and ANHYDRITEC are leading manufacturers of anhydrite.