Market Snapshot
New report on the biosolids market by Fact.MR sheds light on product pricing, market risks, in-depth analysis of economies of scale and agglomeration, techno-economic strongholds, and other business elements.
Volume demand is expected to increase at a CAGR of 4.2% from 2021 to 2031, with overall value expected to reach US$ 2.4 Bn by 2031, according to the market study, thanks to sustained investments in agricultural output.
Worldwide, it is estimated that around 80% (90 percent in developing nations) of wastewater is being discharged untreated into the environment, which is adding to rising environmental pollution. Biosolids, which are recovered from sewage treatment plants, provide nutrients that are being utilised in agricultural land as manure, which are used to improve overall fertility of the soil. As resources become limited and expensive across the world, it is critical to turn wastewater into a valuable asset.
In terms of both, volume and revenue, agriculture application accounted for the highest share in the biosolids industry in 2020. They are divided into three types: Class A, Class A EQ (Exceptional Quality), and Class B, and come in a variety of forms, including liquid, cakes, and pellets.
Widespread usage of biosolids in fertilisers, forestry, construction materials, land reclamation, and energy generation, among other applications, will provide enormous development opportunities for worldwide growth.
Don't Need a Global Report?
Save 40% on Country & Region specific reports
Biosolid Industry Report Scope
Attribute

Details

Market Size Value in 2020

US$ 1.5 Bn

Market Forecast Value in 2031

US$ 2.4 Bn

Global Growth Rate

~4.5%

North America Market Size in 2020

US$ 0.2 Bn

Latin America Market Size in 2020

US$ 0.2 Bn

Europe Market Size in 2020

US$ 0.4 Bn

East Asia Market Size in 2020

US$ 0.3 Bn

South Asia & Oceania America Market Size in 2020

US$ 0.2 Bn

Middle East and Africa Market Size in 2020

US$ 0.1 Bn

Forecast Period

2021-2031

Historical Data Available for

2016-2020

Market Analysis

Value in US$ Mn, Volume in KT

Key Regions Covered

North America
Latin America
Europe
East Asia
South Asia & Oceania
Middle East Africa

Key Countries Covered

U.S.
Canada
Mexico
Brazil
Mexico
Argentina
Germany
Italy
France
U.K
Nordic
Spain
Japan
China
India
Malaysia
Thailand
Australia
GCC Countries
South Africa
Turkey

Key Market Segments Covered

By Form
By Product Type
By Application
By Region

Key Companies Profiled

Agrivert Ltd
Aguas Andinas S.A
Alan S.r.l.
Azienda Agricola Allevi srl
BCR Environmental
Burch Hydro
BASF
Corteva
Cambi Group AS
Casella Waste Systems, Inc.
Cleanaway
CRE Centro Ricerche Ecologiche
DC Water
Eco-trass
Englobe
FCC Group
Lystek International
Merrell Bros., Inc.
Parker Ag Services, LLC
Recyc Systems, Inc.
REMONDIS SE & Co. KG
SAUR Group
SYLVIS
Syngeta
Synagro Technologies
Sumitomo Corporation
Terrapure Environmental
Walker Industries
More Insights, Lesser Cost (-50% off)
Insights on import/export production,
pricing analysis, and more – Only @ Fact.MR
Consumption Analysis of Biosolids from 2016 to 2020 Vs Market Outlook for 2021 to 2031
Over the past half-decade, strong tailwinds from the agriculture industry have driven the market for biosolids. Historically, demand has grown at a lower CAGR of 3.6%. However, there has been demand growth witnessed in recent years from diverse end-use industries such as power generation and building and construction, which is anticipated to keep the market growing at a higher CAGR during the forecast period of 2021-31.
The market is anticipated to recover as follows throughout the projected period:
Demand for biosolids is expected to rise at a considerably quicker rate in the short term, aiding market recovery by Q4 of FY2021.
In the longer term, producers are anticipated to increase their investments in product development to diversify their product's application in land restoration and forestry, land reclamation (roads and urban wetlands), reclaiming mining sites, landscaping, recreational fields, and domestic use.
Below points summarize the market:
Currently, agricultural application captures nearly 60% market share and is anticipated to hold its dominance till 2031.
Market in Europe is anticipated to expand at 5.3% CAGR during the long-run forecast period.
Know thy Competitors
Competitive landscape highlights only certain players
Complete list available upon request
What are Regional Governments Doing to Promote Adoption of Biosolids?
Biosolids in agricultural applications help reduce greenhouse gas emissions by recycling carbon and nourishing plants, which helps collect more CO2. Moreover, it plays an important part in the creation of a circular economy. The U.K. government and the EU, both agree that recycling biosolids for usage in agriculture is the best environmental choice.
Support from the government and general public for environmentally friendly technology is one of the few reasons propelling the biosolids industry in the current scenario in North America.
Additionally, the primary driver of biosolid usage is increasing regulatory pressure to phase out landfilling and imposing stricter wastewater, sewage treatment, and waste disposal laws. The European Union (EU) and the United States government are investigating landfill and incinerator issues and enacting severe regulations.
Europe is a great example of biosolid management strategies that are producing positive outcomes for both, the environment and the economy. In reality, as a necessity of long-term sustainability, the European Union (EU) has committed to considering biosolids as a useful resource rather than a burden.
Biosolids are promoted by the EU for both, energy recovery and agricultural uses. Currently, more than 60% of biosolids produced in the EU are applied to farmlands. France, Portugal, Belgium, Italy, and Denmark are among the most active countries with a strong focus on biosolid management in Europe.
What are the Prominent Applications of Biosolids?
Biosolids are organic matter recovered from the wastewater treatment process. They are utilized as fertilizers, soil replacement products, or soil conditioners in agriculture because of their high nutritional content, which include micro and macronutrients. During the projected period, the agriculture sector will drive significant development of biosolids. Moreover, they do not affect the environment in the same way as chemical fertilizers do.
Besides, biosolids provide several advantages, including reducing reliance on synthetic fertilizers, lowering greenhouse gas emissions, increasing water holding capacity, and improving soil structure. These are also projected to play a significant part in the treatment and reclamation of old mining sites, since they can help with vegetation establishment and improve mined soil.
In addition to this, horticulture, forestry and gardening, and heat generation are some of the areas where usage of biosolids has been prevailing in the past half-decade.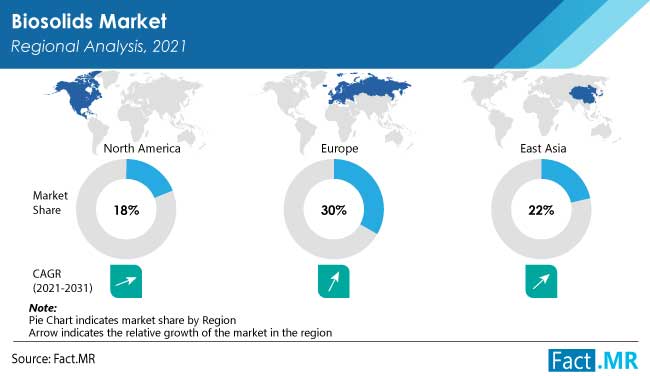 Country Wise Analysis
What Makes the U.S. a Lucrative Market for Suppliers of Biosolids?
Because of government and public backing for environmentally friendly technology in nations such as the United States, North America remained one of the leading markets for biosolids.
Non-reuse alternatives (such as landfilling) and beneficial reuse methods are now available in the United States for handling wastewater. Biosolids are produced during wastewater treatment procedures and are widely utilised to meet the requirements of US EPA's guidelines.
Vast majority of biosolids produced in the country are projected to be EQ biosolids, which contain minimal amounts of contaminants. Approximately half of the country's biosolid production is beneficially used to enhance soils. Biosolids are recycled or used as fertilisers in the United States to enhance and sustain fertile soil and encourage plant growth.
Instead of taking up space in a landfill or other disposal sites, sewage sludge is treated and utilised as a valuable fertiliser. About half of all biosolids are returned to the soil. As a result of the aforementioned factors, the U.S. is anticipated to remain one of the most important countries in the market throughout the forecast period.
How is Biosolid Faring across Established & Evolving Markets?
U.K.: Biosolids are made from sludge from the wastewater treatment process. Every year, around 3.6 million tonnes of biosolids are returned to agricultural land in the U.K., providing a service worth at least US$ 29 million to the farming industry.
As a result, it is one of Europe's most appealing marketplaces. This strategy is in keeping with the U.K. government's objective of promoting beneficial recycling over alternative disposal techniques such as landfilling or burning.
China: China is anticipated to remain one the most attractive countries in the market. As of 2019, China produced 39 million tonnes of sludge, averaging 28.1 kg per person per year.
Sludge output per capita increased as the rate of regional urbanisation and GDP increased. Besides, sludge treatment/disposal strategies were studied in terms of their spatial and temporal patterns. Moreover, East China accounted for 31.3% of GHG emissions from sludge disposal.
All of this indicates steady demand growth for biosolids in the country, with ample sludge being generated, which is the primary source for obtaining biosolids.
Category Wise Analysis
Which Class of Biosolid is Leading the Way for Market Expansion?
Biosolids are categorised into three classes based on regulations: class A, class B, and class A. (EQ). Pathogen-free class A type can be used in applications where public contact is anticipated. Class A complies with government regulations, such as those set forth by the United States Environmental Protection Agency and European Commission.
Class B, on the other hand, is utilised in agricultural and land reclamation applications, since it has a low amount of pathogens. Customers are shifting from class B to class A and class A (EQ), owing to poor odour, excessive vector attraction, and infections. Additionally, the global industry will see significant expansion as more people become aware of biosolid usage as a cost-effective alternative to bagged fertilisers.
Furthermore, owing to the lower environmental harm posed by class A & class A (EQ) product types, consumers have naturally started preferring these products. Owing to the aforementioned facts, by the conclusion of the projection period, both, class A and class A (EQ) types are anticipated to account for over half of overall biosolid sales, and grow at a single-digit moderate CAGR during the forecast period of 2021-31.
Why is Application of Biosolids in Agricultural the Most Prominent?
Agricultural land, forests, rangelands, and scattered farm land in need of reclamation can all benefit from biosolids application. For edible crop cultivation, it can be utilized as fertilizer/soil conditioners. Typically, standard agricultural equipment is used to integrate them into the soil. They are also utilized as fertilizer in the cultivation of crops specifically for animal feed.
In cattle ranching and marketing of beef product, large corporations and farmers are increasingly making their influence felt. This is increasing demand for crops being used as animal feed, which is encouraging biosolids to be used as fertilizers in the production of these crops. As a result, demand in agricultural land applications is expected to rise shortly.
In terms of consumption, agricultural applications account for a majority of biosolid consumption. Population expansion in Asia Pacific and North America is projected to surge the need for higher agricultural outputs, which might further boost biosolid use in the agricultural industry.
To satisfy food demand resulting from disproportionate population growth, scientists and farmers are seeking innovative technologies to enhance agricultural production. Furthermore, in nations such as the United States, overall amount of available cropland has decreased over the previous decade. However, overall consumption has been increasing at a steady rate over the past half-decade.
Owing to the aforementioned factors, agricultural application is anticipated to continue dominating the consumption of biosolids and is poised to expand at a healthy single-digit moderate CAGR during the forecast period.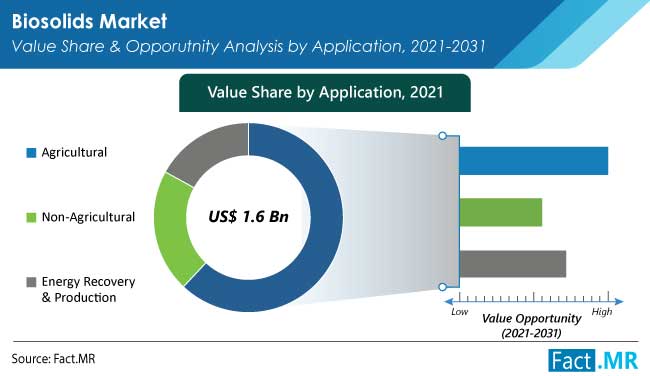 Competition Landscape
The biosolids market is fragmented in nature. Vital players contributed around 1/3 of overall market value in 2020. Players spend a significant amount of money on research & development. These initiatives aid in the development of innovative techniques and formulations for the successful use of biosolids in diverse industries.
All of these variables add up to a healthy profit margin for the biosolids business. Moreover, strategic alliances are critical for the market's overall success. To enhance their presence across geographies, companies engage in mergers, acquisitions, joint ventures, and partnerships, which eventually contribute to overall market growth.
Key Segments as per Biosolids Industry Research
By Form

By Product Type

Class A Biosolids
Class A (EQ) Biosolids
Class B Biosolids

By Application

Agricultural

Fertilizers/Soil Conditioner for Human Crop Production
Fertilizers for Animal Crop Production - Pastures

Non-agricultural

Forest Crops (Land Restoration and Forestry)
Land Reclamation (Roads and Urban Wetlands)
Reclaiming Mining Sites
Landscaping, Recreational Fields, and Domestic Use
Energy Recovery & Production

Heat Generation, Incineration, and Gasification

Oil and Cement Production
Commercial Uses