Bismuth Market
Bismuth Market Analysis By Derivative (Bismuth Nitrate, Bismuth Oxide, Bismuth Oxychloride, Bismuth Subcarbonate), By Application & By Region - Global Market Insights 2023 to 2033
Analysis of Bismuth Market Covering 30+ Countries Including Analysis of US, Canada, UK, Germany, France, Nordics, GCC countries, Japan, Korea and many more
Bismuth Market Outlook (2023 to 2033)
As per this detailed Fact.MR industry analysis, the global bismuth market size is valued at US$ 380.90 million in 2023. Worldwide demand for bismuth is forecasted to increase at a CAGR of 7.6% and reach a market size of US$ 792.38 million by 2033.
The chemical element bismuth has the atomic number 83 and the symbol Bi. It is a free element that occurs in nature, being brittle and silvery-white. In Group 15 of the periodic table, alongside nitrogen, phosphorus, arsenic, antimony, and moscovium, bismuth is regarded as a post-transition metal.
Bismuth is known for its unique physical properties. It has a relatively low melting point (271.4 degrees Celsius or 520.5 degrees Fahrenheit) and expands as it solidifies, making it one of the few common metals that expands when it freezes. This property allows bismuth to form intricate, colorful crystals when it solidifies from its molten state.
Natural bismuth is not abundant in the Earth's crust. It is typically obtained as a byproduct in lead, tungsten, molybdenum, copper, tin, silver, and gold refining processes. It has various applications in different industries. Bismuth alloys are used in the manufacture of low-melting-point solders, fusible alloys, and fire sprinkler systems. Bismuth compounds have also been used in cosmetics, pharmaceuticals, and as catalysts in certain chemical reactions.
One interesting property of bismuth is its diamagnetic nature, which means it can repel magnetic fields. This property has led to its use in various magnetic levitation experiments and demonstrations.
Use of bismuth is increasing in the field of materials science due to its potential applications in thermoelectric devices. Bismuth-based materials have unique thermoelectric properties, which facilitate the conversion of heat into electricity and vice versa. This has led to rising R&D efforts aimed at improving the efficiency of thermoelectric devices for waste heat recovery and other applications. Overall, bismuth is a useful element with distinctive physical properties and a range of practical applications in various industries.
Bismuth nitrate, bismuth oxide, titanium bismuth, bismuth subgallate, bismuth subcitrate, bismuth oxychloride, bismuth salicylate, and bismuth subcarbonate are some of the derivates of bismuth. Bismuth oxide, sometimes referred to as bismuth trioxide, is a versatile compound with a wide range of uses. It is widely used as a pigment in ceramics and glass, as a catalyst in the manufacture of acrylic fibers, and as an element in the fabrication of electronic gadgets. Due to its wide usage, bismuth oxide powder is highly demanded across various industries.
During the projection period, bismuth oxychloride is also anticipated to witness significant growth in demand. In the cosmetics industry, this substance is often utilized, especially for making blush, foundation, and face powder. Consumers find its distinctive pearlescent qualities, which produce a shimmering effect in cosmetics, to be quite appealing. The swift growth in bismuth oxychloride sales is attributed to the rising demand for natural and mineral-based ingredients in beauty products.
Report Attributes
Details

Bismuth Market Size (2023E)

US$ 380.90 Million

Forecasted Market Value (2033F)

US$ 792.38 Million

Global Market Growth Rate (2023 to 2033)

7.6% CAGR

Leading Regional Market

North America

Emerging Regional Market

Asia Pacific

Key Companies Profiled

5N Plus
BASF SE
Xianyang Yuehua Bismuth Co., Ltd.
Industrias Peñoles
Merck KGaA
Geotech International B.V.
Hunan Jinwang Bismuth Industry Co. Ltd
Nui Phao Mining Joint Venture Co.Ltd
Fortune Minerals Ltd
Western Minmetals (SC) Corporation
Shenzhen Chinary Co. Ltd
Don't Need a Global Report?
save 40%! on Country & Region specific reports
Why is Demand for Bismuth Increasing in Various Industries?
"Bismuth's Multi-faceted Role in Automotive Advancements"
Stricter environmental regulations and the need for more fuel-efficient vehicles are driving the demand for bismuth in the automotive sector. Bismuth-based compounds are being used in catalytic converters to reduce emissions of harmful gases such as nitrogen oxides (NOx) from internal combustion engines. Bismuth compounds offer improved catalytic activity and durability, making them an attractive choice for meeting stringent emission standards.
Bismuth-based materials exhibit excellent thermoelectric properties, which allow them to convert waste heat into electricity. The automotive sector is actively exploring thermoelectric technology to improve energy efficiency and reduce emissions. Bismuth-based thermoelectric materials are used in waste heat recovery systems in vehicles, where they can convert exhaust heat into usable electrical energy.
Bismuth alloys are known for their exceptional damping properties. In the automotive industry, vibration and noise reduction are critical factors for enhancing passenger comfort and overall vehicle performance. Bismuth-containing materials are used in various automotive components such as engine mounts, suspension systems, and soundproofing materials to effectively dampen vibrations and reduce noise levels.
Automakers are constantly striving to reduce the weight of vehicles to enhance fuel efficiency and meet emission standards. Bismuth alloys have a lightweight alternative application in bearing materials or as a component in lightweight alloys. By incorporating bismuth alloys, automakers can achieve weight reduction without compromising performance or safety.
All the above-mentioned factors are contributing to the increasing demand for bismuth in the automotive sector. Bismuth's unique properties make it an attractive choice for various automotive applications, ranging from soldering and thermoelectricity to vibration damping and weight reduction.
"From Glowing Skin to Shimmering Eyes – Bismuth's Key Role in Cosmetics Industry"
Bismuth compounds such as bismuth oxychloride possess unique pearlescent and shimmering properties. These properties provide a lustrous, iridescent effect when used in cosmetics such as face powders, foundations, blushes, and eye shadows. The pearlescent effect adds depth, dimension, and a subtle glow to cosmetic products, making them visually appealing to customers.
Bismuth oxychloride has oil-absorbing properties, making it useful for cosmetics intended to control shine and provide a matte finish. Bismuth-based products can help absorb excess oil on the skin, providing a more balanced and matte appearance. This makes them popular in products such as oil-controlling powders and mattifying primers.
All these factors are contributing to the high demand for bismuth market in the cosmetics industry, as consumers seek products that provide aesthetic appeal, skin compatibility, and alternative options to potentially harmful ingredients.
What's Hindering the Demand Growth for Bismuth?
"Complex Extraction Processes and Presence of Alternatives"
Suppliers of bismuth-based products encounter several challenges. The small amount of bismuth reserves is a major obstacle. Since there are few potential deposits of bismuth, which is a relatively rare element, it is difficult to cater to its rising demand from various industries. Bismuth extraction and refinement procedures are complex and expensive, which have an additional impact on the entire supply chain.
The presence of alternative materials and substitutes is also expected to restrict market growth. For example, demand for bismuth-based soldering materials is decreasing due to the rising use of lead-free solders and alloys in industries.
Addressing these challenges requires innovative solutions and a careful assessment of market dynamics. Finding ways to expand bismuth reserves, optimizing extraction and refining processes, and exploring new applications and markets are anticipated help overcome these obstacles and ensure growth in the bismuth market.
More Insights, Lesser Cost (-50% off)
Insights on import/export production,
pricing analysis, and more – Only @ Fact.MR
What are the Strategies Adopted by New Entrants in This Market?
"Innovation, Diversification, Collaboration - Keys to Success for New Manufacturers"
With increasing emphasis on sustainable and environmentally friendly alternatives, newcomers are differentiating themselves by offering bismuth products that align with eco-conscious practices. Investing in research and development activities to derive innovative, sustainable applications of bismuth attracts environment-conscious customers.
Instead of solely relying on traditional applications of bismuth, newcomers can explore new markets and applications. This may include sectors such as healthcare, electronics, cosmetics, and energy storage. By diversifying their product offerings and targeting niche markets, newcomers are expected to expand their earning potential.
Building strategic partnerships with other players in the supply chain can be advantageous for newcomers. By collaborating with bismuth extraction and refining companies, manufacturers, distributors, or end users, new entrants can access expertise, resources, and established networks. This is expected to increase their market position, enhance their products, and accelerate their market reach.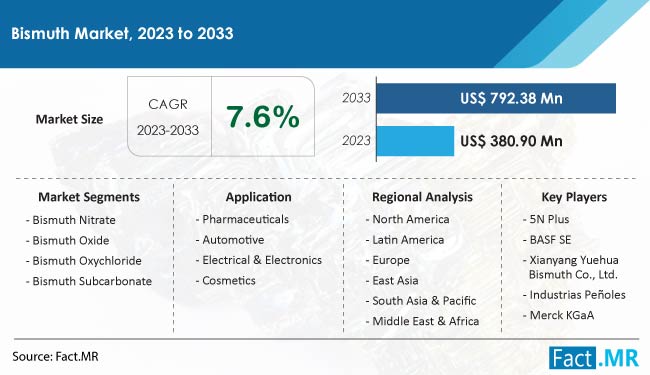 Country-wise Analysis
What is Driving the Sales of Bismuth Derivatives in the United States?
"Lead-free Innovation: Utilization of Bismuth as Sustainable Soldering Solution"
In the United States, bismuth sales are increasing at a rapid pace. The emphasis on sustainable and environmentally friendly practices is significantly influencing market dynamics. With the growing emphasis on environmentally friendly alternatives, bismuth is gaining traction as a substitute for lead in soldering applications.
With increasing awareness of the environmental effects of certain materials, there is a growing demand for bismuth as a viable alternative. Thus, the United States is witnessing a rise in the use of bismuth in various industries, including electronics, healthcare, and cosmetics. Also, bismuth's unique properties such as low toxicity and high diamagnetic behavior are increasing its demand in various industries.
Which Facets are Fueling the Sales of Bismuth in the United Kingdom?
"Key Innovations & Developments in Bismuth Industry Revolutionizing the United Kingdom's Healthcare Facilities"
The United Kingdom market for bismuth derivatives is undergoing significant development owing to its expanding range of applications and favorable regulatory environment. Bismuth compounds are widely utilized in manufacturing pharmaceutical formulations, particularly for treating gastrointestinal disorders. The increasing prevalence of these ailments, coupled with the rise in healthcare spending, is driving the demand for bismuth market in the United Kingdom.
Why is China Considered a Profitable Market for Producers of Bismuth?
"Powerhouse of Several Industries – High Need for Bismuth Derivatives"
Sales of bismuth products in China are undergoing a dynamic transformation, propelled by robust industrial growth and a vast consumer base. China is one of the leading producers and consumers of bismuth globally, with a strong presence in sectors such as metallurgy, chemicals, and electronics.
China's electronics industry, in particular, has been a significant driving force, with bismuth being extensively used in the production of semiconductors and superconductors. The rising spending power of the majority of individuals is also contributing to the increasing demand for bismuth-based cosmetics and pharmaceuticals in the country.
Know thy Competitors
Competitive landscape highlights only certain players
Complete list available upon request
Category-wise Analysis
Which Industry Accounts for Widespread Application of Bismuth Derivatives?
"Bismuth Used as Vital Compound in Pharmaceuticals, Especially Gastrointestinal Medicines"
Bismuth compounds have found extensive use in the field of medicine, specifically for addressing gastrointestinal disorders. In addition to its well-established gastro-protective properties and effectiveness against Helicobacter pylori infection, bismuth possesses antimicrobial, anti-leishmanial, and anti-cancer attributes.
For the treatment of diarrhea in adults and teenagers, bismuth subsalicylate is widely used. It is also employed to alleviate various symptoms associated with upset stomachs, heartburn, indigestion, nausea, and other related issues.
The United States serves as the headquarters for several prominent pharmaceutical companies, including Pfizer, AbbVie, Bristol-Myers Squibb, Merck & Co., and Johnson & Johnson.
Germany stands out as one of the world's major players in the pharmaceutical industry, boasting approximately 400 pharmaceutical companies. According to the European Federation of Pharmaceutical Industries and Associations, Germany surpassed Switzerland, the United Kingdom, and France in terms of research and development (R&D) expenditure in the pharma sector in 2022. Germany allocated EUR 8,466 million (US$ 9 billion) towards research activities.
Considering these factors, the pharmaceutical sector is expected to exert a significant influence on the bismuth industry growth.
Competitive Landscape
Key players in the bismuth market are focusing on continuous product innovations and R&D activities to introduce advanced and high-quality bismuth compounds to stay competitive in the market by offering unique formulations with enhanced properties and improved efficacy.
Collaborations with other pharmaceutical companies, research institutions, and healthcare organizations are being increasingly adopted as strategies by top producers of bismuth. Such partnerships facilitate knowledge sharing, resource pooling, and joint research efforts, which are expected to accelerate product development and market penetration.
In March 2022, Viavi Solutions and OFS announced their partnership on a test and measurement-focused amplifier built on a brand-new OFS bismuth-doped fiber produced in sufficient quantities to address the increasing need for 400GbE and 800GbE test applications globally.
Key Segments Covered in Bismuth Industry Research
By Derivative :

Bismuth Nitrate
Bismuth Oxide
Bismuth Oxychloride
Bismuth Subcarbonate

By Application :

Pharmaceuticals
Automotive
Electrical & Electronics
Cosmetics

By Region :

North America
Latin America
Europe
East Asia
South Asia & Oceania
MEA
- FAQs -
The global bismuth market is valued at US$ 380.90 million in 2023.
The market for bismuth is forecasted to reach US$ 792.38 million by 2033.
Global demand for bismuth derivatives is forecasted to increase at a CAGR of 7.6% through 2033.
Asia Pacific is expected to exhibit high demand for bismuth due to the presence of thriving industries such as pharmaceuticals, electrical & electronics, and automotive.
The pharmaceutical sector uses bismuth for the production of medicines related to gastrointestinal disorders.