Cannabigerol Market
Cannabigerol Market Analysis by Form (CBG Distillate, CBG Isolate), By Grade (Food Grade, Pharma Grade), By Application (Pharmaceuticals, Food & Beverages, Cosmetics) & By Region – Global Market Insights 2023 to 2033
Analysis of Cannabigerol Market Covering 30+ Countries Including Analysis of US, Canada, UK, Germany, France, Nordics, GCC countries, Japan, Korea and many more
Cannabigerol (CBG) Market Outlook (2023 to 2033)
The global cannabigerol (CBG) market is valued at US$ 8.33 billion in 2023 and is forecasted to reach US$ 60.84 billion by 2033, expanding rapidly at a CAGR of 22% over the decade.
Cannabigerol (CBG) is formed through the precursor cannabigerolic acid (CBGA), which is converted into specific cannabinoids through enzymatic processes in the cannabis plant. CBG is often referred to as the 'stem cell' or 'mother cannabinoid' because it is the precursor from which other cannabinoids are derived.
It's worth noting that cannabigerol products, such as oils, tinctures, and capsules, are available in some countries only due to legal obligations, and they are typically derived from hemp plants with low THC content. As with any cannabis-derived product, it's important to check local regulations and consult with a healthcare professional before using cannabigerol products.
Cannabigerolic acid monomethyl ether (CBGM) is a derivative of cannabigerolic acid (CBGA), a precursor cannabinoid found in the cannabis plant. CBGM is formed through a chemical modification process that involves the methylation of CBGA. CBGM is considered an acidic form of CBG and is known for its potential therapeutic properties
Given the importance of safety and quality in the market, there is an increased emphasis on rigorous quality control standards and third-party testing. This ensures that cannabigerol products meet regulatory requirements, are free from contaminants, safe to consume, and are accurately labeled with cannabigerol content.
The legalization of cannabis for medical or recreational purposes in several regions and countries has created opportunities for market players. As regulations evolve and become more favorable, they will open doors for the cultivation, extraction, and sale of cannabigerol products, thereby driving market growth.
NuLeaf Naturals introduced its latest multicannabinoid oil and softgel formulations in July 2021. To support the endocannabinoid system, it contains a balanced combination of CBD, CBG, CBN, CBC, and Delta 8 THC. This product introduction enables the corporation to enhance the value of its current portfolio and is anticipated to maximize sales revenue.
Report Attributes

Details

Cannabigerol Market Size (2022)

US$ 6.83 Billion

Estimated Market Value (2023)

US$ 8.33 Billion

Forecasted Market Value (2033)

US$ 60.84 Billion

Global Market Growth Rate (2023 to 2033)

22% CAGR

United Kingdom Market Growth Rate (2023 to 2033)

29% CAGR

United Kingdom Market Value (2033)

7.36 Billion

China Market Growth Rate (2023 to 2033)

22.4% CAGR

China Market Value (2033)

11.50 Billion

India Market Growth Rate (2023 to 2033)

31% CAGR

Key Companies Profiled

Aurora Cannabis Inc.
Cannoid, LLC
Canopy Growth Corporation
Elixinol
Folium Biosciences
GenCanna
Global Cannabinoids
LaurelCrest
Zero Point Extraction
Thomasnet
What's Driving Consumer Interest in CBG Products as Natural Remedies for Health Issues?
"Rising Consumer Awareness of Natural and Alternative Therapies"
There is a rising awareness among consumers about the potential health benefits of consuming cannabigerol, leading to increased interest in cannabigerol products. Consumers are seeking natural alternatives for various health conditions and are exploring the therapeutic potential of cannabigerol.
There is also a growing consumer preference for natural and alternative therapies, which has led to increased consumption of cannabinoids such as cannabigerol. Consumers are seeking plant-based remedies for various health conditions and are drawn to the potential therapeutic benefits associated with cannabigerol.
Overall awareness and understanding of cannabinoids, including cannabigerol, have increased significantly in recent years. This is due to ongoing research, media coverage, and educational efforts, which have helped to demystify cannabinoids and their potential benefits. As consumers become more informed, the consumption of CBG products is expected to rise.
"Technological Advancements in Extraction Methods Unveiling Influence on Wellness and Lifestyle Trends"
The development of advanced extraction methods and technologies has facilitated the extraction of cannabigerol in advanced yields. This has made cannabigerol production more efficient and cost-effective, enabling manufacturers in the cannabigerol (CBG) industry to offer a wider range of products to meet growing market demand.
Increasing focus on wellness and holistic lifestyles has created a favorable environment for the growth of the cannabigerol market. Consumers are seeking natural products that promote overall well-being and align with cannabigerol (CBG) market trends by being derived from a plant source and potentially offering various health benefits.
Don't Need a Global Report?
save 40%! on Country & Region specific reports
What are the Key Restraints Hindering Cannabigerol Market Expansion?
"Navigating Regulatory Challenges and Limited Resources for Research & Development"
The regulatory landscape surrounding cannabis and its derivatives can be complex and vary from country to country. Legal restrictions and lack of clarity on regulations related to them can hinder market growth and create barriers for manufacturers, distributors, and consumers.
Although there is growing interest and its potential benefits, the scientific research and clinical evidence supporting its efficacy and safety are still limited. The lack of comprehensive studies and standardized protocols may lead to skepticism among healthcare professionals and consumers.
Ensuring consistent product quality and standardization in the cannabigerol market can be challenging. Variations in extraction methods, sourcing of raw materials, and manufacturing processes can impact the potency, purity, and overall quality of products.
"Supply Chain Challenges and Addressing Social Stigma"
The cultivation and extraction of cannabigerol require specific expertise and resources. Limited availability and consistency of CBG-rich cannabis strains, as well as the need for specialized extraction facilities, can pose challenges in establishing a reliable and sustainable supply chain.
Despite increasing awareness, many consumers may still have limited knowledge about cannabigerol and its potential benefits. Educating consumers about its properties, usage, and safety considerations is essential to foster trust and drive market growth.
The association of cannabigerol with cannabis can contribute to lingering stigma and misconceptions. Overcoming negative perceptions and fostering a positive image as a wellness product may be necessary for wider acceptance and adoption.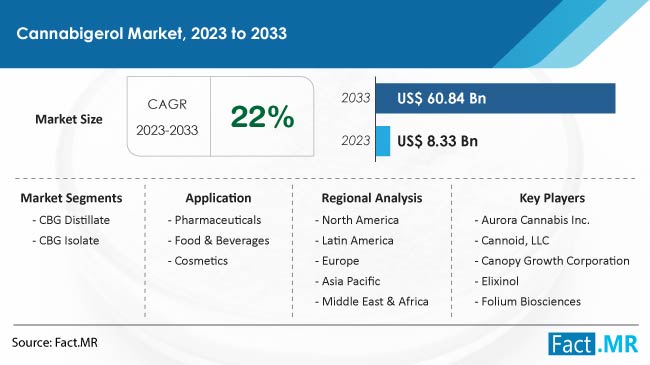 Country-wise Analysis
What Aspects Contribute to the Projected Dominance of the United States in the Cannabidiol Market?
"Exploring Impact of the High Prevalence of Chronic Diseases, Research & Development Activities"
Demand for cannabigerol in the United States is anticipated to reach a valuation of US$ 15.91 billion by 2033, increasing at a high CAGR of 21.8% during the forecast period.
Due to the high prevalence of chronic diseases and the increasing consumption of efficient treatment products, the United States is projected to dominate the global market. The cannabigerol market is anticipated to expand in the United States area as a result of the expansion of research and development activities in the biopharma industry.
For instance, according to data from the Center for Uncommon Neurological Disease Research published in January 2021, there are 200,000 Americans who suffer from uncommon neurological disorders. Rising prevalence of these ailments and their associated difficulties increased consumer demand for cannabidiol (CBD), fueling the expansion of this market.
Presence of significant market players and cutting-edge technology for product development is anticipated to have market expansion in the coming years.
For instance, Cheef Botanicals introduced Vegan CBD Gummies in August 2022 to increase the scope of its CBD offerings. The new release of CBD gummies intends to revitalize the market for cannabinoids (CBD). Given that they come from organic farms, these CBD gummies are the best ones on the market.
What's Responsible for Significant Growth of Germany's Market for Cannabigerol?
"Progressive Cannabis Legislation, Medical Cannabis Regulations, and Increasing Demand for Natural Remedies"
The cannabigerol market in Germany is experiencing significant growth and is projected to reach US$ 6.02 billion by 2033, rising at a CAGR of 22.8% from 2023 to 2033.
The country has a well-established and regulated medical cannabis market, with cannabigerol being one of the cannabinoids gaining attention for its potential therapeutic benefits. Germany's progressive approach to cannabis legislation, coupled with the increasing acceptance and demand for natural remedies, has contributed to the consumption of the CGB.
Growing awareness among healthcare professionals and patients about the potential therapeutic applications of cannabigerol has further fueled its market growth. With a strong emphasis on quality and safety standards, Germany presents opportunities for domestic and international companies to provide innovative CBG products that cater to the needs of patients and consumers.
More Insights, Lesser Cost (-50% off)
Insights on import/export production,
pricing analysis, and more – Only @ Fact.MR
Category-wise Insights
What is CBG Distillate and How is it Different from Other Forms of Cannabigerol?
"Unlocking the Potency and Versatility of CBG Distillate for Enhanced Formulations and Consumer Convenience"
Sales of CBG distillate are anticipated to experience growth at a CAGR of 22.9% during the forecast period.
CBG distillate refers to a concentrated form of Cannabigerol (CBG) that has undergone the distillation process to remove impurities and isolate the Cannabigerol compound. Distillation involves heating the extract to vaporize the cannabinoids and then condensing the vapor to obtain a purified CBG distillate.
This process results in a highly potent and refined form of cannabigerol with a high concentration of the cannabinoid. CBG distillate is commonly used in the formulation of various products, such as tinctures, topicals, edibles, and capsules, offering consumers a convenient and precise way to incorporate it into their wellness routines.
What are the Current Advancements of Cannabigerol in the Pharmaceutical Industry?
"Standalone and Combination Approaches for Enhanced Therapeutic Benefits"
Demand for Cannabigerol in pharmaceuticals is expected to experience growth at a CAGR of 22.1% during the forecast period. It is gaining attention in the pharmaceutical industry for its potential therapeutic applications. As a cannabinoid derived from the cannabis plant, cannabigerol has shown promising properties that may be beneficial for various medical conditions.
Research suggests that cannabigerol has anti-inflammatory, analgesic, neuroprotective, and antibacterial effects, making it a target for pharmaceutical development.
Cannabigerol is being explored for its potential in the treatment of conditions such as chronic pain, inflammation, neurodegenerative diseases, and even certain types of cancer. Its interaction with the endocannabinoid system in the body has sparked interest in developing CBG-based pharmaceutical products.
Key companies in the cannabigerol industry are investigating the use of cannabigerol as a standalone active ingredient or in combination with other cannabinoids or traditional pharmaceuticals. The aim is to harness the therapeutic potential of CBG while ensuring safety, efficacy, and proper dosage.
While research on cannabigerol's pharmaceutical applications is still in its early stages, the growing body of evidence is encouraging. As further research and clinical trials are conducted, cannabigerol has the potential to become a valuable component in the pharmaceutical industry's arsenal for developing innovative therapies.
Competitive Landscape
Most companies develop and market cannabigerol products under their own brand name. The cannabigerol market share plays a significant role in product development, branding, marketing, and distribution to reach consumers. Brand owners work closely with manufacturers or operate their own extraction and manufacturing facilities.
Research institutions and organizations are actively involved in studying the potential therapeutic applications, efficacy, and safety of cannabigerol. Their findings and discoveries contribute to the overall understanding of cannabigerol and influence product development and innovation in the market.
In May 2021, EXMceuticals Inc., a start-up bio-sciences business with a focus on the creation of innovative cannabis formulations, partnered with worldwide cannabinoids to market hemp- and cannabinoid-based products. The cooperation wanted to expand EXM's Portugal hub to import, investigate, improve, and sell cannabinoids and products derived from cannabis, and the businesses were able to grow their geographic reach and strengthen business ties.
Know thy Competitors
Competitive landscape highlights only certain players
Complete list available upon request
Key Segments of Cannabigerol Industry Research
By Form :

CBG Distillate
CBG Isolate

By Grade :

By Application :

Pharmaceuticals
Food & Beverages
Cosmetics

By Region :

North America
Latin America
Europe
Asia Pacific
Middle East & Africa
- FAQs -
The global market for cannabigerol stands at US$ 8.33 billion in 2023.
Demand for cannabigerol is predicted to surge at a CAGR of 22% from 2023 to 2033.
Worldwide sales of cannabigerol are anticipated to reach US$ 60.84 billion by 2033.
The United States is expected to hold a leading share of the global market and surge ahead at 21.8% CAGR.
Demand for cannabigerol in Germany is predicted to swell at a CAGR of 22.8% from 2023 to 2033.