Contrast Media Market
Contrast Media Market Analysis By Type (Barium-based Contrast Media, Iodinated Contrast Media, Gadolinium-based Contrast Media & Microbubble Contrast Media) By Imaging Modality (CT, MRI & Ultrasound) By Application, By End-User & Region – Global Market Insights 2022 to 2026
FACT7624MR
Aug-2022

List of Tables : 80

List of Figures : 227

170 Pages
Contrast Media Market Outlook (2022-2026)
Expanding at a CAGR of 3.4%, the global contrast media market is projected to increase from a valuation of US$ 4.9 billion in 2022 to US$ 5.6 billion by 2026.
Worldwide demand for Iodinated contrast media is projected to increase at a steady CAGR over the coming years owing to increasing iodinated agent approvals; extensive use of these agents in angiography, venography, and fluoroscopy; and rising investments to create superior iodinated contrast media.
Report Attributes

Details

Contrast Media Market Size (2022)

US$ 4.9 Billion

Projected Market Value (2026)

US$ 5.6 Billion

Global Market Growth Rate (2022-2026)

3.4% CAGR

Market Share of Iodinated Contrast Media

60%

Key Companies Profiled

Guerbet
Trivitron Healthcare
Bracco Diagnostic, Inc.
Nano Therapeutics Pvt. Ltd.
Lantheus Medical Imaging, Inc.
General Electric Company
Daiichi Sankyo Co., Ltd.
Spago Nanomedical AB
FUJIFILM Corporation
AMAG Pharmaceuticals
SANOCHEMIA Pharmazeutika AG
Interested to Procure The Data
Revenue Analysis of Contrast Media (2017-2021) Vs Market Outlook (2022-2026)
"Increasing Need for Diagnostic Imaging Treatments across the World"
According to Fact.MR, a market research and competitive intelligence provider, the global contrast media market is expected to rise at a CAGR of 3.4% from 2022 to 2026.
Growing incidence of cardiovascular diseases and cancer due to unhealthy lifestyles, including tobacco consumption, high alcohol intake, lack of exercise, and poor eating habits, has resulted in high demand for the most modern diagnostic imaging modalities, including ultrasound, X-rays, computed tomography (CT), and magnetic resonance imaging (MRI). Imaging tools for diagnosis provide images of internal organs and tissues.
Contrast media are commonly injected into patients to assist medical professionals in discriminating between healthy and unhealthy settings. Chemical substances employed to increase an imaging modality's ability to resolve contrast are known as contrast media, sometimes known as contrast agents. They are routinely given to patients using contrast media injectors in many ways.
Demand for diagnostic imaging treatments and rising prevalence of chronic diseases are driving the market growth. Contrast agents aid in the accurate acquisition of difficult-to-image anatomical regions and the advanced viewing of biological processes. They assist in removing radiologist perception errors, which tend to affect the interpretation of the actual structure of the underlying anatomy.
The malignancy or benignity of cancer can be determined using image-guided techniques. It is essential to offer patients techniques that can aid in them receiving a diagnosis at an earlier stage due to the rising prevalence and the rise in the number of cancer cases across both, emerging and established economies of the world.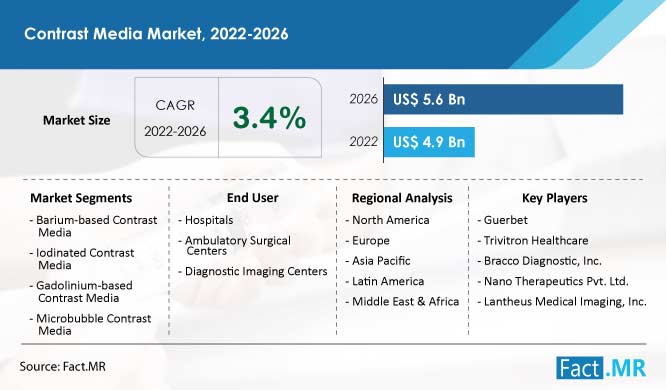 What Aspects are Driving Contrast Media Market Expansion?
"Growing Technological Advancements in Prenatal Genetic Screening"
Image-guided procedures (IGS) are becoming more popular over time. A thorough understanding of the imaging process and its therapeutic applications, as well as new methods of data gathering, processing, and display, are all necessary to meet the growing need for improved imaging during surgeries.
This need is extremely well met by image-guided treatments, which has led to an increase in demand for these operations for diagnostic and therapeutic purposes and, as a result, has contributed to contrast agents market expansion.
Contrast agents alter how the body's imaging devices interact with it temporarily rather than being dyes that permanently stain inside organs. By making blood vessels and tissues more visible, these contrast materials aid in the differentiation of particular bodily regions from the surrounding tissues.
The increased adoption of advanced imaging modalities in hospitals, diagnostic facilities, and outpatient care facilities, as well as the expansion of hospitals and diagnostic facilities globally, are all contributing contributors to the global market's revenue growth. Additionally, many market participants are concentrating on creating enhanced contrast media at reasonable costs. Going forward, this is anticipated to boost market expansion.
Contrast media producers have made significant R&D investments as a result of the rising demand for imaging procedures to launch new products and acquire approval for novel indications. Growing technological advancements in prenatal genetic screening would enhance the industry. The market is being driven by an increase in the need for contrast media consumables.
The market is projected to rise as a result of an increase in MRI, CT, and ultrasound exams as well as a strengthening of the healthcare system by hospitals and diagnostic facilities. Local production of APIs in developing countries reduces the overall cost of making contrast agents.
An Adaptive Approach to Modern-day Research Needs
Which Factors are Preventing the Market from Reaching its Full Potential?
"High Cost of Contrast Media Injectors & Lack of Qualified Professionals"
Issues such as the high cost of some modern imaging equipment and contrast media injectors as well as the lack of qualified personnel to operate these modalities are anticipated to restrain the market growth over the coming years. The market expansion may be constrained by some adverse effects and allergic responses related to their use.
How are New Entrants Contributing to Market Growth?
"Aspiring Market Players Focusing on Production of Organ-specific Products for Better Diagnosis"
New companies are especially concentrating on creating organ-specific products for better diagnosis. The most frequent imaging test to find breast cancer is a mammogram. Start-ups are focused on developing Grating-Interferometry Breast-Computed-Tomography (GI-BCT)-based technologies that collect detailed pictures without inflicting discomfort on patients.
GratXray, a Swiss start-up, offers the GI-BCT system. High contrast images of soft tissues are provided by this technique, aiding in the recognition and delineation of tiny tissues. By combining absorption and scatter pictures, it is possible to distinguish between various tissue types according to their internal microstructure.
Why is North America Expected to Lead the Global Market for Contrast Media?
"Rising investments by Key Players in Research Efforts to Create Efficient Contrast Media Agents in North America"
North America accounts for the highest share in the contrast media market because of the well-established healthcare infrastructure and significant investments by major players in research efforts to create efficient contrast media agents.
The availability of healthcare facilities, the accessibility of advanced technologies, the high demand for diagnostic procedures, and a rise in disease screening programs and disease management in the region are all driving the market growth in North America.
The growth of the market in the region is being driven by an increase in inpatient examinations, notable advancements in diagnostic imaging technologies, and an increase in cancer cases and cardiac issues.
Country-wise Insights
Why Should Contrast Media Suppliers Invest in the U.S.?
"Enhanced MRI Techniques for Cardiovascular Disorders in the U.S."
The main reason fueling the market expansion in the U.S. is the rise in chronic diseases, such as cardiovascular and neurological conditions. Rising demand for contrast technology, enhanced MRI techniques for cardiovascular disorders, image-guided surgical techniques, and recent developments in contrast media are propelling market expansion in the United States.
The U.S. market is growing due to the key suppliers of contrast media, highly developed healthcare facilities, growing public awareness of early detection, a high rate of traffic accidents, and rising R&D expenditures.
How is the Market for Contrast Media Progressing in China?
"Strong Emphasis on Producing More Advanced Contrast Agents in China"
The market in China is projected to rise at a CAGR of 4.5% over the forecast period.
Rising use of MRI procedures for treating cardiovascular diseases, the presence of highly advanced catheterization labs, the rising use of radiopaque contrast media, the increasing demand for minimally invasive procedures, and the rising prevalence of cardiac disorders are driving the market growth in China.
Increased demand for cutting-edge imaging systems, a strong emphasis on producing more advanced contrast agents, a growing older population, a rising prevalence of chronic diseases, and an increase in fractures & spinal injuries are the factors boosting the market expansion in China.
Category-wise Insights
What Type of Contrast Media Will Exhibit Increasing Sales?
"Growing Usage of Iodinated Contrast Media for Visibility Improvement of Vascular Organs during Radiographic Operations"
Based on type, the contrast media market is classified into barium-based contrast media, iodinated contrast media, gadolinium-based contrast media, and microbubble contrast media. Iodinated contrast media accounts for over 60% share of the global market.
Demand for Iodinated contrast media is expected to rise due to the increasing number of angioplasty surgeries. The visibility of vascular systems and organs is improved during radiographic operations using an iodinated contrast media, an intravenous radiocontrast that contains iodine. When diagnosing illnesses such as cancer, iodinated contrast media has helped to increase visibility.
Which Imaging Modality of Contrast Media is Highly Demanded?
"Increasing Penetration of X-ray/Computer Tomography (CT) for Detection of Various Diseases & Conditions"
Based on imaging modality, the market is segmented into X-ray/computed tomography (CT), magnetic resonance imaging (MRI), and ultrasound. The contrast media market is dominated by the X-ray/computer tomography (CT) segment.
The segment growth is attributed to their cost-effectiveness, which has led to the large use of contrast media and the adoption of a less expensive form of contrast media than in other markets.
Sales of X-ray/CT contrast agents are projected to rise due to rising computerized tomography (CT) scan exams, rising use of modern CT scan equipment, and a growing emphasis on improving already existing items. A CT scan creates images of the bones, soft tissues, and blood vessels inside the body and employs X-rays and computer software to identify various diseases and ailments.
Avail customized purchase options for your needs
Competitive Landscape
Contrast media manufacturers are concentrating on developing new products and using a variety of tactics, including partnerships, license agreements, and alliances to make a mark in the industry.
For instance :
In 2021, the initially disclosed purchase of BK Medical by GE Healthcare was completed. With this acquisition, GE Healthcare expanded the real-time surgical viewing capability of its pre- and post-operative ultrasound capabilities to include this rapidly developing and comparatively young field.
Key Segments in Contrast Media Industry Research
By Type :

Barium-based Contrast Media
Iodinated Contrast Media
Gadolinium-based Contrast Media
Microbubble Contrast Media

By Imaging Modality :

X-ray/Computed Tomography (CT)
Magnetic Resonance Imaging (MRI)
Ultrasound

By Application :

Radiology
Interventional Radiology
Interventional Cardiology

By End User :

Hospitals
Ambulatory Surgical Centers
Diagnostic Imaging Centers

By Region :

North America
Europe
Asia Pacific
Latin America
Middle East & Africa