Cubic Boron Nitrates Market
Cubic Boron Nitrates Market Analysis By Product (Inserts, Wheels, Mesh, Powder), By Application (Raw Abrasives, Coatings, Cutting & Grinding, Lapping & Polishing) & By Region (North America, Latin America, Europe) - Global Market Insights 2023-2033
Analysis of Cubic Boron Nitrates Market Covering 30+ Countries Including Analysis of US, Canada, UK, Germany, France, Nordics, GCC countries, Japan, Korea and many more
Cubic Boron Nitrates Market Outlook (2023-2033)
The global cubic boron nitrates market is valued at US$ 950 million in 2023 and is expected to end up at a valuation of US$ 2 billion by 2033, expanding at a CAGR of 7.7% during the forecast period (2023–2033).
Boron is a precious element that can be found in compounds like borates. Boron is a non-metallic element that can be extracted into pure crystalline boron, which is black in color and conducts electricity at high temperatures while acting as an insulator at low temperatures.
It is as hard as carborundum but too fragile for tool usage. Boron is employed in agriculture, medicine, and industrial applications.
One of the notable compounds of boron is cubic boron nitrates (CBN). Cubic boron nitrates are synthetic abrasive materials composed of cubic boron nitride grains bonded in ceramic material. Cubic boron nitrates are an allotropic crystal of boron nitride (B4N) with a hexagonal structure.
Abrasive materials are made from various minerals found in nature. The most frequent minerals used in the manufacture of grinding wheels, sandpapers, cutting tools, and other abrasive items are alumina, silica, and silicon carbide. Abrasive particles are made from a variety of synthetic materials. Synthetic abrasives and their applications can be divided into three categories.
The first category consists of silicon carbide (SiC) and silicon dioxide (SiO2), which are mostly employed in the manufacture of cutting papers and wheels. The second category is the fused aluminum oxide (Al2O3) group which is made up mostly of calcined bauxite raw material at 950 °C after eliminating the free capillary. The third category includes tough materials like diamond and cubic boron nitrates.
Cubic boron nitrates can be employed as a substitute for diamonds to cut ultra-hard materials. Cubic boron nitrates have emerged as the most promising tool after diamonds; they have a similar crystal structure to diamonds and are the second-hardest substance known after diamonds. They are made from hBN (hexagonal boron nitride) in conditions similar to those used to make a synthetic diamond from graphite.
Due to their greater thermal stability and chemical inertness, cubic boron nitrates are increasingly employed as a cutting and drilling tool in place of diamond-based tools. They are notably useful for processing hard ferrous minerals, which diamonds cannot process since they react with these compounds at high temperatures.
Cubic boron nitrates exhibit outstanding thermal conductivity, strong chemical stability, and high stiffness at high and moderate temperatures. The benefits of cubic boron nitrates abrasive tools over diamond tools are the key reason driving the growth of the market for cubic boron nitrates.
Report Attributes

Details

Market Size in 2023

US$ 950 Million

Projected Market Value (2033)

US$ 2 Billion

Global Market Growth Rate (2023-2033)

7.7% CAGR

Asia Pacific Market Share (2022)

38%

Inserts Segment Growth Rate (2023-2033)

6.1% CAGR

Key Companies Profiled

3M Company
Funik Ultrahard Material Co., Ltd
Advanced Abrasives Corporation
Reishauer AG
Asahi Diamond Industrial Co., Ltd
Saint-Gobain Surface Conditioning
Baltic Abrasive Technologies
Element Six (UK) Ltd
Showa Denko K.K
ILJIN Diamond Co., Ltd
NanoDiamond Products DAC
Don't Need a Global Report?
save 40%! on Country & Region specific reports
Why are Cubic Boron Nitrates in Great Demand?
"Market Players Benefiting from Advancements in Nanotechnologies"
Cubic boron nitrates have enormous promise in materials science. Industries armed with nanotechnologies can use cubic boron nitrates in a variety of applications.
Demand for cubic boron nitrates is driven by constant developments in material processing and greater knowledge of computed characteristics. They have qualities similar to diamonds but with superior machinability. As a result, cubic boron nitrates are becoming more prevalent in metal processing technologies including cutting and grinding.
Applications are projected to remain consistent over the next several years, supporting the sales growth of cubic boron nitrates. Due to their stability at high temperatures, cubic boron nitrates have demonstrated remarkable value in aerospace applications. They are specifically utilized to improve output performance and thermal stability. Moreover, growing efforts to modify the properties, in particular, have cleared the path for the possibility of a few unique applications.
One example is the usage of cubic boron nitrates to suit the function of materials in deep space applications that can survive a broad temperature range of 100 to +130 C. Current research and development in these fields are improving the market opportunities for cubic boron nitrate suppliers.
"Increasing Usage of CBNs in Electronics Industry"
Aside from their mechanical qualities, the electronic properties of cubic boron nitrates have received considerable attention.
Cubic boron nitrates are the lightest III-V semiconductor. Due to their large band gap, cubic boron nitrates are used as a good insulator. Along with a large band gap, cubic boron nitrates have excellent thermal conductivity, allowing them to be employed as a heat sink in microwave devices, semiconductor lasers, and LEDs across a broad spectrum. Cubic boron nitrates products are often coated with group VIII metals or aluminum for use as heat sinks.
By doping with beryllium and silicone, cubic boron nitrates can also be used to make p- and n-type semiconductors. These semiconductors are used to create p-n junction diodes that can operate at extremely high temperatures. These junctions are employed in a variety of applications, such as UV sensors.
Electronic applications of cubic boron nitrates are still in their early stages; however, additional advancements in material technology and application techniques are projected to increase the share of cubic boron nitrates in the electronics industry.
Moreover, cubic boron nitrates could be a viable solution to electronic devices' severe need for smaller, thermally conductive, and insulating materials.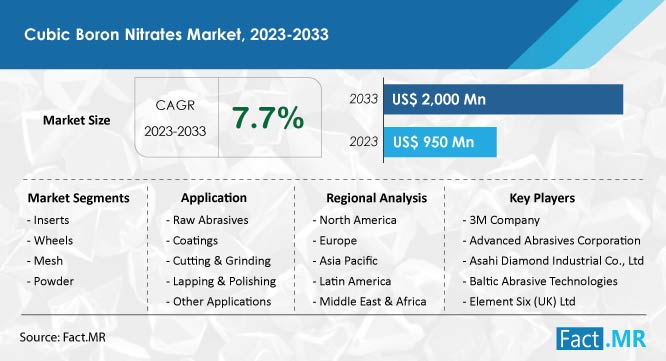 Country-wise Insights
Which Countries are Assisting Asia Pacific in Maintaining its Leading Market Position?
Asia Pacific led the global market and is projected to continue doing so during the forecast period, with 38% share of the worldwide market in 2022.
The growth of the Asia Pacific market is due to the existence of a large number of market participants and the high demand for cubic boron nitrates in several Asia Pacific economies, including South Korea and Japan.
South Korea and Japan are providing significant assistance to the Asia Pacific market. The substantial growth in these countries' medical, automotive, and aerospace industries is expected to spur the demand for cubic boron nitrates over the forecast period.
Why does the United States Lead the North American Market?
Demand for cubic boron nitrates in North America is increasing due to the region's rapidly expanding automotive and construction industries. Product demand is expected to increase due to the rising demand for water-resistant pipelines and razor blades. Moreover, the product's diamond-like characteristics are expected to drive regional market expansion.
The United States is leading the North American market. Expanding research and development operations in the country to create new applications is expected to propel market expansion.
Which Country is Driving Market Growth in Europe?
The European market is expected to experience significant growth as R&D activities to create new applications expand.
Germany is promoting market growth in Europe. The country's rapid industrialization and urbanization are expected to increase demand for cubic boron nitrates.
More Insights, Lesser Cost (-50% off)
Insights on import/export production,
pricing analysis, and more – Only @ Fact.MR
Category-wise Insights
Why are Inserts the Most Popular Product in the Market?
Demand for inserts is projected to expand at a CAGR of 6.2% during the study period. The increased use of inserts in the metal processing industry due to the growing need for procedures such as grinding, cutting, and finishing goods in the medical, automotive, and aerospace industries is likely to spur global demand for inserts in the near future.
Demand for CNB powder is also growing. CNB powder is used to make coated abrasives, bonded abrasives, polishes, cleansers, abrasive tools, grinding pastes, and other abrasive items.
Competitive Landscape
Key players in the cubic boron nitrates market continue pursuing marketing methods such as investments, collaborations, technological innovations, R&D activities, and acquisitions to expand and maintain their overseas footprint.
In Dec 2021, AIXTRON developed, built, and installed a new, detailed industrial-grade graphene and cubic boron nitride reactor capable of producing 200 mm epi-wafers. The innovative CVD tool was developed as part of the GIMMIK research project. The GIMMIK project is to evaluate the manufacture of graphene layers under industrial settings, identify weak points, and propose methods to remove error sources. A material setup is also tested, as is the transmission of graphene features to electrical mechanisms. Simultaneously, novel methodologies for the large-area, contact-free description of graphene will be developed.
In Sep 2021, WIKUS-Sägenfabrik expanded its product line to include CUBOGRIT® band saw blades coated with cubic boron nitride (CBN). CUBOGRIT® will provide users with CBN-coated band saw blade technology for the first time, allowing them to affordably saw 3D hard alloys and toughened ferrous materials up to 70 HRC. WIKUS debuted the latest band saw blades at the EMO Hanover, the world's premier trade expo for metalworking.
In Aug 2021, Cornell researchers used ultrathin graphene and cubic boron nitride to create a tiny magnetic field sensor that can function over a greater range of temperatures than previous sensors sensing tiny changes in magnetic fields that would otherwise be lost in a larger magnetic setting. Nowack's lab specializes in using scanning probes to monitor magnetic imaging. The superconducting quantum interference device, or SQUID, is one of their go-to probes because it operates well at low temperatures and in modest magnetic fields.
Segments of Cubic Boron Nitrates Industry Research
By Product :

Inserts
Wheels
Mesh
Powder

By Application :

Raw Abrasives
Coatings
Cutting & Grinding
Lapping & Polishing
Other Applications

By Region :

North America
Latin America
Europe
APAC
MEA
- FAQs -
The global cubic boron nitrates market is valued at US$ 950 million in 2023.
Global demand for cubic boron nitrates is expected to increase rapidly at a CAGR of 7.7% from 2023 to 2033.
Worldwide consumption of cubic boron nitrates is projected to hit US$ 2 billion by 2033.
Asia Pacific captured 38% share of the worldwide market in 2022.
Demand for inserts is forecasted to expand at a CAGR of 6.2% during the study period.
3M Company, Funik Ultrahard Material Co., Ltd, Advanced Abrasives Corporation, Reishauer AG, Asahi Diamond Industrial Co., Ltd, Saint-Gobain Surface Conditioning, Baltic Abrasive Technologies, Element Six (UK) Ltd, Showa Denko K.K, ILJIN Diamond Co., Ltd,