Ferroniobium Market
Ferroniobium Market Analysis By Form (Ferroniobium Lumps, Fines & Briquettes) By Grade (Standard Ferroniobium & High Purity Ferroniobium) By End-Use and By Region – Global Market Insights 2022 to 2032
Analysis of Ferroniobium market covering 30 + countries including analysis of US, Canada, UK, Germany, France, Nordics, GCC countries, Japan, Korea and many more
Ferroniobium Market Outlook (2022-2032)
Newly-released data on the ferroniobium market shows that global demand for ferroniobium enjoyed year-on-year (YoY) growth of 5.9% to reach 134 kilo tons at the end of 2021.
Worldwide consumption of ferroniobium is expected to increase rapidly at 6.3% CAGR, reaching US$ 12.7 Billion by the end of 2032.
Market forecasts are bright with producers, consumers, and government policymakers becoming increasingly interested in the technological and market fundamentals of ferroniobium, a key and important mineral that is used in a variety of defence and civilian applications.
Report Attributes

Details

Ferroniobium Market Size (2021A)

134 Kilo Tons

Forecasted Market Value (2032F)

US$ 12.7 Billion

Global Market Growth Rate (2022-2032)

6.3% CAGR

North America Market Share (2021)

~22.4%

North America Market Growth Rate (2022-2032)

5.9% CAGR

Top 3 Companies' Market Share

~92%

Key Companies Profiled

Existing Players

Anglo American
CBMM
Niobec (Magris Company)
China Molybdenum

Potential Players

Cradle Resources
Alkane Resources
Having already been named as one of the top 35 minerals essential to U.S. national and economic security, the properties of niobium make it one of the top eight strategic raw elements deemed essential. Ferroniobium, a microalloying agent, is primarily employed in High-Strength Low-Alloy Steel (HSLA), which is 65% niobium and 35% iron alloy.
Adding half a kilogram of ferroniobium to one ton of low-carbon steel can help with grain refinement and precipitation hardening. The steel's strength, fatigue resistance, and weldability are all significantly improved as a result of these changes. Niobium, out of all the steel microalloying elements, offers the highest benefits.
A lot of R&D into producing the material across diverse geographies is poised to drive the market forward. Two mines in Brazil combined generate nearly 91% of all niobium materials. A majority of the rest is produced by a single mine in Canada.
On the supply side, only two countries generate commercially significant amounts of ferroniobium as of now: Brazil and Canada. While Brazil's biggest producer has declared intentions to raise production capacity in response to gradually rising worldwide demand for ferroniobium, the relative lack of geographic variation in ferroniobium production does pose a degree of supply risk for ferroniobium customers.
Know thy Competitors
Competitive landscape highlights only certain players
Complete list available upon request
Ferroniobium Demand Analysis (2017-2021) Vs. Future Market Outlook (2022-2032)
As per the recent study conducted by Fact.MR, a market research and competitive intelligence provider, the global ferroniobium market expanded at 5.1% CAGR between 2017 and 2021, and imports in certain countries touched 30% Y-o-Y during the last two years.
However, supply chain disruptions caused a bottleneck to its trade and the market experienced a heavy decline during 2020. Experts estimate that demand has been rebounding to more normal levels since mid-year, with China having fully recovered from the pandemic's impacts.
According to the World Steel Association's latest projections, worldwide steel consumption dropped 6.4% as a result of the COVID-19 pandemic; but will return to pre-pandemic levels by the end of 2022.
As steel continues to remain a highly demanded commodity, ferroniobium usage is poised to deliver fruitful revenue-generating opportunities for manufacturers in the mid-term forecast period.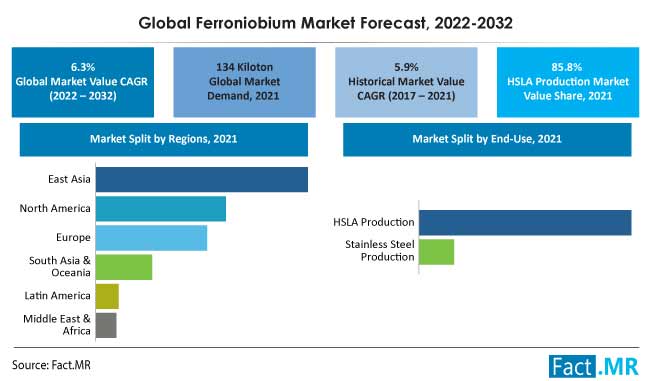 What are the Main Demand Generators for Ferroniobium?
"Ferroniobium in Steel – Game Changer for Automobile Industry"
In the production of vehicles, where driving dynamics are a crucial component, lightweight materials and designs have become increasingly essential. Governments across the world are increasingly focusing on reducing carbon emissions and improving fuel economy, which has raised the relevance of lightweight materials in automotive manufacturing.
One kilogram of niobium in one ton of steel decreases weight by 10% while increasing strength and durability. As a result, niobium-based alloys are widely used in the production of high-performance engines and cars.
Niobium demand and pricing should benefit from these growth and consumption patterns. The new booming market for niobium in upcoming technologies, such as space flight and the fabrication of high-performance and ultra-safe and high-speed rechargeable batteries for electric automobiles, bears this out.
The niobium-intensive US$ 21 billion ITER reactor (International Thermonuclear Experimental Reactor) in France exemplifies niobium's distinctive significance in new-age technology.
In July 2020, the five-year assembly phase of the world's biggest nuclear fusion project began in France.
ITER, a 35-nation partnership, is the most complicated engineering project in history and will demonstrate commercial-scale nuclear fusion energy by reproducing processes that power the sun. This reactor has the potential to be a game-changer in the evolution of emission-free power generation.
Owing to the aforementioned factors, demand for ferroniobium is poised to escalate at a rapid rate over the coming years.
More Insights, Lesser Cost (-50% off)
Insights on import/export production,
pricing analysis, and more – Only @ Fact.MR
Country-wise Analysis
Why Has Brazil Dominated Ferroniobium Exports Till Date?
Brazil is housed over 824.6 million tons of niobium ore with an average grade of 0.43%. Almost all ferroniobium is obtained from the mineral pyrochlore and comes from three industrialised producers, two in Brazil and one in Canada.
Pyrochlore does not enter international trade since it is transformed into ferroniobium and other goods before being exported. Other minerals (columbite, columbite-tantalite, etc.) that are largely obtained by artisanal mining in Africa and South America are used to make niobium for non-steel uses.
As a result, the supply bases for niobium used in steel are frequently distinct from those utilised in others. The three mines are: CBMM Araxa's Niobium deposit currently serves 75% of global consumption; China Molybdenum accounts for 15% of global consumption; and Niobec Canada caters to 8%-10% of the world's demand.
Hence, Brazil has consistently dominated the overall supply chain of ferroniobium and players operational in the market are poised to enjoy a healthy bargaining power over end users in the mid-term.
How is the China & Japan Ferroniobium Market Faring?
Between 2017 and 2019, ferrovanadium demand (and prices) soared due to a limited vanadium market and the adoption of new rebar specifications in China. This resulted in a surprising amount of replacements. Chinese steelmakers began using ferroniobium in Grade 3 rebar, which, along with increasing demand for ferroniobium in line pipe and automotive applications, resulted in record-breaking imports into China (and exports out of Brazil).
Furthermore, rising use in the automotive and aerospace sectors, notably in China and Japan, is driving niobium demand faster than steel production. Besides, demand for high-purity niobium products is growing, which, in turn, trickles down to positive demand growth for ferroniobium in the mid-term forecast period.
Category-wise Analysis
What are the Key Applications of Ferroniobium?
In steelmaking, approximately 90% of all niobium is used as ferroniobium. The rest is used in high-performance alloys (including superalloys), carbides, superconductors, electronic components, and functional ceramics, among other uses, with lesser volumes but higher value.
Niobium is utilised as ferroniobium in steel, primarily in the construction, automotive, and pipeline sectors, to make high-strength, low-alloy (HSLA) steels. Certain varieties of stainless and heat-resistant steel also contain it. Despite the minuscule unit consumption, the advantages of using ferroniobium are significant.
Since the addition of niobium to steel boosts its strength, less steel is required overall, lowering costs dramatically. This has been the driving force for the development and expansion of the usage of steel containing niobium over the previous few decades, and it will continue to be so in the future as well.
In some significant steel-producing countries, such as China, the intensity of niobium utilisation is low. The ability to enhance the intensity of niobium consumption presents a potential development area for niobium suppliers.
For most non-steel applications, niobium pentoxide (Nb2O5) is the starting material. In the aerospace sector, nickel-based high-performance alloys are employed when high-temperature strength is required. To distinguish them from intermediate forms, commercial niobium oxide products are referred to as high-purity (optical-grade) oxide.
Niobium is also available as a pure metal, as well as in alloys incorporating titanium and zirconium. Chemicals containing niobium have a wide range of uses, including catalysts and functional ceramics.
Why is Ferroniobium Crucial in HSLA Steel Production?
Ferroniobium is mostly used in high-strength low-alloy (HSLA) steel alloying. The HSLA sector consumes 80% of worldwide production. Because of ferroniobium's physical characteristics, when it is added to steel as an alloy, it boosts steel's corrosion resistance while also making it stronger and lighter than pure steel.
Because of the unique mix of characteristics in ferroniobium, there are no alternatives for it in HSLA, making it extremely important to the steel industry.
Oil & gas pipelines, automobiles, bridges, construction equipment, tools, ship hulls, train tracks, and any other structures that require a high strength-to-weight ratio are all made using HSLA steel.
Owing to this, ferroniobium usage in HSLA steel has remained consistent across geographies.
What are Some of the Upcoming Use Cases of Ferroniobium?
Niobium is used in the creation of high-performance and ultra-safe ultra-rapid rechargeable batteries for electric cars, as well as medical imaging, particle accelerators, and space exploration.
Jet-engine components, rocket subassemblies, gas turbines, and turbo-charge systems, along with various other heat-resistant and combustion equipment, all employ large amounts of niobium in nickel, cobalt, and iron-based superalloys.
This ferroniobium superalloy was employed in advanced airframe systems of the Gemini program and the primary engine of Apollo Lunar Modules, as well as the rocket thruster nozzles of SpaceX's Melin Vacuum engines for the upper stages of the Falcon 9 rocket.
Moreover, niobium's usage in battery packs is a promising breakthrough. Toshiba's next-generation battery pack for electric cars has a niobium anode, which allows for improved performance, longer life, faster charging, and safer batteries. It is projected to become an industry standard.
Niobium is classified as a 'strategic metal' by some nations, including the United States of America, the United Kingdom, and Russia, due to its broad usage in defence and aerospace. Because there are just a few sources throughout the world and it is entirely reliant on imports, the critical nature of niobium is high in the United States of America.
Owing to the aforementioned reasons, demand for ferroniobium is on the rise and is anticipated to provide a higher absolute $ opportunity over the short-term forecast period.
Don't Need a Global Report?
save 40%! on Country & Region specific reports
Competition Landscape: Ferroniobium Market
Four businesses control the manufacturing of ferroniobium. CBMM is the most important producer, accounting for 85% of global output. The remainder is produced by China Molybdenum, Anglo-American, and Magris Resources. Brazil is responsible for 88% of output, Canada for 11%, and Russia for 1%.
Although several companies are conducting their feasibility studies for entering the market, because of the oligopolistic nature of the global ferroniobium market, no new niobium mines have become operational since 1976, since current producers have been able to raise output to meet demand, and this scenario is expected to remain consistent over the coming years as well.
Despite the limitations of oligopoly, several businesses are attempting to construct ferroniobium projects.
Cradle Resources is aiming to develop Tanzania's Panda Hill project, whereas, Alkane Resources is attempting to develop Australia's Dubbo poly mineral project.
Globe Metals & Mining's Kanyika project in Malawi is undergoing a feasibility study.
The Eldor Niobium project in Quebec is where Commerce Resources and Saville Resources are pursuing their joint venture.
NioCorp proposes to develop this exceptional and very versatile superalloy material at its proposed Elk Creek Project in southeast Nebraska, having recently completed a feasibility assessment.
Fact.MR has provided thorough information on the overall tactics used by ferroniobium market participants. This is along with extensive overviews of lumps, fines, and briquettes in standard and high purity grades, as well as end uses such as HSLA production and stainless steel production.
Key Segments Covered in Ferroniobium Industry Research
Ferroniobium Market by Form :

Ferroniobium Market by Grade :

Standard Ferroniobium
High Purity Ferroniobium

Ferroniobium Market by End Use :

HSLA Production
Stainless Steel Production
Others

Ferroniobium Market by Region :

North America
Latin America
Europe
East Asia
South Asia & Oceania
Middle East & Africa
- FAQs -
Currently, the global ferroniobium market is pegged at US$ 6.9 billion.
Ferroniobium consumption is anticipated to increase at 6.3% CAGR through 2032.
East Asia accounts for 38% share of the ferroniobium market.
Ferroniobium market size expanded at 5.1% CAGR by volume between 2017 and 2021.
Key players are conducting market feasibility analyses at target sites and are investing in forming joint ventures with partnering firms to establish themselves in this highly competitive oligopolistic market.
Anglo American, CBMM, Niobec (Magris Company) and China Molybdenum are key manufacturers of ferroniobium.
The U.S. is estimated to hold around 16% of the global ferroniobium market share.