Floor Panels Market
Floor Panels Market Analysis By Type (Steel-based, Aluminium-based, Wood Core, Calcium Sulfate-based), By Application (Data Warehousing, Commercial Office Building, Family Residences, Industrial Manufacturing Plants) and By Region - Global Market Insights 2023 to 2033
Analysis of Floor Panels Market Covering 30+ Countries Including Analysis of US, Canada, UK, Germany, France, Nordics, GCC countries, Japan, Korea and many more
Floor Panels Market Outlook (2023 to 2033)
The global floor panels market stands at US$ 1.68 billion in 2023 and is projected to reach US$ 2.7 billion by 2033-end, expanding at a CAGR of 4.8%, according to the last market study by Fact.MR.
A floor panel is characterized as subflooring encompassing preassembled floor joists, a finished flooring layer, and a ceiling that gains support from beams and walls. Building panels play a pivotal role in enhancing the overall ambiance of both residential and commercial spaces. The choice of flooring type is substantially influenced by foot traffic volume. For instance, government offices, subjected to high human traffic, necessitate robust and enduring floors, while hospitals prioritize anti-slip surfaces.
Floor insulation boards play a crucial role in enhancing the energy efficiency, comfort, and overall performance of buildings. By preventing heat loss and creating a more insulated environment, these boards contribute to sustainable and comfortable indoor spaces while reducing energy consumption and associated costs.
Floor access panels are functional elements that contribute to the smooth operation and maintenance of buildings by providing controlled access to underfloor areas. They play a vital role in ensuring the efficiency, safety, and convenience of various systems and utilities while maintaining the visual integrity of the space.
Aluminum-based floor panels represent a cutting-edge advancement in flooring technology, offering a range of benefits that cater to modern construction and interior design needs. The unique characteristics of aluminum contribute to a versatile and sustainable flooring solution that meets the demands of diverse industries and spaces.
Worldwide demand for floor panels constructed with aluminum as the core material is projected to rise at a CAGR of 4.7% through 2033.
Matrix floor panels refer to specialized modular flooring solutions that utilize a grid or matrix pattern for their design. These panels are designed to provide a versatile and customizable flooring system that can adapt to various needs and applications in both residential and commercial spaces.
Floor panel systems refer to comprehensive and modular flooring solutions that consist of individual panels designed to create a seamless and functional flooring surface. These systems are engineered to meet specific requirements in various settings, offering benefits such as easy installation, versatility, and adaptability to changing needs.
Report Attributes
Details
Floor Panels Market Size (2022)
US$ 1.6 Billion
Estimated Market Value (2023)
US$ 1.68 Billion
Forecasted Market Value (2033)
US$ 2.7 Billion
Global Market Growth Rate (2023 to 2033)
4.8% CAGR
Asia Pacific Market Share (2023)
46%
China Market Growth Rate (2023 to 2033)
7.5% CAGR
Canada Market Growth Rate (2023 to 2033)
4% CAGR
Demand Growth for Steel-based Floor Panels (2023 to 2033)
5.5% CAGR
Sales Growth of Aluminum-based Floor Panels (2023 to 2033)
4.7% CAGR
Data Warehousing Market Share (2023)
34%
Leading Regional Market
Asia Pacific
Key Companies Profiled

Triumph Group
Kingspan Group
MERO-TSK
Mohawk Industries
Armstrong Flooring
Pentafloor
Dare Power Dekor Home
Nature Home
Don't Need a Global Report?
save 40%! on Country & Region specific reports
What is Driving Global Demand for Floor Panels?
"Role of Waterproof Floor Panels in Preserving Structural Integrity of Flooring"
Waterproof floor panels are specialized flooring elements designed to resist the penetration of water, making them suitable for areas prone to moisture exposure. These panels offer enhanced durability and protection against water-related damage, making them a popular choice for spaces where spills, dampness, or high humidity levels are prevalent. Waterproof floor panels contribute to maintaining the integrity of the flooring structure and preventing issues such as warping, mold growth, and deterioration due to moisture.
Types of Waterproof Floor Panels
Vinyl: Vinyl flooring, especially luxury vinyl tiles (LVT) and luxury vinyl planks (LVP), often feature waterproof properties.
Porcelain and Ceramic Tiles: These tiles are inherently water-resistant and can be used in various applications.
Laminate: Some laminates are engineered with waterproof layers to protect against moisture.
"Prefabricated Floor Panels Driving Cost Efficiency by Reducing Labor and Construction Time"
Prefabricated floor panels refer to pre-assembled flooring components that are manufactured off-site and then transported to the construction site for installation. These panels are designed to streamline and expedite the construction process by offering a ready-made solution that requires minimal on-site assembly. Prefabricated floor panels are available in various materials and configurations, catering to different construction needs and design preferences.
Types of Prefabricated Floor Panels
Concrete Panels: Prefabricated concrete panels are popular for their strength and durability in various construction applications.
Steel Panels: Steel-based panels are lightweight yet strong, offering versatility and ease of installation.
Wood Panels: Prefabricated wood panels are commonly used for residential and light commercial projects.
Prefabricated floor panels play a crucial role in expediting construction projects while maintaining quality and precision. Their ability to save time, reduce costs, and ensure consistent quality makes them an attractive choice for a wide range of applications in the construction industry. By combining efficiency with customization, prefabricated floor panels contribute to more efficient and streamlined construction processes.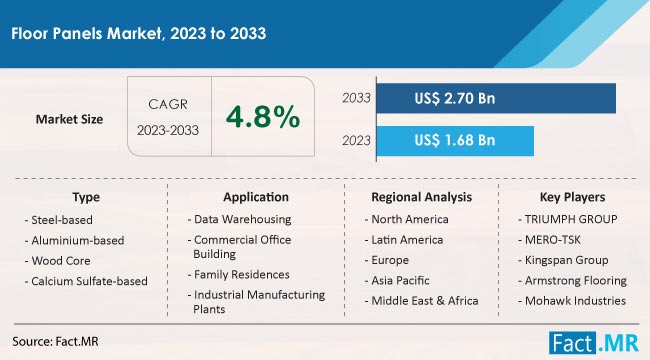 What Obstacles Do Manufacturers of Floor Panels Encounter?
"High Initial Cost with Limited Material Options"
Adoption of certain types of advanced or specialized floor panels can come with higher initial costs compared to traditional flooring solutions. This cost factor may deter some potential customers, particularly in projects with tight budgets. While floor panels are available in a range of materials, the options are limited in comparison to other types of resilient flooring. This limitation can restrict design choices, especially for projects requiring specific aesthetic or functional requirements.
Prefabricated floor panels are designed off-site, which might limit the level of customization for intricate or unique designs. Projects with highly specific design elements face challenges in finding suitable prefabricated options.
"Transport & Installation Complexities and Skilled Labor Shortage"
Transportation and installation of large prefabricated floor panels can pose logistical challenges. Access to the construction site, handling heavy panels, and coordinating installation teams can lead to complexities. In renovation or retrofit projects, the compatibility of prefabricated floor panels with existing infrastructure is a concern. Ensuring proper alignment and integration with existing systems can require additional planning and effort.
Installation of prefabricated floor panels requires skilled labor with knowledge of the specific panel system. A shortage of such skilled labor can slow down projects or affect the quality of installation.
More Insights, Lesser Cost (-50% off)
Insights on import/export production,
pricing analysis, and more – Only @ Fact.MR
Country-wise Insights
The subsequent section presents an overview of market revenue categorized by key countries. Notably, China and the United States have emerged as leaders, with the China market anticipated to expand at 7.5% CAGR through 2033. According to the analysis conducted by Fact.MR, these countries distinctly represent significant regional prospects among the countries assessed in the report.
What Opportunities Await Floor Panel Manufacturers in China?
"Sustainable Development Initiatives Promoting Use of Energy-efficient Floor Panels"
The market in China is projected to advance at a CAGR of 7.5% from 2023 to 2033.
The floor panels market in China holds substantial significance and is characterized by several key dynamics that contribute to its growth and development. As one of the world's largest economies and a hub for construction and infrastructure projects, China's demand for innovative building materials is on the rise. Adoption of floor panels in various sectors reflects the country's commitment to modern construction practices, sustainability, and efficient project execution.
China's focus on sustainable development and green building practices has prompted the government to introduce policies and incentives that encourage the use of eco-friendly construction materials. Floor panels, particularly those with energy-efficient and environmentally friendly attributes, align with these initiatives. Such policies enhance the appeal of floor panels to developers, architects, and contractors.
The growth of industries and commercial spaces demands flooring solutions that can withstand heavy foot traffic, machinery, and various operational demands. Floor panels, known for their durability, adaptability, and customization options, cater to these requirements effectively. This has led to their increased adoption in warehouses, factories, and retail spaces.
What's Contributing to Rising Demand for Floor Panels in the United States?
"Increasing Investments in Construction Materials Sector to Develop Advanced Floor Panels"
Growth of the floor panels market in the United States is anticipated to be driven by several impactful factors. One of the pivotal drivers is the increasing adoption of technology within the construction industry. As technology continues to evolve, its integration into various construction processes, including the use of floor panels, enhances efficiency, accuracy, and overall project outcomes.
The presence of key players within the floor panels market also plays a significant role in driving growth. Established companies with a robust market presence possess research and development (R&D) activities and the resources, expertise, and capacity to innovate, develop, and promote floor panel solutions.
The rising investments within the construction materials sector are expected to introduce innovative products and solutions, including advanced floor panels. These investments fuel the exploration of new materials, improved manufacturing processes, and enhanced functionalities of floor panels. The introduction of innovative products not only addresses existing construction challenges but also opens new avenues for market expansion.
Category-wise Insights
This segment highlights market revenue across the main categories. Sales of steel-based floor panels are projected to rise at 5.5% CAGR through 2033. Data warehousing accounts for 34% of the market in the floor panel industry. As assessed by Fact.MR, these segments are positioned to offer advantageous prospects across all the specified categories in the report.
Why is There Widespread Adoption of Steel-based Floor Panels?
"Fire Resistance, Expedited Installation, and Design Adaptability Associated with Steel Panels"
Demand for steel-based floor panels is expected to advance at a CAGR of 5.5% from 2023 to 2033.
Steel-based floor panels refer to prefabricated flooring components that are primarily composed of steel materials. These panels are designed to offer structural integrity, durability, and versatility in various construction applications. Steel-based floor panels are commonly used in both residential and commercial settings, providing benefits such as strength, fire resistance, and ease of installation.
Steel is inherently fire-resistant, offering an added layer of safety to the building occupants. This feature is especially crucial in commercial and industrial spaces where fire protection is a priority. Prefabricated steel-based panels are designed offsite and delivered to the construction site ready for installation. This streamlined process saves time and reduces on-site labor requirements.
Steel-based panels can be adapted to various architectural designs and configurations. Their modular nature allows for customization to meet specific project requirements.
Will Adoption of Floor Panels in Data Warehousing Keep Rising Swiftly?
"Ability of Specialized Floor Panels to Optimize Airflow and Cable Management in Data Centers"
Data warehousing accounts for 34% of the floor panels market. Floor panels in data warehousing refer to specialized flooring solutions used in data centers and facilities that house servers, networking equipment, and IT infrastructure. These panels play a crucial role in providing a secure, efficient, and controlled environment for data storage and processing operations.
Raised access flooring, which includes floor panels, is commonly used in data centers. This design creates an elevated space beneath the floor where cables, power lines, cooling systems, and other infrastructure components can be efficiently organized and managed.
Data centers require a complex network of cables for data transfer, power distribution, and cooling. Floor panels offer concealed pathways for cables, ensuring efficient organization, reduced cable clutter, and easy maintenance. Proper airflow management is crucial in data centers to prevent overheating of equipment. Some floor panels are designed with perforations or airflow tiles to optimize ventilation and cooling efficiency.
Know thy Competitors
Competitive landscape highlights only certain players
Complete list available upon request
Competitive Landscape
Established manufacturers, suppliers, and distributors form the core of the competitive landscape. These players often have extensive experience in producing a variety of floor panels to cater to diverse industry requirements. Innovation in floor panel design, materials, and manufacturing processes is a critical driver for competitiveness. Companies invest in research and development to introduce advanced products that offer enhanced features such as improved load-bearing capacity, modular configurations, energy efficiency, and sustainable attributes.
Key Segments of Floor Panels Industry Research
By Type :

Steel-based
Aluminum-based
Wood Core
Calcium sulfate-based

By Application :

Data Warehousing
Commercial Office Building
Family Residences
Industrial Manufacturing Plants

By Region :

North America
Latin America
Europe
Asia Pacific
Middle East & Africa
- FAQs -
The global floor panels market is valued at US$ 1.68 billion in 2023.
Asia Pacific accounts for substantial floor panel sales, holding a market share of 46% in 2023.
Use of floor panels in data warehousing is projected to hold 34% market share in 2023.
Worldwide demand for floor panels is set to increase at a CAGR of 4.8% from 2023 to 2033.
Global sales of floor panels are projected to reach US$ 2.7 billion by 2033.
Sales of steel-based floor panels are forecasted to increase at a CAGR of 5.5% from 2023 to 2033.