Rapid urbanization and industrialization which has resulted into high and immediate requirement for resilient flooring in industrial areas, housing projects, and IT parks. A large number of home improvement and renovation activities in light of changing consumer trends and lifestyles is leading toward high demand for resilient flooring in the residential sector. Fiberglass flooring has gained immense momentum in the recent past on the back of its properties such as excellent durability and lightweight. In addition, superior insulation properties of fiberglass owing to presence of several reinforced materials has complemented its demand. Several technological advancements and product developments are being made by resilient flooring manufacturers, in order to enhance performance of their products. In addition, environment—friendly floor covering solutions that include rubber, bamboo, cork, hardwood, glass, and linoleum have witness a significant surge in demand across residential and non-residential spaces, which in turn will influence growth of the resilient flooring market in the near future.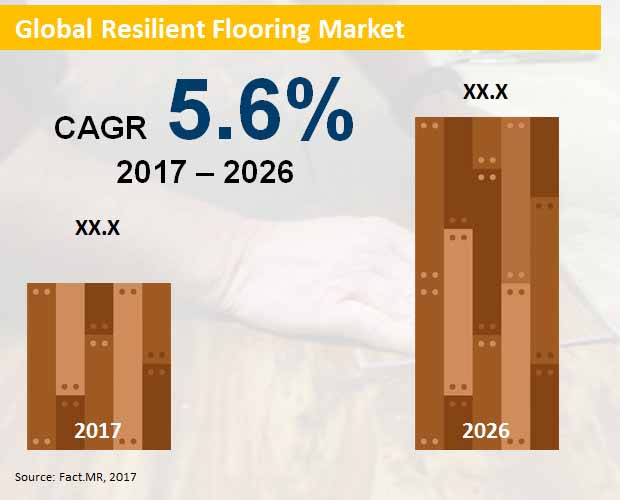 A new exhaustive research report collated by Fact.MR has slated the global market for resilient flooring to reflect a steady 5.6% CAGR through the forecast period 2017 to 2026, in terms of value. More than 2,000 Mn sq. meters of resilient flooring is estimated to be sold around the world by 2026-end.
Market Taxonomy
| | | | |
| --- | --- | --- | --- |
| Region | Material Type | End User | Construction Activity |
| North America | Vinyl | Residential | Renovation |
| Latin America | Linoleum | Non-Residential | New Construction |
| Europe | Cork | | |
| Japan | Rubber | | |
| APEJ | | | |
| MEA | | | |
(Additional information, including cross-sectional data and country-wise analysis & forecast is available in the report)
Europe will prevail as Dominant Region in Global Resilient Flooring Market
In terms of value, Europe is likely to prevail as the dominant region in the global resilient flooring market. Dominance of this region can be highly attributed to rapid expansion of the residential and commercial construction sector in light of government support and high standards of living in the region. Asia-Pacific excluding Japan (APEJ) will also remain a remunerative region for the market growth, owing to robust expansion of the construction industry across emerging nations such as India, China, and Thailand, along with regulatory support for the infrastructure development at domestic level. Additionally, proliferation of commercial spaces such as corporate offices, retail stores, and hospitals will further create demand for resilient flooring in APEJ.
On the basis of material type, vinyl will remain preferred among end-users of resilient flooring across the globe. Vinyl flooring is robust, durable and facilitates maintenance. In addition, vinyl flooring is environment friendly, and comparatively more cost-effective than all other types of materials used for resilient flooring. However, revenues from rubber flooring will increase at a relatively higher CAGR through 2026.
Although non-residential end-users are set to account for a comparatively larger revenue share of the market than residential end-users, the latter are projected to exhibit a relatively faster expansion in the market through 2026. Based on construction activity, resilient flooring are likely to witness the highest demand in renovation activities globally.
Competition Tracking
Competition in the global resilient flooring market is expected to rise, with players focusing on gaining competitive advantage and increasing their market foothold. Key players identified by the report that are underpinning the market expansion include Tarkett, Mannington Mills, Inc., Mohawk Group, Congoleum, Berkshire Hathaway Inc., Beaulieu International Group N.V., Forbo Holding AG, Armstrong Flooring, Burke Industries, Inc., and Karndean International Limited. Resilient flooring manufacturers are inclining their concentration toward developing innovative products coupled with making improvements in advertisement, such as online catalogue. Production capacity expansion, joint venture, product portfolio enhancement, and mergers & acquisitions are likely to remain key strategies employed by players in the global resilient flooring market.
Note: The insights mentioned here are of the respective analysts, and do not reflect the position of Fact.MR
Demand for resilient flooring across the globe will continue to be influenced by numerous home improvement and renovation activities, along with changing lifestyles and trends of consumers. In addition, surging demand for insulation in residential as well as commercial applications owing to elevating energy prices, and growing importance of energy conservation will further create demand for resilient flooring in the near future. This report, compiled by Fact.MR, provides in-depth analysis of the global resilient flooring market for the forecast period 2017-2026, offering key insights on the growth prospects of the market.
Scope:
The scope of the Fact.MR's report is to analyze the global resilient flooring market for the forecast period 2017-2026 and offer accurate and unbiased insights to the readers. Resilient flooring manufacturers, suppliers, and stakeholders in the global industry can benefit from the analysis offered in this report.
In-depth analysis regarding the energy saving properties, usage benefits, and long-term maintenance is detailed in this report. The comprehensive study offers insights on various market drivers, trends, and challenges shaping the future of the market, serving as a platform for future study, interest and understanding for the leading industries, trade magazines and journals related to the global resilient flooring market.
Summary:
The report introduces the current scenario of the market for resilient flooring. The executive summary section of the report offers information regarding the future scope of the global resilient flooring market. Brief information on the vital aspects, facts, and statistics on the global resilient flooring market is emphasized in this section.
Overview:
This section offers an overview of the global resilient flooring market. This section comprises definition of the product – resilient flooring, along with key insights on dynamics playing an important role towards the growth of the market. The overview also includes market value and year-on-year growth defining the future progress and decline of the global resilient flooring. Data on the year-on-year growth provides readers with an overall view on expected progress reshaping growth during the forecast period.
In the next section, the report provides insights on major drivers, key trends, and retrains on the basis of demand, supply and macro-economic factors. The report also talks about an impact analysis of drivers and restraints that helps in decision-making and becoming more efficient.
The report further provides information on various technological advancements in the global resilient flooring market. Latest information and advancements regarding growth opportunities can prove to be beneficial for the leading manufacturers of resilient flooring. With advancements in technology, keeping an eye on the latest trends and developments is important for resilient flooring manufacturers to frame key business strategies. Key insights concerning the list of distributor, supply chain, cost structure, pricing analysis, and raw material sourcing, are also provided in this section of the report.
Considering the broad-scope of the global resilient flooring market, the report offers in-depth insights on the forecast and segment-wise analysis. The resilient flooring market has been segmented on the basis of construction activity, end-user, material type, and region. This sections offers segmentation analysis, along with a detailed country-wise forecast on all the parameters.
In the final section, the report offers information on the key competitors, along with a board view of the market players and company analysis. This competitive intelligence is based on the providers' categories across the value chain, and their presence in the global resilient flooring market.
Research Methodology
Fact.MR is committed to offer unbiased and independent market research solutions to its clients. Each market report of Fact.MR is compiled after months of exhaustive research. We bank on a mix of tried-and-tested and innovative research methodologies to offer the most comprehensive and accurate information. Our main sources of research include,
Primary research
Secondary research
Trade research
Focused interviews
Social media analysis
Fact.MR offers custom research services that help clients to get specific research solutions
We are committed towards customer satisfaction and quality service.
---
Our Clients

Resilient Flooring Market Forecast, Trend Analysis & Competition Tracking - Global Market insights 2017 to 2026