Hexamethylenediamine Market
Hexamethylenediamine Market Analysis By Application (Nylon Synthesis, Curing Agents, Lubricants, Biocides, Coating Intermediates, Adhesives, Water Treatment Chemicals), By End Use (Automotive, Textiles, Paints & Coatings, Petrochemicals) & Region – Global Market Insights 2023 to 2033
Analysis of Hexamethylenediamine Market Covering 30+ Countries Including Analysis of US, Canada, UK, Germany, France, Nordics, GCC countries, Japan, Korea and many more
Hexamethylenediamine Market Outlook (2023 to 2033)
The global hexamethylenediamine market is valued at US$ 7.5 billion in 2023 and is expected to reach US$ 17 billion by 2033-end. According to Fact.MR, global demand for hexamethylenediamine is forecasted to surge at a CAGR of 8.5% from 2023 to 2033.
Hexamethylenediamine (HMDA) is an organic compound. It is a colorless, oily liquid with a strong, ammonia-like odor. The presence of amino groups makes HMDA a versatile compound with various applications in different industries.
The demand for hexamethylenediamine in nylon synthesis is set to rise at a significant rate over the forecast period. The key application of hexamethylenediamine is the synthesis of nylon 66, a high-performance engineering plastic known for its strength, durability, and heat resistance. Nylon 66 finds applications in industries such as textiles, automotive, electronics, and coatings.
Apart from nylon 66, hexamethylenediamine is also utilized in the production of other polyamides, polyurethanes, and epoxy-curing agents. It serves as a key component in the formulation of adhesives, coatings, and lubricants. Hexamethylenediamine's unique chemical structure and properties contribute to the mechanical strength, thermal stability, and chemical resistance of these materials.
In the manufacturing of vehicle body parts, hexamethylenediamine is commonly used. The use of it can rise if people use nylon materials more widely than metal to minimize total weight. The substance is utilized in the petrochemical industry to make polyamides for 3D printing.
HMDA is primarily used as a building block or intermediate chemical in the production of various polymers and resins. Hexamethylenediamine acts as a corrosion inhibitor and a curing agent in certain applications. It is also used in the manufacturing of fuel system components, electrical and electronic parts, and various other products where its properties and reactivity are beneficial.
The global market is being driven by the surging need for hexamethylenediamine in the textile and automotive industries. The main cause of this is the increased demand for hexamethylenediamine as a precursor in the production of nylon 66, which is used to make textiles. Airbags, electro-insulating components, and radiator end tanks are all made of nylon 66 in automobiles. Additionally, there is a greater demand to develop bio-based hexamethylenediamine due to growing environmental concerns.
Report Attributes
Details

Hexamethylenediamine Market Size (2023)

US$ 7.5 Billion

Projected Market Value (2033)

US$ 17 Billion

Global Market Growth Rate (2023 to 2033)

8.5% CAGR

Market Share of Automotive Industry (2023)

50%

Market Share of North America (2023)

40%

Key Companies Profiled

Invista
Asahi Kasei Corporation
Ascend Performance Materials
BASF SE
Evonik Industries AG
Genomatica Inc.
Merck KGaA
Radici Partecipazioni SpA
Shenma Industrial Co. Ltd
Toray Industries, Inc.
Compass Chemical International
Don't Need a Global Report?
save 40%! on Country & Region specific reports
What's Leading to Rapidly Increasing Demand for Hexamethylenediamine?
"Growing Use of Hexamethylenediamine in Lubricant Production"
Growing demand for hexamethylenediamine in the production of lubricants due to its unique properties and compatibility with various additives is driving market growth. The market for engine oils, which are largely required to lubricate internal combustion engines (ICEs) to ensure that powertrains function smoothly, is also crucial and consistently growing year after year.
In lubricant formulations, hexamethylenediamine is primarily used as a corrosion inhibitor, viscosity index improver, and additive to enhance the lubricity and thermal stability of the final product. This section explores the application of hexamethylenediamine in lubricant production.
The presence of hexamethylenediamine in lubricant formulations helps extend the lifespan of machinery and equipment by minimizing the harmful effects of corrosion. It is commonly used as a corrosion inhibitor in lubricants. It forms a protective film on metal surfaces, preventing them from corroding or rusting.
Lubricants with improved viscosity index provide better lubrication and protection, especially in high-temperature applications. Hexamethylenediamine is an effective viscosity index improver, which means it helps maintain the viscosity of the lubricant within a desirable range over a wide temperature range. The addition of hexamethylenediamine in lubricants ensures consistent viscosity performance, reducing wear and tear on machine components.
"Rapid Integration of Advanced Manufacturing Techniques"
The market for hexamethylenediamine has profited greatly from technological innovations and new product developments. As a result of constant research and development, new manufacturing techniques have emerged that have boosted product quality while reducing production costs.
For instance, the development of more efficient catalysts and manufacturing methods has made it possible to increase yields while using less energy. Publicly funded research projects provided by the National Science Foundation have enabled these advancements. Government initiatives and policies, which have been quite substantial, have contributed to the significant growth of the hexamethylenediamine market.
By enacting beneficial legislation, offering subsidies, and offering tax advantages, governments have pushed manufacturers to take part in the establishment and growth of hexamethylenediamine in many different countries. Hexamethylenediamine demand has surged as a result of government initiatives to promote green products and reduce carbon footprints. For instance, the EU's Green Deal has promoted the use of environmentally friendly products, increasing market demand.
"Market Benefiting from Surging Demand for Recycled Plastics"
Rising demand for recycled plastics is one of the main reasons propelling market growth. Because of the growing public awareness of healthy living, several sectors are implementing green and sustainable solutions. Due to the increase in demand for recycled plastics, commodity chemicals such as HMDA and polymer additives are growing rapidly in the US. With more consumers becoming aware of environmental protection standards, the packaging sector is moving towards the extensive usage of recycled plastics.
Recycled plastics open up new opportunities for cutting waste, energy use, carbon emissions, and water use while maintaining high quality and performance. To extend product shelf life and provide product protection, recycled plastic is employed. As a result, the use of greener alternatives in more applications has increased the usage of recycled plastics. In turn, this will boost the hexamethylenediamine market size.
What is Primarily Hampering Demand Growth for Hexamethylenediamine?
"Availability of Substitutes and Fluctuating Raw Material Prices"
The market is primarily constrained by the availability of substitutes such as bio-based materials. The cost of producing, packaging, and shipping the compound is high. The compound is also extremely hazardous and can cause eye damage, skin burns, and irritation.
Market expansion is hindered by fluctuating raw material prices. Hexamethylenediamine is derived from cyclohexane, a petroleum-based feedstock. Fluctuating crude oil prices can impact the cost of cyclohexane, thereby affecting the production costs of hexamethylenediamine. This volatility can pose challenges for manufacturers and potentially limit market growth.
Production of hexamethylenediamine involves the use of hazardous chemicals and energy-intensive processes. Strict environmental regulations regarding emissions and waste management could pose challenges for the industry, leading to increased compliance costs.
More Insights, Lesser Cost (-50% off)
Insights on import/export production,
pricing analysis, and more – Only @ Fact.MR
How are New Companies Transforming the Hexamethylenediamine Landscape?
"Start-ups Offering Sustainable and Bio-based Alternatives to Conventional HMDA Production"
According to a thorough analysis by Fact.MR, a market research and competitive intelligence provider, new companies are focusing on developing sustainable and bio-based alternatives to conventional hexamethylenediamine production. By utilizing renewable feedstock and employing environmentally friendly processes, these start-ups aim to reduce the carbon footprint and environmental impact associated with HMDA manufacturing. Their efforts align with the growing demand for sustainable chemicals in various industries.
A start-up based in New York named Sunthetics provides a sustainable way to make nylon. Adiponitrile, a crucial precursor for hexamethylenediamine and nylon 66, is produced electrochemically using its reactor design and machine learning tool, which also provides raw materials and energy utilization. The technology lowers the manufacturing process's greenhouse gas emissions.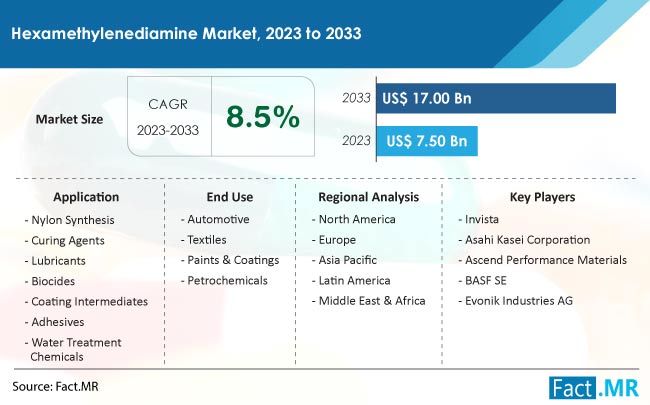 Which Region is Dominating the Global Hexamethylenediamine Market?
"Presence of Well-established Automotive Industry in North America"
North America is leading the global market with 40% share in 2023.
The growing automotive industry is a contributing factor to the growth of the hexamethylenediamine market in North America. Growing nylon 66 production and rising fiber demand are the main drivers of market expansion. Manufacturer's increased emphasis on producing lightweight vehicle parts and components is promoting market growth. Another significant element driving the demand for hexamethylenediamine is a rise in manufacturing units.
Know thy Competitors
Competitive landscape highlights only certain players
Complete list available upon request
Country-wise Insights
Why is the United States a Promising Market for Hexamethylenediamine Suppliers?
"Rapid Expansion of Wastewater Treatment Sector"
Growing industrialization and rapid expansion of the wastewater treatment sector are projected to boost market value in the United States. The need for hexamethylenediamine as a raw material in the paint and coatings sector is rising is fueling market expansion. The market revenue is also fueled by technological advancements and emerging multifunctional applications such as 3D printing and functional coatings.
Will China Be a Profitable Market for Hexamethylenediamine Manufacturers?
"Easy Availability of Raw Materials in China"
China is a hub for the production of textiles and clothing. Major nylon makers are looking to move their manufacturing bases to China due to low labor costs, easy supply of raw materials, and low production costs.
Increasing investments in infrastructure development are supporting market expansion. Hexamethylenediamine is widely used as a precursor for the manufacturing of nylon 66 in end-use industries, which is anticipated to boost market demand.
Category-wise Insights
Why is the Use of Hexamethylenediamine High in the Automotive Industry?
"Hexamethylenediamine Widely Used in Automotive Industry to Increase Fuel Efficiency"
Based on end use, the market is divided into automotive, textiles, paints & coatings, petrochemicals, and others.
In 2023, the automotive industry accounts for 50% share of the global market.
The main driver of hexamethylenediamine demand is the rising nylon usage in the automotive industry. Hexamethylenediamine plays a crucial role in the automotive industry due to its various applications and beneficial properties. It is widely used in the production of automotive components, coatings, adhesives, and fuel system parts. This section explores the use of hexamethylenediamine in the automotive industry.
By enabling the production of lightweight and high-performance materials such as nylon 66, HMDA helps reduce the overall weight of vehicles. Light weighting is a critical focus area for automotive manufacturers as it contributes to improved fuel efficiency and reduced emissions, meeting the industry's sustainability goals.
Competitive Landscape
Leading companies are focusing on factors such as new developments, product standards, and customer relationships. Market players continuously strive to develop new applications, improve product performance, and expand their market presence to gain a competitive edge.
For instance :
In 2022, Ascend Performance Materials announced the development of a new facility for specialty chemicals and hexamethylenediamine in Lianyungang, China.
Key Segments of Hexamethylenediamine Industry Research
By Application :

Nylon Synthesis
Curing Agents
Lubricants
Biocides
Coating Intermediates
Adhesives
Water Treatment Chemicals
Others

By End Use :

Automotive
Textiles
Paints & Coatings
Petrochemicals
Others

By Region :

North America
Europe
Asia Pacific
Latin America
Middle East & Africa
- FAQs -
The global hexamethylenediamine market is valued at US$ 7.5 billion in 2023.
Worldwide demand for hexamethylenediamine is set to reach a market value of US$ 17 billion by 2033.
The market for hexamethylenediamine is projected to increase at a CAGR of 8.5% through 2033.
The automotive industry holds 50% share of the global market.
Invista, Asahi Kasei Corporation, and Ascend Performance Materials are prominent hexamethylenediamine manufacturers.