Nylon Market Revenue Pool to Expand 1.7X during 2019 - 2029
Characteristics such as high tensile strength, high elasticity, and superior abrasion resistance have slated the global nylon market to exhibit a promising 5.5% CAGR during the forecast period. Unique product properties of nylon position it as a viable substitute to materials such as steel, bronze, brass, gunmetal, and rubbers. Surging demand for fuel efficiency on the back of stringent carbon emission regulations propel the use of nylon 6 and nylon 66. Owing to its nimble weight and strong composition, Nylon is used in automotive engine components such as bearings, oil containers, fuse boxes, crankcases, and timing belts. Advancements in material sciences is expected to innovate end-use applications for mass-adoption of nylon during the forecast period.
Automotive Industry- Key Revenue Generator
The versatile material finds applications in a lot of industries, from cloth manufacturing to appliance components of which, automotive applications generate maximum demand. The automotive application segment accounts for 1/3rd market share. Other remunerative applications are textile and electrical & electronics. Both these segments will grow at a promising 6.2% and 6.7% CAGR respectively. Adaptability of nylon to mix with other raw materials such as silk and cotton are propelling its demand for textile applications of the product. Consumer trends such as form fitting bottoms for women are an additional factor that generate demand for nylon textiles. Rising preference for heat resistance, strength, aesthetic appearance, and light weight components makes nylon a viable alternative for electrical & electronic applications.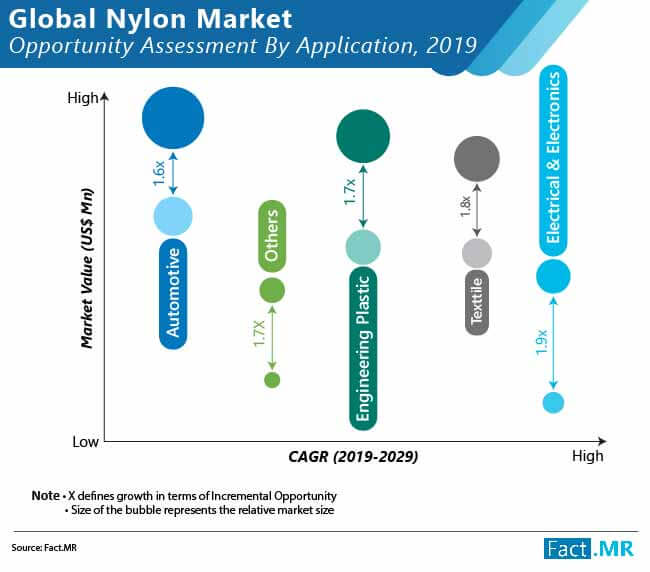 East Asia Leads Global Sales, South Asia & Oceania to Offer Lucrative Prospects
East Asia commands global sales garnering more than half of the total market value. This can be attributed to the presence of major nylon producing countries in this region. For instance, China is among the largest producer and consumer of nylon variants. Automotive and textile manufacturers in these countries employ nylon 6 and nylon 66 in various use-cases. North America and Europe, collectively account for over 1/4th of global sales. Early adopters are innovating applications in untapped industry verticals along with continuous demand from textile applications. However, the highest growth can be attributed to South Asia & Oceania. On the back of booming economic development in Indonesia and Singapore, South Asia & Oceania exhibit a robust 7% CAGR during the forecast period.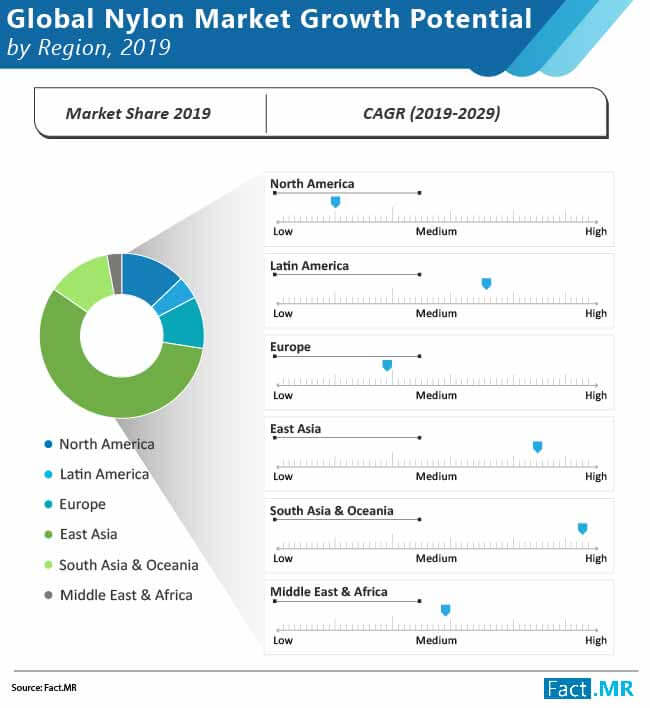 Nylon Market Receiving Tailwinds from Green Production and Industrial Automation
Market players are investing in environment friendly production, capacity expansion, and industry 4.0 technologies. The competitive landscape is shaped by factors such as production capacity, cost of manufacturing, and environmental impact. Innovation in sustainable films and coating for flexible packaging are set to garner increased customer traction. Nylon manufacturers must enhance their product portfolio by decreasing their carbon emissions. For instance, Bio-based monomers are an ideal alternative to conventional monomers used in nylon manufacturing, as they are cost efficient and reduce greenhouse gas emissions. Leading organizations in the global nylon market are, but not limited to, BASF SE, Lanxess AG, Huntsman Corporation, AdvanSix Inc, Ube Industries Ltd., INVISTA, Domo Chemicals, Toray Industries, Inc., Ashley Polymers Inc., Ascend Performance Materials LLC, Toyobo Co. Ltd., and Goodfellow Group.
Global Nylon Market – Scope of the Report
The following report provides forecast and analysis of the global nylon market along with the historical data of 2014, estimated data 2019 and forecast data up to 2029 in terms of value (US$ Mn) and volume (Kilo Tons), according to a Fact.MR study. The research propounds critical trends that are currently influencing growth within the global nylon market along with several macro-economic indicators. This newly published and insightful report on nylon sheds light on key dynamics, and their impact on the overall value chain from suppliers to end-users, which are expected to transform the future of the global nylon market.
The report also comprises the study of current issues with end users and opportunities for nylon. It also contains value chain analysis, including the key market participants. To provide users of this report with a comprehensive view of the market, we have included a detailed competitive analysis about the key players involved in the market and strategic overviews. The dashboard included in the report provides a detailed comparison of nylon manufacturers on parameters such as total revenue, product offerings, and key strategies. A list of key companies operating in the nylon market provided in the report adds to the credibility of this exhaustive research study.
Global Nylon Market: In-Depth Assessment on Key Segments
The global nylon market is segmented on the basis of material, application and region.
| | | |
| --- | --- | --- |
| Product | Application | Region |
| Nylon 6 | Automobile | North America |
| Nylon 66 | Engineering Plastic | Latin America |
| | Textile | Europe |
| | Electrical & electronics | East Asia |
| | Others | South Asia & Oceania |
| | | Middle East & Africa |
This taxonomy and the detailed TOC prepared are confidential and intended exclusively for the individual or entity with whom it is being shared. Reading, disseminating, distributing, or copying this to any party other than addressee(s) is unauthorized and prohibited.
Country-specific assessment on demand for nylon has been provided for each regional market, along with the market size valuation and forecast price point assessment, price index and impact analysis of key regional and country-wise dynamics, which were obtained through quotes from numerous nylon manufacturers, experts, and suppliers. Y-o-Y growth projections have also been offered on all regional markets incorporated in the report. Moreover, future trends, growth prospects, and other possibilities related to the market have been answered in the report.
The report provides company-level market share analysis, which has been derived on the basis of the company's annual sales and segmental revenue in all the target end-use industries. The market has been forecasted based on constant currency rates. The report provides detailed competitive and company profiles of key participants operating in the global nylon market. Some of the major competitors operating in the nylon market are BASF SE, Lanxess AG, Huntsman Corporation, AdvanSix Inc and others.
Global Nylon Market: Research Methodology
A number of primary and secondary sources were consulted during the course of the study. Secondary sources include Factiva, Morningstar and Hoovers, and company annual reports and publications. Comprehensive interviews have been conducted by our analysts, and the intelligence and insights obtained have been used for validating the information gained through secondary research. The report also includes a description of assumptions and acronyms utilized for research purposes. Data gathered has been validated using the triangulation method to offer useful quantitative and qualitative insights into the nylon market.
A short market viewpoint offered in the report elucidates the macro-economic aspects that influence the growth of the nylon market, which includes global GDP growth rate, various industries growth rate such as Automobile, Engineering Plastic, Textile, Electrical & Electronics and others. This report serves as an authentic resource of intelligence on the nylon market, enabling the readers to take fact-based decisions on the future direction of their businesses.
Fact.MR offers custom research services that help clients to get specific research solutions
We are committed towards customer satisfaction and quality service.
---
Our Clients

Nylon Market Forecast, Trend Analysis & Competition Tracking - Global Market Insights 2019 to 2029