Industrial Chocolate Market
Industrial Chocolate Market Analysis, By Product (Cocoa Butter, Cocoa Liquor, Cocoa Powder), By End Use (Confectionery, Biscuits & Bakery Products, Dairy & Desserts, Ice Creams & Frozen Items, Cereals, Others), By Region – Global Market Insights 2023 to 2033
Analysis of Industrial Chocolate Market Covering 30+ Countries Including Analysis of US, Canada, UK, Germany, France, Nordics, GCC countries, Japan, Korea and many more
Industrial Chocolate Market Outlook (2023 to 2033)
The global industrial chocolate market is estimated to be valued at US$ 62.4 billion in 2023 and reach US$ 97 billion by 2033, expanding at a CAGR of 4.5% from 2023 to 2033.
The food and beverage industry is benefiting from increased consumer awareness and interest in various brands. People are becoming more responsible and seeking information about the sourcing, production, and other aspects of food products. Growing environmental and ethical concerns are expected to drive demand for certified chocolate worldwide.
Industrial chocolate is typically sweet and brown and is derived from cocoa paste and chocolate liquor. Conching is a procedure that involves adding butter and other ingredients, such as powdered milk and sugar, to cocoa liquor or paste. The process of manufacturing industrial chocolate has low technological barriers, which allows many companies around the world to engage in chocolate production.
United States predicted to account for close to one-sixth share of the global market for industrial chocolate by 2033.
People around the world are becoming more aware of the health benefits of consuming cocoa-rich products. Cocoa has been found to help reduce chronic fatigue syndrome and hypertension. Additionally, it contains polyphenols which can protect bodily tissues from inflammation, cancer, and oxidative stress.
Over the next decade, the sales of various chocolate products such as dark, sweet, and milk chocolate are projected to surge, owing to their increasing popularity. Manufacturers are also investing heavily in advertising to improve brand awareness. Moreover, the adoption of visually attractive packaging solutions to attract consumers and the trend of offering premium chocolate products are expected to create profitable prospects for the chocolate industry.
Chocolate manufacturers have been introducing new varieties of chocolates such as vegan, gluten-free, organic, and sugar-free to meet consumers' changing preferences. This increasing focus on research and development is expected to create fresh opportunities for chocolate suppliers in the market.
Suppliers of industrial chocolate may face challenges due to factors such as the growing market for chocolate substitutes, unpredictable weather conditions, and the high cost of raw materials. Despite this, the high cocoa content of dark chocolates, which contain minerals and antioxidants, presents significant opportunities for the industry.
This research report, published by Fact.MR, a provider of market research and competitive intelligence, covers not only market insights such as market scenario, market value, key players, growth rate, geographical coverage, and market segments, but also other aspects such as consumer behavior, production consumption analysis, patent analysis, and import/export analysis.
Report Attributes

Details

Industrial Chocolate Market Size (2023)

US$ 62.4 Billion

Forecasted Market Value (2033)

US$ 97 Billion

Projected Market Growth Rate (2023 to 2033)

4.5% CAGR

Europe Market Growth Rate (2023 to 2033)

4.3% CAGR

Projected Market Value for United States (2033)

US$ 15 Billion

Key Companies Profiled

Aalst Chocolate Pte Ltd.
Nestle SA
Mondelez International, Inc.
Lotus Chocolate Co. Ltd.
The Hershey Company
Guittard Chocolate Company
Fuji Oil Co. Ltd.
Clasen Quality Chocolate, Inc.
Which Factors are Contributing to the Increasing Consumption of Industrial Chocolate?
"Growing Demand for Health-promoting Food Products Driving Sales of High-quality Industrial Chocolate"
The growing popularity of organic and sugar-free chocolates is expected to drive their sales in the coming years. Additionally, the increasing demand for chocolate-flavored snack bars among young consumers and busy professionals who are always on the go could further boost the demand for these products in the next decade.
Changing consumption patterns and lifestyles can be addressed by innovations in chocolate manufacturing and the introduction of new confectionery products. Consumers are showing a growing preference for organic products over synthetic-colored ones. Additionally, the popularity of chocolate-based breakfast options such as sandwiches, smoothies, yogurt, and energy bars is contributing to the increased demand for chocolates.
In recent years, consumers have shown a preference for products that promote health. There is an inclination to consume high-quality chocolate that is pure and dark in color. This type of chocolate is considered healthier than regular sweets due to its low sugar content and high antioxidant content.
"Industrial Chocolate Market Benefitting from Increasing Consumption of Dark Chocolates"
Epicatechin, a potent antioxidant, is a type of flavonoid commonly present in dark chocolates, which have a higher concentration of cocoa and therefore a higher content of healthier flavonoids. Chocolates that contain at least 70% cocoa are considered to be the most beneficial. Research suggests that people who consume chocolates, particularly dark chocolate, at least once a week are less likely to develop diabetes.
Thus, to meet the rising demand for dark chocolates from global consumers, various end-use industries, including the confectionery industry, are investing in R&D activities and introducing cookies and chocolates that contain higher cocoa content.
What Can Be a Restricting Factor for the Demand for Chocolates?
"Growing Demand for Chocolate Substitutes and Equivalents"
Currently, there is a global demand for cocoa substitutes, such as rapeseed oil, soybean oil, palm oil, and others, which may have a negative impact on the sales of industrial chocolate due to the cost-effectiveness and widespread availability of these alternatives.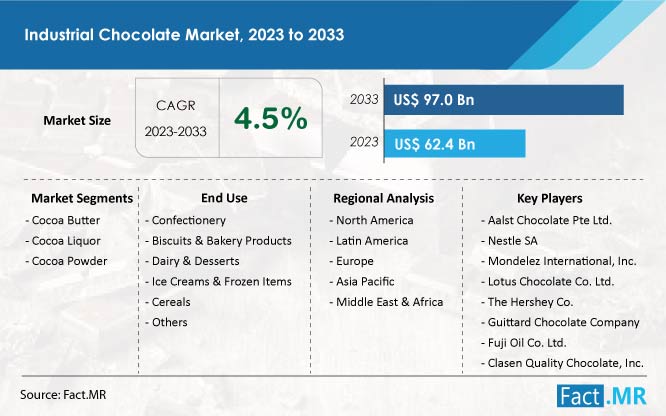 Why Does Europe Hold a Leading Share of the Industrial Chocolate Market?
"Increasing Investments by European Chocolate Manufacturers in Innovation"
Demand for industrial chocolate in Europe is anticipated to increase at a CAGR of 4.3% through 2033.
The region holds a significant share of the global industrial chocolate industry as key players are making substantial investments in innovative product development and new offerings.
Europe is a leader in the production, consumption, and export of dark chocolate.
European companies are entering into partnerships with wine-tasting experts to promote their chocolate-based products. Furthermore, innovative chocolate-based offerings from Nordic and Scandinavian countries have the potential to contribute to the demand for industrial chocolate in Europe.
Country-wise Insights
Why is Demand for Industrial Chocolate Growing in South Korea and Japan?
"Rising Awareness about Health Benefits of Cocoa"
The popularity of natural and organic products is growing in South Korea. Industrial chocolate manufacturers in this country are increasingly adopting organic- and kosher-certified cocoa as raw materials.
In Japan, demand for chocolates is being driven by the rising awareness about the health benefits of cocoa as it is rich in polyphenols that promote healthy aging.
Why Does the United States Account for a High Market Share?
"Growing Adoption of Veganism Fueling Sales of Chocolates"
Increasing preference for vegan food products over dairy products is fueling the sales of chocolate in the country. Furthermore, the country is witnessing a surge in demand for fiber-enriched and protein-enriched products, which is in turn pushing the demand for industrial chocolate.
Sales of industrial chocolate in the United States are forecasted to reach US$ 15 billion by the end of 2033.
How is Demand for Industrial Chocolate Shaping Up in Germany?
"Growing Demand for Premium Textured Chocolates"
Germans are known to indulge in chocolates on impulse, and they prefer textured chocolates that include cereals or grains. Rising health consciousness is contributing to the demand for sugar-free chocolates in the country.
Premium textured chocolates with cereals or grains are particularly popular among consumers in Germany, and Nestlé, Mondelez International, Hershey's, Ferrero, and Mars Incorporates are the key manufacturers in this country. Additionally, the rising trend of veganism in Germany is prompting industry players to expand their product offerings and create new opportunities for growth.
Category-wise Insights
Why is Cocoa Butter a High Revenue Generation Segment on a Global Scale?
"Increasing Adoption of Cocoa Butter in Food & Beverage Industry"
Based on product, the global industrial chocolate market is classified into cocoa butter, cocoa liquor, and cocoa powder. Food service industry leaders are driving demand for multifunctional, value-added, and more customizable solutions. Cocoa butter and cocoa powder are widely used in the production of various items such as cookies, desserts, and other products.
The cosmetics industry also makes extensive use of cocoa butter due to the growing trend of using all-natural skincare products. Additionally, the pharmaceutical industry is leveraging the physical properties of cocoa butter, as cocoa beans are rich in antioxidants like flavonoids and polyphenols, which boost immune health, alleviate constipation, and promote heart health.
Which End-use Application is Expected to Hold a Substantial Revenue Share of the Industrial Chocolate Market?
"Chocolate-flavored Dairy & Desserts Generating Substantial Revenue"
Growing usage of chocolate flavorings is boosting sales of creams, yogurts, and milk products. Chocolate-flavored yogurts and a variety of other unique products are gaining popularity all over the world. The utilization of different cocoa shades, including dark red, light brown, dark brown, and even black, is anticipated to further enhance sales of chocolates.
The dairy & desserts segment is forecasted to expand at a CAGR of 4.3% from 2023 to 2033.
Competitive Landscape
Manufacturers of industrial chocolate are making significant investments to expand their operations worldwide. These providers are strengthening their supply chain management systems to meet the growing demand for dark chocolate. They are committed to delivering high-quality products to end-users while adhering to environmental regulations imposed by governing bodies.
Prominent manufacturers of industrial chocolate are involved in mergers and acquisitions, product developments, and other effective strategies to gain a competitive edge in the industry.
For instance:
In March 2022, Barry Callebaut announced the expansion of its unit in Campbellfield, Melbourne, Australia. This strategic initiative is aimed at strengthening the company's presence in Asia Pacific by focusing on the development of safe and high-quality products.
Blommer Chocolate Company is a subsidiary of Fuji Co., Ltd. In January 2022, the company announced the opening of its R&D laboratory in Chicago. This facility is expected to enhance the company's R&D capabilities and enable it to explore innovative and improved ways to support its business.
Aalst Chocolate Pte Ltd., Nestle SA, Mondelez International, Inc., Lotus Chocolate Co. Ltd., The Hershey Company, Guittard Chocolate Company, Fuji Oil Co. Ltd., and Clasen Quality Chocolate are key providers of industrial chocolate.
Segmentation of Industrial Chocolate Industry Research
By Product :

Cocoa Butter
Cocoa Liquor
Cocoa Powder

By End Use :

Confectionery Products
Biscuits & Bakery Products
Dairy & Desserts
Ice Creams & Frozen Items
Cereals
Others

By Region :

North America
Europe
Asia Pacific
Latin America
Middle East & Africa
- FAQs -
The global industrial chocolate market is estimated at US$ 62.4 billion in 2023.
Consumption of industrial chocolate is projected to increase at a CAGR of 4.5% from 2023 to 2033.
Sales of industrial chocolate are expected to reach US$ 97 billion by the end of 2033.
Europe is predicted to hold a noteworthy share of the global industrial chocolate market.
Demand for industrial chocolate in the United States is anticipated to reach US$ 15 billion by 2033.
The Hershey Company, Nestlé, and Mondelez International are leading suppliers of industrial chocolate.