Isoprenol Market
Isoprenol Market Analysis by Application (Isoprenol for Agrochemicals, Pharmaceuticals, Flavors & Fragrances, Polymers), by Region (North America Isoprenol Market, Europe Isoprenol Market) - Global Insights 2022-2032
Analysis of Isoprenol market covering 30 + countries including analysis of US, Canada, UK, Germany, France, Nordics, GCC countries, Japan, Korea and many more
Isoprenol Market Outlook (2022-2032)
The global isoprenol market accounted for a valuation of US$ 190 Million in the end of 2021. The worldwide market is gaining traction and is expected to grow at a CAGR of 6.5%, earning US$ 375 Million in market revenue between 2022 and 2032.
Report Attributes
Details

Anticipated Base Year Value (2021)

US$ 190 Million

Expected Market Value (2022)

US$ 200 Million

Projected Forecast Value (2032)

US$ 375 Million

Global Growth Rate (2022-2032)

6.5% CAGR

Growth Rate of the U.S (2022-2032)

6.3% CAGR

Expected Market Value of China (2032)

US$ 100 Million

Key Isoprenol Service Providers

BASF SE
Kuraray Co. Ltd.
Amyris, Inc.
Spectrum Chemical Manufacturing Corp.
Tokyo Chemical Industry Co. Ltd.
Toronto Research Chemicals Inc.
Haihang Industry Co. Ltd.
Sure Chemical Co. Ltd.
As of 2022, the market is poised to reach US$ 200 Million, following a Y-o-Y growth trajectory of 5.2%. Manufacturing advancements, together with increased use in perfumes, agrochemicals, medicines, and flavors are likely to boost isoprenol providers' income in the future years.
Isoprenol is largely utilized in pharmaceuticals, aroma chemicals, agrochemicals, and polymers. It is mostly used as a building block for aromatic compounds. Because of its favorable physical and chemical qualities, isoprenol is also gaining appeal in the global market. In the agrochemicals sector, isoprenol is commonly used to make herbicides and insecticides.
Because it is an environmentally benign chemical, it is widely utilized in crop protection chemicals such as fungicides, herbicides, and insecticides. Increased crop infestations have pushed modern farmers to rely on agrochemicals that boost output while reducing crop loss. The growth of the agrochemicals sector is increasing demand for isoprenol, propelling the worldwide isoprenol market.
Know thy Competitors
Competitive landscape highlights only certain players
Complete list available upon request
Isoprenol Market Revenue Analysis 2015-2021 vs. Future Outlook 2022-2032
Isoprenol Market Revenue Analysis 2015-2021 vs. Future Outlook 2022-2032
According to Fact.MR, isoprenol sales increased at a CAGR of 4% from 2015 to 2021. The market has grown in recent years as applications in a variety of industries, including agrochemicals and flavors and fragrances, to mention a few, have increased. Furthermore, the increasing number of R&D activities and technologies introduced by important firms boosted industry growth.
Prospects deteriorated substantially during the COVID-19 pandemic, as the disease's highly infectious nature compelled the chemical sector to cease operations. Due to personnel shortages and problems in raw material delivery, manufacturing activities were reduced to 40-60% capacity. This impact, however, rapidly disappeared as the second half of 2020 allowed for the restart of activities, recovering demand.
Isoprenol manufacturers are likely to flourish on innovative technological and chemical solutions. They are likely to acquire more income in the approaching years due to a rise in demand from key application industries. Overall, the business is expected to rise at a CAGR of 6.5% through 2032, amassing US$ 375 Million during the following 10 years.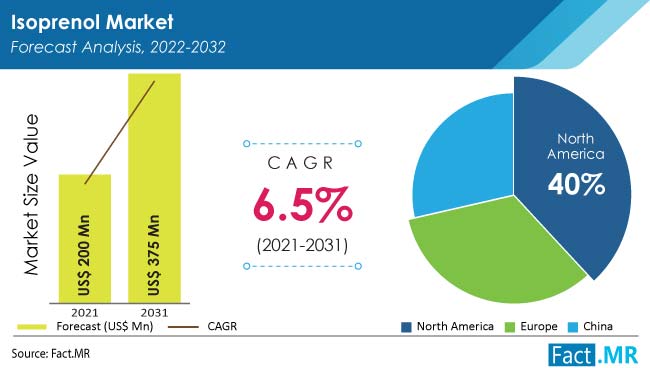 Prominent Isoprenol Industry Growth Drivers
High Demand for Agrochemicals to Support the Growth of the Isoprenol Industry
Isoprenol is widely utilized in the agrochemical industry in a variety of applications. The manufacture of crop protection chemicals, insecticides and pesticides all rely significantly on isoprenol. Manufacturers of isoprenol are projected to benefit from increased demand from this industry in the future years.
According to a SelectUSA study titled "Agribusiness Spotlight," U.S. agribusiness is a key contributor to the worldwide isoprenol sector, contributing over US$ 159 billion in sales to the U.S. economy in 2018. According to the research, Foreign Direct Investment (FDI) in the United States agricultural industry was more than US$ 14 Billion in 2018. As a result, these numbers provide a glimpse of the expanding potential for isoprenol providers worldwide.
Flavors and Perfumes to Provide Profitable Opportunities in the Isoprenol Market
The worldwide isoprenol market has been segmented by application into agrochemicals, pharmaceuticals, flavor & fragrance, polymers, and others. During the forecast period, the flavor and fragrance sector is expected to dominate the worldwide isoprenol market. In 2019, the taste and fragrance category accounted for a sizable portion of the worldwide isoprenol market.
The segment is expected to grow considerably in terms of volume throughout the projected period. By 2032, the category is expected to account for more than 30% of the worldwide isoprenol market. Agrochemicals are chemical compounds used in agricultural farmlands to replenish nutritional deficiencies in fields or crops. They also help crops develop by destroying hazardous insects. Agrochemicals increase the quantity and quality of agricultural goods. They are utilized in horticulture, dairy farming, cattle, grain farming, and commercial planting, among other agricultural areas.
Key Challenges Prevalent in the Global Isoprenol Market
Dangerous Effects of Raw Materials on the Isoprenol Market
Isobutene and formaldehyde are two of the most important raw materials utilized in the production of isoprenol and prenol, both of which are classed as hemiterpene alcohols. Isobutene is dangerous to both humans and the environment. When breathed in significant quantities, isobutene has a negative impact on the lungs.
Contact with liquid isobutene can induce frostbite, while contact to isobutene can cause eye, nose, and throat irritation. In addition, it produces headaches, dizziness, lightheadedness, and weariness. Higher levels of isobutene exposure can also cause coma and death.
Isobutene is a highly flammable gas that poses a serious fire risk. Price volatility, uncertainty in raw material supply, and the availability of replacement compounds are all predicted to stymie the isoprenol industry in the near term.
Country-wise Analysis
What is the Growth Outlook for Isoprenol in North America?
Biopharmaceutical Industry Increasing Isoprenol Demand
According to a SelectUSA analysis titled "The Biopharmaceutical Industry in the United States," the entire economic effect of the U.S. biopharmaceutical industry in 2018 includes US$ 558 billion in sales. According to the research, more than 800,000 individuals work in the biopharmaceutical industry in the United States, which supports approximately 5 million employments.
Furthermore, the surge in demand from the agrichemical and pharmaceutical industries is fueling the expansion of the country's isoprenol producers. As a result, the United States dominates isoprenol sales in North America and is anticipated to do so for the foreseeable future. As a result of the aforementioned factors, North America is estimated to account for about 40% of the isoprenol market during the assessment period.
How do Growth Prospects appear in the European Market?
Pharmaceutical Industry Creating Isoprenol Opportunities in Germany
According to a 2019 study issued by the European Federation of Pharmaceutical Industries and Associations (EFPIA), the pharmaceutical sector in Europe invested more than EUR 35,300 million in R&D, with Germany accounting for the majority of the contribution.
According to the research, Europe accounts for 23.2% of worldwide pharmaceutical sales, with Germany accounting for the lion's share of these sales on the continent. As a result, isoprenol makers in the nation are finding new opportunities.
Germany is a hub for isoprenol providers, because to its modern pharmaceutical and manufacturing industries. As a result, Germany dominates Europe's isoprenol market. As a result, Europe will account for almost 35% of the isoprenol market over the projection period.
Is China likely to emerge as an Opportunistic Isoprenol Industry?
According to a SelectUSA analysis, the value of China's pharmaceutical business reached over US$ 134 billion in 2018 and is expected to reach US$ 154 billion in 2020. A market share worth 30% market share
According to the research, with the Chinese government boosting spending in healthcare and R&D, China provides significant prospects for breakthrough pharmaceutical goods and technology. Increased demand from the pharmaceutical and flavor and fragrance sectors is driving up sales in China.
Region-wise Market Shares in the Isoprenol Market
| Country wise Analysis | Growth Rate |
| --- | --- |
| North America | 40% |
| Europe | 35% |
| China | 30% |
Category-wise Insights
Why is Demand for Agrochemicals Rising Rapidly?
Surging Popularity of Isoprenol in Agrochemical Application Top Growth Driver in the Coming Years
Isoprenol is commonly used in the production of pesticides and insecticides. This is because isoprenol is environmentally benign and does not impair crop development. Furthermore, isoprenol has the potential to be used as a biofuel.
Thus, agrochemicals, together with flavors and fragrances, are the most profitable areas in terms of application, and are projected to maintain their dominance in the next years. According to Fact.MR, agrochemicals will account for roughly 40% of the isoprenol market throughout the forecast period.
Competitive Landscape
The global market for isoprenol is very fragmented. In 2019, Jilin Zhongxin Chemical Group Co., Ltd. and Andeshengtec owned more than half of the worldwide isoprenol market. Prominent isoprenol and related product producers are pursuing a variety of growth strategies. These often entail the introduction of new product lines, the formation of alliances, and the modification of existing product prices. The following are some noteworthy developments:
Kuraray Co. Ltd. stated in June 2021 that it would raise the pricing of its isoprene chemical derivative products, which would take effect on July 1. The rise is in the range of 10-30%, and it applies to all items for both domestic and international shipping. This action was taken in order to restore the company's profitability.
Haihang Industry Co. Ltd., a leading isoprenol producer, received ISO9001: 2005 quality management accreditation in April 2019. This demonstrates that its corporate administration has become more standardized.
Key Segments Covered in the Isoprenol Industry Report
Isoprenol by Application :

Agrochemicals
Pharmaceuticals
Flavors & Fragrances
Polymers
Others

Isoprenol by Region :

North America
Latin America
Europe
East Asia
South Asia
Middle East & Africa
- FAQs -
By 2022, Fact.MR expected demand for Isoprenol to reach US$ 200 Million
Fact.MR expects the North American market for isoprenol to accumulate 2/5th revenue
From 2015-2021, the Isoprenol market grew at a 4% value CAGR
From 2022-2032, Isoprenol demand is likely to surge at a 6.5% CAGR
By 2032, the market for Isoprenol is likely to be valued at US$ 375 Million
As of 2021, Fact.MR estimated the Isoprenol market to have reached US$ 190 Million
Europe is expected to garner a revenue share of 35% in 2022 and beyond, as per Fact.MR
China is expected to accumulate a revenue share of 30% during the forthcoming decade
Agrochemicals will account for roughly 40% of the isoprenol market throughout the forecast period.