Ketone Supplements Market
Ketone Supplements Market Analysis By Product Type (Tablets/Capsules, Powder, Gummies, Liquid), By Distribution Channel (Hypermarkets/Supermarkets, Convenience Stores, Specialist Stores, Online) & By Region - Global Market Insights 2023 to 2033
Analysis of Ketone Supplements Market Covering 30+ Countries Including Analysis of US, Canada, UK, Germany, France, Nordics, GCC countries, Japan, Korea and many more
Ketone Supplements Market Outlook (2023 to 2033)
The global ketone supplements market stands at a valuation of US$ 4.53 billion in 2023. According to this latest study by Fact.MR, a market research and competitive intelligence provider, worldwide sales of ketone supplements are predicted to increase at a CAGR of 6.5% and reach US$ 8.5 billion by 2033.
Ketone supplements are a type of dietary supplement that contain exogenous ketones, which are ketones produced outside the body. Ketones are organic compounds that serve as an alternative source of energy for the body when glucose availability is limited, such as during a low-carbohydrate or ketogenic diet regime. A blood ketone meter is a medical equipment to monitor ketone levels in the body.
Exogenous ketones come in different forms, including ketone salts and ketone esters. Ketone salts are compounds that combine ketone bodies with minerals, such as sodium, potassium, or magnesium. On the other hand, ketone esters are pure ketone bodies without any additional compounds. These supplements are variations of the ketone beta-hydroxybutyrate (BHB), which one's body ordinarily produces on its own.
The main purpose of ketone supplements is to increase the level of ketones in the bloodstream, thereby inducing a state of ketosis. Ketosis is a metabolic state in which the body primarily relies on ketones for fuel instead of glucose. This state is typically achieved through a strict low-carbohydrate, high-fat diet. However, ketone dietary supplements provide a shortcut to elevate ketone levels without having to strictly adhere to a specific diet.
Tablets/capsules, powders, gummies, and liquid are types of ketone supplements. Oral exogenous ketones such as tablets/capsules or gummies are widely popular among many consumers. Oral ketone diet supplements are easy to consume and require no special preparation, making them convenient for people to consume on the go.
Keto BHB capsules are gaining popularity among athletes and fitness enthusiasts. They are believed to enhance endurance, improve recovery, and potentially boost overall performance by providing an alternative energy source during exercise.
Report Attributes
Details

Ketone Supplements Market Size (2023E)

US$ 4.53 Billion

Forecasted Market Value (2033F)

US$ 8.5 Billion

Global Market Growth Rate (2023 to 2033)

6.5% CAGR

Leading Regional Market

North America

Emerging Regional Market

Asia Pacific

Key Companies Profiled

Perfect Keto
HVMN Inc.
BPI Sports
Ketologic
Pruvit Ventures Inc.
Ketoneaid Inc.
Sapien Body
Zhou Nutrition LLC
Finaflex
Keto and Company
Nutrex Research
Ancient Nutrition
Zenwise Health
Ketond LLC
Don't Need a Global Report?
save 40%! on Country & Region specific reports
What's Generating Potential Market Opportunities for Ketone Supplement Manufacturers?
"Rising Prevalence of Chronic Disorders and Cancer across Regions"
Prevalence of chronic diseases such as diabetes, cardiovascular diseases, obesity, and various types of cancer is increasing due to hectic lifestyles, unhealthy eating habits, sedentary lifestyles, excessive alcohol consumption, and smoking. Obesity, in particular, is a significant cause of mortality worldwide as it causes severe illnesses and health complications. Consequently, individuals worldwide are becoming more conscious of maintaining good health and fitness, leading them to seek authentic, proven, and safe methods to lose weight and stay fit. As a result, there is a rising demand for organic or natural dietary supplements and products that can aid in appetite reduction and promote weight loss with minimal or no side effects.
In April 2022, Jimmy's Healthy Foods Inc. added a new product to its lineup, the Keto-Friendly Chocolate Fudge Pudding.
Consumers in both developed and developing countries are shifting their preferences towards healthier foods and lifestyles. This shift towards prioritizing health and wellness is expected to have a positive influence on the growth of the ketone supplements market during the forecast period.
"Increased Adoption of Ketone Supplements by Sports and Fitness Enthusiasts for Improved Performance, Endurance, and Recovery"
Consumption of ketone supplements such as keto BHB pills, ketone protein powder, and ketone powder drinks by the sports and fitness communities is being driven by the growing interest in the potential performance benefits of ketosis. Athletes and fitness enthusiasts are increasingly exploring the use of ketone supplements to enhance their athletic performance and improve their overall fitness levels.
Ketone supplements are believed to provide an alternative energy source for the body, which can be particularly advantageous during endurance activities. Normally, the body relies on carbohydrates (glucose) as its primary fuel source during exercise. However, when following a ketogenic diet or supplementing with exogenous ketones, the body enters a state of ketosis where it shifts to utilizing ketone bodies as a fuel source instead.
One potential benefit of ketone supplements for athletes is improved endurance. By utilizing ketone supplements, athletes can tap into their body's fat stores more efficiently, reducing reliance on glycogen stores. This can delay the onset of fatigue and allow athletes to sustain performance for longer durations, making ketone supplements particularly appealing for endurance-based sports such as long-distance running, cycling, or triathlons. This is further boosting the nutritional supplements market growth.
Ketones have been suggested to reduce the production of lactate during exercise, potentially improving athletes' ability to maintain high-intensity efforts and recover more effectively between training sessions. Another aspect that is attracting athletes and fitness enthusiasts towards ketone supplements is their potential to spare glycogen.
Since glycogen is the limited storage form of glucose in the body, preserving it during exercise is crucial for maintaining performance. Ketone supplements may help preserve glycogen levels by providing an alternative energy source, allowing athletes to sustain their efforts for a longer time before glycogen depletion occurs. All these factors are driving market growth.
What are the Key Challenges That Manufacturers of Ketone Supplements Need to Tackle?
"Limited Awareness of Benefits of Ketone Supplements and High Product Price"
Ketone supplements and the concept of ketosis are still relatively new to many consumers. Limited awareness and understanding of their benefits and usage are anticipated to hinder revenue growth for ketone supplement producers.
Compared to other dietary supplements, ketone supplements are often priced higher due to the complex production process and the high quality of ingredients. Price sensitivity among some consumers is expected to limit their willingness to invest in these products, particularly if they perceive them as expensive or not providing sufficient value.
More Insights, Lesser Cost (-50% off)
Insights on import/export production,
pricing analysis, and more – Only @ Fact.MR
How Can New Product Manufacturers Gain Ground in This Competitive Space?
"Emphasis of Start-ups on Innovative Ketone Supplement Formulations & Clean-label Manufacturing"
Developing unique and innovative ketone supplement formulations, flavors, and delivery methods can help newcomers differentiate themselves in the market. Creating products that offer distinct benefits, such as faster nutrient absorption, can attract consumers looking for effective dietary solutions.
Focusing on the use of high-quality ingredients, efficient manufacturing processes, and clean labeling can help manufacturers foster trust among consumers. By effectively conveying information about the sourcing, manufacturing standards that prioritize clean-labeling, and rigorous testing procedures of ketone supplements, newcomers can gain a competitive advantage, especially in a market where consumers highly value quality and authenticity.
"Targeted Marketing & Awareness Campaigns"
Educating consumers about the benefits and applications of ketone supplements is crucial. New entrants can invest in targeted marketing campaigns, social media engagement, and informative content to raise awareness and educate potential customers about the specific advantages of their products.
"Collaborations & Partnerships with Fitness Experts for Building Customer Loyalty"
Forming strategic alliances with fitness influencers, athletes, wellness experts, or health professionals can help new entrants expand their reach and credibility. Collaborating with reputable individuals or organizations in the health and fitness industry can provide endorsements, increase brand visibility, and attract loyal customers.
By capitalizing on these trends and implementing effective marketing, branding, and distribution strategies, newcomers in the ketone supplements market can position themselves for success and earn larger market shares.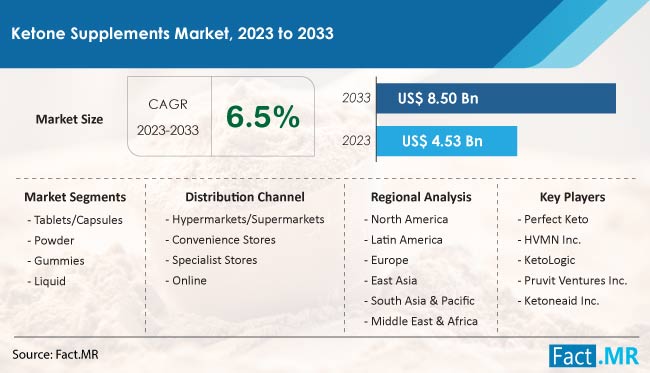 Country-wise Analysis
What's Attracting the Majority of Ketone Supplement Suppliers to the United States?
"Rising Health-consciousness and Growing Adoption of Ketogenic Diets"
Increasing prevalence of chronic diseases, rising health consciousness, and the growing popularity of ketogenic diets are boosting sales of ketone supplements in the United States. The country is well known for product innovation, with manufacturers of ketone supplements introducing a variety of ketone supplement formulations, flavors, and delivery methods.
Strategic alliances with fitness influencers, athletes, and health professionals are playing a crucial role in increasing brand visibility and attracting consumers in the country.
Why is the United Kingdom a Profitable Market for Suppliers of Ketone Supplements?
"Consumers' Increasing Focus on Weight Management and Enhanced Sports Performance"
Sales of ketone supplements in the United Kingdom are rising rapidly due to the increasing consumer interest in health and wellness. The rise of low-carb and ketogenic diets, coupled with a focus on weight management and sports performance, is fueling the demand for ketone supplements.
There is a strong emphasis on product quality and transparency, with consumers prioritizing clean-label formulations and sustainable sourcing. The growing trend of personalized nutrition, with consumers seeking tailored solutions to meet their specific needs, is also boosting the growth of the United Kingdom market.
Why is Demand for Ketone Supplements Increasing Significantly in Japan?
"High Demand for Ketone Supplements Due to Their Role in Enhancing Endurance and Recovery after High-intensity Activities"
Japan has a strong health-conscious culture, and there has been a growing interest in dietary supplements and functional foods. As a result, ketone supplements, with their potential health benefits, are gaining traction in Japan.
Ketone supplements have gained strong attention in the sports and fitness community due to their potential to enhance endurance and recovery. Athletes and fitness enthusiasts in Japan are exploring these supplements as a means to improve their performance and achieve their fitness goals.
Know thy Competitors
Competitive landscape highlights only certain players
Complete list available upon request
Category-wise Analysis
Which Sales Channel is Widely Used for the Distribution of Ketone Supplements?
"Enhanced Customer Reach, Convenience, and Competitive Pricing Offered by Online Platforms Fueling Their Popularity"
The primary distribution channel for ketone supplements differs based on the region and market conditions. Online sales are growing substantially and are increasingly becoming the dominant distribution channel for a wide range of products, including dietary supplements, following general trends in the industry.
Online platforms offer a vast reach to a broader consumer base, allowing manufacturers to tap into both local and global markets. Consumers can conveniently browse and purchase ketone supplements from the comfort of their homes, eliminating the need to physically visit a store.
Competitive pricing due to reduced overhead costs compared to brick-and-mortar stores is another advantage offered by online platforms. Manufacturers and retailers frequently provide promotional discounts and offers, attracting price-sensitive consumers.
While online distribution has become increasingly significant, it is essential to note that other distribution channels such as hypermarkets/supermarkets, convenience stores, and specialist stores still play a crucial role. These channels offer the advantage of immediate product availability and potential in-store promotions, catering to consumers who prefer offline shopping experiences.
Competitive Landscape
Top companies in the ketone supplements market are investing in research and development efforts to introduce innovative ketone supplement products with unique formulations, flavors, and delivery methods. By offering distinct features and benefits, companies can differentiate themselves in the market and attract a wider customer base.
My Muscle Chef, an Australian food company, unveiled a range of innovative keto bars made from plant-based ingredients in March 2021. These healthy bars offer a nutritious snacking option for individuals following a ketogenic diet.
In July 2021, Glanbia Nutritionals made a significant debut with the launch of KetoSure MCT. This coconut-based product is carefully crafted with the enriching combination of MCT-C8 and whey protein. KetoSure MCT additive-free.
Key Segments of Ketone Supplements Industry Research
By Product Type :

Tablets/Capsules
Powder
Gummies
Liquid

By Distribution Channel :

Hypermarkets/Supermarkets
Convenience Stores
Specialist Stores
Online

By Region :

North America
Latin America
Europe
East Asia
South Asia & Oceania
MEA
- FAQs -
The global ketone supplements market is valued at US$ 4.53 billion in 2023.
Worldwide demand for ketone supplements is projected to reach a market value of US$ 8.50 billion by 2033.
Sales of ketone supplements are predicted to increase at a CAGR of 6.5% from 2023 to 2033.
Perfect Keto, HVMN Inc., BPI Sports, and Ketologic are key producers of ketone supplements.
North America holds a significant share of the global ketone supplements market.