Maleic Anhydride Market Outlook
The global Maleic Anhydride Market was valued at US$ 2.8 Billion in 2021 and is projected to be valued at US$ 2.9 Billion in 2022. During the 2022-2032 period of assessment, demand is expected to rise at a 3.4% value CAGR, likely to reach US$ 4.1 Billion by the end of the said forecast period.
Overall, the Maleic Anhydride landscape is poised to yield an absolute dollar opportunity worth US$ 1.2 Billion until 2032. Sales of Maleic Anhydride will continue to flourish, with a documented CAGR of 4.0% from 2015-2021.
Moreover, n-butane and lubricating oil additives will continue to remain the primary beneficiaries of the Maleic Anhydride Market, likely to register a CAGR worth 3.4% and 3.3% respectively, from 2022 to 2032. The US represents the highest share of the Maleic Anhydride Market.
Report Attributes

Details

Anticipated Base Year Value (2021)

US$ 2.8 Billion

Expected Market Value (2022)

US$ 2.9 Million

Projected Forecast Value (2032)

US$ 4.1 Billion

Global Growth Rate (2022-2032)

3.4% CAGR

Growth Rate of the U.S (2022-2032)

3.2% CAGR

Expected Market Value of China (2032)

US$ 293.5 Million

Dollar Opportunity in Japan (2022-2032)

US$ 39.9 Million

Key Maleic Anhydride Service Providers

Huntsman Corporation
Changzhou Yabang Chemical Co., Ltd.
Polynt-Reichhold Group
Mitsubishi Chemical Corporation
Nippon Shokubai Co., Ltd.
LANXESS AG
Gulf Advanced Chemical Industries Co., Ltd.
Yongsan Chemical Co., Ltd.
IG Petrochemicals Ltd.
MOL Plc.
PT Justus Sakti Raya
Cepsa
Ruse Chemicals
Know thy Competitors
Competitive landscape highlights only certain players
Complete list available upon request
Maleic Anhydride Market Revenue Analysis 2015-2021 vs. Future Outlook 2022-2032
Unsaturated polyester resins (UPR) are used in the production of lighter, stronger fiberglass composites for boats, cars, construction, wind turbine blades, and a diverse range of consumer products. It is a key ingredient in the manufacture of copolymers that enable the use of more sustainable raw materials, for example, to bind wood fibers into plastic, inhibit corrosion, create protective coatings for wire, and repel water in sunscreens.
Unsaturated polyester resins are used for a wide range of applications, making them a thermosetting system of major importance. These resins are compounded with varied fillers and reinforcements and cured using free-radical initiators to yield thermoset articles having a wide range of chemical and mechanical properties depending on the choice of diacids, diols, cross-linking agents, initiators, and other additives.
The demand for UPR is growing rapidly, and buildings and sanitary ware form the largest market for reinforced polyester resin (composite materials).
Demand for lightweight and fuel-saving materials may also drive the need for lighter and stronger fiberglass composites in the automotive and marine industries. Unsaturated polyester resin (UPR) is a major raw material for fiberglass composites, and hence, the demand for maleic anhydride is expected to be positive.
Construction is one of the largest end-use industries in North America. The US implemented a National Infrastructure Plan to attract USD 590 billion in infrastructure investment from 2014 to 2018.
Such developmental initiatives led to an increase in spending in the construction sector, thereby fueling the demand for UPR. The growth of the marine and automotive sectors also propelled the demand for UPR in the region in the last few years. All these factors in turn led to massive growth in the Maleic Anhydride Market.
Germany has the largest construction industry in Europe. The construction industry in the country has been growing at a slow pace, which is majorly driven by the increasing number of new residential construction activities.
According to industry experts, the completion of construction of new houses was estimated to be around 315,000 units in 2019, which was higher, when compared to total completions in 2018, which were 300,000 units. The increasing migration to the country has been stimulating the current demand for new residential construction.
?About 3.6 million migrants were expected to arrive in Germany by the end of 2020-2021, which will require at least 350,000 new dwellings per year.
Maleic anhydride serves as the raw material used to produce unsaturated polyester resins. These resins are synthesized using maleic anhydride, along with phthalic anhydride, propylene glycol, and adipic acid.
All the aforementioned factors are expected to boost the demand for maleic anhydride over the forecast period.
Commercialization of bio-based maleic anhydride
Maleic anhydride is traditionally produced through the oxidation of aromatic compounds. The key players in the market are continually innovating to develop alternative feedstock for maleic anhydride due to the growing awareness regarding the toxicity of benzene and other aromatic compounds.
Although there is an alternative for petroleum-based maleic anhydride available in the market, there are few applications, such as UPR, copolymers, and 1,4-BDO, wherein maleic anhydride cannot be replaced by other substitutes.
Hence, to solve this problem, an alternative to the petroleum-based maleic anhydride is available—bio-based maleic anhydride—that can be produced using a renewable source as feedstock. The bio-based raw material is fermented to produce a mixture comprising butanol, which is further purified and then oxidized to get the desired maleic anhydride.
The use of bio-based feedstock has its own advantages over conventional ones. The oil resources are limited, and the extraction of benzene and its further oxidation are expensive procedures.
In addition, the manufacturers have to rely on tougher technologies and sophisticated equipment, which directly affects the manufacturing cost of maleic anhydride. In order to overcome these constraints, the commercialization of bio-based maleic anhydride on a large scale is essential.
The increasing sales of passenger cars and commercial vehicles drive the maleic anhydride market in the automotive industry. Maleic anhydride is used as an ingredient in UPR, which is further used to manufacture automotive composites, such as closure panels, body panels, fenders, Grille Opening Reinforcement (GOR), heat shields, headlamp reflectors, and pick-up boxes.
Increasing demand for UPR & 1,4-BDO from the automotive industry
Maleic anhydride copolymers are also used to manufacture lubricant additives, such as viscosity index improvers, pour point depressants, and dispersants. The increasing sales of passenger and commercial vehicles, globally, are driving the overall maleic anhydride market.
The motorization rate has increased over the past five years in developed and developing countries, owing to the increasing disposable income of people and industrial growth. The consistent rise in the number of vehicles is increasing the demand for engine oil, functional fluids, and automotive components in emerging economies; thus, positively influencing the maleic anhydride market.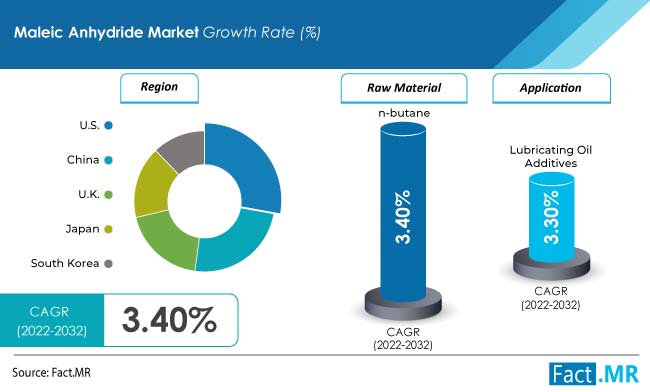 Key Challenges Prevalent in the Global Maleic Anhydride Market
Frequent Fluctuations in the crude oil prices
Crude oil costs play a major role in the maleic anhydride market. Any structural change in the oil market impacts the raw material expenses for maleic anhydride. The fluctuations of crude oil prices tend to place the maleic anhydride producers in detrimental situations, which affect profitability.
In the last few years, the fluctuating prices of the crude oil have affected the value chain of the maleic anhydride as crude oil is the raw material for benzene, that is used in the production and manufacturing of maleic anhydride.
Since 2011, the countries that eat big quantities of strength have been dealing with oil costs above USD 100 per barrel, which had fallen to about USD 50 per barrel in March 2020. Therefore, fluctuating crude oil prices have created uncertainties for maleic anhydride producers.
Attributing to fluctuating base oil prices, the decision to purchase crude oil has turned out to be difficult, as manufacturers are unsure of the prices at which they should purchase crude oil.
Growth in demand for hybrid vehicles and increasing battery price parity
Hybrid vehicles contain both a small Internal Combustion Engine (ICE) and an electric motor for optimum power utilization and reducing emissions from vehicles.
The growing number of hybrid vehicles is expected to reduce the demand for engine oil, functional fluid, and transmission fluid per vehicle, almost by half, according to industry experts. This factor, coupled with the increasing battery parity, is expected to impact the volume of the maleic anhydride market.
Batteries for electric vehicles are very expensive; however, with improved technology, their cost is reducing, and the driving range per charge is increasing. These factors have a huge impact on engine oil consumption, especially with decreasing battery costs.
The demand for electric vehicles is expected to increase, thereby decreasing the overall engine oil consumption; which is expected to decrease the demand for maleic anhydride in lubricating oil additives.
More Insights, Lesser Cost (-50% off)
Insights on import/export production,
pricing analysis, and more – Only @ Fact.MR
Comparative View of Adjacent Maleic Anhydride Market
Maleic Anhydride Market :
Attributes

Maleic Anhydride Market

CAGR

(2022-2032)

3.4%

Market Value

(2032)

US$ 4.1 Bn

Growth Factor

Increasing demand for UPR in the automotive industry is expected to fuel the market's growth.

Opportunity

Commercialization of bio-based maleic anhydride is the major growth opportunity for the market.

Key Trends

High growth in the construction and wind energy industries and growing demand of 1,4-BDO in various end-use industries are major driving factors.
Benzene Market :
Attributes

Benzene Market

CAGR

(2022-2032)

3.0%

Market Value

(2032)

US$ 55.0 Mn

Growth Factor

The increasing demand for styrene polymers from various end-user industries such as textile, packaging, and building and construction, is expected to drive the market's growth.

Opportunity

Downstream expansion or upcoming plants in the petrochemical business may create opportunities for the market in the coming years.

Key Trends

An increase in food and e-commerce applications, boosts the market demand for benzene.
Ethylene Copolymers Market :
Attributes

Ethylene Copolymers Market

CAGR

(2022-2032)

4.2%

Market Value

(2032)

US$ 86.6 Bn

Growth Factor

The packaging and automobile industries are expected to boost the adoption of ethylene copolymers during the forecast period.

Opportunity

Owing to its qualities, such as heat resistance, chemical reactivity, formulation flexibility, and cohesion and adhesion, demand for ethylene copolymers is gradually increasing.

Key Trends

Increased R&D initiatives for technological and equipment development, as well as creative product offerings by companies, are all contributing to the demand for ethylene copolymers.
Country-wise Analysis
What is the Growth Outlook for Maleic Anhydride in the U.S?
United States to Hold the Largest Market Share
The demand for Maleic Anhydride market in the US is likely to expand at a 3.2% value CAGR until 2032, forecast to yield an opportunity worth US$ 1.5 Billion.
The United States has one of the world's largest construction industries, and it recorded an annual revenue of USD 1,306 billion in 2019. The United States is a major industrialized nation that houses multiple industries in heavy-scale, medium-scale, and small-scale categories. The country is known for its booming commercial activities.
According to the US Census Bureau, the total residential housing units authorized by building permits in March 2020 were at a seasonally adjusted annual rate of 1,353,000, representing 5% growth over the March 2019 rate of 1,288,000. The total number of privately?owned housing starts in March 2020 were at a seasonally adjusted annual rate of 1,216,000, representing 1.4% growth over the March 2019 rate of 1,199,000.
How do Growth Prospects Appear in the Chinese Market?
China is Expected to Dominate the Market in Asia-Pacific
Maleic anhydride is used in industries such as food and beverage, pharmaceutical, automotive, construction, electronics, personal care, etc., in China. China is a major market for maleic anhydride in the world.
The growing construction industry is one of the major reasons boosting the applications of maleic anhydride in the region. China is globally recognized for its architectural boom. The demand for low-cost housing and commercial housing is the reason for its growth in recent years.
Demographics in the country are expected to continue to spur the growth in residential construction. Rising household income levels combined with population migrating from rural to urban areas are expected to continue to drive the demand for residential construction in the country. Increased focus on affordable housing by the public and private sectors will drive the residential construction sector's growth.
According to the National Bureau of Statistics of China, the revenue generated by the Chinese construction industry increased from CNY 17.67 trillion in 2014 to CNY 24.84 trillion in 2019.?
The country plans to invest USD 1.43 trillion in the next five years till 2025 in major construction projects. According to the National Development and Reform Commission (NDRC), the Shanghai plan includes an investment of USD 38.7 billion in the next three years, whereas Guangzhou has signed 16 new infrastructure projects with an investment of USD 8.09 billion. China is expected to reach US$ 293.5 Million by 2032, growing at a 2.8% CAGR.
Is Japan likely to emerge as an Opportunistic Maleic Anhydride Industry?
Increasing demand from end-use industries
Japan is projected to be a significant maleic anhydride market, in terms of value, owing to the rise in the automotive production.
This dominance is attributed to the growing domestic industries, increasing demand from end-use industries, and growing use of maleic anhydride in different applications, such as agricultural chemicals and pharmaceuticals.
Japan is expected to grow at a CAGR of 1.9% and is expected to represent a market share of US$ 236.7 Million by 2032.
Country-wise Forecast CAGRs in the Maleic Anhydride Market
| Country | CAGR |
| --- | --- |
| US | 3.2% |
| China | 2.8% |
| Japan | 1.9% |
| UK | 2.2% |
| South Korea | 1.4% |
Category-wise Insights
Why is the Market Demand Rising Rapidly?
n-butane to be Top Raw Material in the Coming Years
By Raw Material, the n-butane is likely to remain the top category, growing at a value CAGR of 3.4% from 2022-2032.
The n-butane-based maleic anhydride is expected to account for the larger share, in terms of both volume and value during the forecast period. This dominance is expected to continue during the forecast period, owing to its high demand from the growing building & construction and automotive industries.
In addition, the n-butane segment is projected to witness higher growth in the forthcoming years, owing to stringent policies and regulations on the use of benzene for maleic anhydride production.
Which Application is Expected to Leverage Maleic Anhydride the Most?
Lubricating Oil Additives to leverage the Market Growth
The Lubricating Oil Additives of the Maleic Anhydride Market is expected to grow at a value CAGR of 3.3% from 2022-2032.
Lubricating oil additives is considered to be the third-largest application of maleic anhydride. Maleic anhydride is used in the production of hydraulic fluids and lubricating oil, in order to boost the performance of lubricants by providing them static and dust control, alkalinity, corrosion inhibition, emulsification, dispersion, low-temperature fluidity and shear stability.
Lubricating oils are used in diesel engine crankcase and gasoline to prevent corrosion as well as dispersion. The growing automotive industry in the Middle East & Africa and Asia Pacific regions is expected to augment the demand for lubricating oil additives, which, in turn, is expected to accelerate the demand for maleic anhydride in the region.
Don't Need a Global Report?
Save 40% on Country & Region specific reports
Competitive Landscape
The global market for Maleic Anhydride is characterized by the presence of multiple vendors, aiming to offer extensive products to consumers. Additionally, key makers are focusing on developing the technologies supported by the implementation of stringent government regulations, and are offering solutions tailor-made to suit their business objectives. In addition, the vendors are likely to leverage upgradation and product differentiation to gain an edge over other competitors in the market.
In July 2020, Polynt-Reichhold Group announced to build a 50,000 tons capacity greenfield maleic anhydride plant, to be located at its Morris, Illinois site.
In September 2019, Huntsman Corporation acquired its remaining 50% interest in the Sasol-Huntsman maleic anhydride joint venture. The acquisition helped Huntsman fully integrate its European business and cater to the specific needs of its key customers, including construction and coatings.
In December 2019, Nippon Shokubai and Sanyo Chemical merged their respective businesses via a share transfer to form an integrated holding company named Synfomix Co. Ltd. (Kyoto, Japan). The materials division of Synfomix will manufacture products, including ethylene oxide, ethylene glycols, ethanolamines, acrylates, acrylic hydroxy monomers, superabsorbent polymers, maleic anhydride, and maleic anhydride derivatives.
Key Segments Covered in the Maleic Anhydride Industry Report
By Raw Material :

By Application :

UPR
1,4 – BDO
Lubricating Oil Additives
Copolymers
Others

By Region :

North America
Latin America
Europe
Asia Pacific
Middle East & Africa