Microfinance Market
Microfinance Market Analysis By Provider (Banks, Microfinance Institutes (MFI), Non-Banking Financial Corporations (NBFC), Others), By Purpose (Agriculture, Manufacturing/ Production, Trade & Services, Households, Others), By End User (Small Enterprises, Micro Enterprises, Solo Entrepreneurs/ Self-employed), and By Region – Global Market Report 2023 to 2033
Analysis of Microfinance Market Covering 30+ Countries Including Analysis of US, Canada, UK, Germany, France, Nordics, GCC countries, Japan, Korea and many more
Microfinance Market Outlook (2023 to 2033)
The global microfinance market size is estimated at US$ 228.8 billion in 2023 and is predicted to advance at a high-value CAGR of 11% to reach a valuation of US$ 650 billion by 2033.
Microfinance is a dynamic and innovative sector within the financial services industry, with the primary goal of addressing financial inclusion and alleviating poverty among underserved populations around the world. Microfinance, also known as 'banking for the unbanked', has gained considerable attention and traction in recent decades, owing to its potential to empower individuals and small businesses in low-income communities.
The microfinance market is an effective tool in combating poverty and financial exclusion. It has evolved significantly in response to changing socioeconomic landscapes and technological innovations. While there are challenges to overcome, the sector's ability to improve the lives of millions of people remains undeniably promising. The latest microfinance statistics reveal that the market is expected to contribute even more significantly to global efforts toward economic empowerment and social inclusion as it grows.
Important Market Growth Drivers
Microfinance institutions target rural areas and agricultural sectors to empower small-scale farmers and agribusinesses.
Economic growth and stability in emerging markets create opportunities for microfinance expansion and entrepreneurship.
Government and regulatory initiatives promote financial inclusion and extend access to marginalized populations.
Adoption of digital technologies in the microfinance sector has resulted in increased efficiency, lower operational costs, and better customer experiences.
Microfinance institutions are expanding their product offerings to include savings, insurance, and financial education services in addition to traditional microloans.
Microfinance institutions empower women by offering them the tools, knowledge, and resources they need to make positive changes in their lives and communities.
Despite its potential for rapid expansion, the microfinance business is challenged by regulatory compliance, credit risk, and competition. However, these challenges create opportunities in the microfinance industry for innovation and collaboration.
Report Attributes
Details
Microfinance Market Size (2022A)
US$ 206 Billion
Estimated Market Value (2023E)
US$ 228.8 Billion
Forecasted Market Value (2033F)
US$ 650 Billion
Global Market Growth Rate (2023 to 2033)
11% CAGR
India Market Value (2023E)
US$ 45 Billion
Leading Regional Market
Asia Pacific
Key Companies Profiled

Annapurna Finance Pvt. Ltd.
Bank Rakyat Indonesia (BRI)
Bandhan Bank
CDC Small Business Finance
Grameen America
Kiva
Grameen Bank
Cashpor Micro Credit
Madura Microfinance Ltd.
Pacific Community Ventures Inc.
Inditrade Janakalyan Microfinance Limited
Don't Need a Global Report?
save 40%! on Country & Region specific reports
What is Pushing the Adoption of Microfinance Solutions in Rural Areas?
"Rising Adoption of Microfinance Solutions Leading to Alleviation of Poverty in Rural Areas"
Financial inclusion programs are frequently launched by governments and non-governmental organizations to provide banking and financial services to underserved rural populations. Microfinance is critical to these projects because it provides loans, savings, and insurance services. One of its key objectives is to enable individuals with access to small loans who would otherwise be barred from the conventional banking industry due to low income, a lack of collateral, or a remote location. Borrowers often use these loans, also known as microloans, to invest in income-generating enterprises.
Individuals and micro-entrepreneurs in rural areas can use microfinance to get the financing they need to establish or expand small companies. Farming, livestock, retail stores, and small-scale manufacturing are all examples of this. Borrowers can boost their income and build sustainable livelihoods by investing in these ventures. Microfinance not only offers working capital, but it also allows rural residents to build assets over time.
Borrowers build credit records as they repay their loans, which can lead to larger loans for more substantial assets such as land or housing. Microfinance serves as a safety net, allowing households to maintain a basic quality of living through difficult times like crop failures or medical catastrophes. Microfinance plays a crucial role in poverty alleviation by providing access to capital and personal finances to rural populations, allowing them to escape the cycle of poverty.
"Focus on Economic Development Enhancing Accessibility to Small Loans"
Local entrepreneurship acts as a lifeline for individuals looking to produce income and enhance their standard of living in rural areas where official work opportunities may be limited. Agriculture and artisanal crafts, as well as small retail firms and service providers, are examples of these enterprises. Local entrepreneurship is distinguished by its grassroots nature, which is frequently driven by local knowledge, traditions, and accessible resources.
Microfinance institutions recognize the potential of these rural businesses and assist them with vital financial services. Microfinance organizations provide small loans to rural residents to help them establish or expand their companies. These loans can be used to purchase inventory, equipment, or raw materials, allowing entrepreneurs to capitalize on market opportunities and expand their manufacturing capacity.
To provide people and groups with the financial resources and support they need to start and grow their enterprises, microfinance institutions act as business drivers for the microfinance market. Local entrepreneurs who thrive not only improve their own lives but also contribute to the overall prosperity and self-sufficiency of their communities. This symbiotic relationship between local business and microfinance exemplifies the significant impact that financial services may have on rural development and poverty reduction.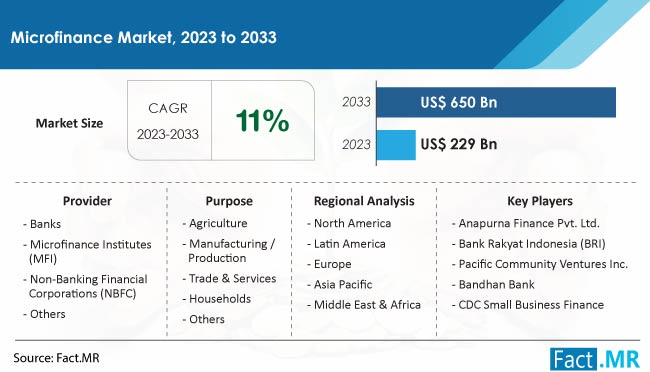 Is Scalability an Issue for Microfinance?
"High-Interest Rates Restricting Adoption of Microfinance Solutions"
Given the need to reach more underprivileged communities while ensuring financial sustainability and service quality, scalability is a major challenge in the microfinance sector. MFIs may be inclined to raise interest rates to pay expansion costs and limit risk, which can be counterproductive to their objective of serving the poor and marginalized. A persistent problem is balancing cost and financial viability. Interest rates in microfinance are a multidimensional issue that necessitates a fine balance between MFI financial sustainability and customer loan affordability.
While charging interest rates is an unavoidable component of microfinance operations, it is critical to ensure that these rates are fair, transparent, and consistent with the objective of poverty alleviation and financial inclusion. Responsible interest rate practices are critical to obtaining favorable outcomes in the microfinance business for both MFIs and their clients.
More Insights, Lesser Cost (-50% off)
Insights on import/export production,
pricing analysis, and more – Only @ Fact.MR
What Steps Can Emerging Microfinance Providers Take to Ensure Their Success?
"Focus on Establishing Strong Relationships with Local Communities"
Emerging microfinance providers, particularly start-ups, should examine several critical measures to secure a foothold and thrive in the dynamic microfinance business. They should prioritize a thorough awareness of the local market, including its specific difficulties and possibilities. Building trust and credibility requires strong relationships with local communities and future clients.
Leveraging cutting-edge technologies, like as mobile banking and digital platforms, may improve operational efficiency and expand reach. Collaboration with well-established microfinance networks, as well as seeking mentorship from experienced industry players, can provide significant insights and support. Maintaining a laser-like focus on responsible lending practices, transparency, and client protection is critical for the growth of the microfinance industry.
The Grameen microfinance model in India drew a lot of attention in the international development industry after preliminary statistics showed that it was connected with high payback and low default. This business gives small loans, usually to women, with no collateral required.
Country-wise Insights
The Asia Pacific region holds a leading share of the market, with India, Bangladesh, and Vietnam being the top three borrowers. Europe is also a prominent market for microfinance, with Germany, the United Kingdom, and France contributing substantially to industry growth.
Why is India a Lucrative Market in the Asia Pacific Region?
"Growing Emphasis on Financial Literacy and Promotion of Mobile Banking"
The Indian microfinance market is expected to be valued at US$ 45 billion in 2023. South India is expected to hold a leading market share in 2023. The microfinance business in India has seen significant technological advancements in recent years, most notably with the increased usage of mobile devices and internet platforms. In response to the increasing popularity of mobile phones, many microfinance institutions (MFIs) have implemented mobile banking technology to provide financial services to their customers.
A variety of digital platforms have been developed to facilitate digital payments and transactions in the microfinance business, including the Bharat Bill Payment System (BBPS), National Automated Clearing House (NACH), and the Aadhaar Enabled Payment System (AEPS).
India's enormous underserved population, government support, well-regulated environment, and diverse economy make it an appealing and profitable market for microfinance in the Asia Pacific region. The country has made great progress in addressing financial inclusion and poverty alleviation, with plenty of possibilities for future expansion and impact.
The Reserve Bank of India (RBI) published new guidelines for microfinance firms operating in the country in April 2022. The RBI has imposed a universal household credit limit of Rs. 300,000 for microfinance loans. Furthermore, companies must dedicate at least 75% of their assets to microfinance activities to qualify for an NBFC-MFI license. Furthermore, the cap on NBFCs (non-banking financial companies) has been lifted to 25% of their assets, up from 10% previously.
Madura Microfinance Ltd., a non-banking financial firm that is not publicly traded, acquired Credit Access Grameen Ltd., a publicly traded non-banking financial company, in 2020.
How is the United Kingdom Market for Microfinance Faring?
"Rising Importance of Microfinance and Support for Entrepreneurship"
Through a diversified approach, the United Kingdom plays a critical role in promoting the expansion of the European microfinance sector. The United Kingdom government, through organizations such as DFID, gives financial assistance and investments to microfinance institutions around Europe, allowing for the spread of financial inclusion efforts. Furthermore, United Kingdom-based organizations provide technical expertise, capacity-building programs, and knowledge-sharing platforms, enhancing the capacities and reach of regional microfinance institutions.
The booming social enterprise sector, impact investors, and microfinance networks in the United Kingdom help accelerate sustainable microfinance practices. Through these efforts, the United Kingdom makes a substantial contribution to improving access to money, alleviating poverty, and promoting financial inclusion across Europe.
Know thy Competitors
Competitive landscape highlights only certain players
Complete list available upon request
Category-wise Insights
What's Fueling the Rise of Microenterprises?
"Increasing Focus on Nurturing and Supporting Small-Scale Businesses"
Microfinance is inextricably linked to the expansion of microenterprises and small businesses. Microenterprises provide a living for many people in developing economies. Microfinance institutions provide the capital these entrepreneurs require to start or expand their businesses, thereby driving economic growth at the grassroots level.
Microenterprise development is critical in accelerating economic growth and grassroots entrepreneurship. Microenterprise development initiatives enable entrepreneurs to start and grow their businesses by combining financial assistance, such as microloans, with non-financial assistance, such as training and mentoring. These businesses, while small in size, make significant contributions to job creation, income growth, and poverty alleviation.
Societies can stimulate economic dynamism, improve local livelihoods, and pave the way for inclusive economic prosperity by fostering a favorable environment for microenterprise growth, particularly in communities where larger-scale industries may not be viable. Microenterprise is one of the key segments of the microfinance industry.
Competitive Landscape
The microfinance industry features a wide set of stakeholders, including banks, traditional microfinance institutions (MFIs), banks, fintech firms, and non-governmental organizations (NGOs). These organizations compete for market share by providing financial services to underserved and low-income people.
The competitive landscape of the microfinance sector is dynamic and changing, driven by shifting consumer preferences, advanced technology in the microfinance sector, and a growing emphasis on responsible lending. As a result, competition is intensifying, resulting in more innovation and better access to financial services for marginalized people.
The World Bank authorized a third round of US$ 450 million Development Policy Financing (DPF) in April 2023. The funded initiatives will assist Morocco's government in implementing critical reforms to increase financial inclusion, boost digital entrepreneurship, and improve individual and corporate access to digital infrastructure and services.
Inditrade Microfinance, a branch of Inditrade Capital, merged with Kolkata-based Janakalyan Financial Services in 2022 to boost its position as a national player.
Annapurna Finance Pvt. Ltd., Bank Rakyat Indonesia (BRI), Bandhan Bank, CDC Small Business Finance, Grameen America, Kiva, Grameen Bank, Cashpor Micro Credit, Madura Microfinance Ltd, Pacific Community Ventures Inc., Inditrade Janakalyan Microfinance Limited are some of the top companies in the microfinance market.
Segmentation of Microfinance Market Research
By Provider :

Banks
Microfinance Institutes (MFIs)
Non-banking Financial Corporations (NBFCs)
Others

By Purpose :

Agriculture
Manufacturing/Production
Trade & Services
Household
Others

By End User :

Small Enterprises
Micro Enterprises
Solo Entrepreneurs/Self-employed

By Region :

North America
Europe
Asia Pacific
Latin America
Middle East & Africa
- FAQs -
The global microfinance market was valued at US$ 206 billion in 2022.
Demand for microfinance solutions is projected to reach a market value of US$ 650 billion by 2033-end.
The market for microfinance is estimated at US$ 228.8 billion in 2023 and is set to expand at a CAGR of 11% to reach US$ 650 billion by 2033-end.
The market in India is estimated at US$ 45 billion in 2023.
Asia Pacific is the leading regional market for microfinance, with India, Bangladesh, and Vietnam being the top borrowers.
Microfinance consumers are typically low-income individuals who do not have access to mainstream financial institutions.