Modular Containers Market
Modular Containers Market Analysis By Type (Fixed Modular Containers, Relocatable Modular Containers, Prefab Modular Containers), By Container Length (<10 FT, 10 to 20 FT, >20 FT), By Material (Steel, Fibre-reinforced Plastic (FRP)), By Application (Residential Buildings, Office Buildings, Hotels & Motels, Retail, Warehouses, Healthcare Facilities, K-12 Schools, Kiosks) & By Region - Global Market Insights 2023 to 2033
Analysis of Modular Containers Market Covering 30+ Countries Including Analysis of US, Canada, UK, Germany, France, Nordics, GCC countries, Japan, Korea and many more
Modular Containers Market Outlook (2023 to 2033)
The global market for modular containers is valued at US$ 29.65 billion in 2023. Worldwide sales of modular containers are predicted to reach US$ 57.79 billion, increasing at a CAGR of 6.9% from 2023 to 2033.
Modular containers, also known as modular shipping containers or modular units, are innovative structures that are gaining popularity in various industries. These containers are designed to be versatile, adaptable, and easily transportable, making them ideal for a wide range of applications. They offer a flexible solution for businesses and individuals seeking efficient and customizable spaces.
One of the primary advantages of modular containers is their modular designs. These containers are built according to standardized dimensions, typically following ISO shipping container sizes such as 20-foot or 40-foot lengths. This standardization allows for easy stacking, transportation, and assembly. Multiple containers can be combined and interconnected to create larger structures, making them highly adaptable and scalable. Fixed modular containers, relocatable modular containers, and prefab modular containers are some of the types of modular containers.
Relocatable modular container sales are predicted to increase at a CAGR of 7% over the next 10 years due to their high use in several sectors such as construction, education, etc.
Relocatable modular containers offer a high degree of flexibility and adaptability. They can be easily transported and set up in different locations, making them ideal for rapidly changing project requirements. Businesses can easily expand or reconfigure their spaces as needed, providing a scalable solution that can evolve with their needs.
Moveable modular containers can be quickly delivered and installed, allowing for faster project completion compared to traditional construction methods. This is particularly advantageous in time-sensitive situations or industries where rapid deployment is crucial such as disaster relief or temporary accommodation for events.
In the construction sector, relocatable modular containers are highly utilized as temporary site offices or sample flats. The ability to transport and relocate modular containers easily is a significant advantage for builders.
Relocatable modular containers find applications across a wide range of industries. They are also used in accommodation units, retail spaces, educational facilities, healthcare centers, and more. Their versatility allows businesses to adapt containers to suit their specific needs, whether it's creating temporary workspaces, expanding retail operations, or establishing remote medical facilities.
Report Attributes
Details

Modular Containers Market Size (2023E)

US$ 29.65 Billion

Forecasted Market Value (2033F)

US$ 57.79 Billion

Global Market Growth Rate (2023 to 2033)

6.9% CAGR

Canada Market Growth Rate (2023 to 2033)

6.8% CAGR

United States Market Growth Rate (2023 to 2033)

6.4% CAGR

Malaysia Market Value (2033F)

US$ 4.22 Billion

China Market Value (2033F)

US$ 8.32 Billion

India Market Value (2033F)

US$ 7.63 Billion

Key Companies Profiled

ATCO Ltd.
Modulaire Group
Qingdao Xinguangzheng Steel Structure Co., Ltd.
Karmod Prefabricated Building Technologies
Henan K-Home Steel Structure Co., Ltd.
Mobile Modular Portable Storage
Falcon Structures
Thurston Group Limited
Quick House Building Solutions
BMarko Structures
Craftsmen Industries Incorporation
Panel Built Incorporation
Cassone Leasing Incorporation
Atrium Development Co.
Kwikspace Modular Buildings
Don't Need a Global Report?
save 40%! on Country & Region specific reports
Why is the Modular Container Business a Noteworthy Trade to Invest In?
"Modular Containers Gaining Traction Due to Limitless Applications & Customization"
The modular nature of these containers enables them to be used in diverse settings. They have found applications in industries such as construction, hospitality, retail, education, healthcare, and disaster relief.
In the construction industry, modular containers are often used as site offices and temporary accommodations. In retail, they can be transformed into pop-up stores, kiosks, or mobile showrooms. In disaster-stricken areas, modular containers can serve as emergency shelters or medical facilities.
Customization options for modular containers are virtually limitless. They can be modified and fitted with various amenities and features to suit specific needs. Windows, doors, insulation, electrical wiring, plumbing, and climate control systems can be installed to create comfortable and functional spaces.
Interior configurations can be tailored to accommodate offices, living areas, kitchens, bathrooms, or storage facilities. Additionally, the exterior can be customized with branding, signage, or unique architectural elements. Another advantage of modular containers is their mobility. They can be easily transported by truck, ship, or rail, allowing for efficient logistics and cost savings. This mobility makes them an ideal choice for temporary or relocatable structures. For businesses that require flexibility or frequently changing locations, modular containers provide a practical solution that can be easily transported and set up in new areas.
Modular containers are also environmentally friendly. Repurposing shipping containers reduces waste and promotes recycling. By using these containers as modular structures, construction materials and energy consumption are minimized. Additionally, some modular containers incorporate sustainable features such as rainwater harvesting systems, solar panels, and green roofs further reducing their environmental impact.
Karmod Prefabricated Technologies, a renowned prefab container manufacturer based in Turkey, has taken a noteworthy step towards sustainable housing solutions. By utilizing its new generation container model, it has introduced green energy container houses. These innovative homes play a vital role, particularly in countries facing frequent power outages, offering a reliable and eco-friendly solution.
Why are Modular Container Structures Rarely Seen in Developing Regions?
"Lack of Awareness about Modular Containers & Their Various Uses"
Modular containers are still a relatively new concept for many individuals and businesses in underdeveloped regions. Some may have limited awareness of the benefits and applications of modular containers, leading to misconceptions or hesitation in adopting them. A lack of information and understanding can impede modular container sales growth over the forecast period.
"Requirement of Strict Permit Regulations Compared to Traditional Buildings"
Building codes, zoning regulations, and permitting processes are expected to pose challenges for modular container projects. Different jurisdictions have specific requirements that must be met, which are different from traditional construction regulations. Navigating through these regulations and obtaining necessary approvals are complex processes, which negatively affect sales of modular containers.
"Limited Availability & Accessibility of Modular Containers in Some Regions"
In some regions, the availability and accessibility of modular container suppliers and manufacturers are limited. Potential buyers face challenges in finding reputable suppliers, and therefore additional costs incurred for shipping containers from distant locations negatively affect the overall feasibility and sales potential.
More Insights, Lesser Cost (-50% off)
Insights on import/export production,
pricing analysis, and more – Only @ Fact.MR
What Strategies are being Adopted by Start-ups in This Space?
"Focus on Offering Unique Customization Options & Comprehensive Services"
Start-ups in the modular containers market are employing several tactics to increase their earnings and establish a strong presence. Offering a range of customization options to meet the specific needs of customers is one of them, which includes interior and exterior design modifications, personalized amenities, and tailored layouts. The ability to provide flexible solutions that align with individual requirements attracts a diverse customer base and increases customer satisfaction.
Providing comprehensive turnkey solutions, including services related to site planning, permitting assistance, transportation, installation, and ongoing maintenance, is expected to attract more customers. By offering a complete package, new entrants alleviate the logistics burden for customers, providing added value. Also, product advertisement and awareness campaigns are anticipated to benefit new manufacturers of modular containers.
Blokable: Revolutionizing Modular House Building
Established in 2016, Blokable is one of the top manufacturers of modular building blocks. With its cutting-edge strategy, it offers plug-and-play modular building components that incorporate state-of-the-art technologies and energy-efficient features. These assemblies can be easily customized and fitted during the construction process. Whether used individually as small format homes or snapped together laterally or stacked for instant offices or pop-up retail spaces, Blokable's units offer versatility for residential, retail, and mixed-use projects.
Nexii: Pioneering Green Modular Buildings
Since its inception in 2018, Nexii Building Solutions has emerged as a prominent manufacturer of green modular buildings. The company specializes in leveraging advanced green construction technologies to create high-performance buildings that significantly reduce energy consumption. Nexii also offers BIM design solutions tailored for architects and developers, facilitating seamless integration and efficient project planning. Moreover, it provides expertise in managing construction costs, ensuring cost-effective and sustainable solutions for its clients.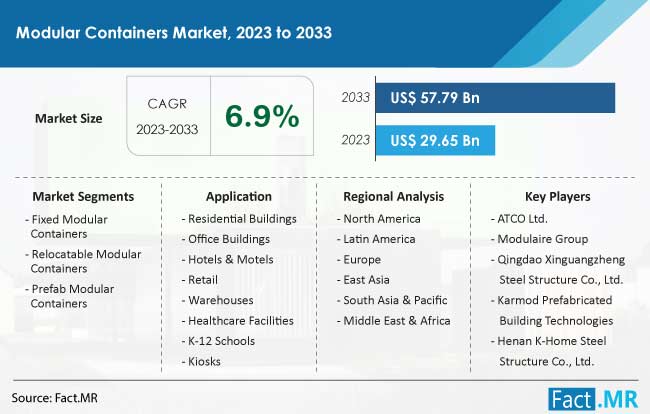 Country-wise Analysis
What is the Stance of the United States in the Modular Containers Market?
"Modular Containers Making Waves in the United States"
Modular container sales in the United States are anticipated to increase at a CAGR of 6.4% from 2023 to 2033. There is a remarkable penetration of modular containers in the United States, particularly across eight distinct regional clusters.
Maine, Vermont, New Hampshire, Massachusetts, Connecticut, Rhode Island, and New York form Region 1 boasting an impressive share of over 22% in modular hotels, apartments, and dormitories across the country. These areas are emerged as key marketplaces for modular container suppliers, with a focus on structures such as education, offices, hospitality, and multi-family housing.
Which Aspect is Increasing the Demand for Modular Containers in China?
"3D Printing Approach Driving China's Modular Construction Sector"
China has placed significant focus on residential, commercial, and industrial construction, resulting in the rapid transformation of its cities fueled by a strong trade surplus. The availability of raw materials and cost-effective labor further incentivize infrastructure projects.
Modular construction is gaining traction among Chinese industrialists who are prioritizing speedy construction methods. This shift is propelling the growth of the modular containers industry in China, which is expected to reach US$ 8.32 billion by 2033.
An emerging trend contributing to this growth is the increasing utilization of 3D printing technology. This innovative approach enables the efficient and swift production of modular building components, facilitating faster construction processes. The convergence of rapid development and technological advancements positions China at the forefront of the modular construction revolution.
Which Industry is Driving High Modular Container Sales in India?
"Rapidly Developing Construction Industry Fueling Substantial Demand for Modular Containers"
Evolving at a CAGR of 7.1%, the Indian market for modular containers is projected to reach US$ 7.63 billion by 2033.
India is undergoing significant urbanization, leading to high demand for housing, commercial spaces, and infrastructure. Rapid infrastructural development, including transportation, healthcare facilities, educational institutions, and commercial complexes, is boosting sales of modular containers. Modular containers provide a quick and efficient solution for faster construction and project completion.
Know thy Competitors
Competitive landscape highlights only certain players
Complete list available upon request
Category-wise Analysis
Where are Modular Containers Widely Installed?
"Temporary or Permanent Modular Containers Acting as Versatile Structures for Educational Spaces"
According to Fact.MR, a market research and competitive intelligence provider, employment of modular containers in the production of K-12 schools is predicted to increase at a CAGR of 7.3% over the projected period.
Modular containers offer a quick and flexible solution for accommodating the increasing student population in K-12 schools. As student enrolment number fluctuates or when there is a need for additional classrooms or facilities, modular containers are easily added or removed to match changing requirements.
Individual needs and aesthetic preferences of K-12 schools are accommodated by installing customizable modular containers. They can be easily configured to include classrooms, administrative offices, libraries, laboratories, and other necessary facilities. The interior layout, amenities, and infrastructure can be tailored to create a conducive learning environment that aligns with the school's educational goals.
Modular containers serve as temporary or permanent structures in K-12 schools. They are used as temporary classrooms during renovations or the construction of permanent buildings, providing uninterrupted learning experiences for students. Alternatively, they can also act as long-term solutions, especially in areas where land availability is limited or where schools require flexible expansion options.
Competitive Landscape
The modular construction sector is becoming highly competitive due to the rising number of new entrants. Key players in the modular containers market are investing heavily in R&D activities to develop more sophisticated containers and meet the continuous demand of end users.
Collaboration between Capital Bay and Daiwa House, a sizable Japanese construction firm, was formed in October 2022 to supply modular structures across Europe.
Key Segments of Modular Containers Industry Research
By Type :

Fixed Modular Containers
Relocatable Modular Containers
Prefab Modular Containers

By Container Length :

<10 FT
10 to 20 FT
>20 FT

By Material :

Steel
Fibre-reinforced Plastic (FRP)

By Application :

Residential Buildings
Office Buildings
Hotels & Motels
Retail
Warehouses
Healthcare Facilities
K-12 Schools
Kiosks

By Region :

North America
Latin America
Europe
East Asia
South Asia & Oceania
MEA
- FAQs -
The global modular containers market is valued at US$ 29.65 billion in 2023.
Sales of modular containers are projected to reach US$ 57.79 billion by 2033.
Worldwide demand for modular containers is set to increase at a CAGR of 6.9% through 2033.
The market for modular containers in India is currently valued at US$ 3.83 billion.
The Chinese market is expected to reach a size of US$ 8.32 billion by 2033.
ATCO Ltd., Modulaire Group, and Qingdao Xinguangzheng Steel Structure Co., Ltd. are prominent market participants.