Modular Containers Market
Modular Containers Market Analysis By Type (Fixed, Relocatable, Prefab Modular Containers), By Container Length (<10 FT, 10-20 FT, >20 FT Modular Containers), By Material (Steel, Fibre-reinforced plastic (FRP)), By Application, By Region - Global Insights to 2031
FACT6373MR
Jun-2021

List of Tables : 80

List of Figures : 171

170 Pages
Market Outlook for Modular Containers
Newly-released modular containers industry analysis shows that global demand enjoyed year-on-year (YoY) growth of 1.1% in 2021, to total 140,300 units. Fixed modular containers displayed negative growth of 0.5% to total 37,000 units, while relocatable modular containers was up 1.7% to 103,300 units.
Key Points Covered in Modular Containers Industry Survey:
Market Estimates and Forecasts (2016-2031)
Key Drivers and Restraints Shaping Market Growth
Segment-wise, Country-wise, and Region-wise Analysis
Competition Mapping and Benchmarking
Market Share Analysis
COVID-19 Impact on Modular Containers and How to Navigate
Recommendation on Key Winning Strategies
Revenue of Modular Containers from 2016 to 2020 Compared to Demand Outlook for 2021 to 2031
As per the modular containers industry research, historically, from 2016 to 2020, market value of the modular industry increased at around 5.6% CAGR, wherein, countries such as the U.S., Canada, China, Japan, Germany, and Turkey held significant share in the global market.
With growing concerns of end users towards cost reduction in construction, the market for modular containers is forecast to expand at a moderate CAGR of close to 6% over the coming 10 years.
The modular containers market saw soaring growth in 2020 with worldwide revenues up 1.3% year-over-year. Fact.MR estimates that modular container revenue will grow 1.8X from 2021 to 2031, reaching nearly US$ 3.8 Bn in 2031, with a ten-year compound annual growth rate (CAGR) of 6%.
As per Fact.MR's modular containers market insights, global market revenue totaled US$ 2 Bn for 2020, according to Fact.MR.
Demand for relocatable modular containers will accelerate at the highest pace.
Top 5 providers of modular containers held 79% market share in 2020.
Global shipments of modular containers are expected to increase 2.1% in 2021 to over 140 thousand units.
While demand was impacted by COVID-19, over the decade, long-term forecasts look good, especially for luxury container homes.
Interested to Procure The Data
How is Growing Interest for Energy-efficient Construction Triggering Demand for Modular Containers?
Construction companies across the globe are increasingly focusing on sustainable development of projects for acquiring certifications appropriate to energy efficiency. As these certification needs construction industries to reduce their pollution and emission footprint during the overall project lifecycle, manufacturers are shifting their focus towards the development of user-friendly, energy-efficient and low-emission sustainable materials, and modular containers are no exception.
Manufacturers are increasingly taking efforts for developing energy-efficient modular container ideal for multiple industries.
For instance, Karmod, a leading brand in the modular construction sector, has been emphasizing on green energy container houses produced under the new generation container model. These green energy houses provides an important solution for countries and regions with electrical power hurdles.
Besides, governments' push to promote energy efficient infrastructure and manufacturing projects has been further opening new opportunity windows for modular container manufacturers.
Besides, green buildings represent one of the biggest global investment opportunities of the next decade, estimated by the International Finance Corporation (IFC) to be US$ 24.7 trillion by 2030. Since, governments play an important role in unlocking this opportunity, in some countries they are extending support in terms of providing loans, increase in FDI, investments, and subsidies to up demand for green buildings.
For instance, of the 1,005 real estate companies, developers, REITS, and funds representing more than US$ 4.1 trillion in assets under management that reported to the Global ESG Benchmark for Real Assets (GRESB) in 2019, 90% align their projects with green building rating standards for construction operations.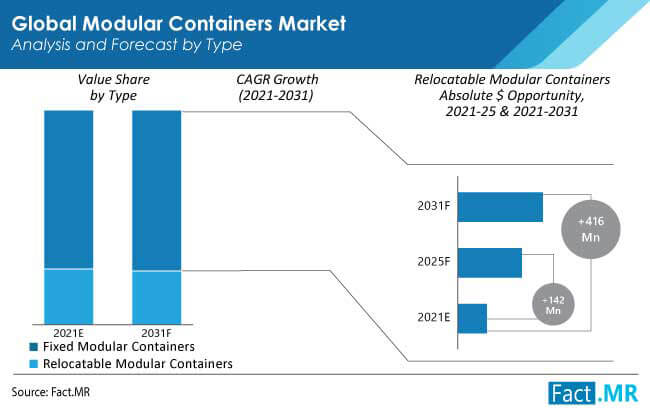 What Makes Modular Construction with Modular Containers Cost-effective for Both, End Users and Manufacturers?
Modular container houses save significant cost to the end users as well as their manufacturers. The cost components including design, site overheads, raw material, labour, logistics, rework, financing, factory costs, and lifecycle costs are considerably reduced while choosing modular containers for construction.
On an average, raw material costs are reduced by approximately 10% in case of modular construction as compared to standard construction.
In end users perspective, around 80% of the labour cost incurred in construction is eliminated when modular construction is opted. The key labourers require in modular construction includes mechanical, electrical and plumbing labourers, who do not correspond to heavy costs.
Based on Fact.MR's analysis on modular containers, modular container-based construction in the U.S. and Europe together accounts for over US$ 20 Bn savings every year. Owing to this, modular container manufacturers generated over US$ 250 Mn revenue through U.S. and Europe in 2020, representing around 37% of market revenue generated during the year.
In the U.S. and Europe together, cost saving potential of residential buildings, office buildings, hotels and motels, retail, warehouses, healthcare facilities, and K-12 schools amounts to US$ 5.5 Bn, US$ 2 Bn, US$ 2 Bn, US$ 1 Bn, US$ 1 Bn, US$ 3 Bn, and US$ 3 Bn, respectively.
An Adaptive Approach to Modern-day Research Needs
What are the Restraints being Faced by Modular Container Suppliers?
As prefabricated home demand a relatively new phenomenon, it can be difficult to obtain the necessary permits to build a modular container or shipping container-based houses in some regions. However, there are several places in the United States, including Texas, California, Colorado, and Oregon, and abroad such as China, New Zealand, and Costa Rica, which host modular/shipping container homes and have regulations in place.
A key legal consideration for modular projects is the governing law, especially if the fabrication site is located in a different jurisdiction than the project site. The governing law determines applicable building codes, zoning restrictions, licensing, permitting and safety requirements, labour relations, and the applicable statutes of limitation and repose.
To overcome these challenges, regulations are required to be addressed are standards of prefabricated materials quality and safety, accreditation to international trade, life determination and declaration etc., which poses a challenge to companies manufacturing container and modular buildings.
Which Region Offers the Largest Opportunity for Sales of Modular Containers?
North America is expected to account for over 50% of modular construction demand throughout the analysis period. In 2020, U.S. modular container demand grew 2.5% year-on-year, bucking initial scepticism about how the market would perform during a global pandemic. Across the U.S., total demand of modular containers reached 25,200 units in 2020.
The U.S. has a significantly high penetration of modular containers. Penetration of modular construction that uses modular containers can be understood in eight regional clusters of the U.S.
Region 1, which includes Maine, Vermont, New Hampshire, Massachusetts, Connecticut, Rhode Island, and New York, accounted for over 22% of the country's modular hotels, apartments, and dormitories. The region is expected to account for over US$ 40 Bn in total modular construction revenues by 2021 end. Key markets for the modular construction industry in these regions include education, offices, hospitality, and multi-family houses.
Avail customized purchase options for your needs
Country-wise Analysis
Why is Canada a Global Heavyweight for Modular Container Demand?
Currently, modular construction accounts for over 4% of overall construction market in Canada. This is attributable to the perception of Canadian people as well as the government about the quality of modular construction.
Owing to these factors, Canada represented over 60% of the North American and over 30% of global modular container demand in 2020.
In 2019, the provincial government of British Columbia pledged US$ 76 Mn to build an additional 200 modular units. Earlier in 2017, it had pledged 2,000 modular units with a budget of US$ 300 Mn.
How Has Modular Container Demand Been Shaping across Established & Emerging Markets?
Japan: Similar to the U.S., Japan has been an early user of modular containers across different applications. Sekisui Heim, a key player in modular construction in Japan, started its production in the 1970s. Modular construction accounts for around 15% of total construction in Japan.
Poland: Polcom Modular, a key Polish company offering modular solutions, recently shipped complete hotel modules to Holland, the U.K., and the U.S. Another company DMDmodular Sp. z o.o. shipped modules to southern Germany and to the U.S.
Sweden: Sweden is relatively a new market for modular containers; however, demand is picking significant pace. The housing sector is a key end user of modular containers in the country, and affordability has been a key factor for their adoption. Lindbacks has been the forefront construction company for modular containers in Sweden.
U.K.: The U.K. has a long history of using modular construction owing to its colonial rules in the past. It is estimated that modular construction accounts for around 7% of total off-site construction, accounting for construction output of US$ 2.1 Bn. The U.K. has also adopted techniques in its hot-rolled steel modular program from Japan.
Australia: Of around 170 off-site manufacturers in Australia, 74 are modular construction providers. Off-site construction accounts for around 5% of total housing in Australia. Most construction providers in Australia are located in the East Coast of Australia, having the largest stronghold in the metropolitan region of Melbourne, Victoria.
How is China's Growing Prosperity Expected to Boost Adoption of Modular Containers?
China has been significantly focusing on residential, commercial, as well as industrial construction. In a very short time, Chinese cities have transformed themselves with their strong trade surplus. Availability of raw materials and cheaper labour have further encouraged them to emphasize on infrastructure projects.
However, Chinese industrialists also want quick construction that can be achieved through modular construction. With its pace of development, the modular containers industry in China is projected to surpass valuation of US$ 327 Mn by 2030, accounting for around 9% of the global market projected by that time.
Category-wise Insights
Why are Relocatable Modular Containers Highly Demanded across the World?
Relocatable modular containers offers flexibility to reform and relocate the construction in the future. Since a large number of modular container end users opt for modular construction to use them flexibly based on their future needs, its demand is higher as compared to its fixed counterpart. With 57 BPS, relocatable modular containers are expected to reach a market valuation of US$ 2.9 Bn by 2030.
Why Do Modular Containers of Length Between 10 – 20 Feet Hold the Largest Share and Stand Most Promising Among other Categories?
Revenue from modular containers of length between 10 – 20 feet is expected to increase at a CAGR of over 7% during the decade. This category suits both small as well as larger construction projects. While small end users have the flexibility to still use their modular facility when planning to up-scale their operations, mid-sized businesses find this size in their budget.
Which Application of Modular Containers Holds Most Revenue Potential?
Warehouses, office buildings, hotels, and motels totalled around US$ 2 Mn revenue for modular containers for 2020, according to the annual market analysis conducted by Fact.MR. Together, they correspond to over 50% of global modular container demand.
How Has COVID-19 Impacted Revenue Generation from Modular Containers?
COVID-19 has moderately impacted demand for modular containers, as warehousing remained important during the pandemic when panic buying and a sudden swell in demand for several healthcare commodities rose.
A negative impact on the market was due to postponement of modular office plans, government initiatives of portable toilets, etc. Net impact on the market was reflected in a low, though positive growth of 1.3% in 2020 as compared to previous projections. As compared to actual market estimates for 2020, the market observed a drop of US$ 155 Mn in the recalibrated estimate.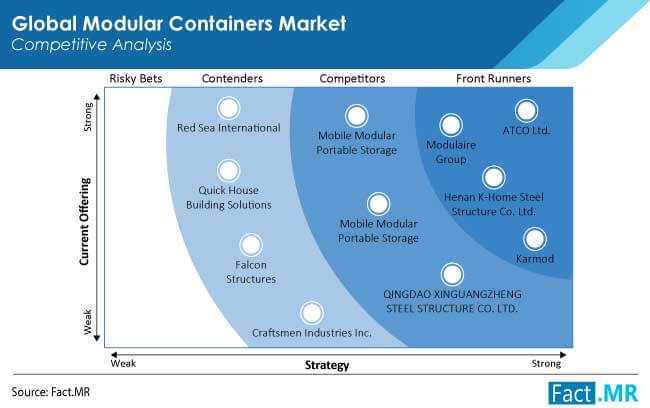 Competitive Landscape
According to the market research analysis, ATCO, Modulaire Group, Henan K-Home Steel Structure Co. Ltd., Karmod, and QUINGDAO XINGUANGZHENG STEEL STRUCTURE CO. LTD. are identified as key players manufacturing modular containers. Majority companies discussed in the report have focused on expansion, investment, acquisitions, delivery focus, portfolio expansion, and brand development.
Some of the key developments are:
In May 2021, McGrath RentCorp, the parent company of Mobile Modular Portable Storage, acquired Design Space, a leading Western U.S. modular building and portable storage provider with 2020 revenue of US$ 81Mn and EBITDA of US$ 32 Mn. This enabled the company to expand geographic coverage of McGrath RentCorp's Mobile Modular division across the Western U.S. with an immediate addition of 15 established branches across 8 states.
In April, 2021, McGrath RentCorp acquired Kitchens To Go, a provider of interim and permanent modular solutions for foodservice providers that require flexible facilities to continue or expand operations. The purchase allowed the Mobile Modular division of McGrath RentCorp to provide temporary and customized permanent foodservice facilities on a national level.
In October 2020, Qingdao Xinguangzheng Steel Structure Co., Ltd. announced that Active Shade, one of its key projects funded by Qingdao Government spread in 85,000 square meters was put into operation.
In August 2020, Henan K-home Steel Structure signed an agreement with Singapore Construction Company to order more than 200 sets of container houses.
In 2019, ATCO, an Alberta, Canada based company began construction on the LNG Canada modular workforce accommodation contract in Q1 2019. It is expected to be a 4,500-person facility which will provide accommodation to LNG Canada's natural gas liquefaction and export facility in Kitimat, British Columbia.
Similarly, recent developments related to companies offering modular containers have been tracked by the team at Fact.MR, which are available in the full report.
Modular Containers Market Report Scope
Attribute
Details
Forecast Period
2021-2031
Historical Data Available for
2016-2020
Market Analysis
Units for Volume and US$ Mn for Value
Key Regions Covered

North America
Latin America
Europe
East Asia
South Asia
Oceania
MEA

Key Countries Covered

United States
Canada
Brazil
Mexico
Germany
U.K.
France
Spain
Italy
China
Japan
South Korea
India
Indonesia
Malaysia
Singapore
Australia
New Zealand
Turkey
South Africa
GCC Countries

Key Segments Covered

Type
Container Length
Material
Application
Region

Key Companies Profiled

ATCO Ltd.
Modulaire Group
Qingdao Xinguangzheng Steel Structure Co., Ltd.
Karmod Prefabricated Building Technologies
Henan K-Home Steel Structure Co., Ltd.
Mobile Modular Portable Storage
Falcon Structures
Thurston Group Limited
Quick House Building Solutions
BMarko Structures
Craftsmen Industries Incorporation
Panel Built Incorporation
Cassone Leasing Incorporation
Atrium Development Co.
Kwikspace Modular Buildings

Other Companies Analyzed

SGBLOCK
D+P REAL ESTATE
Container Homes
HONOMOBO
Atrium Development Co.
Three Squared Inc.
Noble Enterprise
Shanghai Star House CO., LTD
WellCamp Guangdong Wellcamp Steel Structure & Modular Housing Co., Ltd.(So Easy)
Prisha Container Lines
Suzhou Tiandi Color Steel Manufacturing Co., Ltd
Nantong Huasha Movable House Co., Ltd
TLS Offshore Containers / TLS Special Containers
TMEC International (Module-T)
Champion Prefabs
Guangzhou MoneyBox Steel Structure Engineering Co., Ltd
AB Sea Container Private Limited
Imperial Cabins
KLEUSBERG GmbH & Co KG
DESIGN SPACE MODULAR BUILDINGS INC.
Kwikspace Modular Buildings
Westchester Modular Homes
ELEMENTS EUROPE

Pricing
Available upon Request
Market Segments Covered in Modular Containers Industry Analysis
By Type

Fixed Modular Containers
Relocatable Modular Containers
Prefab Modular Containers

By Container Length

<10 FT Modular Containers
10-20 FT Modular Containers
>20 FT Modular Containers

By Material

Steel Modular Containers
Fibre-reinforced plastic (FRP) Modular Containers

By Application

Modular Containers for Residential Buildings
Modular Containers for Office Buildings
Modular Containers for Hotels and Motels
Modular Containers for Retail
Modular Containers for Warehouses
Modular Containers for Healthcare Facilities
Modular Containers for K-12 Schools
Modular Container Kiosks
Modular Containers for Other Applications