Plastic Containers Market
Plastic Containers Market By Application (Alcoholic Beverages, Bottled Water, Carbonated Soft Drinks, Energy Drink, Milk Products, Ready to Drink Beverages), By Packaging Type (Bags & Pouches, Bottles & Jars, Boxes & Cartons), By End User - Forecast 2020 to 2030
Analysis of Plastic Containers market covering 30 + countries including analysis of US, Canada, UK, Germany, France, Nordics, GCC countries, Japan, Korea and many more
Plastic Containers Market Outlook
Plastic container manufacturers are witnessing a spike in demand owing to the rise in requirement for single-use packaging. Being light-weighted, affordable, and non-reactant, plastic containers are finding applications across the spectrum – from beverages to bottled water.
While the adverse effects of plastics on environment is well-documented, manufacturers are continuously researching to innovate environment-friendly plastic packaging solutions in order to secure their positions in the long run.
The latest report by Fact.MR offers a thorough analysis of the growth and scope of the global plastic containers market along with a detailed depiction of the market trends and potential. The report also provides an insight of the supply-demand trends over the key regions and the approaches taken by the manufacturers across the globe.
Know thy Competitors
Competitive landscape highlights only certain players
Complete list available upon request
Historical and Future Outlook
While key factors for demand were multi-pronged, increasing applications across the food & beverages industries have generated a slew of opportunities for prominent manufacturers of plastic containers in the past years. According to Fact.MR, the market surpassed the 4% CAGR mark between 2015 and 2019.
The European Commission (EC) stated that in the last 10 years, EU food and drink exports have doubled reaching over EUR 90 billion and contributing to a positive balance of approximately EUR 30 billion.
An analysis of key end-use industries reveals significantly bullish prospects for plastic container manufacturers. As stated by the China Chain Store & Franchise Association, China's food & beverage (F&B) sector reached approximately US$ 595 billion in 2019, representing a 7.8% increase over 2018.
Fact.MR opines global plastic containers market revenues to grow at nearly 4.5% between 2020 and 2030.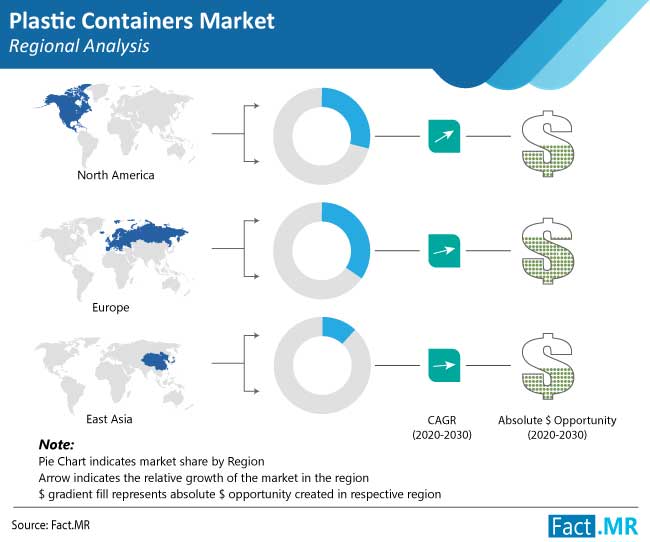 What's Driving the Revenue of the Plastic Containers Manufacturers?
Plastic has emerged as an effective alternative to packaging materials such as glass, paper, wood, metal, and others due to their cost-effectiveness and non-reactivity with food, beverages and cosmetics, light-weight, and hassle-free process cycle.
According to the European Commission (EC), Germany has the largest cosmetics market valued at EUR 11.7 billion, followed by France (EUR 10.4 billion), the United Kingdom (EUR 10 billion), and Italy (EUR 8.8 billion).
As per the data published by the United States Department of Agriculture (USDA), the food marketing system including food service and food retailing in the United States supplied approximately US$ 1.77 trillion worth of food in 2019 out of which US$ 969.4 billion was supplied by foodservice facilities.
As the latest research reports indicate steady growth of these sectors through 2030, the plastic containers manufacturers are set to launch wider varieties of high-quality products to capitalize on the growing opportunities.
More Insights, Lesser Cost (-50% off)
Insights on import/export production,
pricing analysis, and more – Only @ Fact.MR
How are Sustainability Concerns Shaping Demand?
Heightening environmental concerns posed by non-degradable plastics, is compelling manufacturers to produce environment-friendly sustainable plastic containers to draw potential consumers. Opportunities are immense amidst a straggling global political infrastructure and inferior product designs, leading to billions of tons of plastic wastes to be accumulated across landfills.
With only a tenth of discarded conventional plastics recycled globally, the urgency to develop environmental-friendly alternatives serves only to spur efforts by prominent manufacturers to invest intensively in the domain, doling out sustainable options to reduce footprints.
The Environmental Protection Agency (EPA) states that in the United States, the containers and packaging category had the most plastic tonnage at over 14.5 million tons in 2018. While the total amount of recycled plastics is relatively small—three million tons for an 8.5 percent recycling rate in 2018—the recycling of some specific types of plastic containers is more significant.
As per the United States Food and Drug Administration (FDA) guidelines, it is recommended to use sustainable plastic materials in developing plastic containers for foods. Such regulations have encouraged plastic containers manufactures to focus on the sustainable plastic materials such as Polyethylene Terephthalate (PET), and others.
Stringent Anti-Plastic Adoption Regulations may Hinder Expansion
Tough anti-plastic regulations are expected to pose a significant challenge to the plastic containers market growth. As per a report published by the National Conference of State Legislatures (NCSL) in November, 2018, eight states in the U.S.- California, Connecticut, Delaware, Hawaii, Maine, New York, Oregon, and Vermont have banned single-use plastic bags.
As per the Bag Waste Reduction Law by NYS Dept. of Environmental Conservation, as of March 1, 2020, all plastic carryout bags became banned from distribution by anyone required to collect New York State sales tax. Fortunately, the incorporation of recyclable plastics is expected to sustain long-term demand.
Moreover, the COVID-19 pandemic has generated financial constraints and shortage of raw materials. Also, the sudden outbreak of the pandemic has changed the social norms and purchasing patterns of the consumers. Despite this, plastic containers manufacturers have sailed through the hard times and are set to experience higher sales.
Don't Need a Global Report?
save 40%! on Country & Region specific reports
Country-Wise Analysis
Why Consolidation in U.S is Key?
The United States has is a highly lucrative market, with growth largely underpinned by the ever-flourishing food and beverages and cosmetics industries respectively. According to the U.S Census Bureau, F&B sales increased by over 14% in 2020.
PET plastics are highly used in drinking water bottles and carbonated soft drinks containers. The growing demand for PET plastics in the applications such as containers for energy drinks, milk products, tea, and other indicates its significant contribution to the plastic container sales in the United States.
According to Fact.MR, the food & beverages market is expected to grow steadily in the coming years, while the non-alcoholic malt beverages market is forecast to aggrandize at over 4% CAGR through 2030. According to World Data Organization, per capita alcohol consumption in the United States was approximately 6 liters in 2000 which has grown to nearly 8 liters in 2015.
As per FDA guidelines, in the U.S., cosmetics are FDA-regulated, but not FDA-approved. As the FDA guidelines ensure the safety and sustainability of the cosmetics packaging, the plastic containers manufacturers in the U.S. are focusing intently on the safety and sustainability of the plastic materials in order to maintain the proper measures.
What's Keeping Germany Plastic Containers Market in the Forefront?
Germany, being the world's second largest plastic containers market, is a highly promising region, owing to the presence of robust demand-supply chains and an exponentially growing food & beverages industry.
As per the report published by the UKR Export Government, more than 82 million consumers helped in making Germany the largest food & beverage retail market in Europe. The report stated that the food retailing revenue which reached at a EUR 170 billion mark in 2011, is forecast to grow significantly through 2030.
Numerous government initiatives have contributed significantly to the German plastic containers marker proliferation. According to IndiFoodBev, existing limitations on mandatory deposit systems of PET bottles are contributing to the loss of a tenth of the total bottles due to the closed recycling loop. This means that nearly 40,000 tons of plastic is disposed of as waste.
Taking cognizance of this problem, the German federal state of Hasse, in collaboration with Baden-Wurttemberg, has sought to widen the scope of compulsory deposit on beverage containers in the Upper House of the German Parliament. The house voted in favor of extending the mandatory deposit system to cover all non-returnable plastic bottles.
Estimates suggest that Germany is Europe's largest market for soft drinks and alcoholic beverages. With average per capita consumption of soft drinks and mineral water reaching nearly 130 liters and 150 liters respectively in 2015, the sales of plastic containers in the coming years is bound to proliferate.
Surging Alcoholic Beverages Consumption to Catapult U.K. Market
The rise in demand for the single-use plastic containers for water and alcoholic beverages has spurred the growth in United Kingdom over the past decade. According to the Alcohol Change UK Organization Statistical Report 2018, in England 82% of adults drank alcohol in the past 12 months, while 49% of adults drink at least once a week.
Contrary to this, in 2017, an estimated 29.2 million adults drank alcohol in the week before being surveyed, which is 57% of the population. These figures indicate that alcoholic beverages segment accounts for a major share of the plastic containers manufacturers revenue in the U.K.
According the Government of London, U.K., the average London adult buys more than three plastic water bottles every week which implies to 175 bottles every year per person. As stated in their report, in total, approximately 7.7 billion plastic bottles are bought across the U.K. each year. This has definitely been a key driver to the United Kingdom plastic containers sales since the past years.
Russia to Attract Significant Investments
With the rising demand for the plastic boxes, packets, and bottles from the cosmetics, beverages, and pharmaceutical industries, Russia has come to the spotlight in the plastic containers market.
The International Trade Administration report, in 2019, per capita spending on medicines was US$ 160 per person, ranking Russia 19th out of 32 central and Eastern European (CEE) economies. The report also revealed that US$ 19.9 billion pharmaceuticals were sold in Russia in 2019, equal to 1.2% of GDP and 22.6% of the nation's health spending.
A report published by the World Food Organization in January, 2020, says that the food and beverages industry of Russia, which reached a value of US$ 26 billion in 2019, is highly promising. The data in this report shows that nearly US$ 200 billion is spent on food & drinks items per year in Russia, which accounts for nearly half of all retail sales in Russia. The above-mentioned projections reveal the tremendous potential of Russia plastic containers market through 2030.
What's Keeping France in the Limelight?
While the rise in demand from food & beverages, and cosmetics & personal care industry has kept the France in the limelight for the plastic containers manufacturers, factors such as adoption of sustainable plastic packaging solutions, increase in consumer demand for recyclable plastics, and others have also contributed to the upward demand-supply trajectory in France.
According to the report "France Country Commercial Guide" published by Privacy Shield Framework, the total local production by the France domestic cosmetics industry was US$ 21,750 billion in 2016 which increased to US$ 22,236 billion in 2018. As per the report, there were nearly 430 cosmetics companies in France in 2018 and the number has been growing steadily creating new opportunities for the plastic containers manufacturers.
France's Circular Economy Law aims for reaching 100% recycled plastic by 2025. While the government has set a goal of eliminating all single-use plastics, the manufacturers are emphasizing on producing recyclable plastics to leverage the new opportunities created by the key end-user industries in France.
High Demand from Cosmetics Industry Spearheading Growth in Japan
Japan is set to maintain a significant lead throughout the forecast period. According to the Wisconsin Economic Development Corporation (WEDC) in January, 2019, the combined food retail and food service market in Japan is significant in size with a value of nearly US$ 600 billion.
As stated in the report, the food imports in Japan in 2019 has grown tenfold compared to the food imports in 2014. The report says that the self-sufficiency of Japan in food was 39% in 2015 and the government has set a goal of rising the number to 45% by 2025.
Japan is the second largest market for cosmetics in the world. Therefore, it is another center of attraction for plastic containers manufacturers. According to the EU-Japan Centre for Industrial Cooperation, the Japanese cosmetics market is highly potent, expected to flourish on the back of growing number of packaging factories, retailers, and laboratories.
Why are Plastic Containers Suppliers Targeting China?
China is the epicenter of the fast growing APEJ plastic containers industry, is drawing the attention of the manufacturers significantly. The increase in application of plastic containers in the bottled water and packaging of carbonated soft drinks is projected to rise the revenue of the plastic containers manufacturers in China.
The per capita consumption of bottled water in China has grown from 23.6 liters in 2013 to 29 liters in 2016. According to the report published by the DCCC Organization of China in March, 2019, per person revenue for bottled water consumption was US$ 34.93 in 2019, while revenue in the bottled water segment amounted to US$ 48,656 million in 2019.
As per the report, the market is set to grow at over 12% through 2021 and beyond. This is anticipated to grow the demand-supply curve for plastic containers in China further upward in the coming years.
Category-wise Insights
Bottled Water Segment Emerges Lucrative in Terms of Application
Bottled water is the most lucrative segment in terms of application. According to the International Bottled Water Organization, between 2000 and 2002 the volume of global bottled water industry achieved double digit percentage growth rates and since that year the value is growing exponentially due to high level of bottled water consumption across the globe.
According to the Beverage Marketing Corporation, in the United States, total bottled water volume grew from 13.8 billion gallons in 2018 to 14.4 billion gallons in 2019, an increase of nearly 4%. As per the report, in 2019, the per capita bottled water consumption in the U.S. reached at nearly 44 gallons and it's expected to increase further in the coming years.
Food & Beverages Remains Leading End-user Industry
As the food & beverages industry is growing fast, it is expected to fuel the sales of the plastic containers substantially in the coming years. According to the United States Department of Agriculture (USDA), in 2018, food & beverage manufacturing plants accounted for 15% of the value of the shipments from all U.S. manufacturing plants.
As per their data for 2018, there are 36,486 food & beverage processing plants in the United States, while California had the most food & beverages plants in 2017.Extensive R & D, zooming focus on health and well-being, technological advancements in packaging and delivering food and beverages products are key to the growth of the food & beverages industry which tends to persist in the coming years.
Polyethylene Terephthalate to Remain Lucrative
Polyethylene terephthalate or PET are highly required by the diverse end-user industries such as bottled water, carbonated soft drinks, food, beverages and others. PET plastic is approved as safe by FDA and is gaining rapid traction in producing plastic containers due to being light-weighted, non-reactant, cost-effective, and environment-friendly.
HDPE, LDPE, and PP are some of the other key segments of the plastic containers market in terms of material. HDPE have good low temperature impact resistance and excellent chemical resistance which make them highly preferable for using in foods, cosmetics, and pharmaceutical packaging where safety is of utmost concern.
Why Containers Segment is highly Sought-after?
Plastic containers being highly demanded for one-time use in packaging food, drinks, and others is the most widely used type of packaging. High degree of protection and reduced costs are increasing adoption of containers across key end-use industries.
Bags, pouches, bottles, jars, pouches, and others are expected to remain as key segments in the coming years.Plastic pouches are highly requited by the food, cosmetics, and other industries due to their varieties in size, shape, and designs. The incorporation of 3-D prints on the surfaces of such containers make them even more sought-after by diverse end users.
Competitive Landscape
The global plastic containers market is highly competitive. In order to capitalize on the growing opportunities, the key market players are started with launching wide varieties of quality products.
For instance,
Alpha Packaging Holdings Incorporated launched its new extensive range of PET products such as PET Honey Bears, Black PET Sample Pack, and others in the last year in order to draw potential consumers. They are also providing Plastic Comparison Chart to their client to let them get access to the correct information about their plastic containers
Linpac Group Ltd launched its new extensive range of plastic containers such as Vertifresh-Flexible Packaging, Hotpacs boxes & trays, and others in 2020
CKS Packaging Incorporated launched their new range of plastic containers of various sizes such as 128 oz 8 Pint Jar Naugatuck, CT, 96 oz 6 Pint Jar Naugatuck, CT, 48 oz 3 Pint Jar Naugatuck, CT, and others in the last year
Sonoco Products Company launched its new exclusive range of plastic containers such as Hinged & Lidded Rigid Plastic Containers, In-Mold Label Containers, Rigid Blister Packaging, and others in 2020
Plastic Containers Market Report: Scope
Attribute

Details

Forecast Period

2020-2030

Historical Data Available for

2015-2019

Market Analysis

USD Million for value and Kg for volume

Key Regions Covered

North America
Latin America
Europe
South Asia
East Asia
Middle East & Africa
Oceania

Key Countries Covered

US
Canada
Germany
U.K
France
Italy
Spain
Poland
Russia
China
Japan
South Korea
India
Thailand
Malaysia
Vietnam
Indonesia
Australia
New Zealand
GCC Countries
Turkey
Northern Africa
South Africa

Key Segments Covered

Application
End User
Packaging Material
Packaging Type, and Region

Key Companies Profiled

Alpha Packaging Holdings Incorporated
AMCOR Ltd, Bemis Company Incorporated
CKS Packaging Incorporated
Constar International LLC
Huhtamaki Oyj, Letica Corporation
Linpac Group Ltd
Sonoco Products Company
Plastipak Holdings Incorporated

Report Coverage

Market Forecast
brand share analysis
competition intelligence
DROT analysis
Market Dynamics and Challenges
Strategic Growth

Customization & Pricing

Available upon Request
Plastic Containers Market by Category
Application
Alcoholic Beverages
Bottled Water
Carbonated Soft Drinks
Energy Drink
Milk Products
Ready to Drink Beverages
Tea/Coffee
End User
Cosmetics & Personal Care
Electronics
Food & Beverages
Other End Users
Pharmaceuticals
Printing & Stationary
Packaging Material
High Density Polyethylene (HDPE)
Low Density Polyethylene
Other Resins
Polyethylene Terephthalate (PET, PETE, PETG or Polyester)
Polypropylene (PP)
Polystyrene (PS)
Polyvinyl Chloride (PVC)
Packaging Type
Bags & Pouches
Bottles & Jars
Boxes & Cartons
Containers (Plastic Containers, Metal Cans)
Others (Cups, Tubs, Bowls etc.)
Region
North America
Latin America
Europe
South Asia
East Asia
Middle East & Africa
Oceania
- FAQs -
According to Fact.MR, the global plastic containers market is expected to grow at over 4.5% CAGR (value) during the forecast period between 2020 and 2030.
Some of the top companies in global plastic containers market are Alpha Packaging Holdings Incorporated, CKS Packaging Incorporated, Constar International LLC, and Linpac Group Ltd.
Presently, Polyethylene Terephthalate (PET, PETE, PETG or Polyester) accounts for the highest demand in the plastic containers market and is likely to remain dominant in the coming years.
Currently, Germany, USA, U.K., Russia, France, and China are some of the lucrative markets for plastic containers.
Plastic containers and cans are boosting the sales of the plastic containers manufacturers worldwide.