Monoclonal Antibodies Market
Monoclonal Antibodies Market Analysis By Production (In Vivo, In Vitro), By Source (Murine, Chimeric, Humanized, Human), By Indication (Cancer, Autoimmune Diseases, Inflammatory Diseases, Infectious Diseases), By End User (Hospitals, Specialty Centers, Research Institutes) and By Region – Global Market Report (2023 to 2033)
Analysis of Monoclonal Antibodies Market Covering 30+ Countries Including Analysis of US, Canada, UK, Germany, France, Nordics, GCC countries, Japan, Korea and many more
Monoclonal Antibodies Market Outlook (2023 to 2033)
Newly released data by Fact.MR, a market research and competitive intelligence provider, reveals that the global monoclonal antibodies market size is valued at US$ 228.99 billion in 2023 and is forecasted to reach US$ 692.39 billion, expanding swiftly at a CAGR of 11.7% through 2033.
The market represents a healthcare revolution, providing tailored and precise therapeutic options for a wide range of diseases. Monoclonal antibodies (mAbs), which are biologically created molecules that attach to specific antigens or proteins, have emerged as a critical component of precision medicine. Because of their adaptability, personalization, and use in a variety of therapeutic areas, they are invaluable tools for enhancing patient care.
Rising prevalence of chronic diseases, especially cancer and autoimmune disorders, is driving the demand for monoclonal antibodies. These biologics provide extremely effective monoclonal antibody treatment alternatives, which contribute to market growth.
Pharmaceutical and biotechnology businesses are investing considerably in research and development in the monoclonal antibodies market to create monoclonal antibodies with improved therapeutic efficacy. The discovery and development of monoclonal antibodies are being driven by strategic cooperation between pharmaceutical corporations, academic institutions, and research groups. As healthcare professionals and patients become more aware of the benefits of monoclonal antibodies, there is a greater demand for these medicines.
Key Market Growth Drivers
Monoclonal antibodies are extremely adaptable. They can be tailored to target a specific protein or antigen, making them suitable for a wide range of therapeutic applications.
Monoclonal antibodies are the pinnacle of personalized medicine. They allow healthcare practitioners to tailor medicines to patient's specific genetic and molecular profiles, resulting in more effective and tailored therapeutic outcomes.
Monoclonal antibodies can target specific cancer cells while protecting healthy cells in oncology. They aid in the regulation of an excessive immune response in autoimmune disorders. Their applications also include infectious diseases.
Biotechnology advances, such as genome sequencing and protein engineering, have aided in the creation of innovative monoclonal antibody therapeutics. This advancement is fueling the discovery of new therapeutic targets and expanding patient treatment options.
Recognizing the potential of monoclonal antibodies to meet unmet medical needs, regulatory agencies have expedited the approval procedure for these biologics. This has given additional push to research and development in this area.
Monoclonal antibodies provide great therapy efficacy with low adverse effects because of their tailored strategy.
Monoclonal antibodies have opened new doors for precise and successful treatments in fields ranging from oncology and autoimmune disorders to infectious and inflammatory diseases. This industry is booming in this era of precision medicine, with ongoing innovation, new applications, and a bright future.
Report Attributes
Details
Monoclonal Antibodies Market Size (2022A)
US$ 205 Billion
Estimated Market Value (2023E)
US$ 228.99 Billion
Forecasted Market Value (2033F)
US$ 692.39 Billion
Global Market Growth Rate (2023 to 2033)
11.7% CAGR
Asia Pacific Market Growth Rate (2023 to 2033)
12.3% CAGR
North America Market Share (2022)
47.2%
Human Source Segment Share (2022)
52.5%
Humanized Source Segment Growth Rate (2023 to 2033)
11.2% CAGR
In Vitro Production Segment Share (2022)
76.2%
Hospital Segment Share (2022)
40%
Key Companies Profiled

Novartis AG
Pfizer Inc.
GlaxoSmithKline PLC
Amgen Inc.
Merck &Co. Inc.
Daiichi Sankyo Company Ltd.
Abbott Laboratories
AstraZeneca PLC
Eli Lilly and Company
Johnson & Johnson Services Inc.
Bayer AG
Bristol Myers Squibb
F.Hoffman-La Roche Ltd.
Viatris Inc.
Biogen Inc.
Thermo Fischer Scientific Inc.
Novo Nordisk A/S
Sanofi SA
Merck KGaA
AbbVie
Don't Need a Global Report?
save 40%! on Country & Region specific reports
What is Shaping the Growth of the Monoclonal Antibodies Market?
"High Treatment Efficacy of Monoclonal Antibodies with Minimal Side Effects"
The unique ability of monoclonal antibodies to specifically target certain antigens or proteins with great affinity leads to exceptional therapy efficacy. Unlike standard medicines, which can have broad and often unwanted side effects, monoclonal antibodies target the specific cellular or molecular contributing factors that cause diseases. This focused approach is especially important in the treatment of diseases like cancer, where the goal is to destroy malignant cells while causing the least amount of harm to healthy tissues. The promise of effective therapies with few side effects has fueled the rapid adoption of monoclonal antibody drugs.
"Personalized Treatments Leading to Enhanced Therapeutic Outcomes"
Monoclonal antibodies enable treatment to be tailored to each patient's unique genetic and molecular profile. This customization of medicines to a patient's individual needs not only improves therapy outcomes but also aligns with precision medicine ideals. Patients, particularly those with chronic and life-threatening disorders, benefit from monoclonal antibodies that take genetic variants and individual disease presentations into account.
This personalization promotes a stronger bond between healthcare practitioners and patients by addressing their specific needs, ultimately leading to higher treatment adherence and patient satisfaction. The patient-centric approach, along with the precise and focused nature of monoclonal antibodies, has become a beacon of hope for individuals seeking highly effective, individualized treatment alternatives, cementing their key role in the future of healthcare.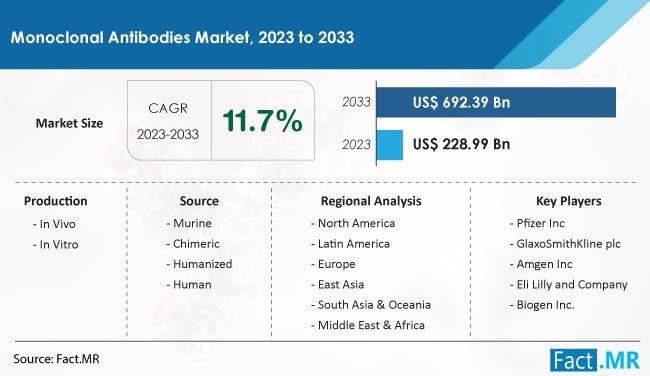 What Can Hinder the Uptake of Monoclonal Antibodies?
"Risk of Development of Anti-monoclonal Antibodies against Therapeutic Monoclonal Antibodies"
Immunogenicity can be a substantial hurdle in monoclonal antibody therapy, especially when the immune response neutralizes the desired therapeutic benefit. One of the key concerns of immunogenicity is that a patient's immune system may mistake monoclonal antibodies for foreign invaders, creating antibodies that can counteract the therapeutic effects of these molecules. This phenomenon varies between patients and is affected by several factors, including the specific monoclonal antibody, the patient's unique immune system, and the length of treatment.
In cancer, for example, when precision is essential, production of neutralizing antibodies may result in inadequate tumor targeting and therapy failure. Furthermore, development of immunogenicity can lead to adverse effects such as infusion-related hypersensitivity and, in rare situations, severe allergic reactions. These reactions not only raise safety issues, but they also necessitate further medical interventions, putting additional strain on healthcare systems and negatively impacting patient well-being. While monoclonal antibodies have transformed modern medicine, immunogenicity remains a severe barrier.
More Insights, Lesser Cost (-50% off)
Insights on import/export production,
pricing analysis, and more – Only @ Fact.MR
How Can Start-ups Differentiate Themselves Amidst the Tough Competition?
"Emphasis on Enhancing Specificity of Monoclonal Antibodies for Improved Patient Outcome"
Start-ups must concentrate on developing novel technologies, platforms, or techniques that can improve monoclonal antibody production efficiency, specificity, or therapy outcomes. Collaborations with existing pharmaceutical or biotechnology companies can provide start-ups with access to critical resources, knowledge, and distribution channels, allowing them to develop their operations more quickly.
Investigating niche monoclonal antibody applications, particularly in uncommon diseases or new industries, provides an opportunity to differentiate and potentially become leaders in those specialized segments, which may be less congested and more open to novel ideas. Regulatory compliance is non-negotiable for monoclonal antibody manufacturers. Thus, start-ups should ensure that they meet the severe regulatory criteria that regulate the monoclonal antibody business.
Country-wise Insights
North America held a leading market share of 47.2% in 2022. From 2023 to 2033, the Asia Pacific market is forecasted to expand at a CAGR of 12.3%.
How is the United States Contributing to the Expansion of the Market?
"Favorable Healthcare Investment Climate and Supportive Regulatory System"
The United States has a powerful healthcare system and a strong presence of pharmaceutical and biotechnology businesses at the forefront of monoclonal antibody development. This encourages innovation and research, resulting in a steady influx of ground-breaking cures.
The country benefits from a supportive regulatory system that expedites monoclonal antibody approval, recognizing their potential to meet unmet medical needs. The expanding elderly population in the United States population and changing disease patterns, exemplified by an increase in the frequency of chronic diseases such as cancer and autoimmune disorders, feed the desire for precise and focused treatments, which necessitates the adoption of monoclonal antibodies.
According to the American Cancer Society, more than 1.8 million new cancer cases were reported in 2020, with 606,520 deaths.
How are the Markets in India and China Progressing?
"Heavy Healthcare Infrastructure Investment and Low Production Costs"
India and China play a crucial role in driving the monoclonal antibodies market growth. These countries have a large and growing affluent population, which drives up demand for modern healthcare solutions. As the prevalence of chronic diseases such as cancer and autoimmune diseases rises in these areas, monoclonal antibodies represent a viable route for precise and successful treatment.
Both India and China have invested heavily in their healthcare infrastructure, research capacities, and pharmaceutical sectors in recent years. As a result, the biotechnology sector is thriving, with a rising emphasis on monoclonal antibody production. The low cost of production and research in these nations has attracted worldwide pharmaceutical corporations, resulting in cooperation and investments in monoclonal antibody development.
According to the World Health Organization, in 2020, approximately 10 million people died due to cancer worldwide.
Know thy Competitors
Competitive landscape highlights only certain players
Complete list available upon request
Category-wise Insights
The human source segment held 52.5% of the market in 2022. Over the forecast period, the humanized source type is anticipated to rise at a CAGR of 11.2%. The in vitro production segment held a market share of 76.2% in 2022. The hospitals segment by end-use held 40% of monoclonal antibodies market share and generated US$ 79 billion in sales in 2022.
What is the Growth Outlook for the Indication Segment?
"Increasing Demand for Monoclonal Antibody Therapeutics for Autoimmune Diseases"
Millions of individuals worldwide suffer from autoimmune illnesses, which are caused by the immune system wrongly attacking the body's cells and tissues, and the need for effective therapies has never been greater. Monoclonal antibodies are the treatment option for a variety of autoimmune illnesses, including rheumatoid arthritis, multiple sclerosis, and Crohn's disease.
The ability of monoclonal antibodies to control the immune system is one of the primary aspects contributing to the prominence of the segment. These biologics can target specific molecules and pathways involved in the autoimmune response, decreasing inflammation and disease development. This focused strategy is not only highly successful, but it also reduces the risk of systemic side effects associated with traditional treatments such as corticosteroids and immunosuppressants.
Monoclonal antibodies have proven to be effective in establishing and maintaining illness remission, significantly increasing the quality of life for autoimmune condition patients. As a result, demand for monoclonal antibody therapeutics in the category of autoimmune illnesses has increased, creating a significant market potential for pharmaceutical and biotechnology businesses.
Competitive Landscape
Presence of multiple significant competitors at the forefront of biopharmaceutical innovation characterizes the competitive landscape of the monoclonal antibodies market. These firms have established themselves as market leaders in the top antibody discovery companies and commercialization of monoclonal antibody therapeutics, providing a diverse range of therapy choices in a variety of therapeutic areas.
Roche Holdings, Regeneron Pharmaceuticals, Johnson & Johnson, Bristol-Myers Squibb, and AstraZeneca, are among the top companies in the monoclonal antibody market, each bringing their unique strengths and contributions to the world of monoclonal antibodies, touching on areas such as autoimmune diseases, immuno-oncology, gastroenterology, and more.
A competitive environment encourages innovation, resulting in a steady stream of new and improved monoclonal antibody therapeutics that broaden treatment options, improve patient care, and, ultimately, drive the evolution of modern healthcare.
Bristol-Myers Squibb Company gained FDA clearance in November 2021 for Opdivo (nivolumab) + Yervoy (ipilimumab) coupled with restricted chemotherapy as first-line treatment of metastatic or recurrent non-small cell lung cancer.
Segmentation of Monoclonal Antibodies Market Research
By Production :

By Source :

Murine
Chimeric
Humanized
Human
Others

By Indication :

Cancer
Autoimmune Diseases
Inflammatory Diseases
Infectious Diseases
Others

By End User :

Hospitals
Specialty Centers
Research Institutes
Others

By Region :

North America
Europe
Latin America
East Asia
South Asia & Oceania
Middle East & Africa
- FAQs -
Based on end use, hospitals held 40% share of the global monoclonal antibodies market in 2022.
The monoclonal antibodies market value stands at US$ 228.99 billion in 2023.
Demand for monoclonal antibodies is forecasted to reach a market value of US$ 692.39 billion by 2033-end.
Sales of monoclonal antibodies are projected to rise at a CAGR of 11.7% through 2033.
The Asia Pacific market is forecasted to expand at a CAGR of 12.3% over the forecast period.