Newborn Screening Market
Newborn Screening Market Analysis, By Product (Instruments, Consumables), By Test Type (Dry Blood Spot Tests, Hearing Tests, CCHD Screening Tests), By Technology (Immunoassays & Enzymatic Screening Tests, Molecular Assays, Pulse Oximetry), By End User & Region - Global Market Insights 2022-2032
Analysis of Newborn Screening market covering 30 + countries including analysis of US, Canada, UK, Germany, France, Nordics, GCC countries, Japan, Korea and many more
Newborn Screening Market Outlook (2022 to 2032)
The global newborn screening market is likely to be valued at US$ 520 Million in FY 2022, up from US$ 480 Million in 2021.
During the past year, the industry registered a Y-o-Y increase worth 8.3%. From 2022 to 2032, the newborn screening market is poised to flourish at a CAGR of 7.8% to reach a value of US$ 1.1 Billion by the end of 2032.
Report Attributes

Details

Anticipated Base Year Value (2021)

US$ 480 Million

Expected Market Value (2022)

US$ 520 Million

Projected Forecast Value (2032)

US$ 1.1 Billion

Global Growth Rate (2022-2032)

7.8% CAGR

Growth Rate of the U.S Market (2022-2032)

5% CAGR

Expected Market Value of China (2032)

US$ 850 Million

U.K Market Expansion Rate (2022-2032)

5.2% CAGR

Key Companies Profiled

PerkinElmer
Demant A/S
Natus Medical Inc.
Bio-Rad Laboratories
Danaher Corporation
Medtronic Plc.
Chromsystems Instruments & Chemicals GmbH
Trivitron Healthcare
Babieses
RECIPE Chemicals + Instruments GmbH
Demand for newborn screening consumables will continue to thrive, with a documented CAGR of 8% during the 2015-2021 historical period of assessment, while demand for immunoassays & enzymatic assays proliferated at a rate of 9% during the same period.
Know thy Competitors
Competitive landscape highlights only certain players
Complete list available upon request
2015 to 2021 Newborn Screening Market Revenue Analysis vs. Market Outlook 2022-2032
From 2015 to 2021, demand for newborn screening solutions expanded at under 8% CAGR, primarily driven by an increase in birth rates across major developing and developed economies. Consequently, prevalence of paediatric and other infant related disorders has spawned immensely in the past few years.
As the COVID-19 pandemic raged in the past two years, demand for newborn screening experienced significant uptick, as parents became highly concerned about the possibility of being asymptomatic carriers of the novel coronavirus and its transmission to infants.
Increased birth rates have entailed greater spending on newborn health infrastructure spending, prompting hospitals and other stakeholders to deploy advanced screening procedures, inclining prospects. From 2022 to 2032, the market is poised to surpass a CAGR of 7.8%, being valued at above US$ 1 Billion.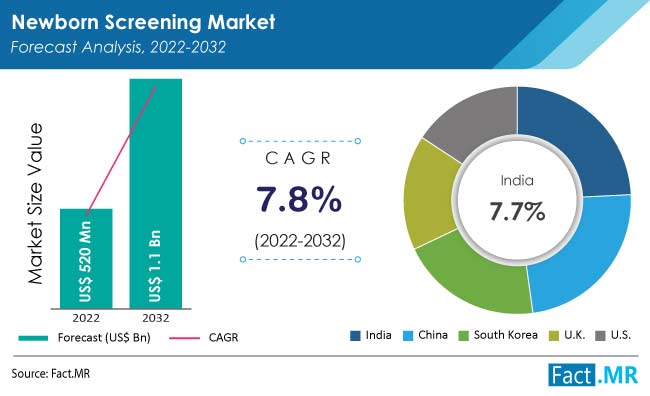 Key Drivers Stimulating Newborn Screening Industry Expansion
Surging Cases of Infant Disorders are Stimulating Newborn Screening Demand
The prevalence of infant diseases has multiplied in recent years, causing a sharp incline in mortality rates. Hearing impairment and metabolic and hormonal disorders are the most common conditions affecting newborns across prominent regions, which are mostly treatable.
According to the Centers for Disease Control & Prevention (CDC), birth defects affect one in every 33 babies, or 3% of all infants, across the United States. Furthermore, the Indian Academy of Paediatrics (IAP) estimates that congenital hearing loss impacts 30 per 100,000 children.
Consequently, demand for effective diagnostic solutions has compounded, prompting key healthcare providers to invest in advanced newborn screening approaches, generating increased demand.
Newborn Screening Providers are Foraying into Emerging Markets
Major newborn screening providers are looking to capitalize on the ever-brimming opportunities present across three major emerging markets: China, India, and Brazil, amid the exponentially high birth rates in these countries.
According to estimates, India records 25 billion births every year, or nearly one-fifth of the global annual childbirths. The high birth rate and the availability of newborn screening in public hospitals indicate a strong demand for market products and consumables.
Moreover, China has achieved significant progress in newborn screening, with the overall uptake rate for congenital hypothyroidism and phenylketonuria screening surpassing 90% in 2021.
Key Challenges to Newborn Screening Industry Expansion
Cost-effective Technology to Act as a Key Restraint in Global Expansion
The high cost of automation technology linked with the strong rivalry presented by small companies is a key market dispute that needs to be overcome by key market players to cultivate in the market. Besides, the shortage of integrated newborn screening policies & dealings and the availability of refurbished products is expected to restrain the growth of this market to a certain extent during the forecast period.
Country-wise Analysis
How Opportunistic are Growth Prospects across the U.S Market?
The U.S. is Likely to Generate Significant Opportunities for Newborn Screening Product Manufacturers
Prospects for newborn screening across the U.S. are expected to take a turn for the better, with an anticipated CAGR of around 5% throughout the forecast period. The Center for Disease Control and Prevention (CDC) estimates that Billions of babies are routinely screened every year. Fact.MR estimates that the North American market for Newborn Screening estimated nearly US$ 310 Million in 2021, likely to expand to reach US$ 540 Million by 2032 end.
Testing for possible diseases or conditions is largely administered via blood samples drawn from a newborn's heel for genetic, endocrine, or metabolic disorders, as well as for congenital heart defects. Players such as PerkinElmer and Danaher Corporation actively provide various newborn screening solutions.
Why are Newborn Screening Providers Venturing into India?
India is expected to Emerge as a Potential Revenue Hub for Newborn Screening?
Unceasing progress towards reducing infant mortality rates through various governmental and non-governmental initiatives is widening the scope for newborn screening across India, contributing around 30% of revenue by 2032.
According to UNICEF, every day 67,385 babies are born in India, representing a sixth of the world's childbirths, with the yearly total amounting to 25 Billion. Every minute, one of those babies dies due to some other disorder. Hence, healthcare providers are pushing forward to develop a robust child care system, which is upscaling demand for advanced children's diagnostics.
Based on the recent analysis, the forecast value for the Indian newborn screening market is likely to reach US$ 550 Million, following a 7.7% CAGR throughout the forecast period.
Country-wise Value CAGRs for Newborn Screening (2022-2032)
| | |
| --- | --- |
| Country wise Analysis | Growth Rate |
| U.S | 5% |
| U.K | 5.2% |
| China | 7.5% |
| India | 7.7% |
| South Korea | 6.4% |
Category-wise Insights
Which Product Type is Most Preferred in the Newborn Screening Market?
Newborn Screening Consumables are Gaining Huge Traction across the Globe
Based on product, demand for newborn screening consumables is poised to witness impressive growth, expanding at a CAGR of nearly 8% until 2032. This elevated share is an outcome of growing hygiene concerns, especially in the wake of the recent pandemic crisis.
Amongst all consumables, demand for assay kits & reagents shall remain elevated, attributed to their ability to produce faster output times which helps in timely detection and diagnosis or prevention of any serious pediatric conditions.
By Technology, which Newborn Screening is expected to Dominate?
Mounting Adoption Rate Enhances Demand for Newborn Screening Technology Segment
Based on technology, immunoassay- and enzymatic assay-based newborn screening is poised to acquire precedence, registering a CAGR of around 7% through 2032. This technology is widely deployed to ascertain various conditions amongst newborns.
For instance, ELISA-based is being widely deployed to screen newborns for cystic fibrosis using conventional radioimmunoassay. Similarly, monoclonal antibody immunoassay tests for hemoglobin variants identification are deployed for neonatal screening.
Why is Dry Blood Spot Newborn Screening Tests Grabbing Eyeballs?
Emerging Markets to Empower the Dry Blood Spot Newborn Screening
In terms of tests, dry blood spot newborn screening is anticipated to expand at an impressive 9% CAGR, as this approach enables the collection of small sample volumes, making them easier to transport.
Dried blood spots can be used if a baby requires re-testing, providing a fast alternative to bringing the parents and infant back to the hospital for a new blood draw. Dried blood spots are useful in ensuring quality control and assurance to ensure the proper functioning of testing equipment.
Competitive Landscape
Prominent Newborn Screening providers are reliant on partnerships, collaborations, acquisitions, and new software launches to stay afloat in the global market. Constant innovations to ensure a seamless client-customer relationship are the main focus of prominent market players.
In September 2020, PerkinElmer received the CE-IVD approval for its EONISTM screening assay for newborns which simultaneously tests for spinal muscular atrophy (SMA), severe combined immunodeficiency (SCID), and X-linked agammaglobulinemia (XLA).
In November 2020, Natus Medical Inc. acquired Baybe GmbH and its patented remote mother-to-baby communication technology. This acquisition adds a new dimension to the company's leading Newborn Care portfolio of products.
More Insights, Lesser Cost (-50% off)
Insights on import/export production,
pricing analysis, and more – Only @ Fact.MR
Key Segments Covered in the Newborn Screening Industry Survey
By Product :

Newborn Screening Instruments

Disorder Screening Instruments

Fully Automated Newborn Screening Instruments
Other Newborn Screening Instruments (Semi-automated Instruments, Shakers, Incubators, etc.)

Hearing Screening Instruments

Newborn Screening Accessories
Newborn Screening Devices

Pulse Oximeters

Newborn Screening Consumables

Newborn Screening Assay Kits & Reagents
Other Newborn Screening Consumables (Columns and Screening Cards)

By Test Type :

Dry Blood Spot Newborn Screening Tests
Newborn Hearing Screening Tests
Critical Congenital Heart Disease (CCHD) Screening Tests

By Technology :

Newborn Immunoassays & Enzymatic Screening Tests
Tandem Mass Spectrometry
Molecular Assays
Newborn Hearing Screening Technologies
Pulse Oximetry
Other Newborn Screening Technologies (Fluorescence, Gel Electrophoresis, etc.)

By End User :

Clinical Laboratories
Hospitals

By Region :

North America
Latin America
Europe
Asia Pacific
The Middle East & Africa
- FAQs -
From 2022-to 2032, newborn screening demand is likely to surge at a 7.8% CAGR
By 2032, the market for newborn screening is likely to be valued at US$ 1.1 Billion
By 2032, Fact.MR expects the U.S market for newborn screening to reach US$ 540 Million
China is expected to register a 7.5% CAGR in the newborn screening industry
India and South Korea are expected to document CAGRs worth 7.7% and 6.4% respectively in the newborn screening market
Based on product, newborn screening consumables will be maximum, expanding at an 8% CAGR
Immunoassay and enzymatic assay-based newborn screening newborn screening will remain most preferred, expanding at a CAGR of 7% until 2032
By 2022, Fact.MR expected demand for newborn screening to reach US$ 520 Million
As of 2021, Fact.MR estimated the newborn screening market to have reached US$ 480 Million