Immunoassay Market
Immunoassay Market Analysis by Technology Type (Chemiluminescence Immunoassay (CLIA), Enzyme-linked Immunosorbent Assay (ELISA), Radioimmunoassay (RIA)), by Product Type (Analyzer, Consumables), by Application Type, by End-User - Global Forecast 2022-2032
Analysis of Immunoassay market covering 30 + countries including analysis of US, Canada, UK, Germany, France, Nordics, GCC countries, Japan, Korea and many more
Immunoassay Market Outlook (2022-2032)
The global immunoassay market is forecast to grow at a 6% value CAGR, during the forecast period 2022-2032, reaching a market value of US$ 53 Billion. In 2021, the market was valued at US$ 28 Billion, and is likely to reach US$ 29.6 Billion in 2022, registering a Y-o-Y growth rate of 5.7%.
A growing number of chronic and infectious diseases, including COVID-19, can be attributed to market growth. Additionally, the growing geriatric population, which is more susceptible to chronic and infectious diseases, will contribute to growth.
Report Attributes

Details

Base Year Value (2021)

US$ 28 Billion

Current Year Value (2022)

US$ 29.6 Billion

Forecast Value (2032)

US$ 53 Billion

Global Growth Rate (2022-2032)

6% CAGR

Market Share of North America (2021)

35%

Market Share of Asia Pacific (2021)

34%

Key Companies Profiled

DiaSorin S.p.A.
Sysmex Corporation
bioMerieux SA
Ortho Clinical Diagnostics
Thermo Fisher Scientific Inc.
Becton
Dickinson and Company
Merck KGaA.
Know thy Competitors
Competitive landscape highlights only certain players
Complete list available upon request
2015-2021 Demand Analysis of Immunoassay Industry vs. Future Outlook 2022-2032
According to Fact.MR- a market research and competitive intelligence provider- Immunoassay industry growth totaled to a CAGR of 5.2% from 2015 to 2021. An increase in chronic and infectious diseases, including COVID-19, can be attributed to the market growth. Moreover, the rise in geriatric populations, who are more susceptible to chronic and infectious diseases, will increase the market growth.
A rise in chronic diseases such as cancer, cardiovascular disease, infections, autoimmune disease, nephrological diseases and diabetes mellitus, has led to the wide use of immunoassay techniques in disease diagnostics. The incidence of cancer is growing steadily, driving the need for effective diagnostic methods such as immunoassays.
Oncogenesis and cancer diagnosis are crucial aspects of this technique, whether benign or malignant. By determining the presence of tumor antigens, it facilitates the use of monoclonal or polyclonal antibodies that can identify specific antigens in tissues.
Growing research and development efforts, as well as an increase in cancer markers, disease diagnostics, clinical research methods, cardiac analysis, therapeutic medication monitoring are projected to fuel market growth. Biochemical tests, such as immunoassays, can be performed in hospitals and medical laboratories to determine whether certain chemicals are present and their concentrations.
Immunoassays are used in numerous bioanalytical applications including medical diagnosis, biopharmaceutical analysis, environmental monitoring, and food testing, which is driving the market's growth. From 2022 to 2032, the global market is forecast to expand 1.8x.
Prominent Growth Drivers Influencing Immunoassay Industry
Chronic Diseases and Public Awareness is expected to propel the market growth
Globally, chronic conditions such as diabetes, cardiovascular disease, and cancer are on the rise. A number of infectious diseases are still on the rise, including SARS-CoV2 (COVID-19), Dengue, Hepatitis B and C, HIV, malaria, tuberculosis, and many more.
Immunoassay diagnosis has become a critical part of the diagnostic process of many of these diseases. Advances in immunoassay technology offer faster results, higher sensitivity, and lower detection limits, while reducing costs. Worldwide immunoassay market growth is being fueled by the widespread use of quick tests and point-of-care tests for disease diagnosis and alcohol and drug addiction.
An effective part of controlling epidemic diseases is public awareness campaigns designed to identify symptoms of infectious diseases and ways to prevent them. Immunoassays have therefore been in high demand due to increased patient awareness.
The International Society of Infectious Diseases' advocacy program, for instance, aims to collaborate with public health practitioners, clinicians, and researchers worldwide and to support the exchange of scientific knowledge and evidence-based medicine practices.
Furthermore, the World Hepatitis Alliance launched the "Find the Missing Millions" campaign as part of its efforts to raise awareness about hepatitis and remove barriers in clinical diagnostic settings.
Technological Advancements to Provide Traction to Immunoassay Adoption
A technical and skilled workforce is required to interpret diagnostic tests. Assay analyzers play an important role in this process. The interpretation of assay results depends on how quickly they are completed. With innovations in the field of technology, the immunoassay market has been greatly elevated.
A number of automated laboratory instruments and equipment have been developed as a result of technological advancements. Laboratories benefit from automation because of increased efficiency and reduced space and labor usage. Thus, the market is experiencing substantial growth as some players are offering automated laboratory systems and point-of-care tests that are compact, portable.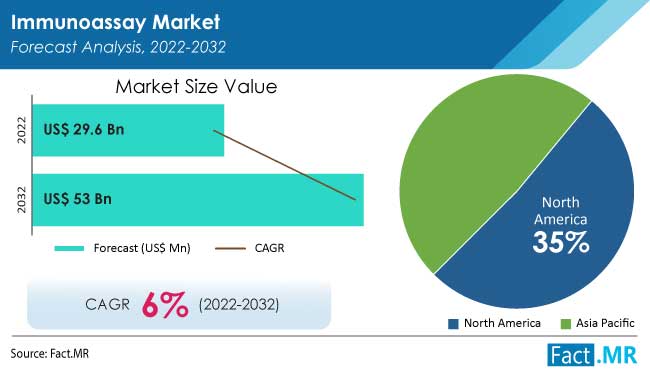 What could Possibly Hinder Immunoassay Deployment?
Strict regulations and technological challenges affect the growth of this market
Regulatory agencies in various countries have imposed strict requirements for the licensing and marketing of immunoassay consumables and equipment. The growth of the immunoassay market is also slowed by technological challenges such as cross-reactivity of antibodies, false negatives, limited detection limits of available antibodies, and others.
Immunoassay technicians encounter numerous design issues, such as misinterpretation of results. Moreover, the clinical diagnostics industry has been plagued by a shortage of qualified experts for many decades, which has hindered the market.
Region-wise Analysis
What is the Demand Outlook for Immunoassay in North America?
Increasing chronic diseases to propel the demand for immunoassay market
According to Fact.MR, in 2021, North America had the largest revenue share of 35.0%, and it is expected to continue dominating the market throughout the study period. With nearly two-fifths of the global immunoassay market, the region will remain the market leader. An increase in the incidence of cancer as well as the ease of acquiring technologically advanced diagnostic techniques may be responsible for this rise in demand of this market.
The region has also witnessed a significant increase due to the rise in chronic and infectious diseases, the growing geriatric population and well-developed healthcare infrastructure and advances in medical technology. The region also faces a high incidence of infectious diseases, such as HIV, tuberculosis, and influenza, which increases the demand for detection and treatment.
Approximately six out of ten Americans suffer from chronic conditions like heart disease, stroke, cancer, and diabetes. Additionally, government organizations and pharmaceutical companies are increasing their R & D spending to address health issues like chronic diseases and diabetes. All these reasons combined together are giving way to increase the growth of the immunoassay market.
Is Asia Pacific a Lucrative Market for Immunoassay Sales?
Mergers and Acquisitions to Generate New Growth Avenues
The Asia-Pacific region promises rewarding opportunities, accumulating a market share of 34%. Leading manufacturers are merging and acquiring, while the healthcare and life sciences industry is booming.
In addition, the growing adoption of innovative laboratory methods for faster diagnosis and investigation of infectious and chronic disorders is another driver of market growth in the region. A key factor driving the market is the introduction of molecular kits and the growing use of reagents for diagnosis.
Market Share for the Immunoassay Market
| | |
| --- | --- |
| North America | 35% |
| Asia Pacific | 34% |
Category-wise Insights
Which Technology Type is likely to Acquire Maximum Market Gains?
Chemiluminescence Immunoassay (CLIA) is likely gain the maximum share
By technology type, Fact.MR, expects chemiluminescence immunoassay (CLIA) will account for nearly half of the global immunoassay market during the forecast period, growing at a CAGR of 6.6%. Benefits of using this technique include the use of fluorescence detection or light absorption, which is highly sensitive and can detect tiny amounts of the biological molecule.
In addition to this, its dynamic range is wider and its relationship between luminance intensity and substance concentration is linear. As a result of the enhanced reaction, intense light is emitted for a longer period of time, and the substrate need only be added minutes before detection.
By Application, which Category is likely to benefit the most?
Infectious diseases segment is forecast to grow in the Future
The infectious diseases segment is expected to grow at a CAGR of 6.5%, capturing 29.3% of the market. As a consequence of the ongoing COVID-19 pandemic, infectious diseases are becoming increasingly relevant.
The high share of infectious diseases segment can be attributed to increasing rates of HIV, influenza, malaria, and the new upcoming variants of COVID-19. Launches of new products in the field of infectious disease testing are driving the market further.
By End Use Industry, which Category is likely to benefit the Maximum?
Hospitals and blood banks are going to dominate this market
Hospitals are expected to dominate the market with an estimated 81% share, while blood banks are expected to grow at a CAGR of around 7.0%. Due to the rising number of infectious diseases detected at blood banks through screening and processing of donated blood, blood banks are expected to grow during the forecast period.
A major advantage of ELISA is that it is simple to use and does not require many specialized instruments or equipment. This is the reason it is widely used in blood banks. Hospitals are likely to see an increase in immunoassay testing as a result of increased demand for blood transfusions to treat infectious diseases. The blood bank segment will benefit from an increase in blood transfusions.
Don't Need a Global Report?
save 40%! on Country & Region specific reports
Competitive Landscape
The key players are taking on extensive initiatives to address the unmet needs of patients in the domain of immunoassays and stressing more on new product development, mergers and acquisitions, and regional expansion.
Molecular biology subsidiary BioFire Diagnostics, a subsidiary of BioMérieux SA, filed an application with the Food and Drug Administration in January 2020 for clearance of its BIOFIRE Blood Culture Identification 2 (BCID2) Panel. The BIOFIRE BCID2 Panel has an expanded list of antibiotic resistance genes, considerably more pathogens, and several revised targets compared to the previous BIOFIRE BCID Panel.
Siemens Healthineers announced in November 2020 that its SARS-CoV-2 IgG Antibody Test has been certified as a CE mark measurement of neutralizing antibodies. The test is an improved version of the COVID-19 antibody test it previously launched.
Maglumi HIV Ab/Ag Combi CLIA kit, Snibe Diagnostics' fourth-generation chemiluminescence immunoassay that can detect HIV-1 and HIV-2 antibodies as well as the HIV-1 p24 antigen, obtained CE marking in April 2021, allowing it to be sold in the European Union and other regions accepting the designation.
Key Segments Covered in the Immunoassay Market Report
By Technology Type :

Chemiluminescence Immunoassay (CLIA)
Enzyme Linked Fluorescence Assay (ELFA)
Enzyme-linked Immunosorbent Assay (ELISA)
Radioimmunoassay (RIA)
Others

By Product :

Analyzer Immunoassay
Consumable Immunoassay

By Application :

Infectious Diseases
Orthopedics
Cardiology
Oncology
Endocrinology
Other Applications

By End-User :

Immunoassay for Blood Banks
Immunoassay for Hospitals & Diagnostic Laboratories
Immunoassay for Others (Pharmaceutical & Biotech Companies, Forensic Labs, Academic & Research Institutes, etc.)

By Region :

North America
Western Europe
Asia Pacific
Middle East & Africa
Eastern Europe
Latin America
- FAQs -
From 2015-2021, the immunoassay market grew at a 5.1% value CAGR.
From 2022-2032, immunoassay demand is likely to surge at a 6% CAGR.
By 2032, Fact.MR expects the APAC market for Immunoassay will grow at a CAGR of 7%.
Hospitals will hold the maximum share of the market with a value of 81%.
The chemiluminescence immunoassay segment is expected to grow at a 6.6% CAGR during the forecast period 2022-2032.
The infectious diseases segment will hold the largest market share of 29.3%.