Over-The-Counter (OTC) medicines can be purchased without doctor's prescription. OTC drugs are used to treat minor ailments and are usually consumed on basis of self-diagnosis. These drugs are available at pharmacies, small convenience stores as well as at supermarkets. OTC medication is usually not recommended, especially in case of children as they are more likely to have adverse drug reactions than adults. The adverse effects wrong medicine or overdosage can result in an allergic reaction and other side-effects.
OTC medicines have a low risk if used properly by adults, but these drugs pose greater risks for children, especially in the case of first-time medication or if a child is suffering from some other health conditions. According to the U.S. Food and Drug Administration (FDA), OTC medicines to treat cold and cough for children under 2 years of age should be avoided as these medicines can cause serious or life-threatening side-effects. FDA also warns against the use of codeine products to treat cold and cough in children less than 12 years of age as it can result in serious breathing problems. OTC medicines including aspirin are also not recommended for children as aspirin can lead to Reye's syndrome in children, which is a rear but potentially serious illness.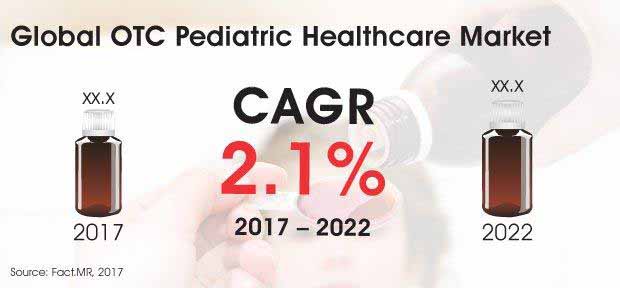 According to the latest report by Fact.MR, the global market for OTC pediatric healthcare is anticipated to reach close to US$ 10,000 million revenue by 2022 end. The market is expected to experience sluggish growth during the forecast period, 2017 to 2022. Increasing risk of serious side-effects due to OTC medicines based on self-care decision is restricting the parents from choosing OTC drugs for children, thus leading to the decline in OTC pediatric healthcare.
Market Taxonomy
| Product Type | Sales Channel | Region |
| --- | --- | --- |
| Gastro Intestinal | Drug store/ Pharmacy | North America |
| Dermatology | Hospital Pharmacies | Latin America |
| ENT | Modern Trade | Europe |
| Nutrition/Vitamins | Convenience Store | Japan |
| Other Products | Online Retailers | APEJ |
| | Other Channel | MEA |
(Additional information, including cross-sectional data and country-wise analysis & forecast is available in the report)
Dermatology- Top-Selling Product
OTC pediatric medicines that fall under dermatology are projected to remain top-selling products in the global OTC pediatric healthcare market between 2017 and 2022. Sale of Dermatology OTC pediatric drugs is expected to bring in nearly US$ 3,500 million revenues towards the end of 2022. Meanwhile, ENT OTC pediatric medicines are anticipated to account for lowest revenue shares. OTC cold and cough medicines are not recommended for children because of the risk of serious side-effects and high chances of developing breathing problems.
High Sales through Drug Stores/ Pharmacies
Accounting for nearly one-third of revenue share in the OTC pediatric healthcare, drug stores/ Pharmacies emerge as one of the most lucrative sales channels. Towards the end of 2022, drug stores/ pharmacies are projected to reach close to US$ 3,200 million revenues. Although, global sales of OTC pediatric medicines through hospital pharmacies is projected to create an incremental opportunity of over US$ 300 million during 2017-2022.
Competition Tracking
The report also profiles companies that are expected to remain active in the expansion of global OTC pediatric healthcare market through 2022, which include Procter & Gamble, Johnson & Johnson, GlaxoSmithKline Plc, Abbott Laboratories, Amway Corporation, Bayer Aktiengesellschaft, Sanofi, Pfizer, Inc., Reckitt Benckiser Group plc, and Church & Dwight Co., Inc.
Note: The insights mentioned here are of the respective analysts, and do not reflect the position of Fact.MR
(Over-The-Counter) OTC pediatric medication is based on self-care or self-diagnosis, hence, OTC pediatric drugs can result into side-effects or allergic reactions. Various risks associated with OTC medicines is impacting its demand in the market. Moreover, some of the leading association across the globe don't recommend OTC medicines, especially for children as it can result in some serious side-effects. However, producers of OTC drugs are focusing on providing vital information related to the drug dosage, uses, etc., especially for children in order to minimize the risk. This Fact.MR report analyzes the expansion of global OTC pediatric healthcare market till date, and provides key insights on the growth of the market during the forecast period, 2017-2022.
Scope
The scope of Fact.MR's report is to analyze the global OTC pediatric healthcare market for the forecast period 2017-2022 and provide readers an unbiased and accurate analysis. Medical device manufacturers, research institutes, and raw material suppliers in the global OTC pediatric healthcare market can benefit from the analysis offered in this report. This report offers a comprehensive analysis, which can be of interest to leading trade magazines and medical journals pertaining to OTC pediatric healthcare.
Summary
The report commences with a brief information of the global OTC pediatric healthcare market. This executive summary sets the tone for the rest of the report, providing users the scope of the report. The executive summary includes important facts and statistics on the global OTC pediatric healthcare market.
Overview
The next section offers an overview of the global OTC pediatric healthcare market. This comprises an introduction to the market, along with a standard definition of the product – OTC pediatric healthcare. In this section, market value and year-over-year growth is offered to the readers. Year-over-year growth provides readers with a broader view of growth patterns over the forecast period.
The report's succeeding section focuses on drivers, restraints and key trends from macroeconomic, demand, and supply perspectives. Impact analysis of weighted average model-based growth drivers is contained in the report for better provision of decision-making insights to clients.
In order to offer readers with up-to-date information about the latest advancements in the global OTC pediatric healthcare market, the report provides updates about market opportunities, which can benefit leading manufacturers of OTC pediatric healthcare. With continuous evolution of the healthcare sector, keeping a record of latest developments and trends is fundamental for OTC pediatric healthcare manufacturers to formulate key business strategies. Detailed insights about raw material sourcing, supply chain, regulatory approvals, pricing analysis, list of distributors, and cost structure are provided in this section.
The report by Fact.MR provides in-depth analysis on the wide scope of the global OTC pediatric healthcare market. The report focuses on segment-wise analysis and forecast, offering future prospects of the market. The global market for OTC pediatric healthcare is segmented on the basis of product type, sales channel and region. The segmentation analysis also provides country-wise forecast on all the key market parameters.
The report's last section comprises of the global OTC pediatric healthcare market competitive landscape, to provide readers with the dashboard view of company analysis and market players. This competitive intelligence is based on the providers' categories across value chain, and their presence in the global OTC pediatric healthcare market.
Research Methodology
Fact.MR is committed to offer unbiased and independent market research solutions to its clients. Each market report of Fact.MR is compiled after months of exhaustive research. We bank on a mix of tried-and-tested and innovative research methodologies to offer the most comprehensive and accurate information. Our main sources of research include,
Primary research
Secondary research
Trade research
Focused interviews
Social media analysis
Fact.MR offers custom research services that help clients to get specific research solutions
We are committed towards customer satisfaction and quality service.
---
Our Clients

OTC Pediatric Healthcare Market Forecast, Trend Analysis & Competition Tracking: Global Market insights 2017 to 2022