Nitrogen Trifluoride Market
Nitrogen Trifluoride Market Analysis By Grade (Electronic, Industrial), By Process (Chemical Synthesis, Electrolyzing Synthesis), By Application (Semiconductors, Flat Panel Displays, LEDs, Solar PV Cells) & By Region - Global Market Insights 2023 to 2033
Analysis of Nitrogen Trifluoride Market Covering 30+ Countries Including Analysis of US, Canada, UK, Germany, France, Nordics, GCC countries, Japan, Korea and many more
Nitrogen Trifluoride Market Outlook (2023 to 2033)
As per a new industry analysis by Fact.MR, a market research and competitive intelligence provider, the global nitrogen trifluoride market is valued at US$ 1.25 billion in 2023. The market is projected to reach US$ 3.88 billion by 2033, expanding at a high-value CAGR of 12% over the next ten years.
Nitrogen trifluoride (NF3) is a chemical compound composed of one nitrogen atom and three fluorine atoms. Its chemical formula is NF3. NF3 is a colorless, odorless gas at room temperature and is highly reactive. Nitrogen trifluoride is a powerful oxidizing agent and can react vigorously with various organic and inorganic compounds. It is stable in the presence of moisture and non-flammable. NF3 is soluble in water and has a slightly acidic nature.
NF3 is primarily used in the electronics industry. It is commonly employed as a cleaning and etching agent in the manufacturing of semiconductors, flat panel displays (LCD, OLED), photovoltaic cells (solar panels), and other electronic components. NF3 is favored due to its low toxicity, high etch selectivity, and low environmental impacts compared to alternative cleaning agents.
There are two types of nitrogen trifluoride grades—electronic and industrial. Electronic grade NF3 is typically more in demand compared to the industrial grade. The main reasons for this preference are:
Purity Requirements: The electronics industry requires high-purity chemicals to ensure the quality and reliability of electronic components. Electronic grade NF3 is produced with a higher level of purity. This level of purity is necessary to prevent any contamination or adverse effects on delicate semiconductor devices and other electronic components.
Process Control: The manufacturing processes in the electronics industry such as semiconductor fabrication and display panel production demand precise control over the materials used. Electronic grade NF3 undergoes stricter quality control measures to meet the specific requirements of these processes. Any impurities or variations in composition can adversely affect the performance and yield of electronic devices.
Compatibility with Sensitive Materials: Electronic grade NF3 is designed to be compatible with sensitive materials used in the electronics industry such as silicon wafers, thin-film transistors, and photovoltaic cells. It undergoes additional purification steps to remove potential contaminants that could react with or damage these materials during manufacturing processes.
Report Attributes
Details

Nitrogen Trifluoride Market Size (2023E)

US$ 1.25 Billion

Forecasted Market Value (2033F)

US$ 3.88 Billion

Global Market Growth Rate (2023 to 2033)

12% CAGR

Leading Regional Market

Asia Pacific

Key Companies Profiled

Mitsui Chemicals
OCI Materials
American Gas Group
Air Products and Chemicals Inc.
Foosung Co Ltd
Hyosung Co Ltd
Linde AG
Navin Fluorine International
Central Glass Co Ltd
Formosa Plastics
Kanto Denga Kogyo Co Ltd (KDK)
Ulsan Chemical Co Ltd
Daesung
Matheson
BASF SE
Anderson Development
Praxair Technology Inc
Don't Need a Global Report?
save 40%! on Country & Region specific reports
Why is Demand for Nitrogen Trifluoride Solutions Rising at a Fast Pace?
"High Production of Consumer Applications Driving Consumption of Nitrogen Trifluoride"
Growing Electronics Industry: The rapid expansion of the electronics industry, driven by advancements in consumer electronics, telecommunications, and automotive electronics is significantly boosting the nitrogen trifluoride market's size. The increasing demand for electronic devices such as smartphones, tablets, and wearable technologies requires NF3 for the cleaning and etching processes during their manufacturing.
Increasing Demand for NF3 in Manufacturing of Flat Panel Displays: Flat panel displays, including LCD and OLED displays, are gaining significant traction in various applications such as televisions and computer monitors. NF3 is extensively used in the production of these displays for cleaning and etching purposes, contributing to the growth of the NF3 industry.
Technological Advancements in Semiconductor Manufacturing: Continuous advancements in semiconductor manufacturing processes such as miniaturization, 3D packaging, and advanced materials are driving the demand for NF3. Nitrogen trifluoride is a crucial cleaning and etching agent used in the fabrication of semiconductor devices, including microprocessors, memory chips, and sensors.
Increasing Focus on Energy Efficiency and Renewable Energy: The global emphasis on energy efficiency and the transition toward renewable energy sources are driving the demand for NF3 in the production of photovoltaic cells. Nitrogen trifluoride is used as a cleaning agent in manufacturing thin-film solar cells, enhancing their efficiency.
R&D Initiatives: Ongoing research and development efforts in the field of NF3 production, purification, and applications are further driving the market growth. Leading manufacturers of nitrogen trifluoride are investing heavily in developing advanced manufacturing techniques and exploring new applications of NF3 such as in aerospace, defense, and medical industries, which is expected to boost their market share over the forecast period.
How Can the Sales Growth of Nitrogen Trifluoride Be Negatively Impacted?
"Rising Environmental Concerns of Using Nitrogen Trifluoride"
NF3 is gaining attention as a potent greenhouse gas with a high global warming potential. Increasing environmental regulations and concerns regarding NF3 emissions are expected to impact the growth of the market. Stricter regulations may require companies to invest in emission-reduction technologies or explore alternative cleaning and etching agents with lower environmental impacts.
"Stringent Regulations and Lowering Production Rates"
NF3 is a toxic gas and can cause respiratory irritation and skin burns upon exposure. Occupational health and safety regulations may require companies to implement stringent safety measures and invest in equipment and training to ensure the safe handling of NF3. These concerns add to operational costs and potentially affect the market for high-purity NF3 gases.
More Insights, Lesser Cost (-50% off)
Insights on import/export production,
pricing analysis, and more – Only @ Fact.MR
What are the Strategies Adopted by Start-ups to Gain Higher Profits?
"Production Differentiation, R&D Efforts for Sustainability, & Partnerships"
Focusing on Product Differentiation: Differentiating NF3 products from competitors can be a key strategy to gain a competitive edge. This can include offering high-purity NF3 grades, customized solutions for specific industries, or developing innovative purification techniques to enhance product quality. By highlighting unique features and benefits, newcomers attract customers and command premium pricing.
Embracing Sustainability: Given the environmental concerns associated with NF3, integrating sustainability as a business strategy can be advantageous. Investing in research and development activities for more environmentally friendly production methods, exploring recycling and recovery technologies, and actively communicating a commitment to sustainability can resonate with customers and help differentiate product offerings.
Building Strong Partnerships: Start-ups collaborate with established players in the electronics industry, semiconductor manufacturers, or solar cell producers to gain access to a wider customer base and distribution networks. Building strong partnerships facilitates market entry, enhances credibility, and enables shared resources and expertise.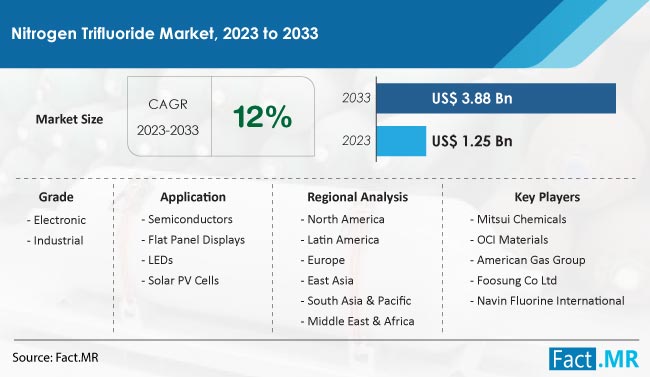 Country-wise Analysis
Why is Consumption of Nitrogen Trifluoride Solutions High in the United States?
"Nitrogen Trifluoride Silent Hero in Silicon Wafer Production for Semiconductors"
The United States has a robust electronics industry, encompassing consumer electronics, telecommunications, and automotive part manufacturing units. This industry's growth is creating several opportunities for nitrogen trifluoride market players, as NF3 plays a crucial role in the manufacturing of electronic components.
Several technological advancements such as 5G the Internet of Things (IoT), and artificial intelligence are also fueling demand for NF3 in the United States, as nitrogen trifluoride is predominantly used for cleaning and etching silicon wafers during the production of semiconductors.
Why is Demand for Nitrogen Trifluoride Growing Rapidly in Germany?
"Nitrogen Trifluoride's Powering Role in Germany's Automotive and Chemical Sectors"
Germany is a prominent player in the European NF3 market. The country's strong industrial base, particularly in the automotive and chemical sectors, is driving the demand for NF3. Additionally, Germany's commitment to sustainability and renewable energy sources is shaping the nitrogen trifluoride sales growth.
Germany has a thriving automotive industry and NF3 finds applications in various processes within this sector such as plasma cleaning of engine components and electronic assemblies. Demand for nitrogen trifluoride in Germany is expected to increase swiftly over the projected period as the automotive industry embraces electric vehicles and advanced technologies.
What Makes China a Profitable Market for Nitrogen Trifluoride Producers?
"High Use of Nitrogen Trifluoride in Electronics Manufacturing"
Booming electronics manufacturing industry and rapid industrialization are propelling sales of nitrogen trifluoride solutions in China. China has emerged as a global hub for electronics manufacturing, producing a wide range of consumer electronics, electronic components, and semiconductors. This growth is leading to a surge in NF3 demand for cleaning and etching purposes during manufacturing processes.
The Chinese government has implemented policies and initiatives such as 'Made in China 2025' to support the electronics industry's growth. These initiatives and high investments in semiconductor manufacturing are boosting NF3 sales in China.
Know thy Competitors
Competitive landscape highlights only certain players
Complete list available upon request
Category-wise Analysis
Why Does Nitrogen Trifluoride Find Extensive Application in Semiconductor Manufacturing?
"From 5G to AI: NF3's Crucial Contribution in Production of Advanced Semiconductor Devices"
Nitrogen trifluoride is widely used in semiconductor manufacturing due to its major applications and benefits in the industry. NF3 is primarily used for cleaning and etching silicon wafers during the semiconductor fabrication process. It effectively removes contaminants and impurities from the surface of the wafer, ensuring high-quality and defect-free semiconductor devices.
NF3 exhibits high selectivity during etching processes, meaning it can precisely remove specific materials while minimizing damage to other components. This selective etching capability is crucial for creating intricate patterns and structures on the wafer surface.
Nitrogen trifluoride is compatible with various advanced technologies such as 5G, Internet of Things (IoT), artificial intelligence (AI), and high-density memory devices. It enables the production of advanced semiconductor devices to meet the increasing demand for modern technologies.
Overall, NF3's exceptional cleaning and etching properties, low thermal budget, environmental benefits, and compatibility with advanced technologies make it an indispensable component in semiconductor manufacturing. Its usage ensures the production of high-performance, reliable, and energy-efficient semiconductor devices used in a wide range of electronic applications.
Competitive Landscape
Leading nitrogen trifluoride producers are continuously expanding their product portfolios to cater to diverse customer needs and stay ahead in the market. They are focusing on developing high-quality NF3 products that meet the industry's stringent requirements and standards.
Key players are also forming strategic collaborations and partnerships with semiconductor manufacturers, electronic companies, and technology providers. These alliances allow them to gain insights into nitrogen trifluoride market trends, customer requirements, and emerging technologies. Collaborations also enable joint research and development efforts, leading to innovative solutions and improved product offerings.
Daikin Industries, a leading company, made an exciting announcement in March 2023. It unveiled its plans to construct a state-of-the-art fluorine plant in Japan, scheduled to commence operations in 2025. This strategic move aims to cater to the surging demand for fluorine within the rapidly expanding electronics industry.
Key Segments of Nitrogen Trifluoride Industry Research
By Grade :

By Process :

Chemical Synthesis
Electrolyzing Synthesis

By Application :

Semiconductors
Flat Panel Displays
LEDs
Solar PV Cells

By Region :

North America
Latin America
Europe
East Asia
South Asia & Oceania
MEA
- FAQs -
The global nitrogen trifluoride market is valued at US$ 1.25 billion in 2023.
Nitrogen trifluoride sales are projected to reach US$ 3.88 billion by 2033.
The market for nitrogen trifluoride is projected to rise at a CAGR of 12% from 2023 to 2033.
Key companies manufacturing NF3 are Mitsui Chemicals, OCI Materials, American Gas Group, and Air Products and Chemicals Inc.
Asia Pacific, a hub for semiconductor manufacturing, is the leading regional market for nitrogen trifluoride producers.